Welcome to my Review for Trek X Caliber 8.
The Trek X Caliber 8 review for mountain bikes might be everything you're looking for right now. It offers impressive rider handling and allows you to enjoy an adventurous ride in a variety of conditions.
Let's take a look at this bike's main features and benefits, along with some important factors to bear in mind when looking for your next mountain bike.
Things to Consider Before Buying a Smart Trail Bike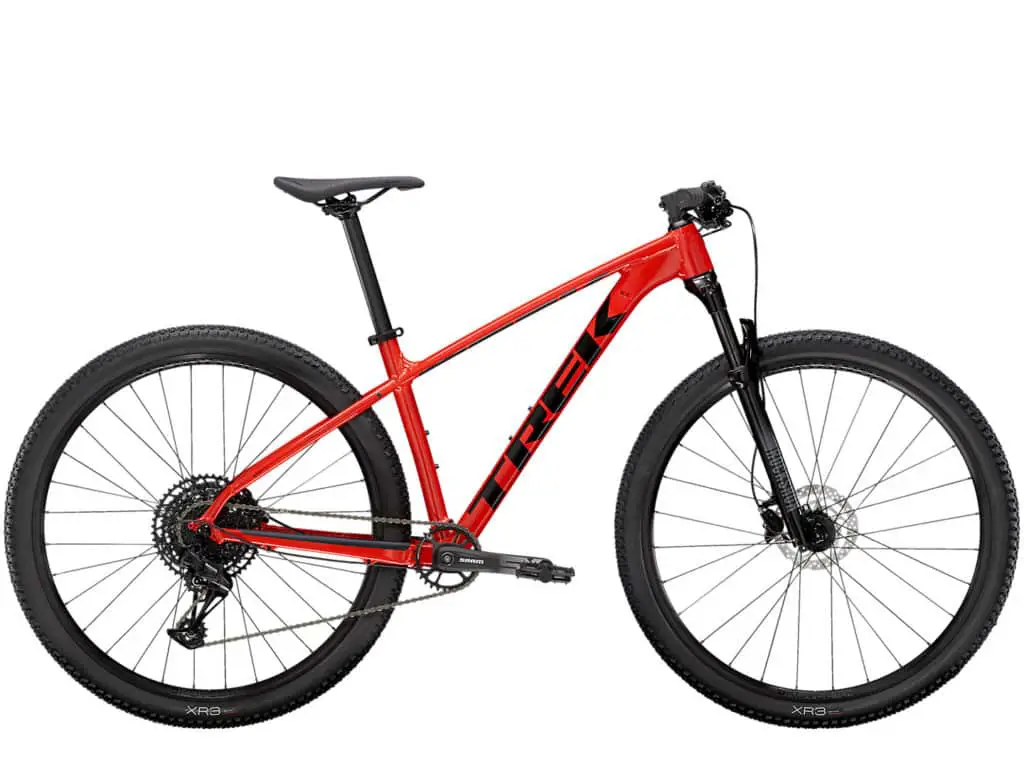 Before we look at the top factors of the Trek X Caliber 8, below are some important factors to consider when you buy a mountain bike.
Suspension System
There are two suspension systems to consider: hardtail and full. The former comes with a suspension system on the front of the bike, providing half of the shock absorption of a full-suspension bike.
Moreover, a hardtail bike offers a lighter weight overall, which allows you to ride the bike for longer periods of time without feeling like a heavy frame from weighing you down. Alternatively, a full-suspension bike is beneficial for absorbing all of the impacts and shocks that come your way, so you'll typically feel more comfortable when riding across rough terrain and through woods, for example.
Body Case Material
Secondly, a bike's body material makes a huge difference in its overall quality, speed, comfort, and more. The most popular body material option is aluminum, which offers a more affordable price compared to titanium, for example. However, aluminum can be more rigid than other materials for frames, meaning that it doesn't absorb all of the impacts. One of the biggest benefits of a smart frame is its lightweight so that you can cycle quickly. And it's also rust-resistant, so you won't have any quality issues when you're riding in the rain.
Alternatively, steel and alpha gold aluminum, an even more affordable bike body material, absorbs shocks when you're cycling. This allows you to venture out on a variety of conditions without feeling the impact of every travel over rocks.
You might want to consider a titanium bike frame if you take cycling seriously and want to travel far and quickly. Thanks to this material's lightweight, the bike picks up speed quickly and maintains this speed with ease. A titanium frame is incredibly agile, which allows the bike to respond to bumps in the road.
However, one of the biggest disadvantages of a titanium bike is its price point. You'll need a larger budget compared to a steel or aluminum bike, which doesn't make it appropriate for many riders.
Features and Benefits of the Trek X Caliber 8
Let's take a look at some of the features and benefits of the Trek X Caliber 8 by taking an in-depth look into this bike's top specifications.
Frame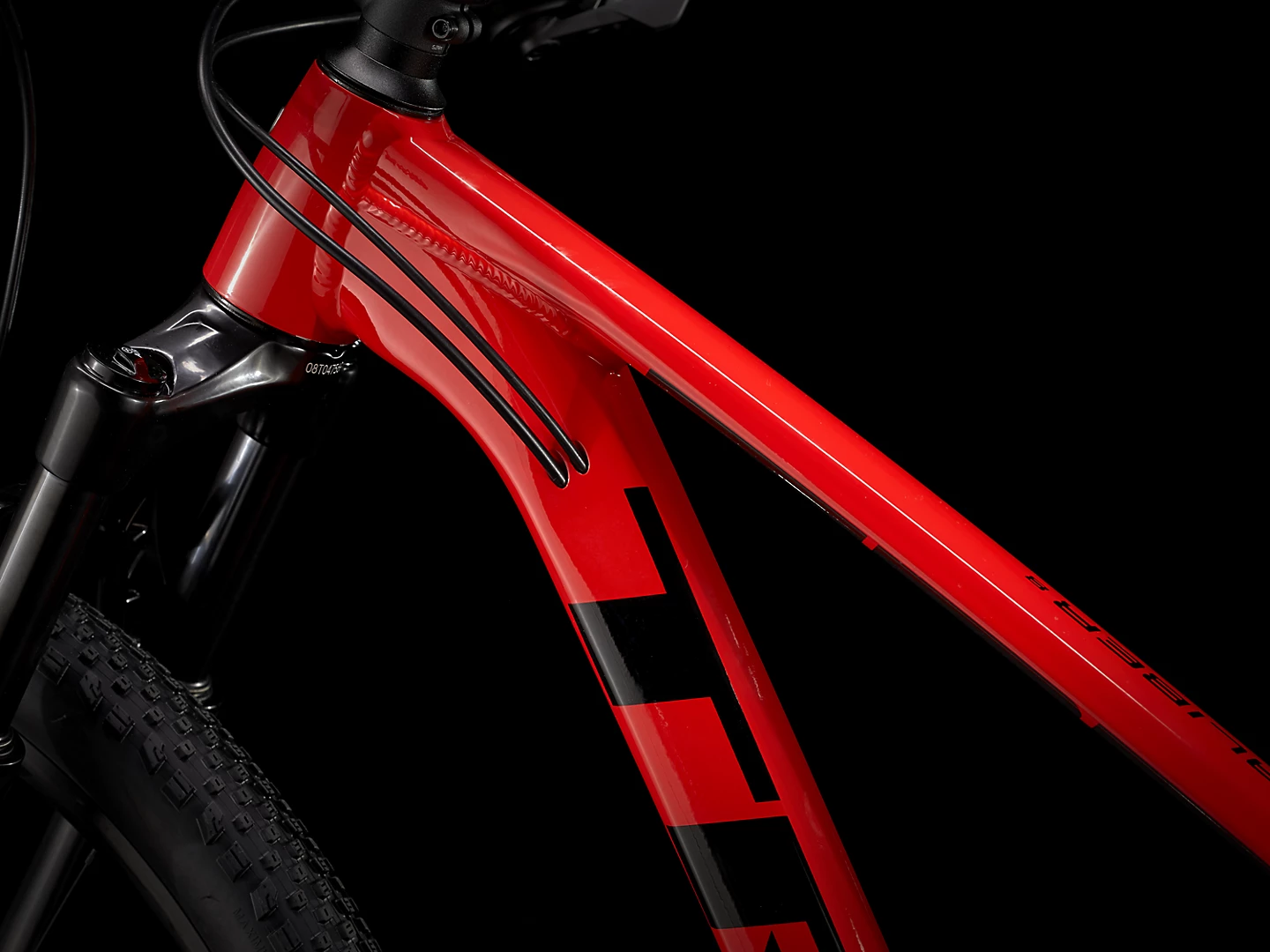 The Trek X Caliber 8 comes equipped with a performance frame paired with allow rims, which has many benefits. For example, this material of the frame is naturally low in weight, making it an ideal choice for racing and travelling up hills, when you need to keep the overall maximum weight to a minimum.
Aluminum isn't prone to rust, unlike steel bikes. So this makes the mountain bike low maintenance and ideal for regularly riding in wet conditions. Plus, due to aluminum's lower strength compared to other bike materials, it tends to come with thicker walls. Therefore, you can use thicker-than-standard tubes without making the bike significantly heavier.
Moreover, the Trek X Caliber 8's frame provides stiffness, which provides plenty of stability when climbing uphill or sprinting. And this level of stiffness will likely provide an advantage to racing cyclists because it offers an increased speed when sprinting.
Suspension System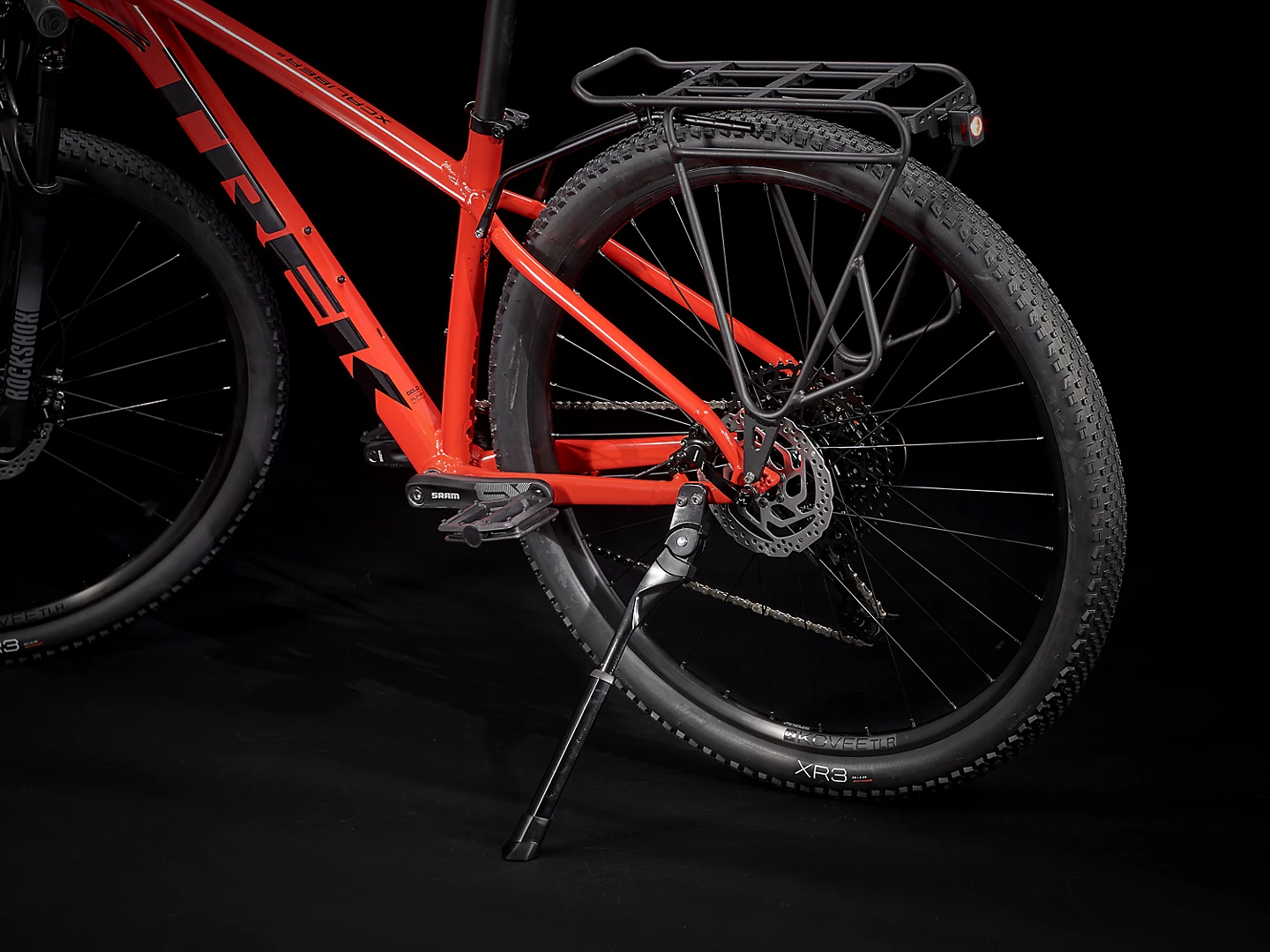 This smart bike comes with a RockShox 30 Silver 100 mm suspension fork and a hardtail suspension system. These specifications allow the rider to feel the ride more than with a full-suspension bike, which allows you to experience an adventurist ride.
Another benefit of a hardtail bike over a full-suspension model is its reduced weight. Since the bike doesn't have an additional shock system to the rear, the mountain bike has a lighter weight, which allows it to pick up speed and travel up hills quicker. And, with this weight saving, you can add accessories to your bikes, such as sports water bottles, fenders, and even a basket.
More: Trek Marlin 5 review: Is It a Good Bike to Have?
Wheels
Uniquely, this trek bike features a smart wheel size, which means that you'll receive either 27.5- or 29-inch wheels to accommodate a small or medium/large-sized frame. Therefore, the frame size will be perfectly paired with the bike's tires, improving responsiveness, speed, and agility.
Moreover, the Trek X Caliber 8's 27.5-inch wheels provide faster acceleration compared to the 29-inch wheels. This allows you to accelerate quickly and gives the bike a more responsive feel that riders will love.
Alternatively, the 29-inch wheels on this mountain bike accelerate slower, giving the bike a less responsive feel. But, once you reach your top speed, the bike maintains this for longer, requiring less effort to keep the momentum going. Not to mention that it's actually a more efficient option for longer bike rides.
Gears
In addition, this smart trek bike comes with 12 speeds, which gives you more control when riding your bike. In particular, you can make the ride more challenging if you want to use it solely for fitness purposes. Or you can use the Trek X Caliber 8 to easily climb steep hills, making it a viable option for rides through the woods, etc.
More: Trek 820 Mountian Bike Review: Worth Having?
Brakes
The Trek X Caliber 8 is equipped with hydraulic disc brakes. Perhaps the biggest benefit of this type of brake system is that it automatically self-adjusts once they're worn down. And the calliper's design retracts a certain distance from the rotor, regardless of the pad's wear level. Therefore, you don't need to adjust the bike's brakes as you would with mechanical pads.
Furthermore, these types of disc brakes dissipate heat evenly compared to traditional mechanical brakes. This means that the brakes are more likely to last a long time and can increase safety when you're riding your bike.
More: Trek 1120 Review: Is It The Best Touring Bike?
| Feature Type | Feature Specs | What This Means |
| --- | --- | --- |
| Frame | Aluminum | Lightweight, making the bike easier to bike at a top speed |
| Suspension System | Hardtail | No suspension system on the rear but reduces the bike's overall weight and provides a more adventurous ride than full-suspension bikes |
| Wheels | 27.5 or 29 inches | 27.5 inches pick up speed quicker, but the 29-inch wheels maintain a top speed for longer |
| Gears | 21 | Provides you with various options to tailor the bike to your fitness levels and environment |
| Brakes | Hydraulic | Lasts a long time and evenly dissipates heat |
Is the Trek Dual Sport 2 a Better Option Than the Trek X Caliber 8?
When comparing the Trek Dual Sport 2 to the Trek X Caliber 8, the trek dual sport 2 review: a worthwhile investment. With its versatile design and impressive features, the Dual Sport 2 offers a smooth ride on various terrains. On the other hand, the X Caliber 8 is a great choice for off-road enthusiasts looking for speed and performance. Ultimately, choosing between the two depends on your preferences and intended use.
Social Proof
Don't just take our opinion on this bike's excellent performance. Below are some screenshots from customers and users of this bike and what they thought about how it rides.

Alternatives
Since you might want to keep your options open and put this mountain bike's specifications into perspective, we've included a few comparisons with similar bikes.
Trek X Caliber 8 Review vs Trek Marlin 7
There are several differences between both smart bikes. For example, the Trek Marlin 7 features a kickstand, but the Trek X Caliber 8 bike doesn't, which is an extra item that could catch on the trail.
A big difference between the bikes is the parts they're made of. With the x Cal, you'll get an air fork, whereas the Marlin bike comes with a coil spring. This difference in parts can affect how the bike feels on the trail. Check our guide to Trek Marlin 7
Trek X Caliber 8 vs Trek X Caliber 9
Both bikes come with 27.5-inch lightweight parts, but the Caliber 9 boasts a bigger fork and a slightly lighter weight (albeit it by 0.02 pounds). And the 9 Caliber comes with a 100 mm front travel, which allows this particular bike to absorb more shocks than the Caliber 8.
Trek X Caliber 8 vs Trek Roscoe 7
Both of these bikes feature a 27.5-inch frame of aluminum and are hardtail versions. However, the Roscoe 7 comes with a bigger fork and a dropper post. The Caliber 8 is the lightest of the two bikes by nearly three pounds, which might sound like a minute difference, but any additional weight on a bike can impact the overall power and momentum you have.
While the Caliber 8 has front travel of 80 mm, whereas the Roscoe 7 boasts a 100 mm front travel. Check our guide to Trek Roscoe 8
Trek X Caliber 8 vs Giant Fathom 2
Both bikes boast a performance frame, which helps to keep the bike's weight at a minimum—ideal for when you're cycling at high speeds. The Fathom 2 sports a 120 mm front travel, and while the Caliber 8 has a rigid seat post, the Fathom 2 boasts a dropper seat post, which allows for quick saddle height adjustment.
Trek X Caliber 8 vs Trek X Caliber 7
The Caliber 7 has a heavier weight, making the difference between the two bikes 0.8 pounds, which can be significant if you want to cycle fast and up hills. Aside from this specification and a difference of 20 mm for the front travel, both bikes are very similar. For example, they both boast an Alpha Gold aluminum frame, hydraulic discs, and hardtail suspension. Check our guide to Trek Caliber 7
Conclusion
We hope you enjoyed this Trek X Caliber 8 mountain bike review. Overall, this mountain bike was made with excellent attention to detail and the RockShox fork and hydraulic disc brakes make this bike a great option for adventure rides.
These types of mountain bikes have a loose ball bearing system with a solo air spring and a tapered head tube. This cross country mountain bike has the perfect frame size along with smart wheel sizing and sealed bearing. The wheels are made with lightweight alloy rims and have max chain ring size. These mountain bikes are a great choice for participating in the Maxxis Ardent race. It is a fast mountain bike with an alloy axle and a kickstand mount as well.
What are your thoughts on the bike? Let us know your feedback in the comments.