Getting into trail riding and racing can be a little overwhelming. After all, most of the best bikes out there that can handle rough trails and high speeds are quite expensive. They're highly specialized machines with a few goals in mind. 
Trail bikes must be:
Fast 
Lightweight
Responsive
Easy to steer and control
Fortunately, as technology continues to advance, more affordable XC bike options are becoming available. As frames become more streamlined, and advances in components make effective options cheaper, there are more choices available to cyclists and trail riders who don't have sky-high bike budgets. 
Enter the Trek Marlin 7, the flagship of the affordable Marlin line. This is an affordable bike with a race-ready profile and fairly high-quality components. 
Our comprehensive review of the Trek Marlin 7 will cover the bike's main features and benefits, how it performs in real life, and some head-to-head comparisons with similar models. 
Overview
Trek is one of the largest companies in the mountain biking world. It offers a wide variety of models from affordable entry-level bikes to premium racing bikes aimed specifically at the pros. Trek bikes are consistently high performing, thanks to great frame design and well thought out component choices. 
The Marlin line is one of Trek's more affordable offerings, but this doesn't mean that they aren't serious bikes. The whole line is designed to be a good option for cross-country riding and mountain bikers who need a good, durable, fast bike without a huge price tag. 
This means that the Marlin line makes some compromises in order to keep prices lower. However, the total package of each bike is greater than the sum of its component parts. The Marlin 7 is the most expensive bike in the line, and it is also the most advanced. 
While it can be used as a commuter or a leisure bike, this really isn't what the Marlin 7 is designed for. It's aimed more at serious cyclists, and those who are looking to up their game, but who are limited to bikes costing under 1k. 
It's also designed to enable customization and trail-performance improvements with some minor, relatively low-cost, modifications. 
Things to Consider Before Buying an XC Mountain Bike 
The main thing that you should consider before investing in an XC mountain bike such as the Trek Marlin 7 is whether you want to get into cross-country or mountain biking. While many of these bikes work as commuter bikes and leisure bikes in suburban and urban neighborhoods, this isn't really what they're designed for. 
More importantly, bikes that are designed to work as commuter bikes and leisure bikes are better designed for those jobs. XC Mountain bikes use their manufacturing budget on very different components and features to those of your typical commuter bike. 
You should also consider the price point when you're in the market for an XC mountain bike. While good models are becoming more affordable, there's still a limit as to what your dollar can get you. 
The more you spend, the more likely you are to get better suspension, more advanced braking systems, and a lighter, more streamlined frame.  
As you move down in price, you should pay close attention to frame and suspension systems. Those are the two most important aspects of any XC mountain bike, and they can both have a huge impact on performance. 
Even when you need to compromise for more affordable components in other areas, you should avoid compromising when it comes to the suspension and frame. 
Features and Benefits
Here are some of the key features and benefits of the Marlin 7. We're only looking at the standard setup, but many of these components can be upgraded if you wish. 
Frame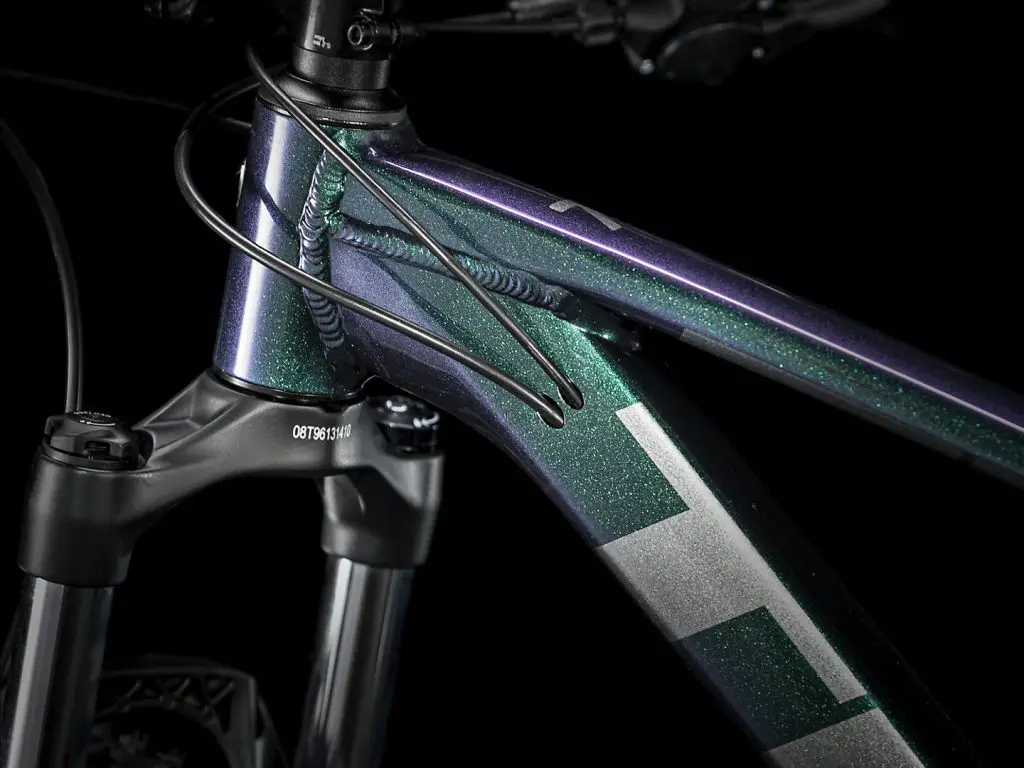 The frame is the main component of the Trek Marlin 7, as well as the only component which can't be upgraded on the bike. Fortunately, there isn't any reason why you'd want to upgrade this bike frame. 
The frame is designed with a reasonably aggressive rider stance and good racing balance. It's very aerodynamic and about as light as can be expected from a durable XC mountain bike frame at this price. 
The carefully welded aluminum can handle just about the worst that any trail can throw at it. At 31.4 lbs., it's heavier than some competition-oriented bikes, but lighter than many other models in its price range. 
Overall, it's a good design and one which is ready for trail rides, races, and competitions, as well as for more casual riding. 
More: Best Folding Mountain Bike
Suspension System
This bike doesn't offer a rear suspension system. However, the fork is a RockShox model and has 100mm of movement thanks to a spring coil in a hydraulic boosted system. 
This means that the front fork can absorb a lot of the jolts of impact without losing control. It can struggle a little on the roughest sections of the most technical trails, but this isn't a huge downside as almost all bikes in this price range offer similar performance. 
The fork also offers an easy-to-reach locking system which makes it possible to turn off the suspension when you don't need it, saving on wear and tear. 
It doesn't have the scaling suspension sensitivity of more advanced forks, but this isn't a huge disadvantage as this model is reactive without being overly springy or aggressive. Most of the time you won't want to adjust the shock sensitivity anyway. 
More: Check our guide to Trek Marlin 4
Wheel
The wheels are a fairly standard setup and work with tire sizes 27.5″/29″ x 2.20″, which gives you a reasonable range of different tire setups. The rims aren't tubeless-ready, but it's a relatively easy upgrade if you want to go tubeless for better trail performance. 
Gears
The basic Marlin 7 setup has 18 gears. The gear indicator gives you a handy reminder of which gear you're using, making it simpler to learn to use the full range of gears and to switch gears quickly on more technically difficult trails. 
The entire gear system, including front and rear derailleur, is made from affordable Shimano parts. Shimano is one of the best manufacturers for high-performance gear systems. You get an Atlus shifter and front derailleur with an Acera rear derailleur. 
The whole system moves smoothly between gears. The gearing system is well-optimized for durability and switching quickly between gears. 
More: Check our Review of Trek 1120
Brakes
You also get a hydraulic disc braking system with this bike, which is quite an upgrade from what you usually see on a bike in this price point. More specifically, you get Shimano MT200 hydraulic disc brakes, although this isn't Shimano's best braking system. 
These brakes are quick and responsive, and don't cause shuddering or instability. They also don't tend to pull to either side, which makes them a good choice for more technical trails. 
You should schedule regular maintenance for your brakes. Regular tune-ups and simple maintenance is all these brakes should require unless you really put them through the ringer. 
| Feature | Specs | What it Means to You |
| --- | --- | --- |
| Frame | Alpha Silver Aluminum, with internal routing | The aluminum frame on this bike is reasonably lightweight and won't impede your performance as you race. It's also got a more streamlined appearance, and is slightly more durable, thanks to the internal routing. The somewhat aggressive rider position is still comfortable and offers a great deal of control. |
| Suspension system | RockShox XC 30, coil spring, preload | The main portion of the suspension system in the Marlin 7 is a hydraulic assisted coil spring with 100mm of movement. This is enough to absorb most of the biggest shocks and smooth out smaller shocks for better control. |
| Wheels | Bontrager Connection, double-wall | The wheels on the Marlin 7 are fairly standard, with added durability thanks to their double-wall design. They aren't tubeless-ready, but they are more than durable enough for rugged mountain trail use. |
| Gears | Shimano Altus M2010, 9 speed | Shimano shifters are smooth and easy to use, and this system, while not the most premium, is still high-performing. It's easy to see which gear you're currently using, it's easy to switch between gears, and the gears are effective on even the most technical trails. |
| Brake system | Shimano MT200 hydraulic disc | Hydraulic disc brakes are some of the most reliable options which are available. This is one of the areas in which the Marlin 7 has spent a little more in order to get a higher performance component. There's very little shuddering or pull, and you experience smoother slowing. |
What Other Customer Says
Users consistently comment that the Marlin 7 exceeds expectations for a bike in this price range. The racing-ready frame and reasonable mix of price and quality from each component out-performs similar bike models. 
It's also consistently noted that this bike is a little beefier than most casual riders and commuter riders will need. It is certainly designed for mountains, trail riding, and even difficult cross-country riding, so it may be too much for less difficult applications. 
The only real downsides to this bike are the heavier weight of the frame and the fact that the wheel rims aren't tubeless-ready. 
Alternatives
It's difficult to get a real sense of any bike without comparing it to other similar models. In this section, we'll look at two other contenders from the Marlin line, as well as two similar bikes which aren't quite as connected to the Marlin 7. 
The Giant Talon 2 is another Trek model just released in 2020. Both bikes offer a sturdy aluminum frame and hydraulic disc brakes. 
The Marlin 7 has two compatible tire sizes, giving you a little more flexibility than the Giant Talon 2, which only supports 27.5" wheels.
Both bikes also have a 2 x 9 drivetrain, and a RockShox fork. 
However, the Giant Talon 2 offers a slight improvement in its gearing system (still a Shimano system) and is a slightly lower price. 
While both bikes are similar, the Giant Talon 2 is ultimately a better deal thanks to its lower price and improved gear system.  
Trek Marlin 7 vs Marlin 6
Design-wise, the Marlin 6 and Marlin 7 are incredibly similar bikes. The frames are similar, and both are aluminum and durably welded. 
There are two major differences between the Marlin 6 and the Marlin 7 in terms of design. The Marlin 7 has an upgraded fork, as well as an upgraded rear derailleur. These differences can have a significant impact on performance as the Marlin 6 doesn't offer much in the way of a suspension system. 
At the time of writing, there is about a $150 difference in price. This difference is largely just the difference in the price of the parts, so generally, we'd say it's better to go ahead and upgrade to the Marlin 7 if you're debating between the two. 
The performance differences are more than worth the price increase. Check our guide to Marlin 6
Trek Marlin 7 vs Roscoe 6
The Trek Marlin 7 and the Roscoe 6 are both Trek models, and both are designed as entry-level bikes that are racing ready. 
However, there's roughly a $200 difference in price between the Marlin 7 and the Roscoe 6. The Marlin is currently the flagship of the Marlin line, while the Roscoe 6 is a couple of generations behind the latest Roscoe model. 
One of the biggest differences is in the shifter. The Marlin 7 has a very affordable entry-level set of Shimano shifters, while the Roscoe 6 is upgraded several steps to a Shimano Deore system. 
The SR Suntour XCM 32 fork is also a serious upgrade in the suspension system, which offers a smoother ride which is much easier to control. 
While both are good entry-level options, the Marlin 7 is definitely the more affordable of the two. However, if you can afford some of the component upgrades that come with the Roscoe 6, its performance improvements are well worth it. 
Trek Marlin 7 vs Marlin 5
The Trek Marlin 5, two generations behind the Marlin 7, shows some of the tech differences between the two. 
As with the differences between the Marlin 7 and the Marlin 6, there are several similarities with a couple of significant performance differences. 
Between the 5 and the 7, the Marlin line has upgraded the derailleur and shifter sets. For example, the Marlin 5 uses the Tourney line of Shimano shifters, while the Marlin uses Atlus and Avilio models. 
The Marlin 5 also relies on a mechanical disc brake system, while the Marlin 7 has upgraded to hydraulic disc brakes. 
That being said, while there are serious performance differences, the Marlin 5 can still be considered to be a good investment for many riders. Noticeably cheaper, the Marlin 5 is best as more of casual bike, while the Marlin 7 is a good entry-level racing and cross-country bike. check our detailed review of Trek Marlin 5 here.
Conclusion
Overall, the Marlin 7 is about the best low-cost entry-level racing bike you can buy for less than 1K of upfront investment. There are a few components you'll most likely want to upgrade as you start to take racing a little more seriously
The Marlin 7 is a rugged, durable, and relatively flexible bike for all kinds of different applications.