The Trek 1120 Touring bike is for bicyclists who want to take on all terrains. It has a rugged, durable frame that is also lightweight. This model is perfect for backpacking trips and bike tours because it has a heavy-duty rear rack system for hauling gear.
It is ready to go for mountain trails and more. It is built to take on any kind of terrain, no matter how rough. It is made by Trek bikes who specialize in manufacturing touring/mountain bikes for adventure rides. All of the features and components are optimized for most extreme backcountry destinations and off-road adventures.
The streamlined design has a sporty black and orange color scheme. Compared with similar mountain bikes, the Trek 1120 is lighter, faster and has more storage room. The 29+ tires are very forgiving of all terrains. One of the larger tires' benefits is that they offer more traction, which makes for a more stable ride over bumps. It doubles as a trail bike, but it really shines for it's off-trail capabilities.
One of the features that makes it great for bike tours is high-capacity racks and holsters for storage. This bike is best used for trails that are off the beaten path. For regular everyday riding, such as the commute to work in the city, this bike is not going to be the best choice for you because of the aggressive riding position. If you are looking for adventure, then you will love everything that this tour bike has to offer.
Fork/Frame: Aluminum/Carbon
Weight (L W/Racks): 29.4 LBS (13.3KG)
Bottom Bracket: PressFit 92
Max Tire: 29 x 3"
Wheels: Chupacabra
Seatpost: 31.6MM
Hub Specs: 148 x 12MM (RR); 110X15MM (F)
Cassette: Shimano Wide-Range 11-46 11SPD
Handlebars: Bontrager Crivitz
Brakes: Hydraulic Disc
Shifters: Shimano SLX M7000
Crank: Race Face Aeffect, 30T Direct Mount Narrow Ride
Size: Small to Extra-Large
Things to Consider Before Buying a Touring Bike
The most important thing for you to consider when shopping for a touring bike is what terrains you plan on taking on. The Trek 1120 doubles as an off-trail and on-trail bike, but its features are most optimized for taking on the roughest of terrains. It is high-performance when it comes to rocky and rough terrains, but if you plan on sticking to trails, then there are better options. For adventurous individuals who need an awesome mountain bike made for off-road adventures, this bike is a great choice.
Bike Frame Materials: When shopping for a touring bike to take on bike tours, the bike frame materials are very important because this is where most of the weight of the bike comes from. The Trek 1120 is made out of a carbon or aluminum frame, which is very lightweight yet durable.
Gears: The bike gears are what allow for the bike to reach certain speeds and determine how it handles going up/downhills. For speed and for climbing slopes there are different gears. Different types of bikes require different gearing settings. The Trek 1120 has gears that are great for trails, but it could use more gears for making climbing steep hills better.
Seat and Handlebars: The seating and positioning of the handlebars determine what riding position you will be in. The Trek 1120 has an aggressive riding position which is best for off-roading tours. It has a dropper seat post which makes it easy to get on and off the bike.
Brakes: The braking system on the bike is essential to consider for safety. The faster you plan on going, the better braking system you will need.
Features & Benefits
The features and benefits of the Trek 1120 are geared towards performance on extreme terrains. It can double as an on-trail bike as well. Here is a detailed overview of the features and their benefits.
Frame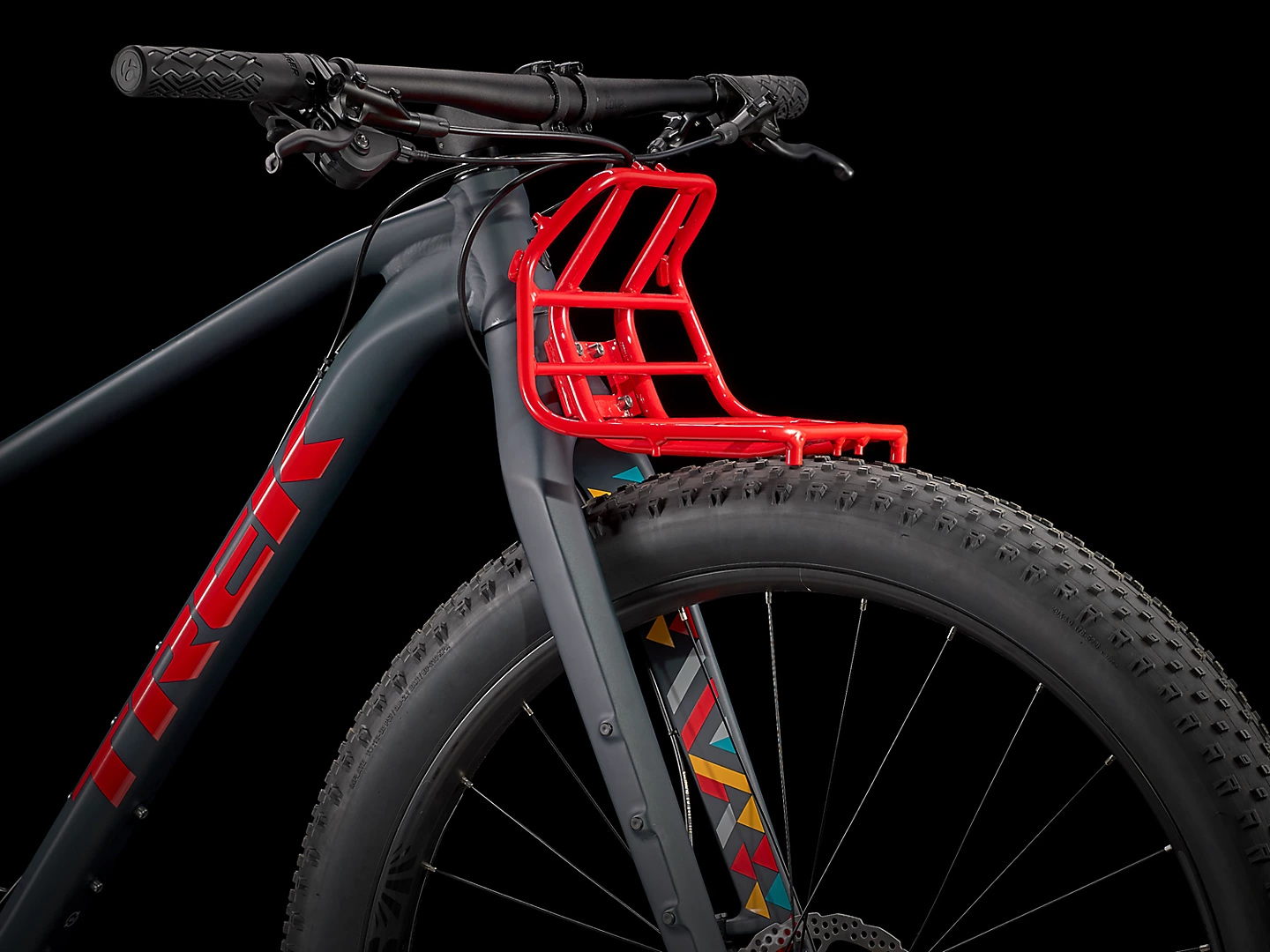 The frame of the Trek 1120 is made with durable aluminum and carbon. It is made out of Alpha Platinum Aluminum which is exclusive to the Trek brand of bikes. The rear rack system adds some additional weight, but does not slow the bike down. You can remove the storage or rear rack for greater speed as a mountain bike. The frame of the bike is designed based on Trek's innovative Stache platform. It has many similarities to the Stache model, but with a few changes that make it more suited for off-trail performance.
The frame of the 1120 is extremely rugged as it is made to take on any sort of terrain. Because of how rugged the frame is, it does weigh a little more than some of the similar mountain bikes by Trek. Compared with a steel frame, carbon and aluminum are more lightweight. The downside to aluminum is that it is noisier than steel, but keeping it well greased will eliminate any creaking noises.
Another thing to consider about the frame is geometry. This is important to consider when choosing which size of the bike is best for you because height is not the only factor. Arm and leg length can vary for different heights, and so both the individual dimensions and the geometry of the frame contribute to the overall comfort and performance.
Frame Sizes:
15.5 in/Small – Rider height 5' – 5'5
17.5 in/Medium – Rider height 5'3 – 5'8
19.5 in/Large – Rider height 5'8 – 6'2
21.5 in/Extra-Large – 6'1 – 6'5
Specifications:
Alpha Platinum Aluminum
Tapered head tube
Internal derailleur & drop post routing
Proprietary rack mounts
Horizontal sliding dropouts
Boost148
12MM thru-axle
More: Raleigh Alysa 2 Review: Your Only Needed Guide to Alysa 2 Bike
Suspension System
The suspension system is what insulates the rider from the roughness of the terrain. For adventure bikes, the suspension system is one of the most important things to consider because it will determine how smooth of a ride you can get on rough trails.
The Trek 1120 is outfitted with a Carbon Adventure Fork. The carbon fork suspension on the Trek 1120 is so good that many people wonder if it will be sold as a separate part for use with other bikes. Right now, the carbon fork is only available in pre-assembled bikes by Trek.
This suspension system is highly effective for insulating the rider for bikepacking trips which is the main function of the Trek 1120. The bike can easily glide over bumps like rocks and sticks without causing sudden jolts to the rider.
Wheel
One of the standout features of the Trek 1120 is the large 29+ wheels. These wheels roll fast and offer great traction. For bumpy terrains, the large wheels help to absorb much of the impact from below. The wheels are 3+ inches wide which creates strong traction with the ground to keep the bike stable in all circumstances. With the rims on these wheels you can go tubeless. Tubeless rims allow you to reduce the tire pressure to prevent flats.
The materials used to manufacture the wheels are very strong. You can use this bike for tours with total confidence that the large, steady wheels will be highly resistant to wear and tear from the terrain. The most important benefit of the wheels of the Trek 1120 is that they are stable, strong, and create strong traction. The wheels are 28-spokes and are fairly solid, but when the bike becomes airborne, there is a small chance of the spokes becoming damaged, so keep this in mind.
Specifications:
Back and front hub & skewer by Bontrager
SUNringle Duroc 50 SL rims with tubeless tape included
28-spokes made out of stainless steel
Bontrager tubeless-ready wheels with inner strength sidewalls
More: Find the Best Cyclocross Bike Under $1000 On the Market
Gear
The Trek 1120 has all of the gears that you should need for long rides over difficult terrains. The only downside to the gearing system that we could find is that some people have reported that they wish the bike had gears to make climbs easier.
The wide range of 1x drivetrain is simple and effective. The 1x drivetrain is one of the features which makes the bike ready for mountain bikes. The gearing works great for gravel roads and for mountain trails. This mountain bike has a wide range of capabilities from flat terrain to extreme off-road touring.
More: Trek X Caliber 8 Review: Worth Buying Or Not?
The Trek 1120 has a range of 11-gears. The gearing system is top-quality and makes this bike versatile for both off-trail and on-trail tours. Most touring bikes manufactured this year have a 1 x 11 gear set, including the 1120.
All of the drivetrain gear components and shifters are made by Shimano. Shifting gears with this system is easy and it stays in the gear that you want without accidentally shifting out. You can use the gears to go over different terrains without damaging the chain. 
Specifications:
Shimano SLX M7100 12-speed shifter
30T alloy ring crank with 52MM chainline
Brake
The Trek 1120 uses a hydraulic brake system. Hydraulic disc brakes are highly effective for making quick stops even in wet conditions. The brake system is made by Shimano. It has a 6-bolt Shimano RT56 brake rotor. Hydraulic braking systems offer the most powerful stopping power. You can trust this bike to come to a clean stop even in water or mud.
Compared to mechanical brakes, hydraulic brakes are high-performance in all weather conditions. Mechanical brakes use a cables system, while hydraulic brakes use pressure to force the hydraulic fluid to activate the brake pads.
Specifications:
Shimano 4-piston hydraulic disc brakes
MT4100 lever
MT420 caliper
More: The Best hybrid bikes under $300 [Complete Review and Buying Guide
| Feature | Pros | What this Means |
| --- | --- | --- |
| Frame | Alpha Platinum Aluminum Frame, tapered head tube, internal derailleur & dropper post routing, proprietary rack mounts, horizontal sliding dropouts, Boost148, 12mm thru-axle | The frame of 1120 is optimized for versatile off-road touring/mountain trail performance/most extreme backcountry destinations. You can adjust the geometry of the frame to match different styles of riding. |
| Wheels | 29+x3″ Bontrager tubeless-ready wheels with inner strength sidewalls | The 29+ wheels absorb much of the bumpiness of the terrain, which allows you to go over rocks and branches easily. The 3″ thickness allows for strong traction with the ground for added stability. You can expect to get a fast rollover with these wheels too. |
| Suspension | Carbon Adventure Fork | The suspension system uses a carbon fork to insulate the rider from bumps in the path. This carbon adventure fork makes even the roughest terrains an easy ride. It is extremely effective at providing adequate suspension for the mountain bike's frame. |
| Materials | Aluminum and carbon frame with stainless steel wheel spokes | For a long bike tour, you will want to have a sturdy bike that is also lightweight. The aluminum and carbon construction of the 1120 make it lightweight enough for taking on long journeys. The wheel spokes are made with stainless steel to reinforce their performance. |
| Brakes | Hydraulic disc brake system | The Trek 1120 is outfitted with level T hydraulic brakes. The brakes are standard for this kind of tour bike and have sufficient power to bring the bike to a complete stop without applying much strength to the hand brake. The benefit of hydraulic brakes instead of mechanical is that they are not affected by rain and mud, which makes them optimal for different weather conditions. |
| Gears | 1 x 11 gearing system | Most touring bikes have a 1 x 11 gear system, including the 1120. You can choose between the single front chainring for simplicity or use the 12-speed shifter to adjust the gear. There are ample gear settings for all of your needs on a cross-country and mountain bike tour. |
Why Should You Trust the Trek 1120?
The Trek 1120 has been featured as one of the most top-rated mountain bikes of this year by many reputable mountain bike enthusiast websites and magazines, including a feature in Time magazine. The manufacturer Trek has their own brand of components called Bontrager. This means they can create high-quality components that are streamlined for their bikes' performance, and most of their mountain bikes come pre-assembled with options for modifications. Trek has partnered with professional mountain bikers to promote their products and even has a scholarship program to promote diversity in cycling.
More: Best Cyclocross Bike Under $1500 [Review and Buying Guide]
Alternatives
Trek has a comprehensive line of mountain bikes. Here is a summary of how the Trek 1120 compares with the Stache and the Trek 920 models.
Trek 1120 vs Stache
The Trek 1120 is very similar to the Stache. They look very similar and the Trek 1120 borrows many of the same stylistic components as the Stache, but they vary somewhat in performance. One of the features that is different on the Trek 1120 is that it has a longer chainstay.
This, along with the shorter tube and steeper head angle, all work together to make the Trek 1120 better for rough, off-trail terrains than the Stache. The Trek 1120 is optimized for lower speeds and rougher terrain than the Stache,
Trek 1120 vs Trek 920
The Trek 1120 is a bikepacking bike whereas the Trek 920 is a conventional touring bike. The 920 has 12-speeds compared to the 1120, which has 11. There is a lot more room for storage on the Trek 1120 than the 920.
They are similar in that they both have an aluminum frame and hydraulic brake system. Trek 1120 has a more aggressive riding position which is better for rougher terrains, and the Trek 920 is more comfortable for riding on long rides with lots of road and flat trails.
More: Why the Trek Verve+ 2 Should Be Your Next Hybrid E-Bike
Conclusion
The Trek 1120 is a powerful, durable touring bike that is best used when you need a bike that can handle all kinds of terrains. For road use, the riding position of the bike is a little too aggressive to be comfortable for long periods. It shines the most when used for touring that requires lower speeds and over off-road terrains. It has a great rear rack system for storing your gear on your tour. It is a top-rated mountain bike for adventurous cyclists.