Designed for muddy paths and intense speed in off-road conditions, cyclocross bikes are a versatile option for gravel enthusiasts—even if you're a beginner. Choosing the best cyclocross bike for your preferences and budget might be a challenge, but it's not impossible. With excellent traction, a low weight, enhanced gear ratios, and more top-tier features, cyclocross bikes are worthy for off-road rides.
If you're unsure of the best cyclocross bike under $1000, you're in the right place. In this article, we're sharing our top five findings along with a buying guide to help you choose the best bike for your needs.
| IMAGE | PRODUCT | DETAILS |  rating | price |
| --- | --- | --- | --- | --- |
| Best Overall | Trek Bikes Domane AL 2 | | | |
| Best Runner-Up | Tommaso Illimitate Shimano Tiagra Gravel Adventure Bike | | | |
| | Cannondale CAADX Tiagra | | | |
| | Diamondback HAANJO 2 | | | |
| | Raleigh Route 1 | | | |
Find the Best Cyclocross Bike Under $1000 in 2021
To help you uncover the best cyclocross bike under $1000, we've researched the top models on the internet right now by analyzing the frame, brakes, gears, suspension system, and more important features.
The Domane AL 2 is the right purchase for you if you're new to the world of road cycling and are searching for a versatile, affordable option. It features 16 speeds with shifters integrated into the brake levers. This means that your hands never have to leave the bars, and the wide gear range makes it suitable for riding in various conditions.
Furthermore, this cyclocross bike comes equipped with a lightweight aluminum frame with mounts for mudguards. Therefore, it's a suitable bike to ride—even when it's raining or you're exposed to muddy conditions. In fact, comfort is one of the top features of this cyclocross bike. It's designed with a comfortable, ergonomic saddle so you can ride for miles without any aches and pains. Plus, the carbon fork reduces bumps' impact to help eliminate any fatigue caused by road surfaces.
In addition, the Domane AL 2 bike features a longer wheelbase than a typical race bike as well as a shorter top tube and longer head tube. This provides a more relaxed position while you're cycling at high speeds or for prolonged periods.
This is the best cyclocross bike under $1000 because of the high-quality disc brakes that provide reliable stopping power in any road conditions.
Tommaso Illimitate Shimano Tiagra Gravel Adventure Bike
This cyclocross bike is built for speed and power. Designed with 2 x 10 Shimano Tiagra gears, it offers a huge range of speeds, enabling you to conquer anything that trials throw your way.
It's also a rugged, durable adventure bike. Equipped with Tommaso TC-40D rims and a 28-spoke rim, this cyclocross bike can handle a variety of terrain and it continues rolling. Plus, with wide tires of 700x40c, you'll receive extra stability and versatility, all the while experiencing added grip and control.
In fact, this bike's tires are bomb-proof and aerodynamic, all the while increasing stability. They're designed to handle rough terrain, gravel, dirt, and mud. Plus, the 28 spoke rims provide excellent handling and can hold more weight than traditional cyclocross bikes.
Also, the Tommaso Illimitate Shimano Tiagra bike features Avid BB5 disc brakes for excellent stopping power in a range of weather conditions, enabling you to use this bike when it's raining. For added comfort, this adventure bike features a compact frame geometry and premium compact handlebars to offer increased power and comfort.
To dampen any shocks and vibrations, the bike uses a carbon fork. Therefore, you can travel far and fast on a variety of road conditions while the bike absorbs the impact from you. And the Shimano Tiagra 4700 crankset and cassette work together for excellent riding in all conditions.
When considering a cyclocross bike, the CAADX Tiagra makes an excellent contender. It features an OutFront steering geometry that allows you to remain controlled on technical courses as well as tackle potholed streets. All the while, it maintains quick-handling in a variety of conditions and environments.
We also appreciate this bike's versatility in terms of appearance. In particular, it features minimalist rack mounts, a removable SeatStay fender mount, and sleek fork fender mounts that extend this bike's usability without providing a look that's too prominent.
The frame makes the bike great for commuting or competing. Plus, the tidy internal routing keeps the cables from getting in your way when cycling while also adding to the bike's overall longevity.
In addition, the CAADX Tiagra features reliable hydraulic disc brakes that provide excellent modulation, allowing you to obtain more control over your speed. Plus, the large cassettes and cyclocross 46/36T chainsets provide a racing edge and allow an easy and liveable gear range for using the bike every day.
Finally, the bike comes with Schwalbe CX Comp 35c tires and large knobs for incredible off-road traction. These tires allow you to cycle at fast speeds and provide you with the versatility of using mudguards.
The HAANJO 2 is the best cyclocross bike under $1000 for uneven surfaces, including gravel. In particular, its sturdy frame provides a relaxed and ergonomic geometry that gives you excellent stability and traction when steering or flying down fast descents.
This cyclocross bike features smooth, easy-rolling tires that offer incredible traction, even when it's raining or muddy outside. And the minimal rolling resistance on the tires makes climbing uphill and riding on gravel roads more enjoyable.
Although the HAANJO 2 doesn't feature a suspension system, it comes with a steel fork that provides an excellent job of absorbing vibrations and bumps—which is particularly necessary when you're cycling on gravel. Also, the wrapped handlebars help to dampen any vibrations that you'd ordinarily feel on your hands and wrists.
In fact, the bike's handlebars are one of the top reasons to purchase this cyclocross bike. The bars and grips provide a stable, relaxed ride, and the drop-bar setup offers three riding positions. Alternatively, switch to the lower section, which provides a lower stance to reduce any wind resistance, thus improving your stability and control when cycling downhill quickly.
Overall, this cyclocross bike comes with high-quality Tekro Lyra mechanical brakes that offer plenty of power and reliability. The brakes operate smoothly and produce a large amount of power with a small squeeze. Plus, the brakes are usable no matter what positions the handlebars are in.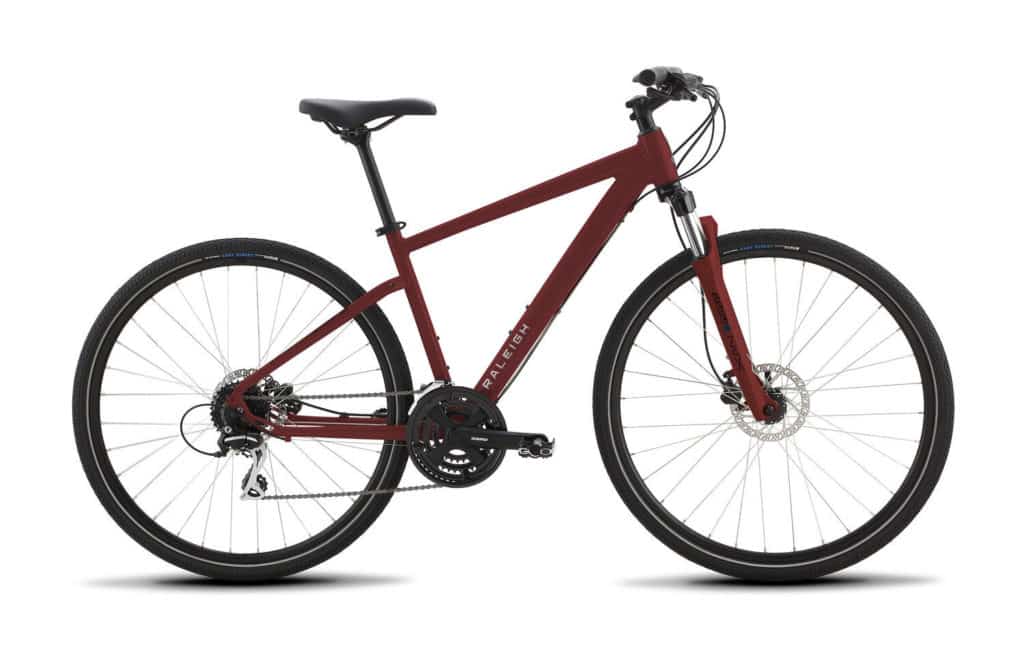 When looking for a cyclocross bike, traction and stability are important components to consider. Fortunately, the Route 1 bike comes with a 75mm travel suspension fork and disc brakes for incredible control when you're riding on light trails or downhills. Plus, the bike's 80mm travel SR Suntour fork makes this bike ride like a mountain bike.
The Route 1 comes with 700 x 47c tires that are wide, allowing you to ride through mud and remain in control comfortably. These tires also ideal for riding regularly or for long routes, as they come with excellent traction and stability.
Furthermore, this cyclocross bike comes equipped with three gears up front and seven in the back, allowing you to have a wide range of options when you're cycling up and down hills. Meanwhile, the mechanical disc brakes offer excellent control and safety in both wet and dry conditions. Every time you ride the Route 1, you'll have a comfortable experience. Its sport geometry enables optimum comfort and protection, allowing you to ride for extended periods without any aches and pains.
Buying Guide to Choosing the Best Cyclocross Bike
Not sure which of the above bikes makes the best choice for you? Below are some of the top features to consider during the buying guide to narrow down your search.
Frame Materials
The material the bike is made of makes a huge difference to its overall quality. The most common materials are carbon fiber, aluminum, steel, and titanium.  Each material has unique characteristics and a different cost. The most popular frame material is aluminum, which has lightweight properties, helping you ride uphill and on smooth pavements quickly.
However, titanium- or steel-frame bikes are the preferred options for minimizing shocks and vibrations. A steel bike is also the cheapest option, making it ideal for beginner cyclists or those on a budget.
More: The Best hybrid bikes under $300 [Complete Review and Buying Guide
Tire Clearance
Bear in mind that cyclocross bikes use larger tires than standard road bikes, typically 32–33mm knobbly tires. However, if you want to improve traction and grip, opt for bikes with a 40mm, which will provide more stability—especially in wet and muddy conditions.
Furthermore, the increased clearance increases the fork's height along with the front end of the bike. Plus, many riders choose to have a taller front end that provides greater control, whereas other riders may opt for a frame with a short headtube for a more aggressive riding position. 
More: Raleigh Cadent 2 Review: Is It A Good Bicycle To Have?
Brakes
Safety should be the utmost important feature when choosing a cyclocross bike. This type of bike will come with cantilever or disc brakes to make room for larger tires. Cable-operated cantilever brakes are most commonly used on entry-level cyclocross bikes and were first proven successful on mountain bikes.
This type of brake system is reliable, low maintenance, and has excellent stopping power in all weather conditions. Alternatively, cable-operated cantilever brakes are either presented in cable or hydraulic options and are well-suited for bikes with wide tires.
Additional Accessories
You may wish for your cyclocross bike to come with additional accessories that enhance your riding experience, such as bottle cases. Under UCI rule, you're not allowed to drink during the event. Although this isn't specific to every event and for your own personal use, you may consider a cyclocross bike with a bottle cage for easy carrying and to make the frame as smooth as possible.
In addition, opt for a bike with fenders and mounts if you'd prefer to use your bike for more general use. This allows you to use the cyclocross bike for adventurous rides or commuting. Having these useful accessories allows you to maximize the load capacity and carry large items on your treks.
More: Best Hybrid Bikes Under 200 [Review and Buying Guide]
Design and Fork
Cyclocross bikes offer a more upright riding position compared to road bikes. By providing you with better riding control, you'll feel more stable when riding in tough conditions. Plus, this design provides more comfort during long journeys.
Furthermore, this bike type comes with wide frames and forks with a flat top tube that's easier to carry on your shoulder when you're not riding the bike.
More: The Best Gravel Bikes Under $1000: the Best Entry-Level Gravel Bikes
Winning Bikes
We hope you enjoyed reading this review about cyclocross bikes under $1000. The market has a wide range of models to choose from that cater to various style choices and budget. Of all the choices, we recommend the Trek Bikes Domane AL 2 bike. It comes with 16 speeds for excellent versatility and shifters integrated into the brake levers for comfortable gear shifts.
Alternatively, the Tommaso Illimitate Shimano Tiagra Gravel Adventure Bike makes an excellent runner-up. It comes with 2 x 10 Shimano gears for a wide range of speeds that you can use in all conditions. And the wide tires provide stability and versatility, as well as additional grip and control.