World-renowned bicycle manufacturer, Trek, has developed yet another hybrid bicycle that is changing the standard for E-bikes everywhere. The Trek Verve+ 2 is top of its class, reliable, and an affordable electric bike that newcomers and veterans in cycling alike will find difficult to put away after their daily ride. However, why in the world would you want a hybrid bicycle?
We are all searching for something different things when it comes to bicycles. If you are searching for a bike that is made for urban commutes, eases the effort required to push through rough terrain, and maintains the feel of a classic bicycle, the hybrid may be for you.
The addition of an electric motor is really what sets the hybrid apart from its competitors, but is also a source of doubt among cyclists. The Trek Verve+ 2 seeks to alleviate this doubt by producing a bike that remains true to its non-motor roots while providing the benefits of added support for pedaling through rough terrain. 
However, there are many more reasons why the Trek Verve+ 2 deserves the attention of cyclists worldwide. From its numerous frame options to its innovative motor, and even to its tried-and-true wheels, the Trek Verve+ 2 is a top-tier hybrid bicycle that delivers on Trek's devotion to quality.
But don't just take our word for it, the proof is all in the details – and we have included plenty of them below.
Before Purchasing a Hybrid Bicycle…
Dropping a couple of hundred dollars to purchase a hybrid bicycle is a substantial investment that requires a bit of consideration. A bicycle is a machine built from various components that each have their own contribution towards the function of the bicycle as a whole. Sometimes, the pros/cons of each component can be unclear, but no worries – we are here to help!
Knowing what you're looking for in a bicycle will ensure that you stay on track with your shopping and buying experience. Educating yourself on the various working components of a bike will allow you to narrow your search for your dream hybrid bicycle. This will save you not only money, but time browsing through countless racks of bicycles – even though we find that process fun!
If you are seriously considering purchasing a hybrid bicycle, it may be in your best interest to develop a checklist of features that you want out of a bike. That way when you are at the bicycle retailer, you will be able to assist the sales-person assisting you with meeting your needs.
If you are already interested in hybrid bicycles, Trek's offering may be your calling. If you don't believe us, read on to find out why the Verve+ 2 is one of the leading hybrid bicycle models on the market.
More: Find the Best Cyclocross Bike Under $1000 On the Market
6 Performance Driven Features
The Trek Verve+ 2 is a continuation of the Verve+ model that is so adored by the cycling community. While some features remain the same, there are many that Trek has fine-tuned to improve on an already amazing hybrid bicycle. The following is a short synopsis of those features:
Multiple Frame Options
The frame of the Trek Verve+ 2 was developed for customers of all sizes and developed from an Alpha Gold Aluminum Alloy. This means that not only is the frame rugged, durable, and stiff, it is lightweight. A lighter frame results in a higher degree of control both at high speeds and on laid-back cruises through the neighborhood.
The frame is what your bicycle is built around – every other piece of hardware will be connected to it in some way and not to mention you will be sitting on it! Needless to say, you want to be sure that it is made with quality, but what makes the Trek Verve+ 2  frame so special? Let's take a look…
Firstly, the Verve+ 2 frame comes in 17.5", 19.5", 21.5", and 23.5" sizes with color options of Matte Metallic Gunmetal, Matte Alpine Blue, and Magenta. With so many options to choose from, everyone can find what suits them most.
The Trek Verve+ 2 also has high-step and step-thru option, offering you even more customization of the Verve+ 2. A 24" Seat Tube coupled with a 27.5" Reach allows for a wide range of motion while riding the bike, and with a 32.5" Stand Over Height, the bike is not a great difficulty to mount.
Coming in at just 74.5″ length, the Trek Verve+ 2 has a top-tier frame that allows for durability without risking the overall control of the bike. A bike's handling abilities and control really begins to be a major concern at higher speeds, so since the Verve+ 2 is a hybrid – you really want a frame that improves the handling as much as possible. Trek has outdone themselves with this one, as the Verve+ 2 has one of the best frames in the market. 
Suspension Developed with Comfort in Mind
The Trek Verve+ 2 is a hybrid bike suitable for a wide range of terrain, including city commutes up to gravel paths. As such, Trek has cut some major costs in production by leaving front/rear suspension off of the bike. However, this doesn't mean that the ride on this bike is uncomfortable – quite the contrary. Trek has developed some innovative solutions to shed weight and save money while retaining comfort for the rider.
One of the more common trends among many bike types, along with hybrids, is to add suspension to the rider's seat post. This enables shocks and vibrations to travel through the bike but before they get to the rider, they get absorbed by the coil springs involved within the suspension system.
The Trek Verve+ 2 features an adjustable, steel core suspension system on its seat-post with up to 33mm of travel. This seat-post suspension system can be adjusted up to a 350-pound pre-load weight so that the ride can be as stiff or as spongey as you like.
The Verve+ 2 hybrid bike does not have any conventional suspension on its front fork, but don't let that fool you. Trek has developed the front fork of this bike to dampen much of the most common forms of vibration you are likely to encounter while riding. This is accomplished due to the Verve+ 2's front fork composition, which is a solid steel alloy. A commonly overlooked trait of steel is that it can absorb a high ratio of vibrations – while remaining a cost-effective option for manufacturers.
More: Best Cyclocross Bike Under $1500 [Review and Buying Guide]
Tried-and-True Wheels
Trek may have not put a new set of wheels on the Verve+ 2, but that is not a bad thing. The best feature of the original Verve+ was most likely its 28″ wheels, and they proved to perform so well that Trek featured them on the Verve+ 2. Wondering why Trek decided to use the old model's wheels? Simple, they've been tried and true.
The 700x45cc Bontrager H5 tire provides traction and grip where and when you need it. It is a hybrid grip pattern – smooth in the middle and rough around the edges. This allows for speed, as well as grip on rainy days. Not to mention that these tires lead the industry with the highest puncture rating across the boards.
The H5 tires are mounted on 28″ Aluminum Alloy rims, equipped with double walls as well. The 32-Hole rim is supported by a 14-gauge, Stainless Steel spoke. All of this allows the H5 tire to reach a 60-80 PSI rating.
Unprecedented Drive-Train
Speed on command and its ease of control are the most important features in a bicycles' drive-train. Trek delivers on these features and as well as implementing smooth transitions by limiting the gaps between gears. What does all this mean for the Verve+ 2?
Hills, bumpy roads, and ever-changing terrain will always remain a constant if you are a cyclist. Pedaling through this terrain can prove to be exhaustive and even impossible at times. However, switching gears while approaching these challenges will enable you to put far less effort into generating torque that will get you up and over that next hill.
What sets the Trek Verve+ 2 apart from competitor drive-trains is a 9-speed Shimano HG200, 36 tooth cassette coupled with a Shimano Alivio T4000 Derailleur. The crank is fabricated of Aluminum Alloy and a 38 tooth steel chain will provide you all the get-up that you could ever need. Of course, all that power has to be generated at the pedals – which is composed of a steel core with a molded plastic exterior.
This makes the Trek Verve+ 2's drive-train a soon-to-be award winner. Power-on command and smooth delivery make this bicycle one of the best rides that money can buy.
More: The Best hybrid bikes under $300 [Complete Review and Buying Guide
Effortless Braking on a Dime
What is the point of riding a bike if you can't stop it? Would the risk be worth the reward? These are questions you will never have to consider when you buy a Verve+ 2 hybrid bike from Trek.
The bicycle market has, for the past decade, been moving towards adopting a new standard for their braking systems. This standard is hydraulic disk brakes, but what makes them so great?
Hydraulic disk brakes are a bit more complicated than their standard disk brake predecessors but have so many more advantages. For one, hydraulic brakes provide twice as much stopping power as standard disk brakes so that you can stop on a dime. Perhaps most importantly though, is how much easier they are to use. Hydraulic disk brakes involve the use of pressurized fluid within the calipers to stop; this means that little effort is required to stop.
The Trek Verve+ 2 features Shimano MT200 Hydraulic disk brakes, on industry-standard 160mm rotors. Dual-Piston calipers work with three-finger levers to get your bicycle stopping with power, ease, and hassle-free. The brake levers also have an adjustable reach feature enabling long-term comfort.
Cyclist Enthusiast' Endorsed Electric Motor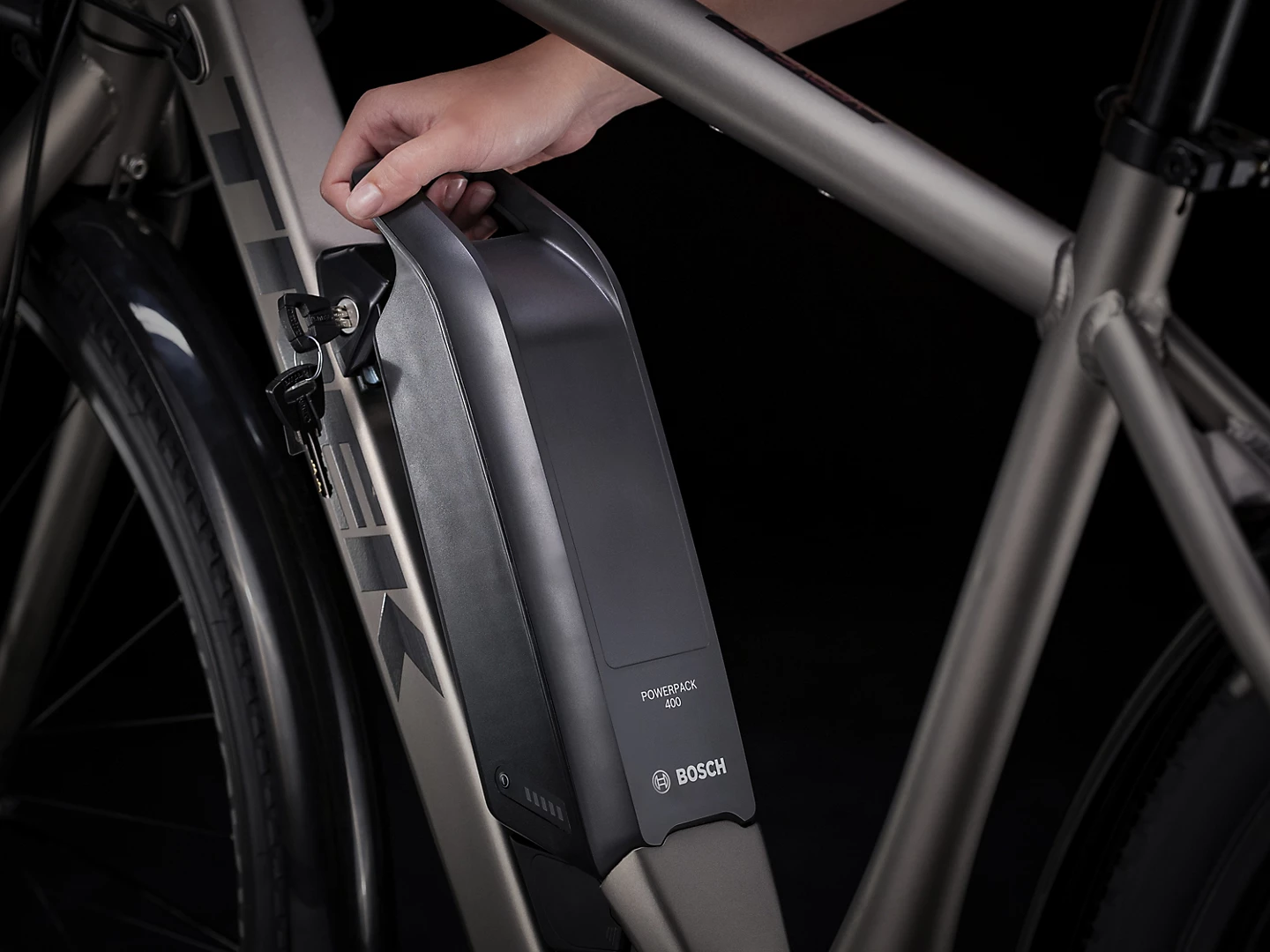 The addition of an electric motor mounted at the pedals is what sets a hybrid bicycle apart from the rest. The Trek Verve+ 2 features an electric motor developed by the national-renowned Bosch.
The addition of an electric motor at the pedals opens the doors of possibility to many would-be cyclists and veteran cyclists alike. The motor's on hybrid bikes have detection ability, wherein it will only start when you are going uphill, on rough terrain, and other such factors. This means that scaling hills will still be a challenge, but the electric motor is going to take the edge off.
The Bosch Active Line electric motor included on the Verve+ 2 produces, at maximum, 40 N/m of torque in its turbo mode, which will prove to be more than enough to suit all of your needs. It's punchy, yet still allows you to do most of the work in moving your bike. The motor provides a smooth delivery of power to your pedals, and does it quietly – so no one has to even know about the motor!
More: Trek Verve 1 Review: Is It A Good Bike To Have?
Not to Mention…
Purchasing a bicycle without social proof sounds a lot like a gamble, but we are here to ease any sort of doubt that you have. You want a bicycle that stands up to the test of time and there is no better option than buying your bike through a nationally-acclaimed bike manufacturer. But what company can you trust with your money?
Trek is a bicycle manufacturer that has been around for nearly 40 years. As such, they have built a long-standing reputation for building some of the best bikes in the world. They are devoted to building quality bicycles and have never missed a beat.
On top of that, Trek also offers exclusive service to their customers that can't be found anywhere else on the market. Any purchase of one of their bicycles includes a life-time warranty that can't be matched by any of their competitors. They also have numerous maintenance shops across the nation so that you can make sure your bike is in tip-top shape.
If that wasn't enough, Trek's bicycles have been featured in countless cross-country and mountain biking competitions, just to name a few. Trek develops high-quality bicycles that are used by amateurs and professionals alike. What have you got to lose?
More: The Best Electric Bikes Under $1,000 On The Market
| Feature | Pros | What this Means |
| --- | --- | --- |
| Frame | Light-weight Aluminum Alloy, with many different sizing options available | High degree of customization so that the optimal height to bike size ratio can be achieved |
| Suspension | Seat-post coil system that provides up to 30mm travel along with 350 pound pref-load weight adjustment | Sheds weight where other bikes cannot while retaining rider comfort |
| Wheels | 28" H5 Hybrid wheels | Wheel punctures are a figment of the past; Dual-Tread allows for superb grip over numerous terrains |
| Drive-Train | Shimano Cassette, Derailleaur and Aluminum Alloy Crank | 9-speeds offers you outstanding control over speed while limiting gaps between gears |
| Brake | Shimano Hydraulic disk brakes on 160mm backed by dual piston calipers | Smooth and powerful stopping power has never been made easier |
Is There Another Bike Similar to the Verve+ 2?
Like the Verve+ 2, the Verve+ 3 is a continuation of its predecessor. Many features that are similar between the two, and which one is better is a matter of subjective taste. Either model offered by Trek will prove to be an effective decision within the hybrid market.
However, a few details on the differences between the two may help to sway your buying decision, and we have you covered.
Verve+ 3 offers a 9-speed shifter arrangement over the 8-speed included on the Verve+ 2
The Verve+ 2 has a Shimano M310 derailleur while the Verve+ 3 has the T400
As opposed to an alloy crank on the 2, the Verve+ 3 features the FSA Dyna Drive
The Shimano HG31 8-speed cassette of the Verve+ 2 is upgraded to a 9-speed HG20
There are other differences between the two, but in the bigger picture, only make for a minimal performance upgrade. Due to this, the Verve+ 3 is a perfect bike that is similar to the Verve+ 2.
Conclusion
The Trek Verve+ 2 is an E-bike that is changing the hybrid market. The features on the bike are some of the freshest within the cycling industry, making this bicycle a revolutionary piece of machinery. Although it is a step forward, the Verve+ 2 retains the classic look and feel of the bicycle we have grown to know and love.
Trek delivers on their commitment to quality with the Verve+ 2 and offers a lifetime warranty on their coveted bicycle. Nationwide service centers enable you to keep your new bicycle in tip-top shape even after years of abuse.
If you are in the buyer's market for a new hybrid bicycle with a lifetime warranty, the most up-to-date hardware, and a market-leading competitive price, you need to buy the Trek Verve+ 2!