Hey Bikers. Welcome to my Trek Madone SL 6 Review of 2021.
I have used over a dozen bikes over the years and I will help you pick your next road bike.
Trust me, you don't want to waste over $4k on a bike that doesn't fit your need. Today, I will show you why I think Trek Madone SL6 is the best Road bike if you are serious about road biking.
Overview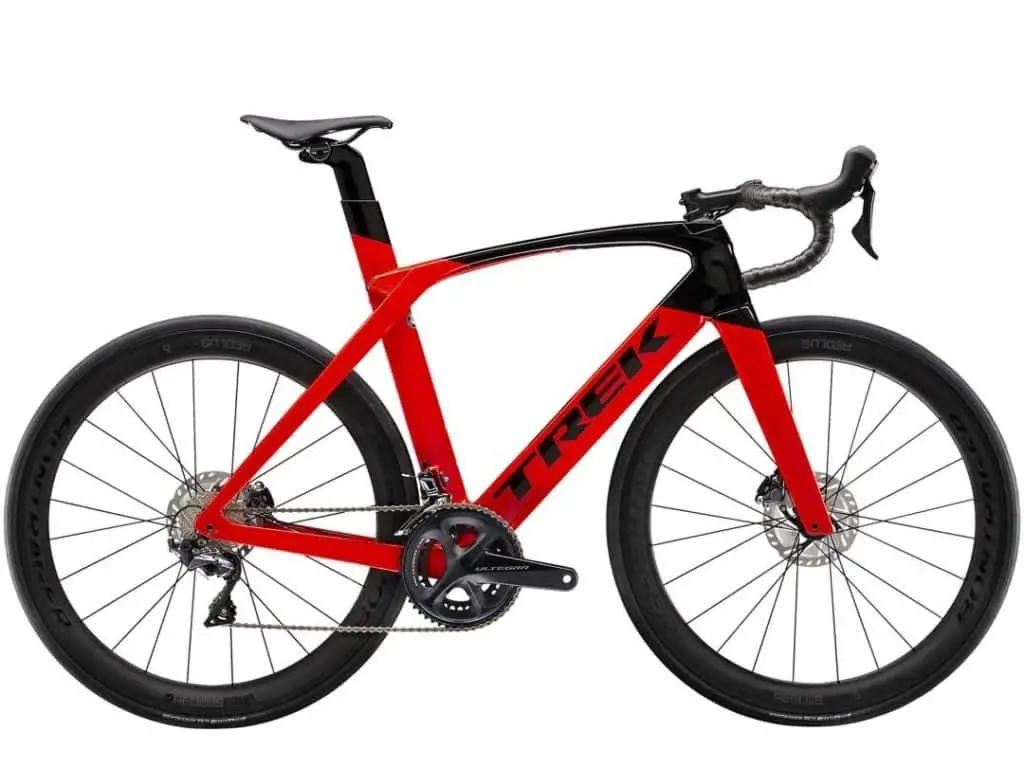 Introducing the Trek Madone SL6 road bike: This bike includes advanced aerodynamic performance and the best price-to-performance ratio of any road bike on the market. This bike comes in two different colors of black and quicksilver and a wide range of sizes (50-62). 
Trek as a brand also has some great credibility in the cycling industry. While a lot of brands actually run their bikes through big manufacturers, the Trek bikes are all invested into when it comes to aerodynamics and design. It also shows when you feel the quality of the material. 
They spend money really trying to make a worthwhile product and to maintain customer loyalty. The frame, the wheels, everything – it's all sleek in design and the best price-to-performance money can buy.
It comes with:
Bontrager Montrose Comp, Chromoly rails on its saddle 
Madone Micro-adjust carbon seat mast cap for its seat 
Bontrager Elite Aero VR-CF for its handlebar
Bontrager Pro stem with computer and light mounts
Madone integrated, stainless headset
In comparison to other budget road bikes, for what the Trek Madone SL6 offers, its high price is definitely understandable. The development costs of this bike alone are huge, but Trek also had to do away with its pricey integrated bar and stem system with something that's a bit more cost-effective. Here are our pros and cons:
Things to Consider Before Buying a Road Bike
If you're considering buying a road bike, you probably have asked yourself why you even need a road bike specifically. Couldn't you just buy a regular bike? Unfortunately, that answer is no. Road bikes are considered off-road bikes, which means they're designed to withstand rough terrain and conditions. 
If you want to ride through bike trails through the roads or deserts, then you'll want a road bike. Just like how a dull blade is always more dangerous to use than a sharp one, a road bike is designed to plow through uneven trails and keep you steady. 
If you're someone who enjoys slower bike rides, a road bike (or road biking in general) may not be for you. Perhaps a traditional road bike and on well-maintained bike trails would be more ideal. There's nothing wrong with that either. If, however, you want the excitement and scenic view of what road biking holds, then this might just be for you.
More: The Best Fixed Gear Bike For Men and Women [ Guide and Review]
Features & Benefits
The Frame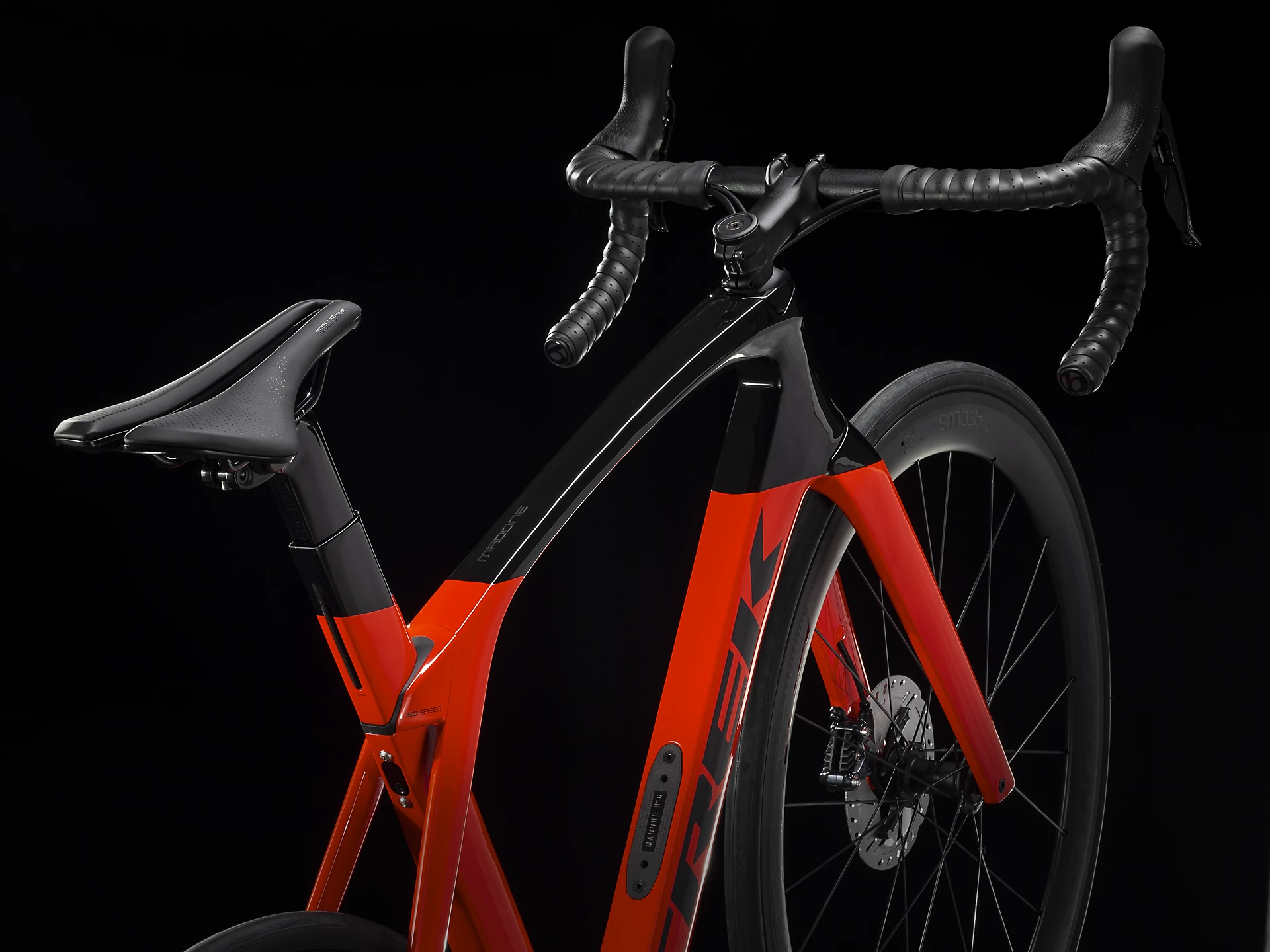 The Trek Madone SL 6 road bike has a 500 Series OCLV carbon frame and is made from the same molds as the Madone SLR range, which means they should give you the exact same aerodynamic performance. The frame design is also built to cut through wind.
The frame is usually made of alloy, Chromoly steel, carbon fiber. It can be considered the most important feature of a bike. It's probably the first thing you see, aside from the wheels. A bike's frame is what holds everything together; it's what makes everything work smoothly. 
You can have the best wheels money could buy, the most comfortable padding for your seat, and even great features that can add to the bike, but if your frame is cheap, it's not going to be a good bike.
And when it comes to road biking, the frame is the main thing that gets you from Point A to Point B safely. Safety should be valued above all else.
More: The Best Road Bikes Under $2000 [review and Buying Guide]
Suspension System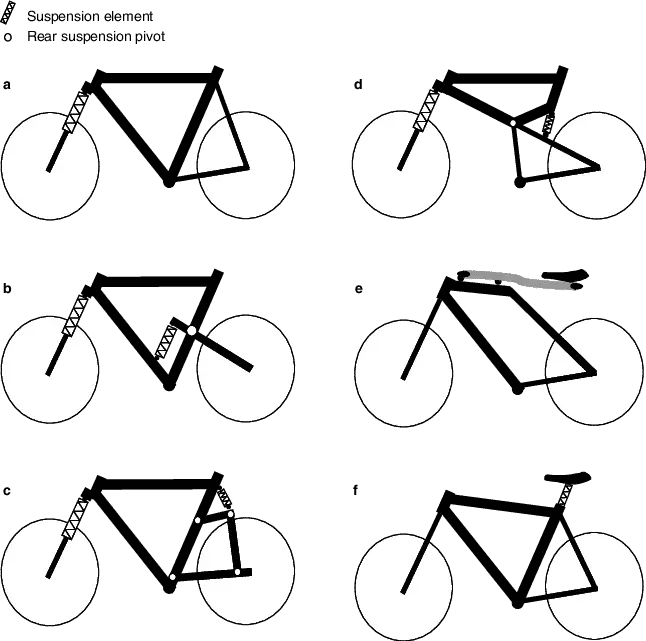 The suspension system on the Trek Madone SL 6 has its own IsoSpeed, which makes for a unique biking experience. Most modern road bikes have both a front and rear suspension systems and allow the wheels to absorb bumps on unfriendly terrains and conditions. 
Having a good suspension system also allows for better control, as well as being able to land larger jumps that would otherwise throw the person from the bike or worse.
If you're looking to purchase a road bike with the purpose of going for more difficult trails, you want to make sure your suspension system is good. Road biking can be dangerous and having all the safety precautions money can buy will only make your experience more worthwhile.
Wheel
The wheels on the Trek Madone SL 6 also have cutting edge wheel design of tubeless Aeolus Comp wheels, which make them more durable than your typical bike wheels. With more modern bikes, wheels are designed to last at least five years, maybe more. 
Similar to the suspension system, having price-to-performance quality wheels can make your ride a lot smoother, depending on the wheels. Size is also dependent here, as different sizes offer different unique features. Typically, the front wheel has a bigger impact on the bike's handling ability, making it easier (or more difficult) to navigate rough terrain.
Wheels are something you do not want to cheap out on. If your wheels were to wear down quickly, it's a good idea to think about replacing your road bike's wheels with ones that are built to last much longer. This is because with the various types of terrain you ride on, your wheels will degrade faster than if you were riding on a well-maintained bike trail.
More: Priority 600 Review: Is It A Good Commuter Bike To Have?
Gear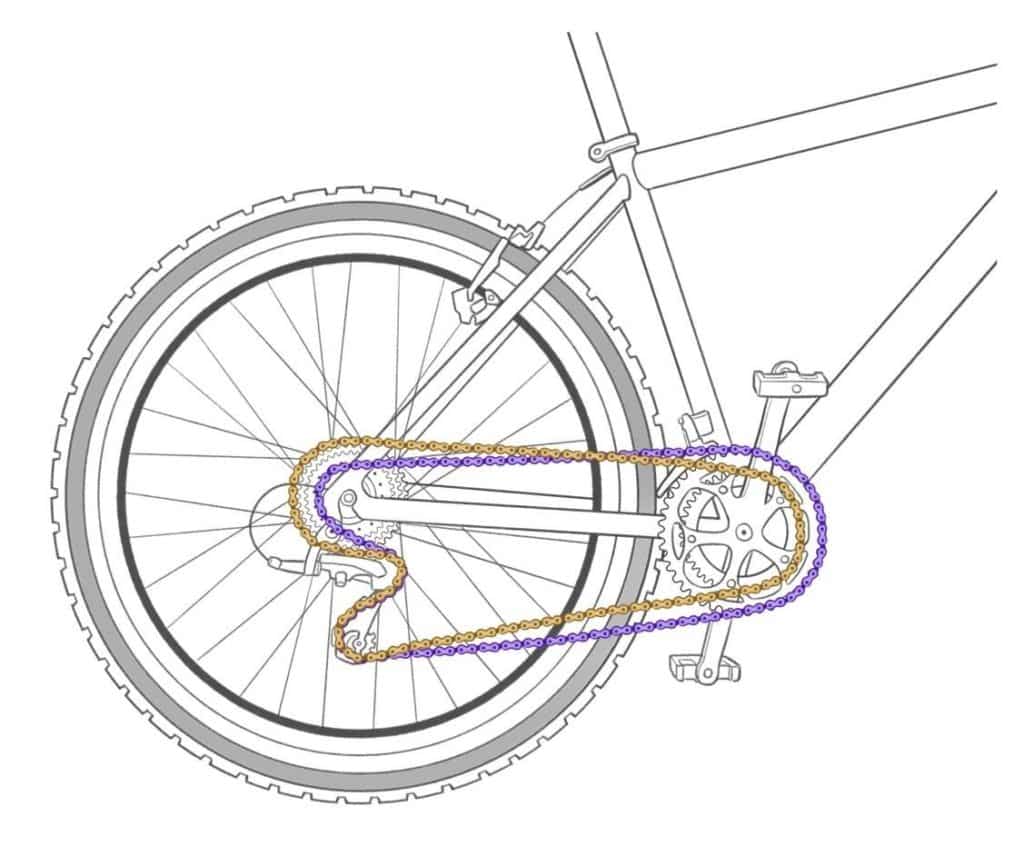 When it comes to gears, most geared bikes have one, two, or three chainrings in the front and a range of seven to twelve gears in the back. The Trek Madone SL 6 has top-quality gears that can withstand difficult rides. 
As with any bike, however, you want to make sure you use the appropriate gears depending on if you're going uphill or downhill. Typically, a lower gear is better for uphill and a higher gear for downhill.
Changing gears is tricky to remember, but just keep a mental note that to go into first gear, you need to move the gear notch down. Shifting the remaining gears is done by moving the gear shift upwards. You want to make sure you don't handle a difficult trail on your first time because if you find yourself in a dangerous situation, you might not know how to shift gears.
Brake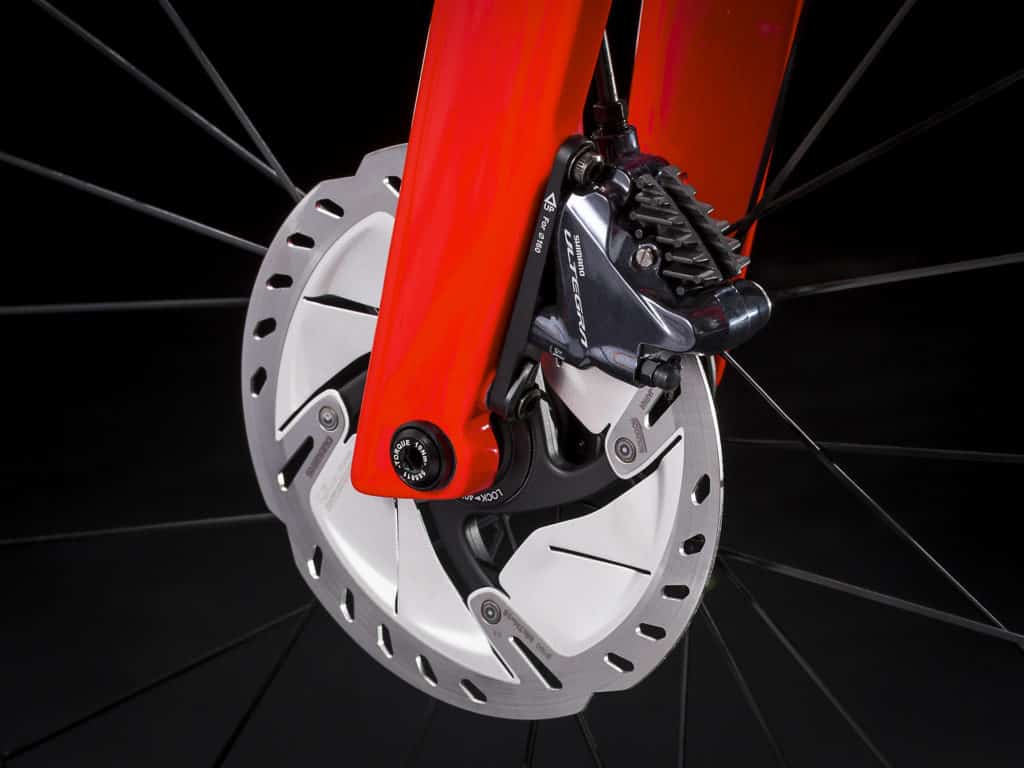 If you have any experience riding a road bike, you'll know that if you're not careful, you can brake on reflex and fling yourself over the bars. Accidents happen but it's definitely better to fling yourself onto the road instead of not having powerful enough brakes and go off the edge of the road. 
More: Discover the Best Recumbent Trike for Seniors On The Market
With the Trek Madone SL 6, the brakes are Madone aerodynamically integrated and powerful, making them perfect for wanting speed but valuing your safety at the same time. 
Just like with gear shifts, remembering not to brake with both the front and back brake is important. Coming to a complete stop in a matter of seconds is exactly how you get yourself flung over your bars. Remember that your back brake isn't as strong as your front, so if you want to steadily come to a stop, press down on your back brake.
More: Trek Emonda ALR 5 Review: Is It A Good Bike To Have?
| Feature Type | Feature Specs | What This Means |
| --- | --- | --- |
| Frame | 500 Series OCLV Carbon | This is Trek's patented carbon, which have multiple layers. The material makes it unique and high-quality. |
| Suspension System | Madone KVF full carbon | This system makes it easy to absorb rocks or even big lands while biking. |
| Wheels | Bontrager Aeolus Comp Tubeless Ready | The big wheels work together with the suspension system to really ride quickly and smoothly. |
| Gears | Shimano Ultegra | The gears are easy to use and accessible, making it convenient to switch gears while on a ride. |
| Brakes | Madone aerodynamically integrated | The brakes are powerful and really put your bike to a halt when you want it to. |
Which is Better for Performance: Trek Domane SL 6 or Trek Madone SL 6?
When evaluating the best performance road bike review, it is essential to compare top models like the Trek Domane SL 6 and Trek Madone SL 6. Both are highly regarded for their outstanding performance. While the Domane SL 6 excels in endurance and comfort, the Madone SL 6 is known for its aerodynamics and speed. Determining which one is better depends on individual preferences and riding style.
What other customers said
Although this bike is one of the best modern road bikes on the market, I still wanted to scour the internet searching for what other people were saying about this bike.
Here's one:

And another: 

And one more: 

Alternatives
As well as scouring the internet for reviews, I also looked into alternative products that match the Trek Madone SL 6's speed, durability, and overall price-to-performance.
The first that I found was the Giant Propel Advanced Pro 1 Disc bike. It's a little bit more expensive than the bike we're talking about in this article, but not by a lot. Giant is a pretty big name when it comes to manufacturing bikes, as they really got their name by selling all different kinds of bikes rather than their own. 
When it comes to this bike in particular, it's a little bit of an upgrade as it has Ultegra Di2 included as a feature while the Trek Madone simply has the Ultegra. 
More: Best RoyalBaby Bike [Review and Buying Guide]
A downside to this bike, however, is that Trek really is a popular brand that excels in product quality. They invest so much money into the development and design, which shows when you get one of their bikes in your hands.
Another alternative to the Trek Madone is the Specialized Venge. Both of their brands are pretty well known in the biking industry that produce top-tier aerodynamic road bikes. While the Venge could be considered better than the Madone, it's also more catered towards experienced bikers. 
If this is your first time owning a road bike, the Trek Madone SL 6 is really the best bike you can get your hands on. It's fast, has easy handling, and great features while being affordable, at least by road bike standards. 
If you want to buy a bike in your budget, road biking probably isn't for you.
To break it down even more, follow these guidelines to help you pick out your perfect bike:
Trek Madone SL 6 vs Trek Madone SL 6
Great for beginners
Budget-friendly compared to more premium bikes
Solid aerodynamic features that are great quality
Trek Madone SL 6 vs Giant Propel Advanced Pro 1
Pricier than the Madone
Has upgraded features
Not as user friendly
Trek Madone SL 6 vs Specialized Verge
Made for experienced bikers
A bit heavier than the others
Manufactured by name brand
Conclusion
In summary, the Trek Madone is a great bike for both beginners and experienced road bikers. The ride is impressively smooth, it handles bumps and different lands with its top-tier suspension system and maintains speed effortlessly. 
You don't need to keep pumping the pedals when you normally would have to in other bikes. Trek as a grand also has some great history, as they really invest in all their bikes, not just this one specifically.
If you're looking for a road bike but don't want to worry about safety or a bike that'll crash on you too quickly, this bike is perfect for you. Even if you're not sure about what bike is best for you, this bike should tick all of your boxes. 
Click here to go to their official website and look at the specs for yourself, and maybe you'll even buy it to see what we're really talking about.