The Trek Emonda ALR 5 is not an expensive carbon bike but the type of bike that would navigate the rough terrain with ease. 
Not to mention, Emonda ALR 5 is the bike that will also easily fend off any kind of weather. 
Whether it's a sunny day or a downpour, the Trek Emonda ALR will remain reliable and won't render itself useless due to nature's worst. 
As an endurance bike, the Trek Émonda ALR 5 has everything that a cycling enthusiast needs – hydraulic disc brakes, front derailleur, rear derailleur, internal brake routing, control freak internal routing, internal cable routing, invisible weld technology, tapered head tube, sealed cartridge bearing, and Bontrager alloy.
We'll be taking a look at the Trek Emonda ALR 5 in more detail here shortly. 
Before we do, we'll talk about some of the things you may need to consider prior to purchasing a bike like Emonda ALR. 
Knowing what to mull over will help you whittle down your options for bikes while eliminating others due to a feature or con you might not be a fan of.
If you are looking for a bike that is lightweight but tough, easy to navigate, and worth using for those long mileage bike rides, Emonda ALR 5 might be a great choice for you. 
Now, let's dive into the things you'll need to consider prior to purchasing the Emonda ALR 5.
Things To Consider Before Buying A Bike
Size
Not all bikes come in the same size. Some of them may be higher than others in terms of height. Before choosing a bike, you'll need to know how tall you are. 
Obviously, taller people will need a bike with a higher seat height (and the opposite for those who are much shorter). Some bikes will even have adjustable seats that have different height levels. 
What terrain can it handle?
Choosing a bike might be tough. That's because some will handle flat terrain and others can handle rocky, unpaved roadways (some bikes won't do that). For bikes that handle rough terrain, the bike should have shock absorbers to ensure that it can take in as much shock as possible while you are riding off-road. 
Speed and Gears
Bikes come in different speeds or gears. Not to mention, some will have more gears than others. The more gears you need, the better the bike can handle challenging roads. Obviously, the bike with more gears can tackle steeper hills when the settings are right.
Features & Benefits
In this section, we'll be explaining each of the features and benefits for the Trek Emonda ALR 5. 
Feel free to take as many notes as possible on any features or benefits that may stand out.
That way, you'll know whether or not such features included are a dealmaker or deal breaker for you. 
Let's take a look at what the Trek Emonda ALR 5 offers:
Frame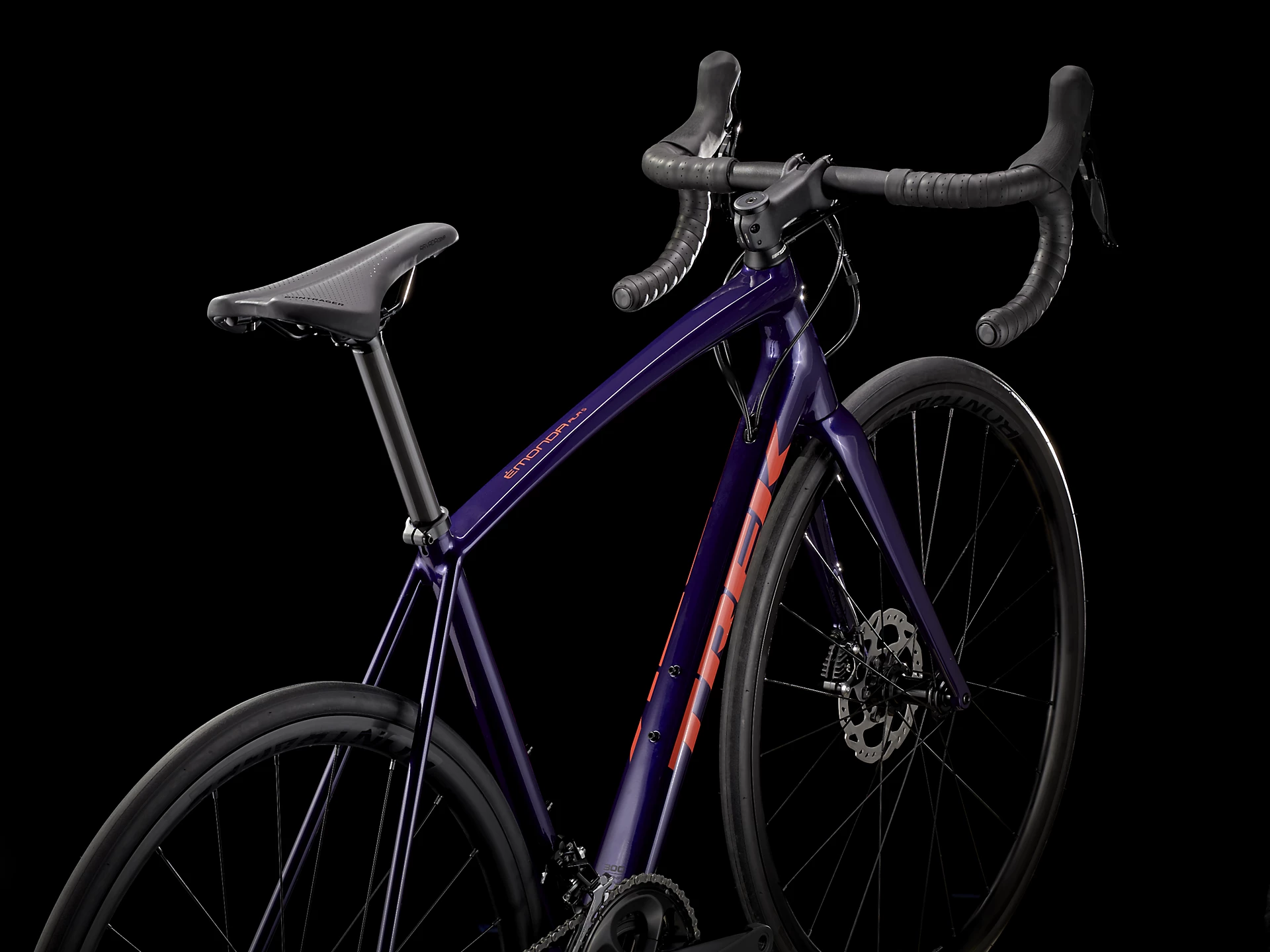 Starting with the frame of Emonda ALR 5, it's made from ultralight 300 Series Alpha Aluminum. It's tough as nails, so don't let the lightweight allow you to mistake this as something weak. Because of its weight and tapered head tube it makes it very easy to navigate the turns and curves. 
Aluminum has proven itself time and time again as one of the most durable materials. Depending on the type, both the frame and the structure, can withstand plenty of shock and abuse. If you have owned a bike in the past that gets easily dented and scratched, you know how frustrating it can be. 
Suspension
The suspension of the Emonda ALR is made from Emonda SL full carbon. It also has flat mount disc brakes, which are responsive and will allow your bike to come to a complete stop fairly quickly. The last thing you want is brakes that will take time for your bike to slow down.
Just squeeze the brakes as you slow down and you'll come to a stop almost instantly. No screeching, delays, or unresponsiveness included. This also comes with a tapered carbon steerer, which allows you easy and more fluid turns. 
Plus, you have a suspension that is just as tough as the frame itself, which gives you incomparable ride quality. Durability is one of the most important things you'll get out of a responsive road bike like this. 
Wheel 
The wheels of the Emonda ALR are Bontrager R1 Hard-Case Lite tires which offers you the benefit of control freak internal routing. These wire bead tires contain 60 TPI, which is pretty durable for a pair of tires that can handle all kinds of terrain. You won't have to worry about these puncturing easy or losing air for no apparent reason. 
The wheels also come with sealed cartridge bearing, stainless steel spokes, Bontrager carbon alloy hubs for both the front and the rear derailleur, and a tubeless-ready rim for better performance. Simply put, these tires enclosed within the Bontrager carbon alloy are tough and will no doubt clock in plenty of mileage when you take this bad boy out for a ride throughout the year, giving you a superb ride quality. In addition, the wheels come with Bontrager blendr stem technology, saddle Bontrager montrose comp, invisible weld technology, and wallet friendly Bontrager alloy frame.
Gear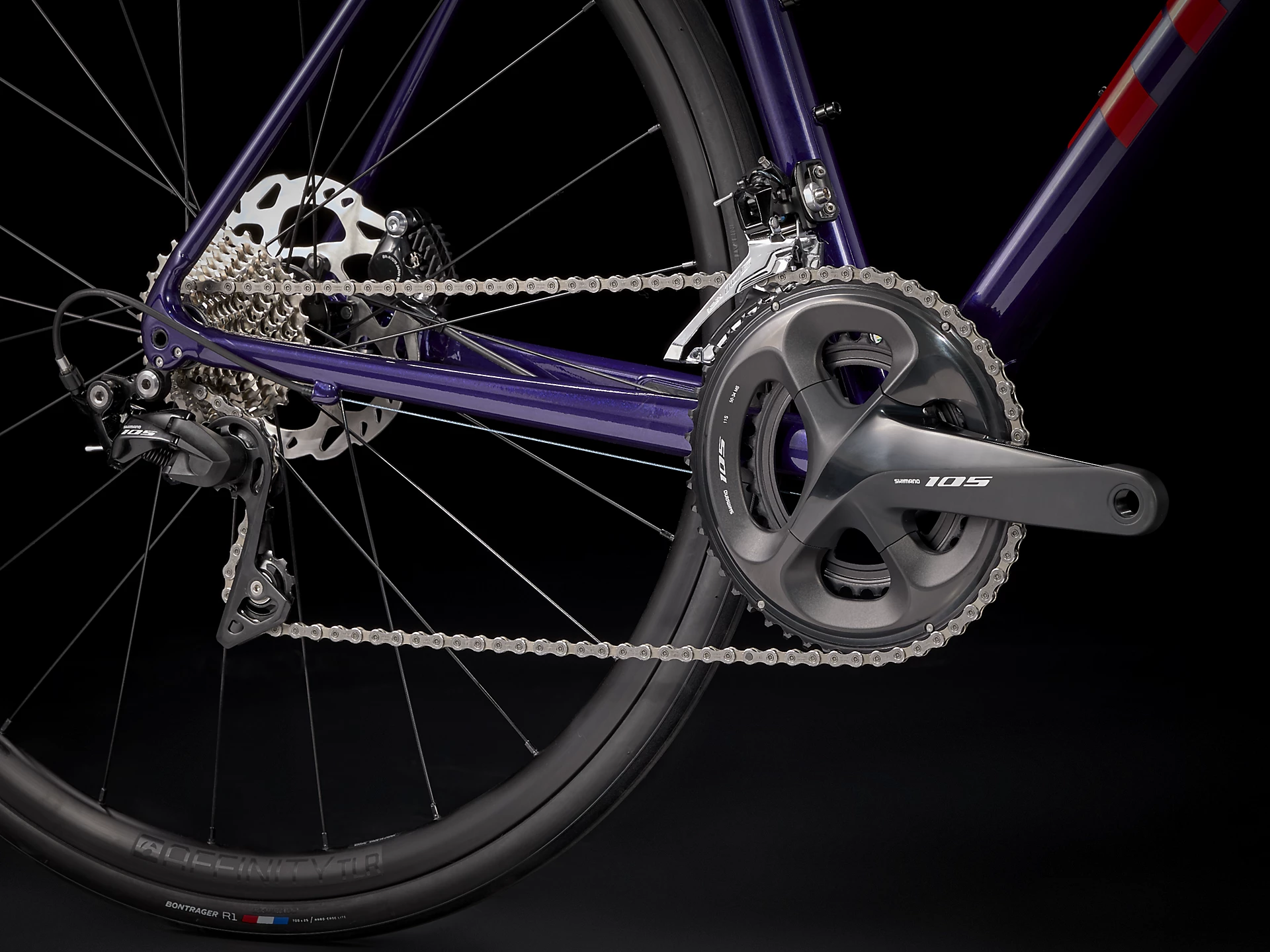 The Trek Emonda ALR 5 is an 11-speed bike. This will give you plenty of gears so you can be able to easily shift from one gear to the next with ease. Need to climb a steep hill? Adjust it to the right gear.
The chain is a Shimano 105 HG601, which is solid and can hold itself together while you switch in between gears. Depending on the size of the bike, the crank has a Shimano 105 R7000 crankset. It's solid and can handle most of the sports biking activities that you can do on the Trek Emonda ALR 5. 
You could be at racing speed and blazing through the trails or just lightly peddling on solid ground like the side of a not so busy roadway. It's durable, has great balance, and makes shifting between gears feel like a breeze on this comfortable bike. 
More: Pure Fix Bike Review: Is It A Good Bike To Have
Brake 
For better braking performance, the powerful hydraulic disc brakes included in the Trek Emonda ALR 5 are the dependable Shimano 105 drivetrain hydraulic flat mount disc brakes. With a touch of the lever, you can be able to activate the Emonda ALR 5 disc brakes with ease so your bike can stop much quicker compared to the others. With the Emonda ALR 5 disc brakes you will not experience any grinding stops or delays in responsiveness. 
These Emonda ALR 5 disc brakes work perfectly for tires that are wider in size. Plus, you get better clearance with the Emonda ALR 5 disc brakes which means that the brakes won't get into a lot of contact with the tires themselves. Too little clearance and you might risk doing damage to both your brakes and tires. 
What really makes the Emonda ALR 5 disc brakes brake levers stand out is that they are great for those with small hands. If you have larger sized hands, there are levers available in a different size you can easily replace. The Emonda ALR 5 disc brakes levers are easy to uninstall and replace, so you won't have to worry about doing anything complex. 
More: Trek Checkpoint ALR 5 Review: Is It A Good Bike To Have?
| Feature Type | Feature Specs | What This Means |
| --- | --- | --- |
| Weight | 19.92 lbs | For a sportbike, it's actually light in weight. It's not too heavy so you can carry it over your shoulder whenever you need to climb a set of stairs. |
| Weight capacity | 275 lbs | It can handle plenty of body types and sizes. The weight capacity is quite generous. It can also handle a bit of extra cargo if an added storage space is installed. |
| Frame | Ultralight 300 Series Alpha Aluminum | Ultralight, very durable, with internal cable routing. It can take beatings as it rumbles through rough terrain. No dents could occur on the wallet friendly alloy frame and it can be highly resistant to scratches. |
| Speeds | 11 | At 11 speeds, you can be able to switch through plenty of gears. Shift down for those fast, downward slopes (shift up for those steep hills that you can conquer with ease). |
| Handlebar | Bontrager Comp VR-C, alloy, 31.8 cm, 100mm reach, 124mm drop | These handlebars are sturdy, but provide plenty of reach and drop to give the riders better ergonomics compared to other bikes |
| Brake | Shimano 105 hydraulic, flat mount disc | These are designed to provide your bike with better brake performance. It also provides excellent clearance for tires that are wider in size compared to other sports bikes on the market. Expect these brakes to be very responsive. |
| Price | $1999 | While it may seem high, it's actually more affordable than most higher-end bikes that display similar features and performance. |
Social Proof
Now that we've laid out all of the features, it might be worth telling a few stories that past buyers have put together regarding the Trek Emonda ALR 5. Below are a few testimonials based on the personal experiences of each user. These should help you determine whether or not if the bike might be a good fit for you or not. 
According to Paul in the UK, he uses the bike for commuting on a regular basis. And he has certainly put in a lot of mileage on it since he purchased. He said that the bike rides great and makes you want to see what's around the corner. By the sounds of it, the bike rides like a dream and is quite nimble in its movements. 
This buyer in the United States had nothing but great things to say about the Trek Emonda ALR 5. It's an excellent bike that is great for those new to riding sportbikes. Whether it's a mountain bike or something that you can use for exercising purposes, this bike might just be the best choice for those who want to work out regularly. 
On top of that, they mentioned that it's a high-quality bike that doesn't break the bank. If you are looking for a high-quality bike that might be the best you can afford, this one, in particular, might be on your radar. 
The final testimonial we'll be looking at is from Fred in Toronto. He pointed out that the bike wasn't twitchy and didn't feel unstable at all. Most lightweight bikes have a common issue where it "twitches" when it moves, leading to some imbalance. But not the Trek Emonda ALR 5.
Let's take a look at some testimonials:
Alternatives
There are a few alternatives to the Trek Emonda ALR 5 that are available on the market. How do they compare to our feature product? We'll make comparisons with three different models and how they differ from each other. 
Let's start with the Trek Emonda versus the Emonda SL5:
Trek Emonda ALR5 vs Emonda SL5
On paper, both bikes are not so different in some ways. But where do they differ?  The answer is the frame. The Trek Emonda is a lightweight aluminium road bike but on the other hand, the Emonda SL5 has a carbon-based frame. Both are very durable materials and can take quite a beating.
More: Trek Madone Sl 6 Review: Is It A Good Road Bike?
Price
$1,999 (ALR 5), $2699 (SL5) *Subjected to Supply Chain Issues
SL5 Features
Aero tube design
500 OCLV Carbon Frame with Carbon Fork
Flat Mount Disc Brakes
Benefits
With its new aero design, you can go faster on the straights and the climbs. It also will provide you with nimble movements thanks to its lightweight, flat mount disc brakes, and durable carbon frame. 
Who Should Use It?
This bike will be perfect for those who want a little bit more speed. With the aerodynamic design, you can shave off personal best times if you are training for a competition. 
Comparisons:
Aluminum frame (ALR 5) / Carbon frame (SL5)
$1999 (ALR 5) / $2699 (SL5) *Retailer Prices May Vary
If you have a bit more extra cash and as a cycling enthusiast if you want something that is just as durable but can be great for more speed, this might be an excellent bike to go with. It's also great for bikers who tend to be more into competitive sports than casual riding.
Trek Emonda ALR 5 vs Trek Emonda ALR 4
How does the ALR 5 stack up against an older version of itself? The ALR 4 has 10 speeds (the ALR 5 has 11). Also, the price difference for discs and rims are within hundreds of dollars apart. The discs and rims for the ALR 4 are priced at $1680 and $1360, respectively. The ALR 5 prices for discs and rims are $1890 and $1590. 
More: Best RoyalBaby Bike [Review and Buying Guide]
Price
$1,999 (ALR 5), $1533 (ALR4)
ALR 4 Features
Invisible Weld Technology
300 Series Alpha Aluminum
Direct Mount Rim Brakes
Carbon Tapered Steerer
Benefits
Like its newer counterpart, it's light in weight and has the same aluminum frame that is tough like a tank. 
Who Should Use It?
It's a great bike for commuters and casual bike riders. Not really a competition class sportbike, but it's great for cutting corners and navigating through obstacles. 
Comparisons:
$1999 (ALR 5) / $1533 (ALR 4)
While Trek no longer sells the ALR 4, they can be found elsewhere online. If you are looking for a bike that might have almost the same features, but want to save a little more cash this might be the alternative you're looking for. 
Trek Emonda ALR 5 Disc vs Cannondale CAAD13
When pitted together, these two bikes look exactly the same in performance. But where they differ are different areas in geometry. The Cannondale has slightly more reach compared to the Émonda ALR 5 disc. 
Meanwhile, the head tube length is slightly larger on the Émonda ALR 5 compared to its CAAD13 counterpart. 
More: Discover the Best Recumbent Trike for Seniors On The Market
Price
$1,999 (ALR 5), $2100 (CAAD 13)
CAAD 13 Features
Ultralight SmartForm C1 Premium Advanced Alloy Frame
Shimano 105 hydro disc group
Hollowgram 27 Seatpost
Benefits
Smooth handling, speedy, and very nimble are some of the qualities that people look in a race bike. This bike rides and glides like you are a pilot behind a fighter jet that's ready for battle. These benefits are exactly what you need for when you want a race bike that was built for the competitions. 
This will handle flats and climbs even when time is of the essence in a race bike or while the training gets a lot more intense. 
Who Should Use It?
It's clear that this bike is used by competitive bikers. Whether you are new to the game or have a few long-distance races under your belt, this is the bike that can get the job done if you want to go fast, make overtaking your opponents with ease, and conquering those inclines with simplicity. 
More: Priority 600 Review: Is It A Good Commuter Bike To Have?
Comparisons:
Aluminum frame (ALR 5) / Advanced Alloy frame (CAAD 13)
$1999 (ALR 5) / $2100 (CAAD 13)
Unlike the Émonda ALR 5, the CAAD 13 is not for the casual rider. It's the kind of bike that will be perfect for those who want to compete at amateur bike races. If you can afford a bike for work and another for play, get both CAAD and Émonda ALR 5. If you are truly serious about your training, the CAAD is worth the investment. 
Conclusion
The Trek Emonda ALR 5 is the bike you need for when you want the best balance, a smooth ride, and durability that can withstand so many types of terrain. This is better served for sports bikers, but it has proven its worth as a great bike for people who tend to commute to and from work. 
Be it the best internal brake routing, internal cable routing, hydraulic disc brakes, front derailleur and rear derailleur, invisible weld technology, or tapered head tube with light mounts headset integrated – with Émonda ALR 5, you will get everything. This is the perfect bike for a few good reasons: One, it's lightweight and makes it easy to navigate and make turns and corners with ease. Two, it's an affordable solution for those looking for a bike without breaking the bank. 
While there are viable alternatives, the Trek Emond ALR 5 rises above the competition as one of the best multi-purpose sports bikes on the market. If you want a race ready ride on a bike with a comfortable stem size and ultra light weight don't look beyond Emonda ALR 5. The bike's sleek design comes with all the advantages and an exceptionally engineered disc brake version. The incredible handling of the bike gives you dependable shifting on its tubeless ready tires.