Welcome to my Priority 600 bike review.
Today I will go into detail about why Priority 600 is often pinned as one of the most maintenance-free bikes you could possibly get, the bike almost certainly represents a major evolution in biking technology. That's thanks to a whole near-gear system created by two engineers from Porsche who wondered by high-end bikes weren't using something a little more like a car's transmission system.
Those advancements might sound exciting, but let's take a look at everything the Priority 600 has to offer before you make a decision about whether this bike is right for you. After all, for all its advanced design, the Priority 600 is a slimmed-down streamlined bike with a pretty significant price tag.
Is the Priority 600 worth it?
Things to Consider Before Buying a Commuter Bike 
Commuter bikes are designed to be well balanced between speed, stability, and grip. Most importantly, these bikes are designed to be comfortable. That's even more important when you're looking at a total daily commute of 10 miles or more. 
Especially if you have that kind of long commute, you should also think about all-weather durability. Some bikes can handle the wet, but don't come with fenders or other adaptations to help keep you comfortable and dry while you're riding to work. 
It's also important to remember that commuter bikes aren't designed for the kind of hard use that a mountain bike can take, and usually aren't as fast as more streamlined road bikes. You may want a different style of the bike if you're wanting to tackle remote bike trails, or you may want something a little faster if your commute is more than 10 miles in a day. 
Features & Benefits
The individual features on this bike are what make the Priority 600 stand out from the crowd. Its understated geometry and matte black finish might not look like much, but when you get a look under the hood so to speak, that's when you really see why cyclists are drooling over this new model. 
Let's take a closer look at the features and benefits packed into the Priority 600.
Frame
The frame on this bike is a fairly standard streamlined aluminum frame. That gives you a little more durability but does also mean that this bike is a little heavier than it could be with a carbon frame. 
Still, the upright rider position, sleek geometry, and matched fork all make for an impressive performance of this bike. 
It's suitable for experienced cyclists as well as beginners thanks to that more upright rider geometry. It's also a good bike for cyclists who are dealing with back, elbow, or knee injuries since the less aggressive position is more forgiving on those important joints. 
The Priority 600 comes in a classic matte black colour that might not be eye-catching, but that does a good job of staying clean and scuff-free. It's also a good compliment to the simpler design of the frame itself.
A more extravagant colour choice might look odd on a bike that doesn't have much in the way of swoop or aesthetic-driven design. 
It's clear that the mission of the engineers behind the Priority 600 was much more invested in the function of this bike than in its looks. 
Suspension System
The Priority 600's suspension system is another place where it differs quite a bit from some other styles of bike. Instead of a suspension fork and shock-absorbing saddle post, this bike mostly relies on the wheels and saddle to absorb impacts and vibration. 
That's not to say that there isn't any shock absorption at work. You won't be shaken to death riding this bike down a gravel road or even over more challenging wash-boarded roads and trails. 
Like many commuter bikes, the suspension system has been traded out for easier pedalling and handling instead of a smoother ride. 
More: Discover the Best Commuter Bike Under $500 On The Market
Wheel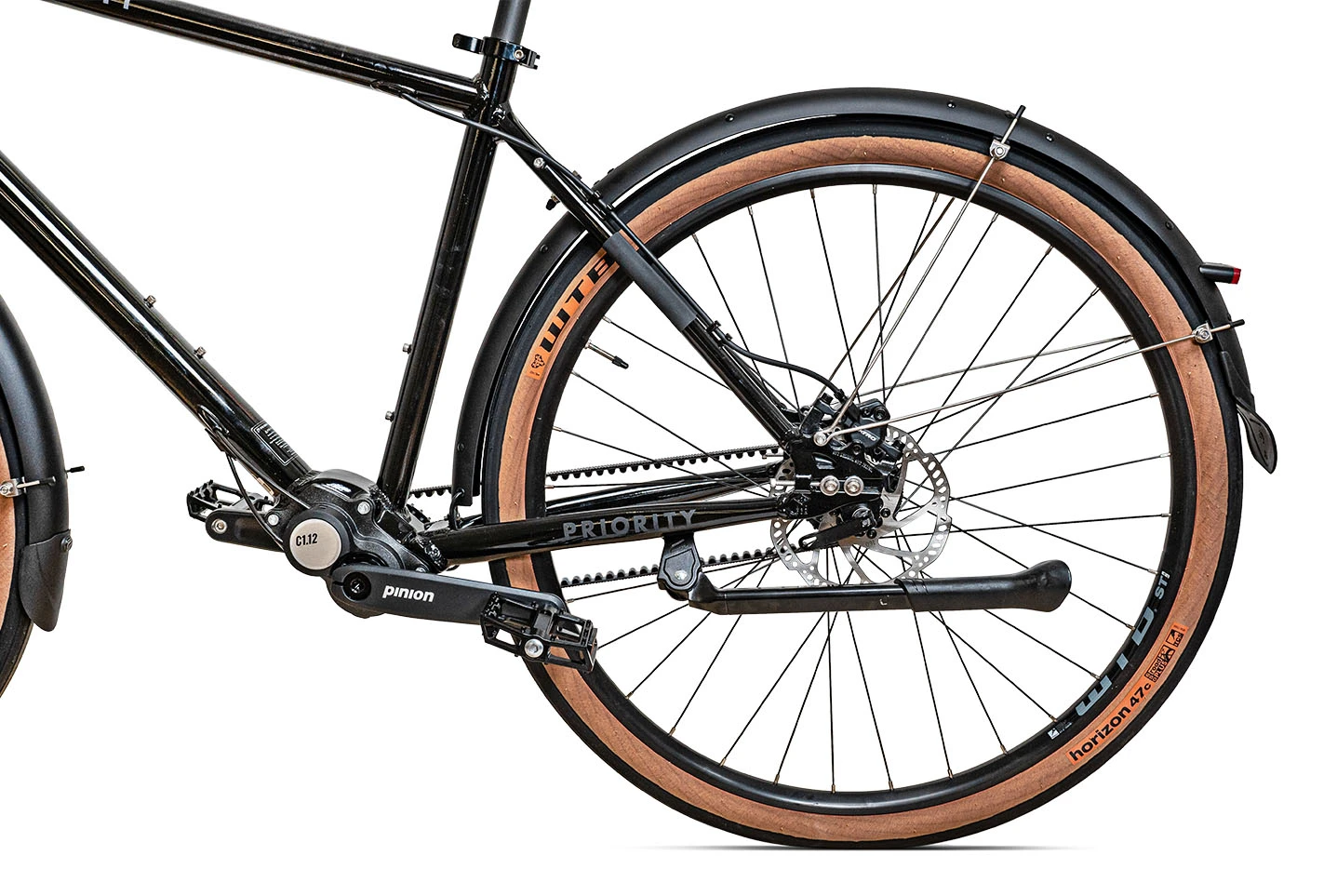 The Wheels on this bike are another good but not necessarily impressive feature. Especially considering the relatively high price point on this bike. 
That said, we were very pleased to see that this bike comes with tubeless-ready tires and rims that can support tubeless tires effectively.  
The spokes system on these wheels works well and you aren't likely to warp or damage the spokes unless you're trying to take the bike down trails that it's simple geometry and basic suspension aren't really designed to handle. 
Fortunately, that still gives you a wide variety of off-roading and mountain trail options since this is a good all-terrain bike. Just don't try making it go down the most serious technical trails up near your favourite mountain peak. Think of this as being more suited to easy trails in well-maintained routes. 
In terms of the basic tires included with this bike, you get a reasonable tread for a good all-terrain flexible bike design. The tires are also tubeless-ready, so it's a fairly simple process if you want to switch over to a tubeless bike and cut down on even more of your regular bike maintenance. 
Gear
The gear system really is the most important feature of this entire bike. The gearbox's 12 gears have no overlap meaning that you get the equivalent of almost 30 gears from a traditional bike drivetrain. It's also virtually maintenance-free.  
The entire gearbox is self-contained. No more lubricating chains, adjusting the derailleur, or making other small adjustments to your drivetrain before you go out. This bike is designed so that you can literally go months between maintenance without a problem. 
One major difference between this gearbox and a traditional derailleur system is that you don't shift while pedalling. Instead, you'll need to pause in your pedalling to shift or find the natural dead point in your pedal to make a quick gearshift. 
Think of it as driving a manual car. Shift down when you're stopped, and momentarily pause your forward momentum to slowly shift up as you accelerate. 
More: The Best Road Bikes Under $2000 [review and Buying Guide]
Brake
Tektro is one of the better brands to get your bike brakes from, and these hydraulic disc brakes are no exception. With good performance and low-pressure requirements, you'll have more control and less fatigue in your hands and arms after a long ride.
These brakes also have fantastic all-weather potential, second only to a hybrid v-line and disc brake system in terms of performance and durability. 
| Feature | Specs | What it Means to You |
| --- | --- | --- |
| Frame | Aluminum Frame | High durability comes at the cost of a slightly higher weight than other bikes in this price range. Fortunately, this frame won't slow you down and offers a less aggressive rider position for better comfort. |
| Suspension System | Ultralight 6061 T6 Aluminum | Minimal suspension on this bike means that you'll feel more vibration and bumps on the road. But the system cuts just enough impact to make riding rough terrain comfortable. |
| Wheels | Priority Low Drag Dynamo and Priority Performance Alloy wheels | These wheels are tubeless-ready and can help cut down on tire maintenance if you make the switch. Otherwise, they are durable and designed so that you have a wide variety of tire options, always a plus on an all-terrain bike. |
| Gear | Pinon C1.12 Gearbox | This gearbox is revolutionary for its ease of use, low maintenance requirements, and smaller profile. With the power of a 30-gear system on a traditional bike drivetrain, the gearbox does take some getting used to but is well worth the effort. |
| Brake System | Tektro Hydraulic Disc brakes | Tektro's hydraulic disc brakes are a solid low-maintenance option for cyclists looking to take their bikes into tons of different weather and terrain conditions successfully. |
Social Proof
Priority 600 so far has produced a lot of very happy cyclists. The bike's performance is just about what you'd expect from a bike hovering north of 2K to purchase new. 
That isn't a huge disappointment for most cyclists though. It seems to have the opposite effect, cyclists are raving about a more heavy-duty commuter bike that takes them everywhere they want to go without the maintenance requirements of a more traditional design. 
Alternatives
Priority 600 vs Priority Continuum Onyx 
The Priority 600 and Priority Continuum Onyx might look similar at first glance, but that's almost where the similarities end. The Continuum Onyx is a less expensive road/commuter bike.
It does have a similar disc brake, frame, and the same double fender design, and it's available in the same matte black. 
But the cheaper price point comes without the innovative gearbox or more rugged handling that is offered by the 600. 
In fact, while both are solid bike options, the 600 is a better bike for people looking for an all-terrain, all-weather bike, while the Continuum Onyx is a good bike for commuters who don't mind a little extra maintenance. 
More: Best Priority Bicycles Review: Are Priority Bicycles Good Quality?
Conclusion
The biggest standout feature of the 600 is certainly the gearbox, and it's directly responsible for a lot of the rave reviews and high praise earned by this bike. Good geometry and design principles help, especially since they make for a smoother ride with minimal suspension. 
But the biggest benefit of the Priority 600 will always be the innovative gear system. 
Priority 600 and other Priority bicycles were invented by two former Porsche engineers. The Priority 600 bikes have miniature automotive manual transmission. It is the first production bike from former Porsche engineers for excellent off road experience.
The priority 600 bicycles have a 12 speed Pinion gearbox, Tektro hydraulic disc brakes, rear lights and a wide gear range. Priority bicycles have good stopping power because of the transmission system built by Porsche transmission engineers. The Priority 600 production bike has a Gates belt drive, ergonomic grips and USB charging capabilities as well.
You can easily stop pedaling on a gravel road while riding Priority bicycles that have the fastest response and the coolness factor along with high stopping power. The Priority 600 is truly a dynamo hub powered road bike champion!
It would have been nice to see a few more high-end features, specifically a carbon frame instead of aluminum and a little more in the way of suspension, but we can't fault results. This design is flexible and works well for a majority of cyclists.