Road bikes are ideal for fitness and reaching your maximum speed. They're ideal for commutes and allow you to get out in the open air in the summer months. 
If you're looking for the best road bikes under $2000, we've discovered the top models that will help you reach your destination securely and enjoyably. We've awarded the Trek Émonda ALR 5 model as the best road bike available. It has a sleek aluminum frame and powerful hydraulic disc brakes for a responsive control. 
IMAGE
PRODUCT
DETAILS
 Rating
Price

best overall

Trek Émonda ALR 5

Gear: 22
Frame Material: Aluminum

Best Runner Up

Specialized Tarmac SL6 Disc

Gear: 10
Frame Material: Carbon Fiber

Best for a Budget

Tommaso Monza Endurance Aluminum Road Bike

Gear: 20
Frame Material: Aluminum

SAVA HERD6.0 T800 Carbon Fiber 700C Road Bicycle

Gear: 22
Frame Material: Carbon Fiber

Diamondback Bicycles Haanjo

Gear: 9
Frame Material: Carbon Fiber

Giant Defy Advanced 3 Hydraulic Bike

Gear: 20
Frame Material: Carbon Fiber

Diamondback Bicycles Century Road Bike

Gear: 11
Frame Material: Aluminum

Schwinn Fastback Carbon Road Bike

Gear: 22
Frame Material: Carbon Fiber
Top 8 Road Bikes Under $2000 in 2021
To create a list of the best road bikes under $2000, we've searched the Internet to research the top models based on the total number of gears, frame material, and other features, such as comfort and shock absorption. With these considerations in mind, we've selected eight road bikes that are fit for the list.
This road bike is one of the lightest models on this list and is optimized using Trek engineers to manipulate, stretch, and design the frame. It's also designed with powerful hydraulic disc brakes that provide excellent stopping power, no matter the weather or surfaces conditions. 
Its frame has a strong structure and carbon-like aesthetic that makes this road bike stunning to look at as well as an aerodynamic quality. The bike's attractive curvy shape has a cushioned seatpost for extra ride comfort. Also, the fork uses carbon material to absorb any shocks and vibrations.
You can use this road bike for collecting riding data via the left side chainstay that's designed to fit Trek's DuoTrap Bluetooth speed and cadence sensor. The stem faceplate allows you to bolt an array of light and action cam mounts to your front end.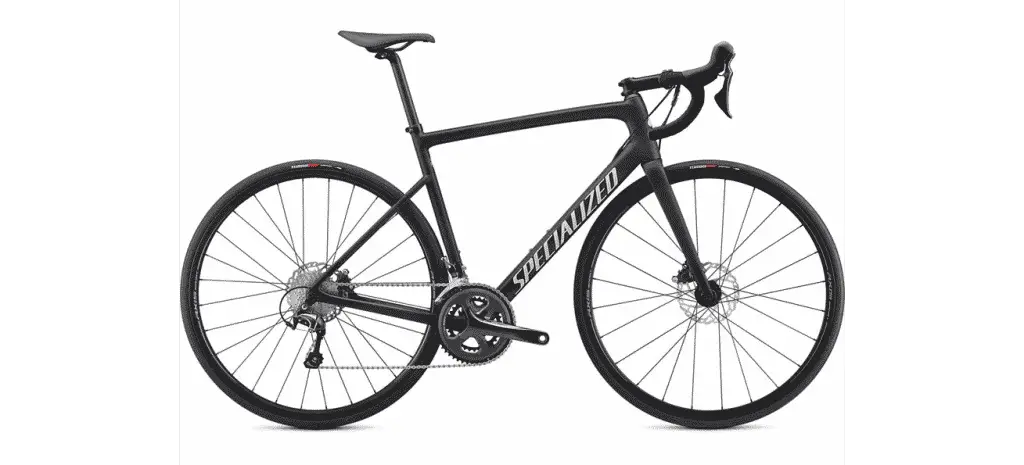 This is one of the best road bikes under $2000 that this year has to offer. It's comfortable to ride and is a high-performance road bike. In particular, its gel-padded saddle allows you to cycle for hours and far distances without encountering any discomfort and irritation.
As you look at this road bike, you can appreciate its true beauty. Its carbon fiber frame has a timeless and innovative design, while the sloped top tube provides an extended seat post that's desirable to every rider. Also, the bike's carbon fiber wheels provide a sophisticated look but also ensure the bike is durable and extends its overall longevity. 
In fact, the bike's aggressive geometry, low head tube height, and stable wheelbase allows you to fly around corners at high speeds. This model will also push you at every opportunity to ride faster and feel confident during the entire ride. Plus, with the disc brakes, you'll feel in total control and safe along the route.
Another top highlight of the Tarmac SL6 Disc road bike is the tire clearance that's generous if you're looking for a cushier feel. This road bike bumps up the clearance to 30mm—2mm more than the previous SL5 model—which is great for riding on asphalt and tough terrain. In fact, you can even use this road bike for light dirt-road use.
Tommaso Monza Endurance Aluminum Road Bike
If you're on a budget, we recommend the Tommaso road bike. It features a lightweight aluminum frame that's combined with a HCT carbon fork to reduce vibrations, and dampen and absorb shocks. The frame is also drilled for different variations so you can add racks and fenders to the bike, making it suitable for long rides and commutes.
The Tommaso Monza bike features precision shifting with Shimano Tiagra STI shifters that work seamlessly with the full Tiagra groupset. Together, these features provide lightning-fast shifting and a high level of responsiveness that can't be matched. 
You can ride this road bike for long periods as it has an optimized fit for added comfort. Plus, the compact frame geometry and premium compact handlebars offer increased power and comfort in a sleek package. In fact, you can ride this bike for 10 or 100 miles and you'll experience the same level of comfort and efficiency. 
Perhaps the highlight of this bike is that it comes with 20 speeds. This large variety allows you to ride the bike on a variety of surfaces, even including up steep hills. Plus, you can adjust the gears to make a ride more challenging if you wish to cycle for fitness.
SAVA HERD6.0 T800 Carbon Fiber 700C Road Bicycle
This road bike comes with a carbon fiber frame, which has many benefits to it. The primary advantage of this material is its stiffness that makes it durable and long-lasting while also remaining more lightweight than aluminum, steel, or titanium. By remaining highly lightweight, you can ride the SAVA road bike far and it'll help you to pick up speed quickly.
Another highlight of this road bike is that it's designed for comfort and to be aerodynamic. For example, the fully internal cable routing ensures a clean airflow over the entire bike, allowing you to ride quickly and for long periods. Also, the tapered head tube strengthens the torsion rigidity and provides riders with better handling and control. 
This model is hand-built. All you have to do is put on the front wheel, pedals, and seat post, making it great for beginners and inexperienced riders. The brakes are dialed in and the derailleurs are adjusted. Simply pump up the tires to your preference and you can get out to ride. 
Diamondback Bicycles Haanjo
If you're looking for a high-quality road bike that's suitable for adventures, look no further than the Haanjo model by Diamondback Bicycles. The bike's frame and fork have fender eyelets and its rack mounts on the seat for a comfortable ride. Also, the fork has low rider mounts to allow for a front rack. These features are ideal for lengthy rides or using as a commuter bike, too.
To make your adventurous ride easier and lighter, the Haanjo road bike uses a carbon fiber frame that prevents any unnecessary weight on the bike. Plus, the tapered steerer fork is made of full carbon, allowing it to reduce any excess weight as well as helping to absorb some impact and vibrations from cycles on off-road trails. 
This road bike comes with 2.1" wide tires and 27.5" diameter wheels, which makes the Haanjo ideal for long-distance adventures. The largest-sized bike features 43cm chainstays, 7cm bottom bracket drop, and 102.5cm wheelbase. But no matter which size bike you opt for, the seat angle translates into a relatively short reach.
Finally, another great feature of this road bike is its maximum flexibility in terms of materials used. For example, the Shimano Deore M591 triple crank offers a wide range of gearing and is paired with the Shimano 11-34 cassette for loaded climbing on loose terrain. Therefore, this particular model allows you to switch from road conditions to off-road trails.
Cons
The Defy Advanced 3 road bike features a carbon fiber frame that provides the ultimate balance between stiffness, weight, and balance. As a result, you receive efficient power transfer combined with comfort from the saddle. No matter which size you choose, each model provides great endurance geometry to keep you riding longer and farther without any issues. 
The bike's tires are wide and made with a durable rubber compound in the center and rubber on the shoulders. Therefore, you'll get plenty of miles out of these tires without having to sacrifice on traction and balance. Plus, the Race Shield puncture protection helps to avoid any flat tires, keeping you going for longer and farther. In fact, thanks to the tires, you can ride this road bike in a variety of terrain and conditions.
The tires are lightweight to help with fast-rolling, giving you rapid acceleration and keeping you in control of steering—even around right corners. The wheels are tubeless compatible and are brought to you readily set up with tubeless tires. 
Most importantly, the Defy road bike is comfortable and enjoyable to ride. Its handlebar provides all the support you need to reach your maximum speed without compromising on comfort. The handlebar is designed to provide you with front-end compliance so you can travel fast.
This road bike uses carbon fiber resources that absorb more road buzz, preventing any vibrations and absorbing shocks from the road. 
Diamondback Bicycles Century Road Bike
First, this road bike comes equipped with an aluminum frame that makes the bike durable and strong, not to mention reducing weight and helping to absorb impacts from the road. Plus, the 7005 formed tube frameset provides the bike with plenty of power and longevity—helping to fuel your far journeys.
Also, the DBR performance alloy fork with a steel steerer tube means you can push this bike to its limits without it easily giving in. This feature allows you to ride the bike at high speed, on slippery terrain, and over rough surfaces—all the while the fork will absorb these punishments, creating a smoother, more enjoyable ride.
This Diamondback road bike comes with high-quality 700x26c tires that are built for comfort and durability. In fact, these tiers provide a strong grip on a variety of surfaces and terrain while providing you with all the confidence you need to turn tight corners—even at high speeds. Plus, you don't have to worry that these tires won't keep you in control as you cycle faster. They'll also steer clear of punctures, helping to provide you with peace of mind.
The bike comes kitted with Shimano gears that work smoothly and respond well with each other. With a Shimano Claris STI, 2×8-speed shifter and Shimano front and rear derailleur, you can enjoy an adventurous ride that remains smooth—even when you're cycling over bumps at high speeds. Plus, the gear shifts are smooth and easy, which allows you to climb up tough hills with ease and reach your maximum speed quicker.
Schwinn Fastback Carbon Road Bike
Finally, this Schwinn road bike has all the essential features for expert riders. For example, it comes with Shimano aluminum road wheels and Kenda 700x25c tires to provide you with maximum control when you're steering around corners or cycling on tough terrain. No matter the environmental conditions or surfaces, you'll feel in complete control with this bike's tires.
Most impressively, the bike comes with a carbon fiber frame—our top-recommended material for a road bike, but this is exceptional given the road bike's overall cost. Plus, the Schwinn race carbon fork with carbon tapered steerer allows the bike to absorb shocks and vibrations as you cycle over bumps and tough terrain; you can even use this bike in snow and rain.
When riding a road bike, you want maximum control. Fortunately, this Schwinn model features Shimano 105 dual-pivot caliper brakes that bring you to a stop when you need it most—even when you're cycling at a fast speed.
Designed for expert cyclists, this road bike allows you to go farther and faster as you explore the open road. In fact, you can push past your limits as you explore undiscovered paths. Although it's only compatible with experienced riders, this bike isn't intimidating to ride.
Buying Guide
Not sure which of the best road bikes under $2000 to choose? We've collated a list of the most important factors to consider throughout your buying guide. Take a look at the below features to narrow down your choices and sift through the selections.
Wheel Size
First, let's discuss the various wheel sizes you should consider for your road bike. There's no magical universal size that works for everyone, but instead, you should consider which height and width works best for your riding conditions and style.
26-inch Wheels
This size has been popular for decades and is built for touring bicycles and smaller road bikes. There are plenty of benefits to this sized wheel, such as the strength that it provides. For example, the smaller diameter on 26-inch wheels means that it can be as strong as a 700c wheel that comes with 48 spokes. Plus, with a reduced size, you'll save weight on the bike, making it great for heavy-loaded road bikes without sacrificing strength. 
More: The Best Electric Bikes Under $1,000 On The Market [Review and Buying Guide]
27.5-inch Wheels
Next, you'll have probably encountered road bikes with 27.5-inch wheels throughout your search. This sized wheel is great for smaller riders that would struggle or feel uncomfortable on 29-inch wheels, because they can't get enough standover clearance for safety.
Bikes with 27.5-inch wheels have an excellent geometry that makes them ideal for handling tight, twisty terrain and corners. In fact, the smaller sized wheels also make it easier and smoother to steer and accelerate quickly, making your bike more responsive and easier to maneuver on different trails. 
Since these wheels are smaller and use less material for the overall design, 27.5-inch wheels are lighter, which results in a lighter bike overall: an ideal feature for a road bike used to travel far and fast. Finally, the geometry on 27.5-inch wheels provides more room to add greater amounts of suspension to the road bike, resulting in a preferably smoother travel.
29-inch Wheels
Finally, you'll have the option for 29-inch wheels, which is preferable with taller riders as it provides more standover clearance than the smaller wheels mentioned above. These sized wheels tend to be stronger and more durable than smaller, thinner wheels. However, this extra size adds to the bike's weight, which can make it more difficult to cycle fast.
29-inch wheels roll more evenly and smoothly, due to the angle of curve. In particular, the shallower angle of curve isn't as affected by bumps, dips, and terrain, because it bridges the gaps that form hard edges. As a result, you can ride 29-inch wheels down a flight of stairs easier than with a smaller size.
Many riders report that 29-inch wheels feel more stable and secure than average 26- or 27.5-inch wheels. This is purely because of the longer wheelbase and longer back end that provides more room for bigger wheels. Who doesn't want a smoother, more enjoyable ride?
There are plenty of benefits to these wheels, but 29-inch wheels aren't designed for beginners. This is because they require high levels of skill to experience a smoother, more stable ride. 
Gears
The number of gears on your road bike really depends on your riding preferences and the conditions you'll ride in. For example, a bike with one gear will be fine with riding on smooth pavements because you don't need much diversity if you only plan on cycling on trails with minimal bumps and terrain. 
Alternatively, if you prefer to use your road bike for fitness purposes and make your cycle routes more challenging, then it's great to have a wide selection of gears to choose, such as around 12 gears. Also, the more gears you have, the easier you'll find it to transition from smooth surfaces to off-road terrain. This is also the case if you plan on riding up and down hills, as you'll require support from your gears throughout these surface changes.
More: The Best Bikes for College Students With Complete Buying Guide And Review
Brake Type 
There are two different brake types to choose: hydraulic and mechanical. Choosing the right type of brakes for you depends on your budget and riding benefits. Let's take a look at the advantages and disadvantages of both types of brakes.
Hydraulic
First, hydraulic disc brakes are expensive, though their braking performance justifies the price and makes them the most popular and preferred choice of brakes. When it comes to choosing your road bike, power efficiency and control are the most important factors. 
Hydraulic disc brakes are smooth and responsive, so they provide you with the best stopping power without using much force. This brake type also gives you a fine-grained control without having to apply much pressure on the brake levers. Not only does this make operating the bike easier and user-friendly, but it's a great suggestion for those with injuries.
On the other hand, this type of brake is expensive, which isn't ideal for riders on a budget. Plus, they can be complex and difficult to adjust, so they're not suitable for beginners. In fact, you may need some experience when it comes to maintenance. 
Mechanical 
Next, mechanical brakes are a less-expensive option, making them appropriate for beginners or those on a budget. You simply don't need a learning curve to get your head around operating mechanical disc brakes, which makes them easier to use, understand, and maintain.
Mechanical disc brakes are readily available for you and the parts are inexpensive, so if your brakes require an amendment, they're a more preferred option.
One factor to consider with mechanical brakes is that they're heavier than hydraulic disc brakes, which adds to the overall weight of the road bike. This means you won't be able to cycle as quickly on your bike or you'll have to put in more effort.
Most importantly, mechanical disc brakes aren't as responsive, so you need to remain more aware while riding. In fact, they don't provide you with as much control, which makes it harder for you to stop. Finally, mechanical brakes damage easier, meaning you'll have to be more prepared to make numerous repairs. 
More: Pure Fix Bike Review: Is It A Good Bike To Have
Bike Frame Materials
Next, it's time to decide which material is the best option for a bike frame for you. This decision will depend on your budget, the maximum speed you'd like to reach, and overall weight capacity you intend it to hold. Here are the top materials you should consider for your road bike.
Carbon Fiber
This material is expensive, which is why you won't find it on every road bike. But it comes with a plethora of benefits. First, this material provides a highly lightweight frame that allows you to travel at high speed with minimal effort. But this lightweight doesn't mean that the bike isn't stiff as it's incredibly durable and strong.
Carbon fiber frames are great for competitive and non-competitive riders. One of the biggest benefits of this material is that it dampens vibrations to provide a smoother ride. Many carbon fiber frames come equipped with a carbon fiber shock system, too, which further helps to absorb vibrations and impacts, resulting in a smoother ride overall.
Carbon fiber is no longer susceptible to UV damage as high-quality frames contain UV stabilizers. This also means that you don't have to worry when using a bike wash on your frame, because it's not susceptible to salt damage or chemical corrosion.
If your carbon fiber frame is involved in a collision, your frame will need to be checked over. This is purely because the frame will absorb all of the impacts and crumble—the same way as the front of a car does in an accident.
More: Discover The Best Road Bikes Under $1000 Has to Offer
Aluminum
This material comes with numerous benefits, too. First, it's lightweight—about a third of the density of steel. This feature makes an aluminum frame strong and durable enough for tough riding sessions. Even with this strength and durability, the material remains light, helping you to cycle far and fast without having to burn yourself out.
This material is reasonably cheap to produce, helping you to discover a bike for you, even if you're on a budget. In fact, most budget road bikes feature an aluminum frame. You'll also appreciate how efficient an aluminum bike is. Since the material is so rigid, there's less energy lost due to flexing of the frame. Instead, you can use this energy to move you forward, allowing you to finish a few seconds earlier.
Aluminum frames can be more aerodynamic than other materials, encouraging you to reach a faster top speed. This is because aluminum bike frames don't need to use round tubes, like steel does. This means you can mold the fork and frame into a more aerodynamic design, thus, increasing efficiency and speed.
Finally, aluminum doesn't rust (although it is prone to corrosion). This means you can use an aluminum frame in the rain or cycle when it's pouring down without it impacting the bike's longevity. This feature is also ideal if you live near open water to protect your road bike from water damage and rust.
More: Trek Checkpoint ALR 5 Review: Is It A Good Bike To Have?
Handlebar
Finally, who'd have thought that you have to consider the handlebar shape and size when choosing the best road bikes under $2000? Well, there's actually plenty to think about when it comes to choosing the right handlebar for your needs.
Material
A commonly-used material is carbon fiber. This often drops the weight of the bike by 20-40 percent compared to alloy materials. Carbon fiber can also be moulded to any shape, making it diverse to all fits as well as forming an ergonomic design.
More: Discover the Best Commuter Bike Under $500 On The Market
Sizes
The size is one of the most important factors when choosing the right handlebar for your bike. Begin with the diameter. A standard measurement is 25.4mm, which refers to the center point of the unit to where the stem will attach. Some brands prefer a thicker size of up to 31.8mm, which can improve the handlebar's stiffness. This larger size has many benefits to it, but if you have dainty hands, it won't be a comfortable fit while you're cycling.
You should also consider the handlebar's width, which is based on the rider's shoulder width. If a handlebar is too wide for you, it can put pressure on your neck and arms and make riding the bike feel more difficult. On the other hand, handlebars that are too narrow for your shoulders can make you feel cramped because a narrow design will bring your elbows in, creating an impact upon aerodynamics.  
The width is also based on your preferences, as some cyclists prefer to have a wider bar. However, this means you have to move your arms out to reach the levers, which can cause your shoulder blades to collapse—something to consider when you're cycling a far distance.
The Best Runners Up
We hope you enjoyed these road bikes under $2000 review. When deciding on the best model for you, we recommend referring to our buying guide to find road bikes that match your preferred features. 
We recommend the Tarmac SL6 Disc as the best runner up. This road bike features a gel-padded saddle that makes it comfortable to sit on for long periods. The bike's carbon fiber frame makes it lightweight and durable, too, which is ideal for when you're cycling fast. The Tarmac SL6 Disc is great for absorbing shocks and vibrations, too, thus providing a cushier feel. This is a great feature for riding on tough terrain.
Alternatively, the SAVA HERD6.0 T800 Carbon Fiber 700C Road Bicycle is best for riding fast and reaching your maximum speed quickly. This is mainly thanks to the carbon fiber frame that helps the bike to be as lightweight as possible while also making it aerodynamic and comfortable. Also, the fully internal cable routing provides a clean and tidy design throughout the entire bike.