If you're looking for the best road bikes under $1000, you're in the right place. This type of bike provides plenty of speed and efficiency so that you can travel fast and far. They're also the pinnacle of technology and performance, with many boasting some of the best materials for bikes, so you never fall behind the competition.
In this article, we'll present to you the top nine best road bikes under 1000. But our favourite is the Tommaso Forcella Endurance Road Bike. This features an HCT carbon fork and lightweight aluminum frame to dampen any vibrations as you ride.
It's also comfortable and fun for cycling. In particular, the compact frame geometry and compact handlebars increase the bike's power and comfort. As a result, you can travel at high speeds in vigorous conditions with minimal concerns. If you want to get a road bike under $1000, keep reading the article.
IMAGE
PRODUCT
DETAILS
rating
price

Best Overall

Tommaso Forcella Endurance Bike

Size: 22 inches
Materials: Aluminum Frame

Best Runner Up

Trek Domane AL 2 Bike

Size: 27—33 inches
Materials: Aluminum Frame

Diamondback Bicycles Century 3 Road Bike

Size: 19—23 inches
Materials: Aluminum Frame

Specialized Allez Sport

Size: 19—24 inches
Materials: Aluminum Frame

Gaint Contend 3

Size: 20—24 inches
Materials: Aluminum Frame

Schwinn Volare 1400 Adult Hybrid Road Bike

Size: 18 or 20 inches
Materials: Aluminum Frame

Tommaso Fascino Sport

Size: 28—32 inches
Materials: Aluminum Frame

Schwinn Vantage Mens/Womens Hybrid Road Bike

Size: 17—23 inches
Materials: Aluminum Frame

Schwinn Phocus 1400 and 1600 Drop Bar Road Bicycle

Size: 16 and 22 inches
Materials: Aluminum Frame
The Best Road Bikes Under 1000 Dollars in 2022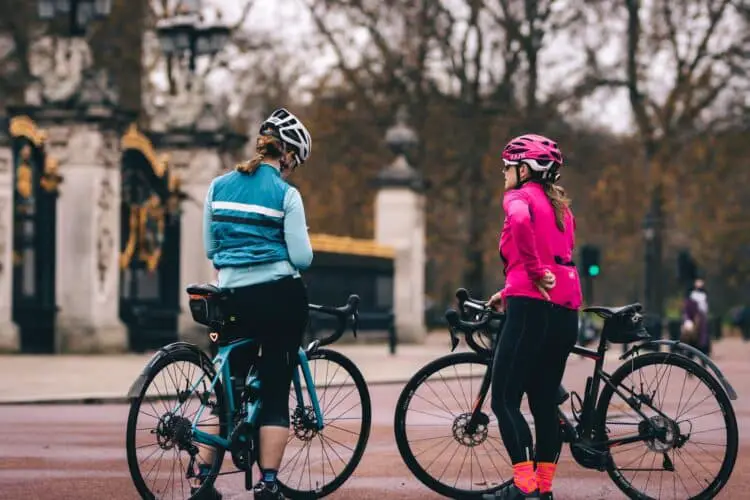 We've scoured the Internet to research some of the best road bikes under $1000. We then sifted through a large selection to reveal the top nine models you can buy on the market right now. Each of the bikes below made this list based on their materials, comfort, endurance, and overall performance.
Tommaso Forcella Endurance Bike
The Tommaso Forcella Endurance model is one of the best road bikes under $1000 that you can purchase right now for many reasons. First, it features a durable, lightweight aluminum frame that's combined with an HCT carbon fork. Together, these materials reduce any excess weight on the bike, thus, improving your endurance—also, the fork and frame help to dampen any vibrations from tough terrain.
You'll also receive precise shifting with the Tommaso Forcella Endurance Bike. The Shimano Claris STI shifters provide smooth and consistent shifting in all environmental and riding conditions. This feature offers a high level of performance shifting and excellent responsiveness that some competitor bikes can't watch.
This road bike is comfortable and fun to ride. This is because it has an optimized fit for added comfort. Specifically, the compact frame geometry and premium compact handlebars offer increased power and comfort within a sleek package. Also, this road bike is designed for maximum comfort and efficiency, so you get the most out of every ride.
When looking for road bikes, you want a variety of speeds and a high-performance model. The 3×8 Shimano Claris Groupset and 12x25T are two of the top highlights of this particular model. The Tommaso Forcella Endurance Bike is perfect for varying terrain, from flats to hills, as it offers a wide range of gears for all riding riders and road conditions.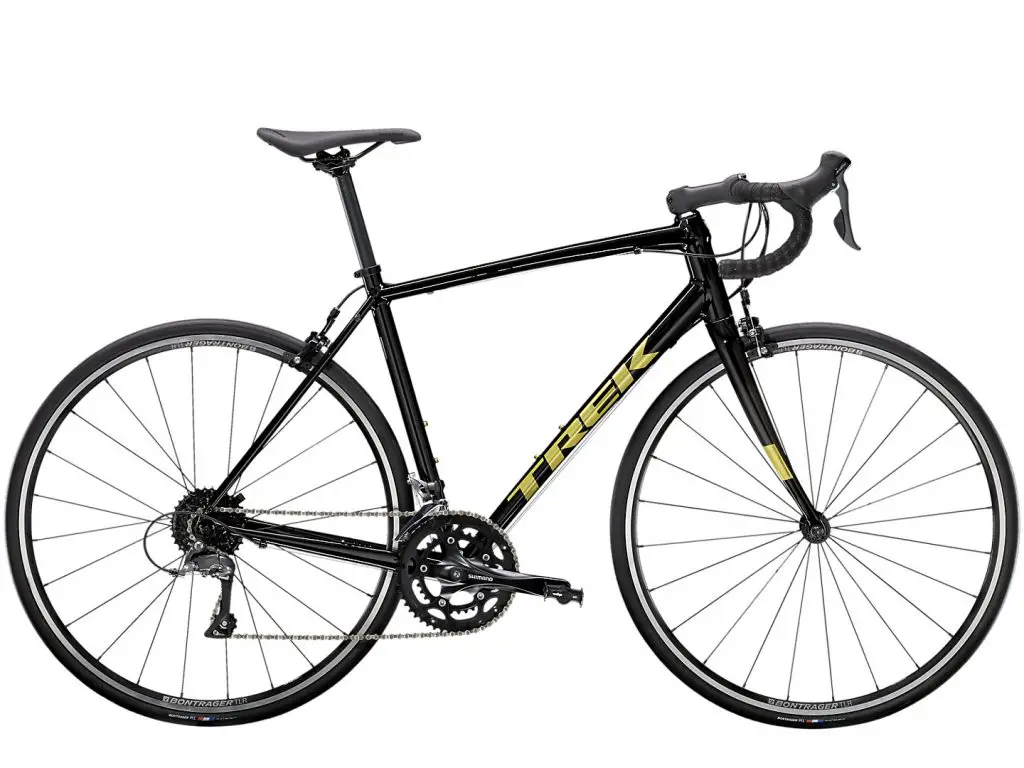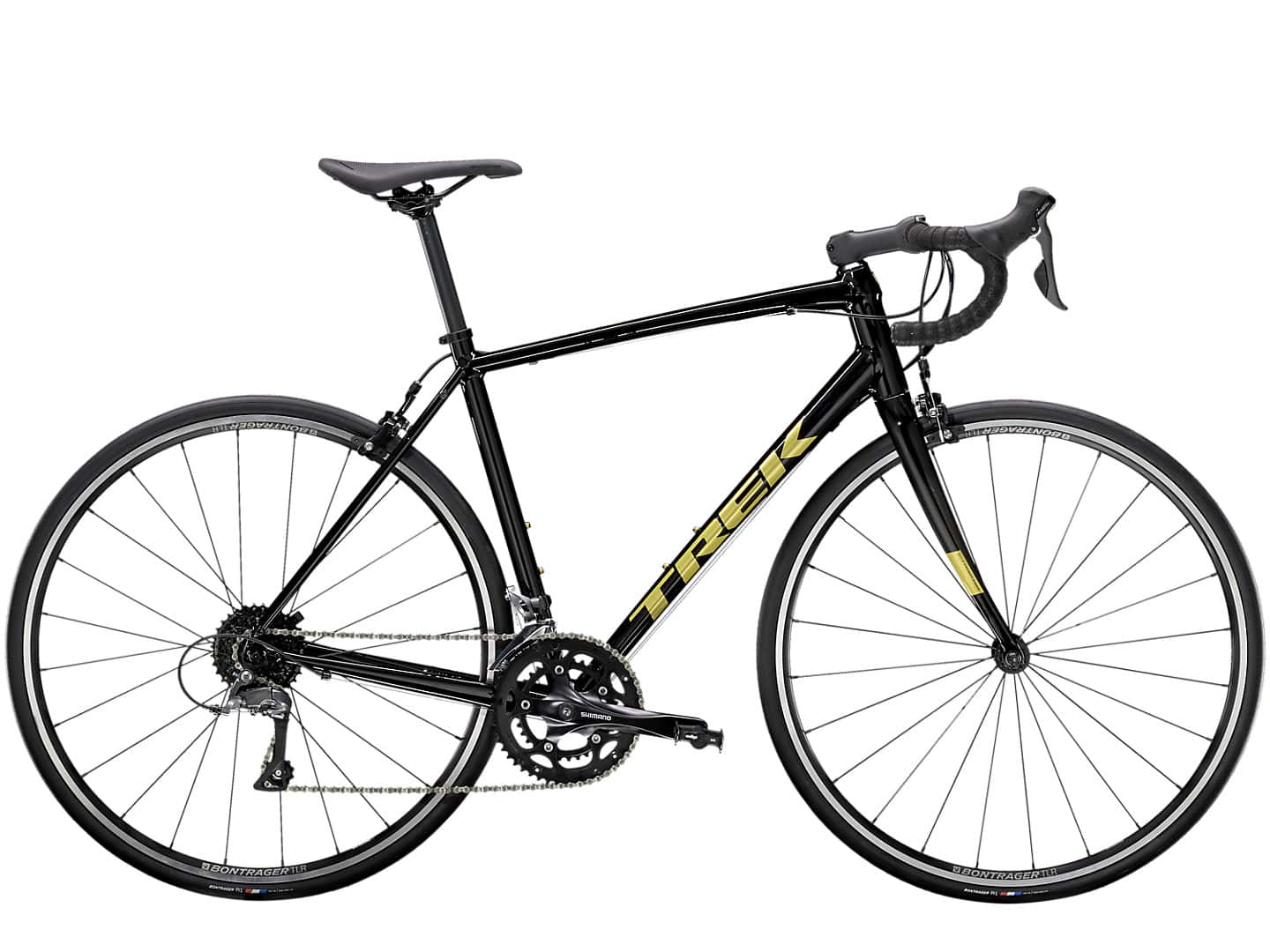 The Domane AL 2 Road Bike combines comfort and performance. It's stable, lightweight, and easy to accessorize, making it fun to cycle and versatile for all riders and conditions. In fact, it provides a great first experience if you're unsure about seriously taking up riding.
These road bikes are designed to offer a comfortable and enjoyable riding experience. In particular, you can ride on off-road trails and tough terrain without you taking much impact, as the frame handles these difficult scenarios for you. The frame really comes into play as you reach rough, unpaved tracks, and it continues to soften any big hits.
It's comfortable to ride for long periods, too. The padded saddle doesn't provide any discomfort or irritation, and the triple chainset means you can scale any and all tarmac grades you can find. On the other hand, the bike's wheels are something to consider when climbing uphill, as the wheels are hefty and can sometimes hold the bike back slightly.
Alternatively, you'll discover that the Domane AL 2 is one of the best road bikes under $1000 for travelling downhill. In these situations, this road bike remains stable and secure. You can even bank the bike over in hard and fast corners without any wobbly moments. Furthermore, you'll encounter responsive steering around tight corners, although, you'll need to be weary when riding on the snow.
Diamondback Bicycles Century 3 Road Bike
Next on the list of the best road bikes under $1000 is the Century 3 by Diamondback. It's a must-have if you're searching for a model that can pick-up speed quickly and maintain a high speed, regardless of the environmental conditions. 
Most impressively, you'll find yourself gliding on pavement for long periods with the Diamondback road bike. The handling is also smooth and can easily take on tight corners, which is ideal if you want to ride your bike for fitness purposes and through difficult routes.
This road bike's aluminum alloy frame reduces any excess weight on the bike, helping you to ride quickly without any excess weight holding you back. In fact, this frame material can also enhance your riding experience, as you don't have to work as hard as you would with a steel-frame bike, for example. As a result, you'll experience less fatigue on long rides. 
This Diamondback model also comes with continuous fiber technology, a full carbon fiber fork, and a head tube enhancing steering precision. Together, these features allow you to feel more in control and safer when riding, as well as reduce any vibrations, allowing you to ride in all conditions and all types of roads.
Finally, these road bikes come equipped with a Hed Flanders C2+disc wheelset to remain durable. Therefore, you don't have to constantly maintain or update the tires, making it ideal if you plan on riding often and far, but without the hassle. Also, these tires are lightweight and quick to accelerate.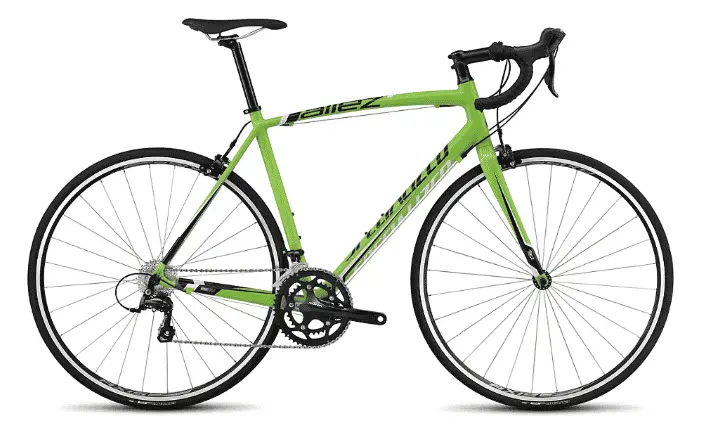 Next on this list of the best road bikes under $1000 is the Allez Sport model. We voted this road bike as the best for shifting because the Shimano Sora is a compact crankset that offers a crisp and reliable shifting performance, no matter how you ride. You can be aggressive with this action, and the bike will still react with a smooth-shifting experience.
It comes equipped with a premium aluminum frame and smooth welds for a sleek and fast riding experience. This bike's thin-walled aluminum frame keeps its overall weight down, which works extremely well with the carbon fork. Both materials soak up vibrations and absorb shocks from riding on rough terrain and at high speeds.
These road bikes have a comfortable and sporty design. You'll never feel discomfort caused by the bike's design, materials, and components. Instead, its sports feel isn't compromised, and it responds well to your input.
Once you've reached your optimum speed, it's not too difficult to remain at it. This can help to relieve any pressure and energy off of long journeys or when riding on off-road trails. Although this bike might struggle with uphill climbs, the wide range of gears provides some support to make doing so manageable and more possible.
Giant Contend 3—Best for the Toughest Conditions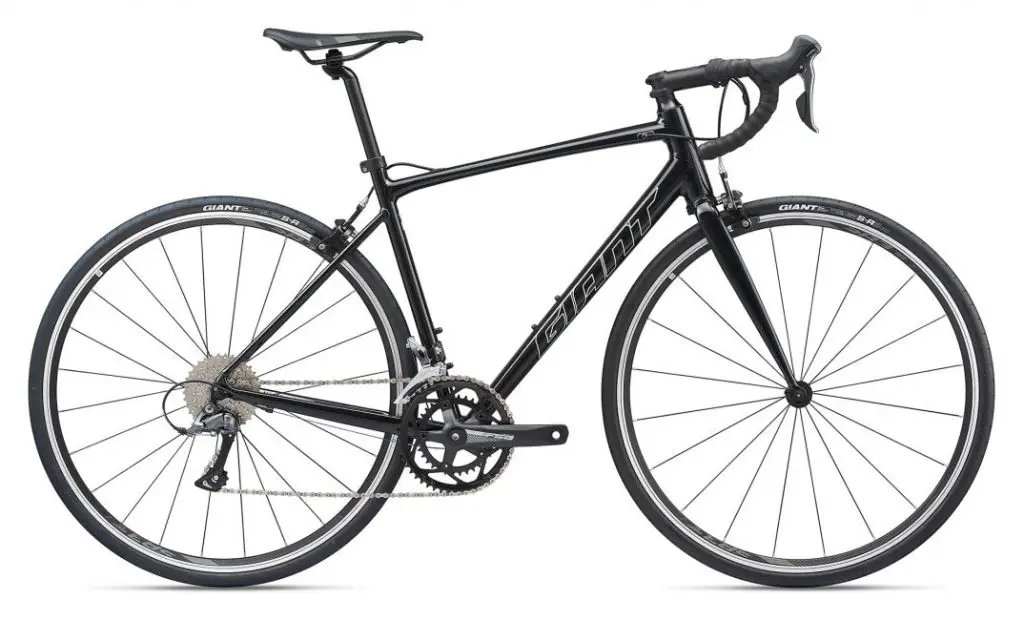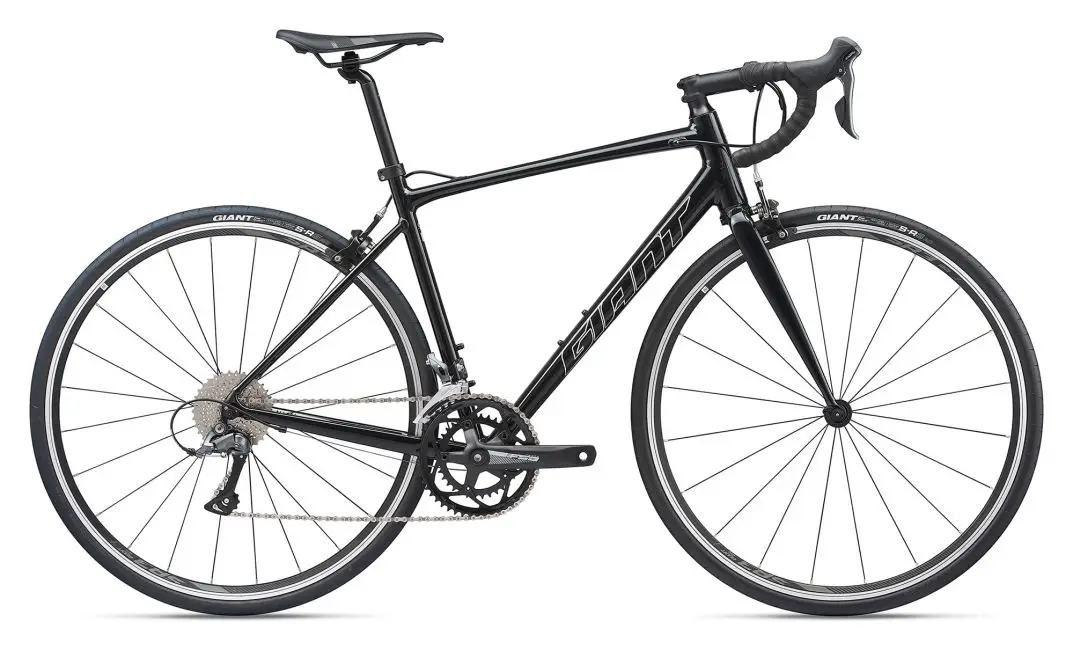 We're excited to present the Contend 3 Road bike to you. One of the best features of this bike is that you won't have to re-plan your routes or cancel your riding sessions, because it can handle some of the toughest and most technical conditions. In fact, it keeps your rider comfortable while the bike remains responsive. 
This model comes equipped with a D-Fuse seat post that allows for further comfort when riding through rough terrain. In fact, the seat's design and materials provide further absorption by keeping shocks down to a minimum, while continuing to maximize the power output. Furthermore, this bike's technology keeps you in charge of every chance to keep ahead of the competition.
The Contend 3 features 32c clearance for wider and more robust tubeless tires. These wider tires provide a smoother ride in tough conditions while providing you with the option of riding on mud and snow. Also, these tires deliver maximum protection against punctures, leaving you worry-free about the road ahead.
Finally, the Contend 3 has hydraulic brakes that provide superior power and feel. These Shimano 105 hydraulic disc brakes use regular gear shifters to keep the costs down. This also makes it easier and more possible to upgrade in the future should you wish.
Schwinn Volare 1400 Adult Hybrid Road Bike
Schwinn is one of the best bike brands, so naturally, we're excited to present this next road bike to you. Its flat-styled handlebar allows you to feel more in control when riding, as well as reach top speeds without any discomfort on long journeys. Plus, the sports riding seat allows you to feel more comfortable and have the option of adjusting your position to improve your riding performance.
With the option of 14 speeds, you can tailor these road bikes to your fitness levels, as well as ride on a variety of road conditions. In fact, simply adjust the gear speed when riding uphill to reach the top with ease. Also, the combination of a Shimano rear derailleur and shifter brake lever provides you with precise shifting every time.
These road bikes also come with alloy linear-pull brakes on the front and rear which means stopping at any time and in any condition won't be an issue. The Schwinn Volare 1400 bike also comes with street tires that are quick and smooth, and larger than the average road bike's tires. This design keeps the bike strong and charming to ride, no matter your speed. 
Tommaso Fascino Sport Road
This road bike is designed with experienced riders in mind. The Fascino road bike is built with a high-quality mixture of components that beginner cyclists might feel overwhelming to use. 
This road bike can take your riding to another level. This Fascino model provides you with all the power, performance, and speed you need to tackle a hilly or long-distance ride. Also, using a 3×7 Shimano drivetrain and a huge range of gears. Therefore, you can use this road bike to climb any hill with ease while retaining the speed you need.
You'll never miss a shift, thanks to the Shimano Tourney shifters that provide reliable shifting in all riding conditions and amongst all environmental factors. This 100% Shimano drivetrain provides excellent quality that works at peak performance when used as a complete set.
Tommaso understands that you deserve a comfortable ride for every cycle. That's why this bike features a compact frame geometry to minimize any discomfort during your cycles. Plus, the premium compact handlebars provide excellent grip and allow you to attain a variety of positions when riding—depending on your environment and riding preferences. 
Finally, the bike has a seat that's ergonomically designed to increase comfort, all within a sleek package. 
Schwinn Vantage Men's/Women's Hybrid Road Bike
This Schwinn bike is designed with men and women in mind, which makes it the most versatile model we've reviewed in this article. It's also designed for intermediate to advanced riders looking to travel farther and faster on a high-performance, reliable bike.
It's smooth and enjoyable to ride. In particular, the adventure aluminum frame features an elastomer soft tail suspension system that provides optimal comfort wherever your adventure takes you. This feature also allows you to travel in some of the toughest terrains without the bike feeling overwhelmed or you experiencing any severe bumps and vibrations. 
The Shimano Sora 18-speed drivetrain offers a wide range of gears, so you can travel uphill and downhill with ease and safety, or simply accustom this road bike to your environment and riding style. The responsive shifting makes it ideal for varying terrain. 
Also, the bike's Ergo endurance handlebar and carbon spork fork with disc mounts and alloy steerer contribute to a smooth, compliant ride. At the same time, the TRP Spyre C mechanical disc brakes provide solid braking in all conditions, allowing you to cycle with peace of mind knowing that you'll come to a reliable stop when needed.
Schwinn Phocus 1400 and 1600 Drop Bar Road Bicycle
Finally, this Schwinn road bike is probably the most versatile of all the models we've reviewed in this article. One of its standout features is the wheels. These are double-walled to provide you with maximum strength and performance. In fact, they can handle tough terrain and unpredictable environmental conditions.
It also handles challenging surfaces and factors well. This is purely thanks to the lightweight, durable aluminum frame that eliminates any vibrations and absorbs shocks from tough surfaces. Plus, the carbon fiber road fork further reduces vibrations and allows you to approach bumps and gravel with confidence.
It's a must-have if you're looking for something like a road bike to ride on the pavement or excise around your neighbourhood. It's lightweight and responsive to your needs while being designed to pick up speed quickly and efficiently. 
This road bike is incredibly strong and versatile, allowing you to break out of the gym and take your cycling to a whole other level. It comes with a Shimano 14-speed rear derailleur with Shimano A050 shifters that offer you ease when transitioning between gears, without any grinding. This model road bike also includes an SR Suntour alloy crank for a wide gear range.
Buying Guide
Now that we've presented the best selection of road bikes you can buy right now, you'll need to use a buying guide to shift through the selections and choose the best one(s) for you. Below, we've included some of the top four features you should consider when narrowing down your choices to ensure you pick the best road bike for your riding style and preferences. 
Gears
First, consider how many gears you'll need on your bike. Determining how many you need depends on the types of surfaces you'll be cycling on and how in control you like to be during your rides.
A road bike with only one gear isn't necessarily a bad factor—so long as you only intend to cycle on smooth pavements. A one-gear road bike will struggle with uphill climbs and won't be safe for riding back down, as you have less control over your speed.
Alternatively, a road bike with 16 speeds allows you to make more adjustments when switching between different surfaces. So if you'll be riding on smooth pavements one moment and then on off-road trails the next, a road bike with a wide range will be ideal for your riding conditions. Otherwise, you'll be trudging through wet conditions, muddy surfaces, and gravel floors.
More: The Best Road Bikes Under 500 [Review and buying guide]
Bike Suspension
There are two types of suspension systems on a road bike: full suspension and hardtail. Deciding which of the two suspension types is best for you depends on how you like to ride and the type of environment you'll encounter on your cycles.
If you're on a budget, we suggest hardtail bikes, as these are generally much cheaper because it costs less to produce the bike. If you love experiencing the adventure when cycling, we recommend a hardtail suspension, too. This is because you'll feel more of the ride and the ground below you. Essentially, you're receiving less protection and shock absorption, which makes you more inclined to feel every movement beneath your feet.
There are many benefits to a full-suspension bike. These absorb impact and vibrations from riding uphill or on rough terrain, so you experience a much smoother ride. This feature is ideal for most riders as you won't be thrown around on the bike as much and will experience fewer hurdles.
On the other hand, this extra level of protection involves an additional rear shock absorber, and extra tubes and pivots. Therefore, the bike will become heavier, which can make it more difficult to set off quickly and reach your top speeds, as well as make cycling slightly harder and require more effort.
More: The Best Bikes for Heavy Riders [Review and Buying Guide]
Brake Type
You'll also have the choice between two types of brake systems: hydraulic and mechanical disc brakes. There are advantages and disadvantages to both types.
Hydraulic disc brakes are deemed the best choice for performance. This is mainly because they provide more stopping power with less effort required. You'll also experience more braking, allowing you to come to a complete halt when you need to.
Another major benefit is how hydraulic disc brakes work during the action. In particular, the braking system becomes closed off. This means that you won't encounter as much dirt on the inside of the bike's braking system, which is ideal for riding in wet and muddy conditions. 
Alternatively, mechanical disc brakes are cheaper to make and more often than not, make the road bike's purchase price much less. This braking system is also easier to work with, which is ideal for beginners or if you experience joint pain.
Most cyclists will have witnessed mechanical disc brakes on a road bike; you can see the cables on the exterior. This means that if there's any maintenance due, you can adjust them much easier than with hydraulic brakes. Plus, the parts tend to be cheaper to replace.
More: Kestral Talon X Tri 105 Review
Bike Frame Materials
Finally, you'll notice that all of the above road bikes feature an aluminum frame, and we weren't surprised to discover this material as a popular choice.
Aluminum is a lightweight material that helps to reduce any excess weight on the bike. In essence, the heavier the bike, the more effort is required from you to ride it, and the slower it'll go. Although, this isn't always a bad feature if you enjoy cycling as part of a fitness regime.
Aluminum bike frames aren't prone to rust. This makes them lower maintenance and ideal for riding in wet conditions. Plus, you can store your bike near the sea without any issues that it'll be rusty when you come to visit it.
Another huge benefit of an aluminum bike frame is its stability. When you're cycling, the last thing you want is to feel unsafe and unstable. Fortunately, aluminum makes the bike sturdy, so you don't have to feel like you're about to topple over at any given moment.
Finally, aluminum absorbs vibrations to evoke a smooth ride. If you intend on cycling on smooth surfaces only, you won't need to be concerned about bike absorbing impacts. However, if you plan to ride on gravel, rocky surfaces, and climb uphill, you'll require additional protection for your own comfort.
More: Pure Fix Bike Review: Is It A Good Bike To Have
Conclusion
Now that we've reviewed the top nine road bikes you can buy right now, you might be looking for a more digestible way to discover the best runner's up. 
The Domane AL 2 Road Bike keeps you comfortable during our rides by eliminating any vibrations and impacts from shocks, no matter the road conditions you're exposed to. Its padded saddle can provide hours of comfort and provide further protection when you're riding over bumps and across tough terrain.
Alternatively, the Contend 3 is a must-have if you plan on riding on technical, tough terrain. This bike comes with wide and robust tubeless tires, too, that provide a smoother ride, allowing you to cycle on snow and mud. Also, the seat maximizes the bike's power output while providing further absorption to keep shocks and impacts to a minimum.
The mountain bike has disc brakes, rim brakes, and a carbon fork compared to other bikes with a steel fork. These race bikes are great options for road cycling as well. These are entry level road bikes with cable actuated disc brakes.