If you're looking for a good bike to take with you on the road, whether it's a commuter model or a racing bike, as you're starting to hit the professional competitions, you need to know that you've got a good and reliable rig. 
The Kestrel Talon X is a good example of a bike that isn't truly top of the line, but which performs more like it is. The extra couple hundred dollars you'll spend to get this bike over a true entry-level bike makes a significant performance difference, as we'll explore in this review. 
We've investigated all the features of this bike and go over the most important core aspects. 
Overview
Kestrel is great about customizing all of their bikes to meet the specific needs of consumers in each bike's niche. They look at the specific frame geometry as well as the weight class they need to create and what components you might need. 
The Kestrel Talon X is a good balance between aggressive road bike aerodynamics and minimum weight. 
There are a few different component sets that come with it, all from Shimano and your choice of which component setup can make a huge difference.
Advantages like the carbon fiber frame also make the Kestrel stand out from other bikes in this same price range, improving the performance you can reasonably expect and extending the functional life of the bike. 
Things to Consider Before Buying Tri Bike
Like all specialized styles of bike, road bikes are built with a particular kind of user and particular performance specs in mind. They aren't designed to be all-purpose bikes like the ones you might have had as a kid. True road bikes can be even more limiting than some. 
That's because road bikes have to have a slim profile and an incredibly aerodynamic shape to work well. Road bikes are designed for speed above everything else. 
That also means that road bikes can be a little more challenging to ride because they have slim tires and less grip than all-purpose tires, and significantly less grip than mountain bikes and cross-country bikes.
If you live with fewer paved roads or want to be able to bike on gravel and dirt consistently, you may want to consider getting a more all-purpose bike. 
With all of that in mind, road bikes are still the best option if you want to go quickly on pavement, or if you're looking for a racing bike. Road bikes also work well as commuter models, thanks to their low weight and higher response time. 
Though, it's worth saying that if you're only looking for a commuter bike you might be able to find a good option in a more affordable price range. 
Features & Benefits
Kestrel Talon X Tri 105
Every bike is the sum of its parts, plus the advantages you can get from any synergistic combinations through the different components. It's important to look at all the components of your bike to get a good sense of what you're working with. 
We'll talk about the strengths of each component as well as any weaknesses of the individual components and their combination. 
Frame
The frame is one of the single most important parts of any bike. Your frame determines how well your bike can perform under pressure and is also the single most important component determining how heavy the bike weighs and how aggressive your rider position is. 
Kestrel is known for spending a lot of time on their frame dimensions, trying to optimize the design for the best possible performance in each bikes niche. 
This frame looks a little strange at first glance with a pronounced triangular shape, squared-off tubing, and high saddle position. 
But each of those details is optimized for the best possible performance. Admittedly, this design does mean that riders need to be comfortable in a fairly aggressive riding position since you can only lower the saddle so far. But the more squared-off shape provides less air resistance while you're moving and keeps friction more limited along the main sections of the bike frame.  
Most importantly, this frame isn't made of an aluminum alloy. Instead, you'll get an upgraded carbon fiber frame that will last significantly longer than frames made from other materials.
More: The Best Road Bikes Under 500 [Review and buying guide]
Carbon fiber is also the lightest frame material in terms of weight. The whole bike comes in just under 20 pounds, making it a super-light road bike. That weight class is perfect for racing.
The lower weight is also critical for improving bike performance since the additional weight of a heavy bike resists stopping more than a lightweight bike. If you're looking for stop on a dime performance, you need to look at the frame as well as the brake set. 
Fortunately, this bike has you covered in both respects. 
It's also worth noting that it's only been a few years since carbon fiber bikes were only available in premium models and premium price ranges. The fact that these bikes are becoming available in more affordable models is a huge boon to cyclists. 
The bike is also internally routed to help protect the cabling for your other components. Internal routing also helps improve your bike's aerodynamic properties. 
The frame is also made of carbon fiber, which helps reduce the overall weight as well as increasing the durability of the bike. You'll still need to plan on regular maintenance, but the whole bike should last longer thanks to these materials. 
Wheels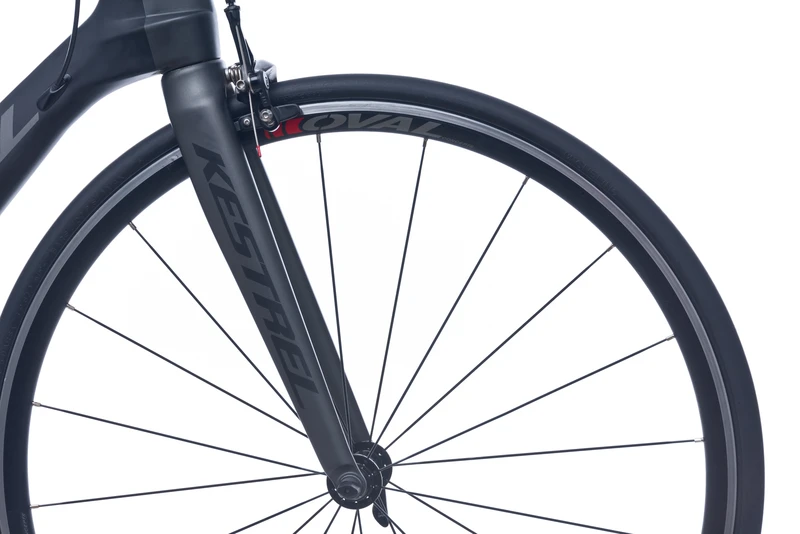 The wheels on this bike are designed for speed and durability. Oval concepts contribute a lot of the components on this bike, including the handlebar and other more detailed components.
They're stronger than a lot of wheel designs and will resist warping and deforming for years. They're reasonably durable even if you run up against a rock or other road debris your tire can't quite handle on its own. 
They've also provided the additional adaptive feature of four extra spokes for the rear wheel. Those extra spokes give you a lot more strength and durability at higher speeds. Fortunately, it doesn't add significant additional weight, so you get the benefits of the extra strength without any cost in terms of speed or weight drag. 
The wheels are 700c, which means that you have a huge range of different tire options when it comes time to replace your tires. 
Fortunately, you shouldn't have to replace the tires on your Kestrel Talon X any time soon since the included tires are a durable and effective design to start with. The Vittoria Zaffrio Pro set included with the bike is rated for potentially thousands of kilometers before needing replacement. 
They have an effective tread that helps to keep you moving over paved surfaces and provides a reasonable amount of traction even on wet pavement. 
The biggest weakness of the included tires is that you typically see wear and tear on the central portion of the tread before the outer sections start to wear out. Once the central tread starts to go you may want to consider replacement since the tires grip in wet weather conditions decreases significantly without that tread. 
More: Brilliant Bicycles L-Train Review: Is It A good Commuter Bike?
Gear
Gearing systems are one of the most important considerations when it comes to a road bike. The gear your bike is in had a lot of influence on how effective your pedaling is, and how hard you'll have to work to reach top speed. 
Changing gear can also be an effective way to handle different terrain types, expanding the functional range of your bike. Appropriately using the gear system on your bike will make it much easier to handle inclines and hills and will also make it easier to accelerate and decelerate quickly in stop and go traffic. 
It's important to make sure your gearing system is not only effective but also offers smooth operation. 
Fortunately, since the derailleurs are 11 gear Shimano components, you can expect a high level of consistency with minimal maintenance and a much lower risk of jamming or having problems on the road. 
Shimano is an industry favorite, and a favorite manufacturer for cyclists as well. Their smooth performance and consistently high quality across different component sets, as well as a wide range of different price levels, makes them a great brand for almost cyclists. 
More: Surly Cross-Check Review: Is It a Good Bike To Buy?
Brake
Kestrel has also come out with a solid braking system for the Talon X, which is especially important on a bike designed to go as fast as this one it. You need to be able to brake quickly and effectively, but more importantly, you also need to be able to brake smoothly. A jolt at the wrong moment can make it incredibly difficult to balance in the saddle, making high performance difficult.
Like Shimano, Tektro, the manufacturer behind the brakes on this Kestrel bike, is well known for producing high-quality components and is especially well known for their braking systems. 
It's a little disappointing to see a rim caliper braking system on this model instead of a mechanical disc brake or a hydraulic disc brake system. 
More: The Best Bikes for Heavy riders [review and buying guide]
That said, the performance behind these components is nothing to sneeze at. The brakes do a good job of stopping your bike quickly and without any shuddering or pull. They offer reasonably good all-weather performance. 
You won't be able to stop quite as quickly as you would with a more advanced braking system. That isn't necessarily a bad thing with this design though since stopping too quickly from high speed can destabilize you.
You will likely want to take these brakes in for a quick tune-up before you put too many miles on the bike, just to make sure they are working at peak efficiency.
| Feature | Specs | What it Means to You |
| --- | --- | --- |
| Frame | Carbon Fiber, Kestrel Super Light (KSL) 800K high-modulus carbon fiber | Carbon fiber is not only a super light material, but it's also significantly more durable than aluminum alloy or steel bike frames. That lightweight design is largely responsible for its high-speed performance. However, the lightweight design does mean that it's more likely to transfer shocks and any bumps in the road through to the rider. |
| Wheels | Oval Concepts 327, 700c 20/24H rimsVittoria Zaffiro Pro, 700 x 25c, folding | The wheels on this bike are a relatively standard design, and compatible with the widely available 700c tires popular with so many cyclists. You also get effective high-performance tires standard on the bike, no need to upgrade out of the gate. The tires are also foldable, so you can easily pack one to come along with you as a spare, just in case you get a flat on the road. |
| Gear | Microshift BS-A11 bar-end, 11-speed shifters, Shimano 105, 11-speed rear derailleur | The more gears you have the more flexible your bike will be overall. Since you get a Shimano derailleur set you can also count on your bike to perform consistently and to switch between gears smoothly in any condition. The bar-end shifter is easy to use and effective. |
| Brake System | Tektro R540 dual-pivot calipers | While mechanical disc brakes would be more effective, this set offers smooth and responsive deceleration with minimal maintenance requirements. |
Social Proof
The Kestrel Talon X consistently gets really high customer ratings from real users. Its carbon fiber frame is easily one of the high points of user reviews since this bike is able to be significantly lighter even than aluminum alloy frames 
The component matchups on this bike offer a reasonably high synergy, with the Shimano Drivetrain and the Tektro brakes really complimenting each other on the road. 
Riders also note that the tires that are offered standard on this set perform noticeably better than many standard tire sets. 
There are few pain points overall on this bike, although some users do note that it's a more aggressive rider position than they were expecting. 
Conclusion
Overall the Kestrel Talon X is a solid entry into mid to high range road bikes but has the more aggressive riding style and high-performance rating than many other bikes in the same price range and performance category.
While it's a good all-weather bike, it does suffer from some reduced performance in, especially wet conditions.
If you're looking for a great road bike that's ready to take you our racing and also works as a commuter option, but that isn't too expensive, the Kestrel Talon X is a good step up from entry-level bikes and will take you almost as far as the best premium bikes.