Welcome to my Priority Bicycle review.
Today I will help you pick a bike for Priority bike. After driving some and playing with other Priority bikes, I am sure they are tick all boxes as best cummuter bikes available in the market.
Trust me, You don't want to buy the wrong bike. It's better to get it right the first time, or you will wait a long time to get the right bike as Most of their bicycles are selling out before they are produced.
If we had to rate only one as the overall best, we'd declare the Priority Brilliant L Train as the winner. It's lightweight and easily customized. For example, you can attach a children's seat on the rear without impacting the frame. Plus, getting on and off of the bike is easy and convenient. 
History of Priority Bicycles
Before we dive into Priority Bicycles reviews, let's pause and reflect on how this business got started and what impact the brand has had on cyclists.
Founded Dave Weiner launched the company in 2012 after quitting his job to live his dream of selling bicycles. At the time, the startup company used a Kickstarter campaign in July 2014 to collate money. The company reached a goal of $30,000 within a few hours of launching. By the end of the 30-day campaign, Priority Bicycles had received $556,286.
These bikes are designed and aimed at commuters and require little-to-no maintenance. This is achieved by using a belt drive rather than a traditional bicycle chain. The brand is also famous for puncture-resistant tires with double-wall rims to keep all models in the best condition possible.
Despite the popular rise of Priority Bicycles, it remains a small NYC-based company that designs bicycles with no bells and whistles. In fact, Priority Bicycles doesn't have any stores and operates all of its business online. 
The Best Priority Bicycles Reviews 
We've devised a list of the top seven models from Priority Bicycles. Each model is unique from the other, although most of them are designed for commuting. Most of these bikes aren't designed for highly bumpy surfaces or rough terrain, but are all low-maintenance and easy to care for.
The L Train bike is one of our favorites on this list and is a suitable model for commuting. It's ideal if you're a rider searching for a nimble, quick bicycle with a large gear range. These features allow you to tackle almost any commute or enjoy riding the bike leisurely. 
This bike is lightweight and durable at the same time. Designed from chromoly steel, the frame and forks are durable and built to last. Plus, both components will never lose their form. In fact, the frame tubing is double-butted. This means that both ends of the tube are thicker for improved strength and performance, while keeping the bike's overall weight at a minimum.
The L Train has a Shimano 7-speed system that's ideal for bridges, hills, and other inclines on roads. This speed system allows you to adjust the bike's design for your riding preferences, so you can travel uphill faster and easier than before. Also, this model can travel at high speeds when you're on smooth pavements.
Most importantly, this bike offers a smooth and comfortable experience for cyclists. Although it doesn't come with fat tires or shock absorbers, you'll be amazed at how little bumps you'll feel underneath your bike's wheels. In fact, the lack of these features could be to your benefit as you're able to travel faster without having various additional components added to the bike's frame.
There are many areas on the bike to add accessories. There aren't any cables or unnecessary accessories attached to it, which frees up more room to add fenders, a front basket, water bottle cage, and rear rack. Check our Brilliant L-Train detailed review here
Priority 600—Best for Low Maintenance
If you're looking for a Priority 600 review, you're in the right place. This model also makes an excellent contender for commuters while having some additional features to offer. First, it's equipped with WTB 650B tires that provide a smooth ride and good cushioning and grip on roads and gravel. Plus, these tires are tubeless-ready, which makes them maintenance-free and no hassle to care for.
This bike's gear system also doesn't require a lot of maintenance. Specifically, the bike's Pinion gearbox transmission system is more reliable than traditional bicycle systems without much effort required to look after. Another great feature of the gear hub is the all-weather magnesium casing that protects it from dirt and grime. This is a unique feature that makes the bike long-lasting.
The Priority 600 is ideal for all seasons, wrapped up in a low-maintenance package. Its result is a low-maintenance, well-balanced nimble ride. Plus, the bike offers a smooth experience when you're riding on pavements. It might not be suitable for off-road conditions, but it rides perfectly well and has a great grip on roads, gravel, and hard-packed trails.
You can ride this bike at night, as it's packed with numerous safety features. The frame has 360-degree reflective decals and has front and rear lighting powered by Dynamo. This lighting system is beneficial for riding in the dark and can even prioritize the rear lights when there's not enough power for the front and rear. check our detailed Priority 600 bike review.
The Classic Plus is one of our favorite Priority bicycles. This model offers a combination of simplicity and comfort. In fact, it's lightweight, affordable, and pretty much maintenance-free. This classic bike will comfortably and easily take you to the park, around town, and for cycling down the street. In typical Priority style, the Classic Plus is built with grease-free belts instead of chains for easy and convenient use.
The Classic Plus is excellent for parents, as you can conveniently attach a child bike seat to the back. Also, the step-through frame allows easy entry and exit while your child is in their bike seat, helping to make your life a little easier. 
When riding this bike, you'll be in the upright position, which helps to provide more room for front-mounted bike seats compared to other bikes. It's also available in a small frame, which is ideal for those below 5'3", without putting your comfort or safety at risk.
Overall, it's lightweight, weighing only 25lbs, which makes it easy to handle and ride. As a result, it's ideal for riding with a child seat on the back and steering around corners. The belt drive keeps your commute clean, making it a suitable model for traveling to and from work. Plus, the Classic Plus comes equipped with a kickstand, water bottle cage, puncture-resistant tires, and air pump. With all of these features, you don't have to worry about making additional purchases.
Finally, the Classic Plus is also customized to suit your comfort. In particular, you can adjust the front stem and seat post, so you don't need to purchase a stem extender. Check our review of Priority Classic Plus here
There are so many benefits to using an electric bike, especially if you're new to cycling or want to use the bike for commuting without the hard work of pedaling. The Current E-Bike offers a comfortable and ergonomic ride for long adventures and lengthy commutes. In fact, the hydroformed shape design provides a low stand-over that eliminates strain and pressure on your seat, back, and wrists.
The Embark is one of the most low-maintenance electric models on the market at the moment. It's designed for torque, distance, and high-frequency rides. As a result, you can relax while traveling and enjoy the scenery more. 
This Priority bike has all the features you can possibly want. For example, it has an ultra-smooth Bosch motor, rust, and grease-free Gates Carbon Drive belt, and a Enviolo rear hub, which offers seamless shifting. With these features, you can reach your destination quickly, safely, and enjoyably. It reaches a top speed of 20 mph and has a maximum total range of 50 miles, so you'll it's ideal for traveling to and from work.
If you're not quite a believer in electric bikes, the Current will change your thinking. The Current is virtually indestructible because it's designed with high-quality, tough components. For example, the rubber belt doesn't move in action and remains in a fixed position on the cogs. This results in fewer parts moving at one time, thus, reducing the overall maintenance required on this e-bike.
Finally, the bike's gears are controlled by a continuous variable transmission that's the same you'll find in fuel-efficient cars. This means that the bike doesn't have a limited range of gears, so it can offer a smooth range of resistance when you switch gears. Check our detailed review of Priority Current E-Bike here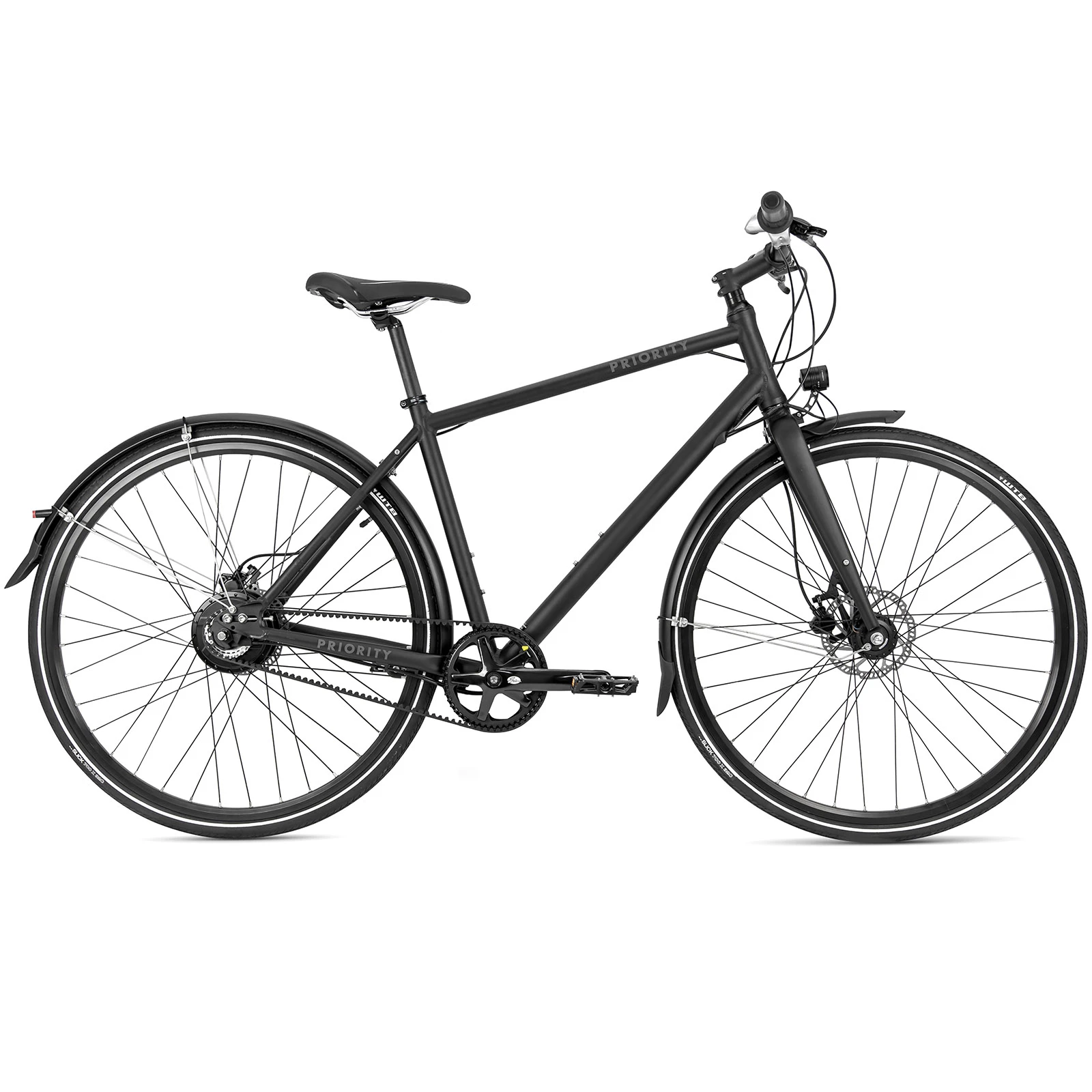 For this Priority Continuum Onyx review, we endeavor to provide insightful and helpful information about the bike's materials, components, and most importantly, performance. It's essentially a fuss-free bike that works great as a first-time commuter model. It's built for long miles and delivers great value for money, so there's no issue you'll feel out of pocket.
To keep maintenance to a minimum, the Continuum Onyx has a carbon belt-drive and all-weather hydraulic disc brakes that keep your safety a priority. There are also plenty of other extra touches throughout the bike, such as the reflective decals. This model also features a Dynamo-powered rear light to keep you visible when riding at night.
The bike's ultra-lightweight and durable aluminum frame makes this Priority model suitable for commuting every day. The frame is designed for rigidity and durability while pushing through trying conditions. Let's not forget how stunning the frame is. The stylish matte black paint job makes the Continuum Onyx a stand-out bike against other commuter cyclists. 
To reduce any excess weight, this Priority model has an aluminum-crafted fork. This material is ideal for forks as it offers the stiffness of carbon and durability of steel while also remaining lightweight and flexible. Also, aluminum is a suitable material for keeping rust to a minimum—especially if you're regularly exposed to poor weather conditions.
When cycling, stopping power is highly important. That's why this model is powered by all-weather-stopping hydraulic disc brakes by Tektro. This is a brand you can trust, so you'll never feel that your safety is put in unsafe hands when you're on your bike. Check our detailed review of Continuum Onyx here
The Priority Start 24 is a top-quality bike that's specifically designed for kids while providing adults with a low-maintenance bike. It's designed to be ridden around the neighborhood, but that doesn't mean it can't handle tough terrain. You can take the Start 24 on long inclines, flat-paved trails, and rugged hills without it feeling much of a struggle. The multi-terrain tires are a great feature for allowing that.
If your child is fairly timid and this is their new adventurous bike, this model is a great choice. It's designed for comfort and safety, as it keeps them in the upright position, allowing them to cruise in comfort. However, the high-quality, tough tires also allow them to confidently explore the local terrain and have fun.
The bike's low-step frame makes it easier for kids to get on and off the bike. It's designed with high-set handlebars that children's bodies and arms in a casual riding position, allowing them to grow into the bike and engage in a fun ride around the neighborhood.
Furthermore, the bike's saddle is ergonomic and cushioned to help with comfort. It's also well-proportioned to the average child's bum, helping to prevent any discomfort and irritation. As for the seat post, it comes with a quick-release level, so you can adjust the seat's height according to your child's size. This feature is ideal for comfort and security, as well as allowing kids to grow into the bike and keep it for a long time.
More: The Best Bikes for Heavy riders 
Finally, the Start 24 Priority bike comes with dual v-pull handbrakes that are adjustable and child-friendly. They'll provide your child with all the stopping power they need when cruising around the neighborhood. Not to mention that they're not difficult to operate.
Finally, the Turi model is a go-to if you're often cycling up and down hills. With a simple twist of the wrist, you can change gears without any confusion. The bike also comes with Tektro hydraulic disc brakes that bring you to a confident stop.
The Turi is comfortable to ride and durable. Specifically, it comes with a weather-resistant saddle, making it suitable to expose in rain and all weather conditions without creating any damage or wear and tears. Plus, it features composite fenders to protect the bike against dirt and debris during your commutes. These fenders are also rustproof.
You'll also love the easy-access frame that makes it convenient for getting on and off the bike at all times. Also, designed from aluminum, this frame is lightweight, helping you to ride faster for longer. 
Are Priority Bicycles Any Good?
Before diving in to make a purchase, you're bound to want to know if Priority Bicycles are made from high-quality materials and components. As previously mentioned, the brand primarily focuses on commuter bikes, helping employees to reach their workplace without any fear of a poor-quality, unsafe bike. 
There aren't hundreds of models available, which can impress or put-off some cyclists. By having a narrower selection, the buying process is much easier, although some can argue that they want to have more options if they intend on spending hundreds of dollars on a bicycle.
Overall, Priority Bicycles pride themselves on delivering high-performance bikes that are low-maintenance. You won't have to spend hours fixing and repairing a bicycle, helping to free-up more time for the things you really love in life. 
Another beneficial factor of all of their bikes is the airless tires that ride perfectly on a variety of terrains. Also, these are water- and rustproof, as well as being puncture-resistant. Now, there's a feature you can't argue with. So, whether you're new to cycling or are searching for a low-maintenance bicycle that won't have you spending weekends fixing, Priority Bicycles has something for you.
On the other hand, Priority Bicycles aren't perfect. If you're not new to commuter bikes, you might discover that some of their models are heavy and somewhat clunky. Since the tires are made from solid rubber, there's little suspension and softness, meaning you might encounter some shocks when riding over bumps and down hills. 
Some of the bikes have high seats that isn't always ideal for lugging clothes, lunch, and a laptop. It also comes heavier than most commuter bikes, so if you do plan on taking a large amount of belongings with you on your journey, Priority Bicycles can sometimes topple over.