Welcome to My Priority Continuum Onyx Bike Review.
After few days of driving my bike here is what I think. The Priority Continuum Onyx is a well-rounded bike, and it is perfect for your daily commute in the urban jungle. 
It has a few new upgrades from the old continuum, including a new paint job reflecting headlights and built-in lights powered by simply pedaling (this process is called a hub dynamo).
Priority is a well-respected bicycle company that started in 2014 after it hit its crowdfunding goal on Kickstarter in a matter of hours to ship out its first line of bikes. Since then they've seen many positive reviews from Inc. Magazine, Gizmodo, and plenty of others.
The Continuum Onyx offers a lot in comparison to the other commuter bikes out there, like the GT Grand Elite or Evil Chamois Hagar, with all kinds of features that are well thought out and applicable to a daily ride.
Here are a few pros and cons to think about when comparing the Continuum Onyx to other commuter bikes.
Things to Consider Before Buying a Commuter Bike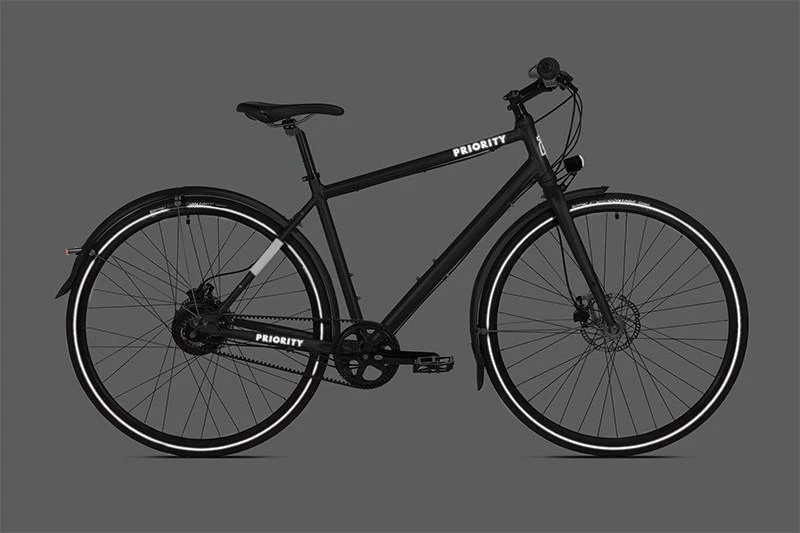 If you want to cut down on driving in city traffic or get some gentle exercise during your commute, buying a bike like this one would be a great idea.
However, this bike is made mostly for urban riding, and if you plan on taking it on bumpy roads or trails, you should consider a hybrid or mountain bike instead. 
Before buying a bike like the Continuum Onyx you should think about what terrain you're riding it on, and if you plan on using it near every day. While it is fairly priced, it is not cheap, and will not be a good investment if you only plan on riding it once in a while. 
Features and Benefits 
There are 5 particular features that are important to this bike, with their own various benefits and drawbacks. Some are more important than others, and I will be going fairly in-depth with how they make the Continuum Onyx a quite unique bicycle.
The Frame
The frame for this bike uses 6061 T6 Aluminum. Aluminum is commonly used for bike frames and forks and is a great material to use because of its lightness and durability. 
Some people have expressed some qualms with the frame, and it is certainly the feature that stands out the least on this bike.
This part of the bike is probably the most similar to most others out there, and it doesn't try to show off anything special from a design standpoint. Although, it is proven to be high quality, and by no means does this bike cut corners by making a fairly standard frame. 
There is also a 5-year warranty on the frame and fork if they get damaged. However, keep in mind that any damage due to improper assembly, modifications, or use beyond the intended conditions will not be covered by the warranty. Also, warranty claims due to product defects must be confirmed via photograph or diagnosis by a professional bicycle mechanic.
More:
The Suspension System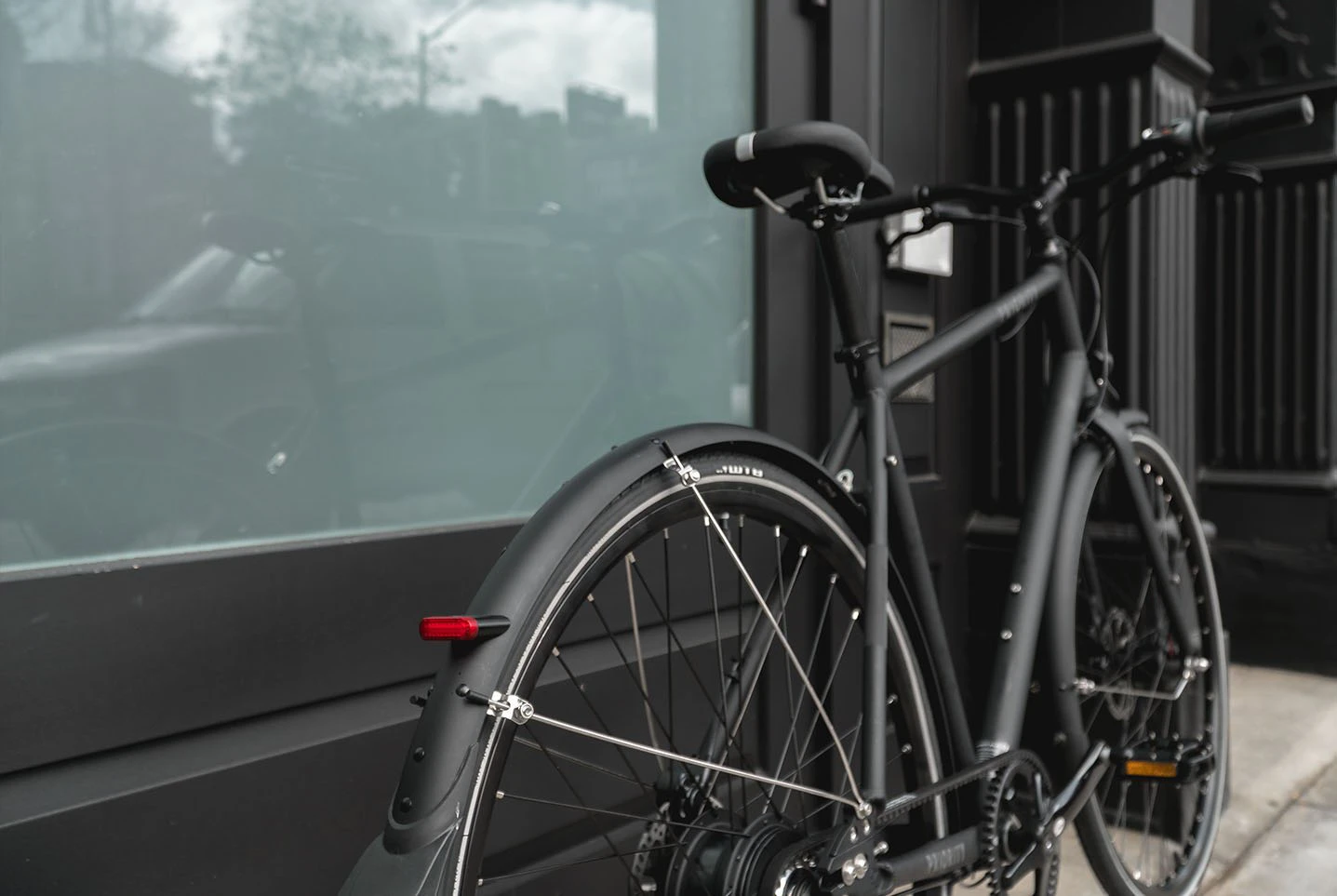 The Continuum Onyx is made specifically for urban riding, so it does not have a suspension system. Although, it really doesn't need one, and like I said earlier if you plan on biking off-road you should consider a mountain bike rather than this one for this exact reason.
While this feature (or lack thereof) may seem like a limitation there are plenty of good reasons to not have a suspension system in place on a commuter bike. 
For one, it makes the bike heavier and more expensive. Adding a suspension system requires a good bit more manufacturing work and this will drive up the price. Plus, putting the mechanisms necessary for a suspension system will make the bike bulkier, and in general, just make it more awkward to ride through the tight traffic you'll see on city streets.
More: Best priority bicycles review: Are Priority Bicycles Good Quality?
Bikes with suspension systems will also be slower when climbing up hills. There were many years, when I was young, where I was riding my mountain bike up a hill to get to school and wondered why I was covered in sweat every time I walked in.
When a bike does not have a suspension system, the weight loss makes a big difference when riding up inclines. So if you're worried about keeping those sweat stains off your work shirt, it is really just up to the weather in your area.  
The folks designing the Continuum Onyx did even think about the white button-downs everyone wears to work when designing this bike, didn't they? 
(Seatpost with a parallelogram and shock absorber)
The Wheels/Tires
The Platinum Continuum Onyx features a pair of puncture-resistant WTB 700C wheels. These wheels are built for speed and can get a great grip on both road and gravel.
These tires are made for pavement, hardpack, dirt, and gravel terrains. They offer a smooth ride even on wet pavement and do well at keeping your bike from sliding out from under you.
Some bikes can use these tires for off-road excursions, and if not for the Continuum Onyx's lack of suspension, I feel as if you could certainly take this bike on the trails with these wheels.
The puncture resistance is a great feature for city commuting as well. There will be plenty of times where you may run into some broken glass or sharp rocks on the road and these tires have the durability to shake these off, which will save you a lot of money on replacements. 
However, one downside is their bulk, which will make it difficult to get the bike moving at times. Once you get going, you will notice the great speed these wheels will give you, but stopping and going may get cumbersome.
More: Trek Madone Sl 6 Review: Is It A Good Road Bike?  
The Gear System
Arguably the most unique and defining aspect of Continuum Onyx is the NuVinci N380 CVT drivetrain. Those who don't know what a drivetrain is are all the bits you use to push the bike along. 
What you get out of this bike's drivetrain is roughly the same gear range as a common 7-speed chain-driven bike but without distinct gears. The belt drive and CVT gearing Priority used on the Continuum Onyx is honestly one of a kind. 
A typical-chain-driven bike with gears doesn't respond well if you change gears at a stop then try to ride up a hill when you start pedaling. The NuVinci system is different, in that it doesn't need to be moving to change gearing. 
Say you are pulling up to stop at a light, if you want easier pedaling to get going again, twist the gear grip while stopped. Then, once you start riding, the gearing will change with only a small delay and no complaining.
I typically handle changing gears for hills with my bike because if I'm in the middle of a steep hill, my strategy is to pedal a bit harder and not even bother shifting when the end of the hill is close. 
Really I'm just trying to lessen the unavoidable 'clunk' you hear when gears change, but when you've got a system as the Continuum Onyx does, there's no need to consider if it's worth changing gears.
On this bike, you will never have to pre-plan gearing when you're coming to a stop. Everything is quiet and smooth and it really is a well thought out design for riding in the city, where you will certainly have to deal with frequent stops and a few hills. 
The Brake System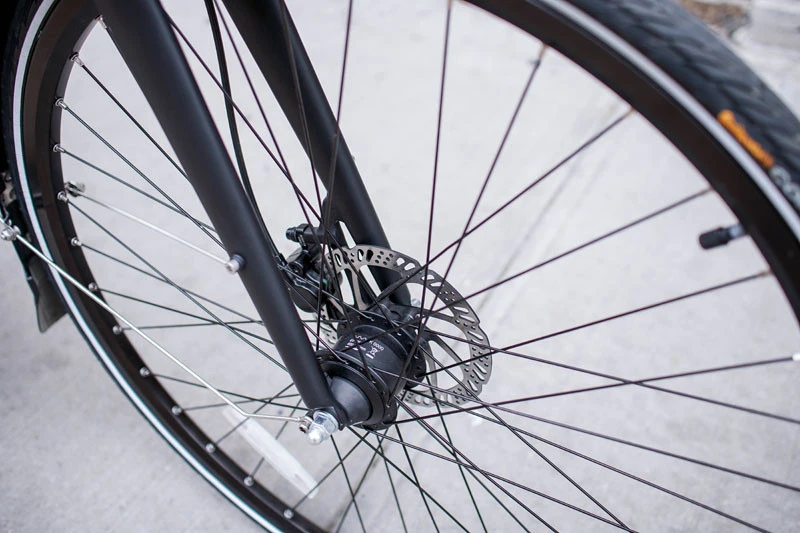 The Continuum Onyx features a Tektro braking system, with dual piston-hydraulic discs and 160mm rotors. 
These hydraulic disc brakes provide more braking power than caliper brakes and are more reliable in rainy or snowy weather compared to mechanical disc brakes. The brakes are perfectly suited for the WTB 700C tires mentioned above as well.
Considering the bike's price, this is a surprising feature of the Continuum Onyx, as this is a very high-quality braking system. Their all-weather stopping power is perfect for an urban bike because if you're an everyday commuter, you never know when you'll be taking a wet ride back home from work.
From personal experience, I know that bikes with basic braking systems will hardly put up any resistance in stopping my bike on a rainy day. I'm not going to say I rammed into anyone's car, but I certainly have had to do some action rolls to avoid collisions with a few fences.
The brakes on this system will hardly ever fail on you, and to me, this is easily one of the most important features on any bike. Riding your bike through city streets can be very dangerous, and without the ability to stop on a dime, it could easily lead to some gruesome injuries or worse. 
More: Trek Emonda ALR 5 Review: Is It A Good Bike To Have?
Key Features Table
| Feature Type | Feature Specs | What This Means |
| --- | --- | --- |
| Frame/Fork | Made with 60601 T6 aluminum | This aluminum is of high quality and durable material. Also, this does not add too much bulk/weight to the bike, making for easier rides. |
| Wheels/Tires | WTB Slick 700×32 Puncture Resistant w/Reflective Sidewall | This tire is bulky and a bit heavy, but it has a great grip on gravel and pavement. It can break smoothly in snow and rain and is fairly resistant to small punctures like glass and sharp rocks. |
| Braking System | Tektro dual-piston hydraulic disc with 160mm rotors, with reach, adjust | Provide higher braking power than regular, caliper brakes. Great in all types of weather, and pair perfectly with the WTB 700 tires. |
| Drivetrain/Gear System | Gates Carbon belt drive with NuVinci CVT gearing | Does not require the bike to be moving to change gears. Allows for seamless and quiet gear shifting, while still having the same variety as a typical 7-speed gear system. |
| Rear Light | Priority fixed, dynamo powered | This light is powered simply by pedaling and shines so cars will clearly see you at night. The light will also stay on slightly after you stop pedaling, a small, but very helpful feature. |
Social Proof
The vast majority of the reviews for the Priority Continuum Onyx are highly positive. You'd be hard-pressed to find a non-5-star review from buyers, and most people tend to praise Priority's customer service as well. 
Below are a few reviews from Priority's website, and to be clear, people can say whatever they like about the product in these. As far as I know, no reviews get deleted, and for the most part, these are either people that have either purchased the bike or gifted it to a friend or family member.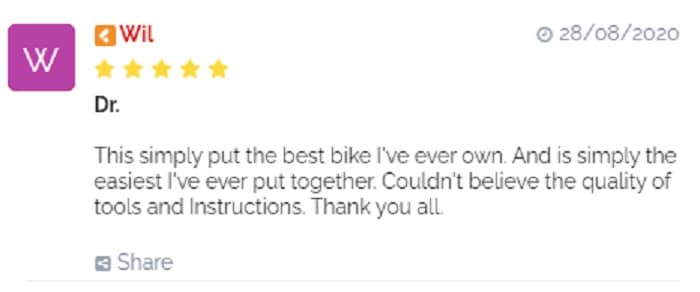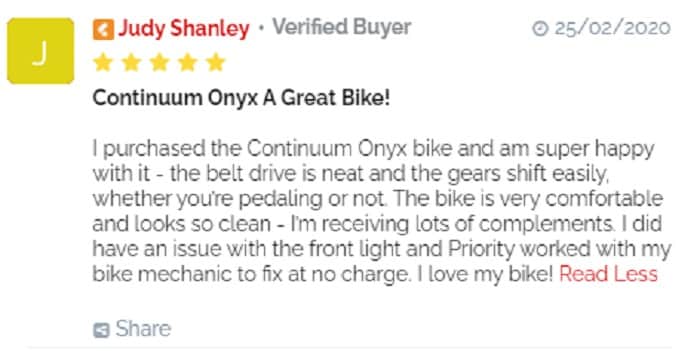 Alternatives
While this is a great quality bike, there are alternatives for those looking for a different kind of bike. Like I said before, there are some drawbacks to this bike, and it is not meant to ride around anywhere and everywhere.
Priority 600
In comparison to the Priority 600, the Continuum Onyx is much less expensive. Both bikes have a similar brake system, frame, double fender design, and it's available in the same matte black color as well. 
However, the cheaper price point is because the Continuum Onyx comes without the innovative gearbox or more rugged handling that is offered by the 600. 
In fact, while both are solid bike options, the 600 is a better bike for people looking for an all-terrain bike, while the Continuum Onyx is a good bike for commuters who are only looking to ride on roads.
If you have a good bit more money available, the Priority 600 is a great buy and a much more versatile bike with just as many great features as its road bike counterpart. Not to mention, you won't have to look far, as it is right next to the Continuum Onyx on Priority's website. You Can get the Priority 600 here
Brooklyn Bicycle Co. Franklin 3 Speed
This bike comes from Brooklyn Bicycle Co., which is another bike company known for making good, affordable commuter bikes.  
This one is a quite popular bike and is sold out on their website with no projected restock until 2021. It is a very affordable bike and only about half the cost of the Continuum Onyx ($499.99)  
It does not have the same kind of high-tech drivetrain or braking system as the Continuum Onyx, but it's still made of the same quality materials and has a wonderfully pretty design and color.
For those that are looking for a commuter bike with a smaller budget, this bike could be worth keeping an eye on when it gets restocked in 2021. However, be sure to hop on quickly, as this bike may sell out again quickly once it gets restocked.
More: Schwinn Phocus 1600 Review: Is It a Good Bike to Buy?
Conclusion
If you need a way to cut back on driving in the city while getting some exercise in the process, the Continuum Onyx is a great fit to solve this problem. 
Its smooth gear system allows for easy rides even if you plan on making frequent stops or going up sharp hills. Its non-puncture tires paired with its hydraulic brake system are perfect for riding safely even in dangerous commutes through the city.