Anyone looking for a reliable bike for their everyday commute quickly becomes aware that there are a whole lot of options to choose from. There are so many choices that it can be hard to know where even to start.
The Priority Classic Plus is an American-made bicycle with an old-school flavor. It is built to last, and it offers some truly distinct features that separate it from the pack. This bike from Priority Classic is classic and stylish and offers excellent quality at a very reasonable price. This bicycle comes with a simple design loaded with modern features that every rider will love.
The Priority Classic Plus works for both beginners and pro cyclists. This attractive bike offers something for just about everyone. Daily commuters or average city dwellers specifically appreciate its easy-to-use features and lightweight material.
Priority is a manufacturer of a variety of different bicycles, but they focus on road bikes. Their goal is to make high-quality priority bicycles with no flashy extra features accessible to everyone in the world. The Priority Classic is just one of the many different models of bikes the company makes.
Pros & Cons
Things to Consider Before Buying a Bicycle
Anyone who has ever depended on a bicycle every day as their primary transportation mode can tell you what features are important in a daily rider bicycle.  These riders are looking for something dependable, lightweight, and easy to ride.
This type of bike has been trending in the market in the last couple of years, gaining popularity. But how do you know if this bike is ideal for you or not?
Here's what you need to think about before making this purchase:
Are you going to be using this bike daily for transportation?
Are you planning on taking this bike "off-road'?
How fast do you need your bike to go?
Features and Benefits
The Priority Classic Plus is a low-maintenance bike designed for the road. In general, it has a comfortable, light frame that was obviously designed with commuters in mind, so if you have a long daily ride to the office, this bike might be the perfect fit for you.  It focuses on speed and practicality.
Frame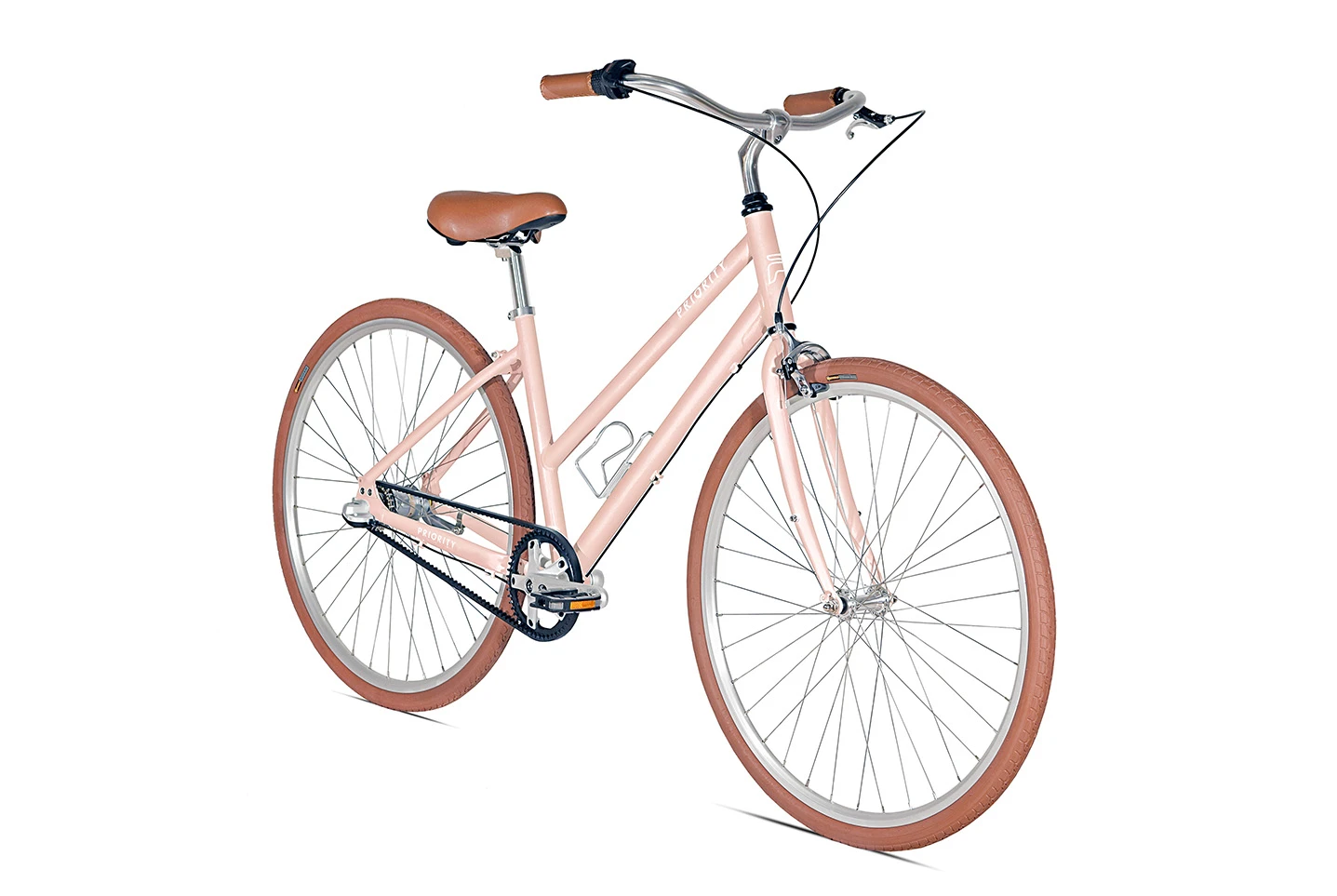 The ultralight rustproof aluminum frame of this Priority Classic bicycle that makes up this bicycle's body is exactly what it sounds like.  At 25lbs, this is one of the lightest one of the Priority bikes or of this type available.  Anyone who uses a bike for their primary mode of transportation knows that in the city, you end up carrying that bike far more than you realize, so the light weight of this model is a key selling point for commuters. 
Priority offers this frame in two different styles.  You can a traditional diamond style or opt for the step-through style if that is your preference. Regardless of which frame style you select, you can further customize the frame as it comes in three different sizes.   The website uses standard inseam measurements to help you find the right frame for your height.  This Priority Classic bike allows absolutely anyone to bike ride with comfort.
There aren't a lot of extra bells and whistles that go with this Priority bike, but you do get your choice of three colors. Many parents are saying that the shape of the frame, along with its lightweight nature, also makes this model perfect for attaching a child seat. The bike comes with an attached kickstand and water bottle cage as standard features regardless of which frame you select.
This bike offers an upright but comfortable riding style which works well on both daily commutes and weekend cruises around the town or park.
Suspension System
This Priority Classic bicycle is designed for use on the pavement. As a result, it does not have any type of suspension system in the design like you would find on a traditional mountain bike. In fact, you are not going to find a lot of bikes that compare to this model that have suspension systems, if you any at all.
However, on the Priority Classic Plus, the all rubber puncture-resistant tires provide an excellent amount of support and insulate the rider from all bumps of the road.  This results in a smooth riding experience.
More: Priority 600 Review: Is It A Good Commuter Bike To Have?
Wheel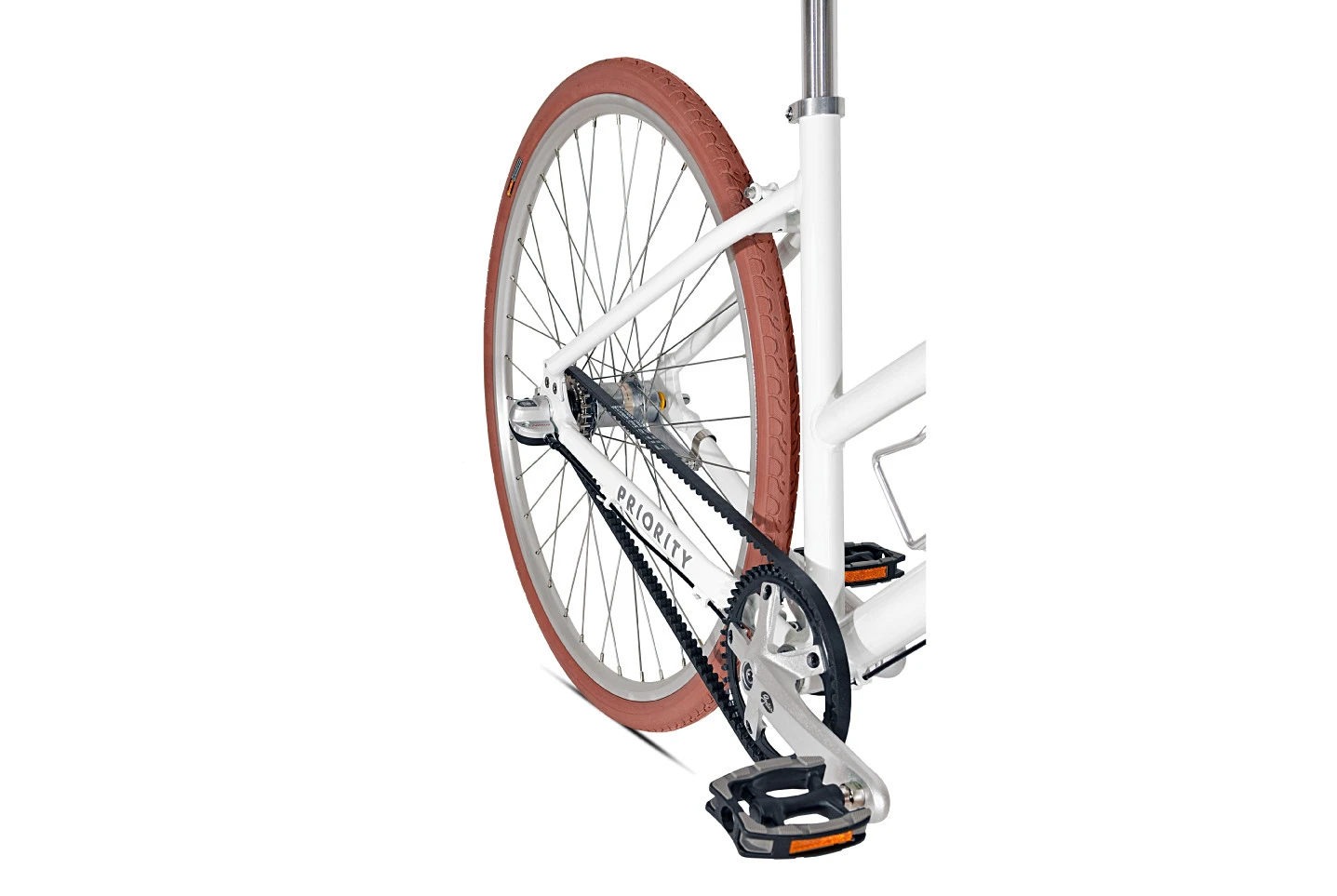 These incredible "no flat" tires are placed around a stainless steam frame. The wheels offer durability and dependability. These puncture-resistant tires are designed specifically for the needs of city riders.  There is no need to worry about potholes or random nails ruining the tire and leaving you stranded across town or on your way to work.
These incredible tires are mounted on extremely durable aluminum rims.  This continues the lightweight theme of the Priority Classic bike, and the 36 spokes provide the right level of stability to support the tires while maintaining a sleek profile. It's basically one of the best balance bikes.
The design of these wheels isn't just about function, though.  The designers were obviously going for a classic look when they chose these wheels for the bike. The clean look of the stainless frame is complemented by brown tires that lend this bike a somewhat whimsical feel.
All of these features of Priority Classic Plus bike work well no matter what you intend to use the bike for. While these tires are perfectly suited to a workhorse daily commuting bike, they also create a comfortable ride for when you want to slow things down and just enjoy the ride. Since the tires are guaranteed never to get a flat, weekend riders will never be surprised by an unexpected flat when they pull the bike out of storage at the end of the week.
Gear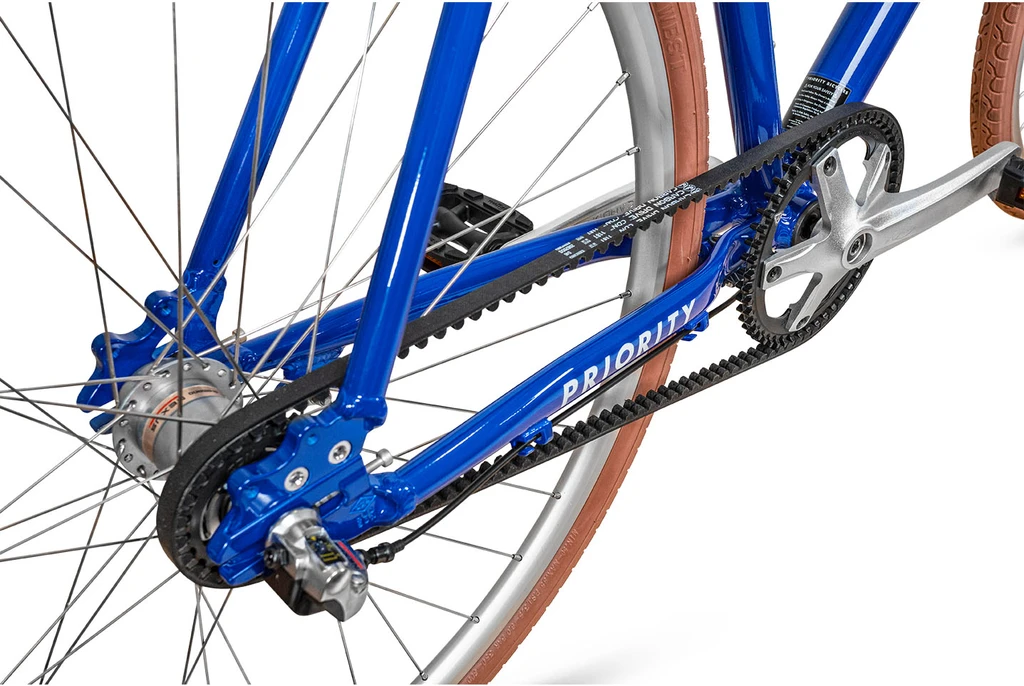 Priority Bicycles is well known for its signature drivetrain and gear system.  As with all of their other models, this bike features the maintenance free Gates carbon belt drive instead of the traditional, old-fashioned chain.  No chain means no dealing with rust and nothing to keep lubricated. Finally, Priority Classic guarantees that their belt system will last much longer than a chain. What's not to love about that?
Belt drives are the best of the best in modern bicycles and are superior to chain drives in a lot of ways.  Of course, they are no maintenance and last longer, but they are also quieter and ride smoother. A well-cared-for belt drive system can last upwards of 19,000miles.  They aren't just quiet, and they are basically silent.  Also, riders living near the ocean don't have to worry about corrosion from saltwater exposure. Finally, the lightweight nature of the Priority Classic isn't only because of the lightweight frame.  This grease free belt drive system is considerably lighter than a standard chain system.
This state-of-the-art system powers the gear hub. Priority Classic chose a 3-speed Shimano Nexus internal gear hub.  This makes pedaling easier and more efficient.  As with other gear systems, the only three gears are controlled by a handlebar-mounted grip shifter.  This part of the system is also maintenance-free.  All the gears are sealed up at the rear hub. Everything stays clean and lasts longer. 
More: Brilliant Bicycles L-Train Review: Is It A good Commuter Bike?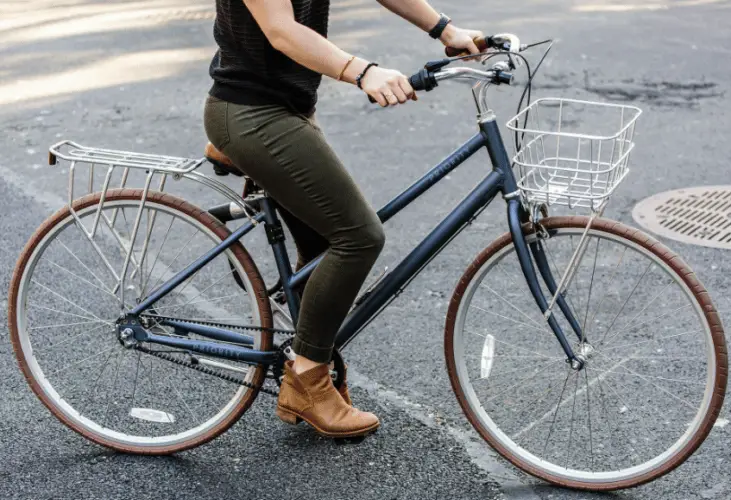 Brake
The Priority Classic Plus uses a Shimano Nexus 3 coaster brake as well as a Promax dual pivot caliber hand brake.  Since this bike was designed for city riding, it's no surprise that there are plenty of ways to stop the bike in a hurry.
Dual pivot breaks are the gold standard for any traditional road bike, and the Promax system is a lightweight and compact system. They provide an instant, firm stop and have a long service life.  This durable break can keep the bike's rider safe with very little maintenance for years.
The coaster brake on this Priority Classic model is a second safety mechanism to ensure that in an emergency situation where the rider needs to stop the bike, the bike stops.  Riders who might still be adjusting to using a hand brake can venture onto the road, confident that they won't forget the right way to stop the bike.
This added layer of safety makes the Priority Classic Plus an ideal bike for every member of the family.  Children who still lack the coordination or reflexes to master one braking system can easily rely on the other one. Plus, the ability to expose children to both braking systems early on is very likely to make them stronger and safer riders going into the future.
More: Priority Current E-Bike Review: Worth Having?
| Feature | Specs | Benefits |
| --- | --- | --- |
| Frame | Aluminum Frame | At only 25lbs, this bike is ultra-light and is easy to carry |
| Wheels | Priority Puncture Resistant 700×35 | Extremely low maintenance and you will never need to worry about a flat |
| Suspension | N/A | N/A |
| Gear | Shimano Nexus Gears | Easy to shift gears powered by the grease free belt drive result in more efficient pedaling |
| Brake System | Shimano Nexus 3 coaster brake and Promax dual pivot caliber hand brake | They provide easy breaking in the palm of your hand and at your feet |
Social Proof
Time and time again, customer feedback shows how much they love the Priority Bicycle company. Trust Pilot reviews all agree that this bike offers a dependable, maintenance-free experience.  This Priority Classic bike might be no-frills, but riders love it all the same. Many report that after they buy the first one, they quickly go back to purchase these Priority bicycles for every member of their family! See for yourself below why customers love the Priority Classic and why they love Priority Bicycles.
Alternatives
Now take a look at how the Priority Classic Plus compares to similar bikes.
Priority Classic -Gotham
It starts with all the features of the classic plus and adds to it. Some of the main differences are designed to make this edition even more friendly to city streets. It weighs about the same and features an all-black design inspired by NYC.  The handlebars have been changed to offer a more comfortable ride to the office. This bike also features a freewheel with front and rear V-breaks to allow faster stopping, which keeps the rider safer on city streets. Check our review here
Frame: It has the same ultralightweight aluminum diamond frame with the same features.  The only difference is an all-black paint job.
Wheels: Gotham has the same puncture-resistant tires on a very slightly larger but lightweight frame making it slightly more durable for long daily commutes.
Gears: It has the same 3-Speed Shimano Gear hub powered by the Gates carbon belt as the Priority Classic Plus
Brakes: Gotham Has two V-brakes to make it even more, commuter-friendly
More: Guide to Priority Ace of Spades Bike Review
Raleigh Carlton
This bike comes in at a lower price point than the Classic Plus.  This bike is a single speed, but it can also work as a fixed gear bike. It has a durable frame and features dual top tubes.
Frame: It has a heavier but durable frame with a unique silhouette.
Wheels: The wheels contain dual top tubes.
Gears: The bike has a single speed.
Public v7
This priority classic bike offers fenders to keep the rider from getting dirty when riding on city streets.  It has a Shimano 7 speed gear system, and the same dual-pivot brakes with hand stopping that are found on the Priority Classic.
Frame: It has fenders to prevent puddles and mud from making a mess.
Wheels: The wheel frames and tires are standard aluminum and tube.
Gears: It is outfitted with a 7-speed Shimano with twister shift controls
These are just three models that offer similar features to the Classic Plus. Before you decide if the Priority Classic Plus is the right bike for you, be sure to check out all of the alternatives, as each company offers slightly different features which can have a big impact on your experience riding it.
More: Check which is better Priority Continuum Onyx vs 600
Conclusion
Don't get overwhelmed when shopping for a new bike.  While it seems that there are a never-ending number of choices to consider, you can easily narrow down that list by identifying and focusing on the key features you need. For example, if you are searching amongst the mountain bikes, look for stability and better breaks. Once you have determined that the most important factor is a dependable bike for daily commuting, the Priority Classic Plus should be at the very top of your list of contenders. Priority classic offers a hassle-free and low-maintenance user-end experience.  The biggest bonus is the bike's versatility. The Classic can easily handle the demands of being a daily transportation workhorse, and it is also a fun bike to take out for the day to just enjoy riding.