These days it has become increasingly common for electric bike companies to make a hodge-podge of different designs. They tend to pick the best parts from different bikes and combine them into one product. The Priority Current E-bike, however, is a well-thought-out creation with one mission in mind — to dominate the roads in style.
There's no better way to learn about the inner-workings of a product than by getting a feel for it firsthand. The Priority Current E-Bike is known for being affordable and provides you with everything you need (and more) to have fun pedaling around town.
When Priority Bicycles opened for business in 2014, they set out to make high-quality bikes for "bike people." Today they continue to apply that same mission to every bike style they create. The Priority Current E-Bike is an excellent bike that reflects the best modern motorized bikes have to offer. The unique style and look of this bike not only make it stand out but is a great conversation starter.
Priority is known for making bikes that are very classic in style. They don't like the idea of making flashy, futuristic designs and instead want to focus on creating bikes that can be ridden around town and even to work with a professional look. This company tends to look at what makes a bicycle attractive rather than making it the best electric bike possible.
Pros & Cons
Things to Consider Before Buying an Electric Bike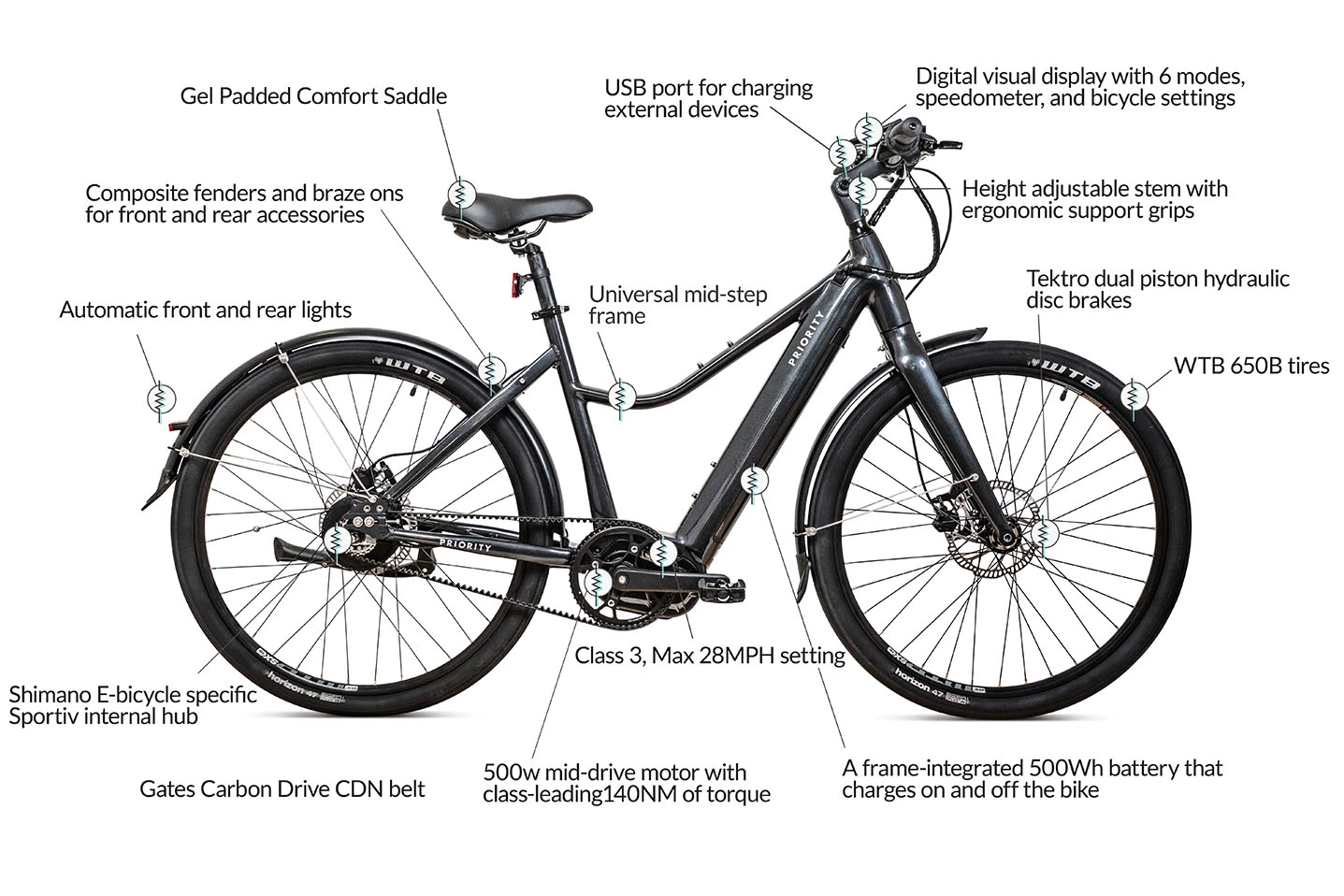 Now, when it comes to E-bikes or electric bikes, I'd just like to point out that I have not test-ridden them all. But I have tried a few out, so let's have a look at the things you should consider before buying an E-bike.
In most major cities around the world, transportation is a genuine problem.  City lifestyle has long ago shown us that it's not "car-friendly." While most urban areas have plenty of public transportation options, using them can prove to be both inconvenient and time-consuming. That's where the modern urban electric bicycle comes in.
So what's the ideal rider for an electric bike? On average, E-Bike owners are people who have a 10 mile urban commute to work.
More: The Best Electric Bikes Under $1,000 On The Market [Review and Buying Guide]
E-bikes are red hot right now. They are the next big thing that is poised to take over all forms of transportation in the not-so-distant future. But like any other tech product, there are a ton of companies out there offering many different styles and price points. And when you are spending a couple of grand, it's a big investment, and you want to make sure you pick the right one for your needs.
What does the terrain look like where you will be using it most?
What will you be using the bicycle for, and how often do you plan to use it?
What kind of range do you need to get out of an e-bike? Don't forget to account for a round trip.
Features and Benefits
The Priority Electric Bike combines utility, speed, functionality, and comfort. It has enough power to help riders climb the steepest hills and cruise over the smoothest of surfaces. The bike comes in both a standard frame and a fender frame, the latter of which is perfect for wet or muddy conditions.
Here is the full scoop on the features that are included.
Frame
The Priority Current E-Bike features a mid-step 6061 aluminum frame.  Of course, as an electric bike, this model is naturally on the heavier end of the Priority's weight range.  It comes in right at 53lbs.  There is no comparing an electric bike frame to a more traditional bike, and that weight makes it one of the lighter electronic bikes on the market.  The aluminum used for the frame of this bike goes a long way toward keeping its weight down.
There is only one body style available, but the bike comes in several sizes, including small, medium, and large. This ensures that no matter what your height is, you are guaranteed a comfortable ride on this bike. The Current also has options to add front and rear fenders, which is an extra feature that is not included on all Priority bike models.
The battery for this electric bike is frame integrated, which eliminates bulky battery packs.  This bike frame only looks slightly bigger than many of Priority's traditional bike models and hardly looks like an electric bike at all.
The battery is a 500w, 48v battery. The motor is a 500-watt mid-drive torque-sensing motor with 140 Nm torque max, which gives it a range of 30-60 miles when the pedal-assist mode is used.  This rates it as a Class 1 electric bike when it is set at 20mph.  However, with multiple settings available, your speed can easily be increased to a Class 3 topping 28 mph.
Some other minor, yet important, features included on the frame of this electronic bike are automatic front and rear LED lights that are wired straight into the main battery, so they have no risk of failing on you which provides extra safety. Finally, they have included a premium digital visual display on the handlebar set that includes five modes, a speedometer, and all of the other settings.
Suspension System
This bike is designed for the road and the city, so it doesn't have a dedicated suspension system as you might find on an off-road or mountain bike.  It does have plus-sized all-weather all-terrain tires, which, when combined with the electric ride, eliminates the need for a dedicated suspension system even on rockier road situations.
More: Brilliant Bicycles L-Train Review: Is It A good Commuter Bike?
Wheel
42-inch WTB 650B tires surround the wheel frames. These plus-sized tires provide the traction needed for less than perfect riding surfaces and also an incredibly smooth ride.  They use a herringbone pattern with parallel groves to obtain state-of-the-art traction and comfort on paved surfaces.
The nylon fibers of these tires were created to have a flat profile which keeps the tires from adding additional bulk or weight to the bike.  They also have an industry original compound that ensures that the tires do have not only a fast-rolling centerline but also have great corning traction.
These tires have a new SG2 Puncture Protection which any city-dwelling bike rider will tell you oh so necessary.  This is a lightweight nylon insert.  The nylon completely covers the interior f the tire to ensure that every bit is defended against punctures or slashes. This also provides you with the extra protection you might need to take this bike onto gravel surfaces.
Gear
The Priority Current uses an E-Bike specific Shimano Inter 5 Internal Hub system combined with a Gates Carbon Drive CDX belt.  This shifting system is designed specifically for use in electronic bikes, which means it can keep up with the higher forces involved with pedaling. 
As with gear systems used in other Priority models, this one is also fully sealed, which protects the system from environmental damage and extends its useful life. This system allows the rider to easily shift gears at the push of a display button while still being able to handle the manual shifting.
The hub system is paired with a Gates Carbon Drive CDX  belt drive system. These low maintenance systems have a life span of up to 4 times the standard chain belt system.  They can also handle a lot more power, making them ideal for an electric bike drive system.
More: Why the Trek Verve+ 2 Should Be Your Next Hybrid E-Bike
Brake
The Priority Current takes advantage of the Tektro dual-piston hydraulic disc brakes. These brakes are designed for high-performance and quick stopping.  They have an extremely high heat tolerance, a forged aluminum lever, a forged aluminum body, metal-ceramic pads that are easy to replace and use non-corrosive mineral oil, which has excellent heat expansion properties. All of this comes in a powerful yet exceptionally light package that doesn't add a lot of additional weight to the bike.
These brakes are reliable and have all of the stopping power needed to stop even from top electric speeds.  No ordinary bicycle breaks were up to the job, which is why Tektro designed these sensor-controlled hydraulic disc breaks specifically for E-Bikes.
More: Priority Apollo Gravel Bike Review: Is It A Good Bike?
| Feature | Specs | Benefits |
| --- | --- | --- |
| Frame | Aluminum state of the art E-Bike Frame | Packed with features that make your riding experience more pleasant while staying lightweight. |
| Wheels | 42-inch WTB 650B tires | Designed with high-impact riding in mind and offer puncture protection. |
| Gear | Shimano Inner 5 Hub system | Designed to handle the high impact needs of an electric bike. |
| Brake System | Tektro Hydraucli Disc Brakes | Made to handle stopping safely even from the bike's top speeds. |
| Suspension | N/A | N/A |
Social Proof
This bike currently has a 4.9 rating on Trust Pilot, and the overwhelming consensus is that this bicycle offers an incredible user-end experience. Customers from different walks of life are all saying the same thing. This bike is incredible and versatile. It appears to do everything it claims and more.
 Priority Bicycles is known for epic customer service, and customers who have purchased this bike have been blown away at how willing the team has been to answer questions and help in any way they can.  See for yourself exactly what everyone is saying about this bike and why they love it.
Alternatives
Of course, the Priority Current E-Bike is far from the only electric bike attracting attention so let's look at some other models.
Priority Current E-Bike vs Giant Momentum Transcend E+
At first glance, this bike appears with a number of incredibly similar features when you compare it to the Priority Current. It offers an aluminum frame and fork in a double diamond design. It also has a body internal battery pack.
Motor: This bike features Yamaha powered motor with Giant SyncDrive Life which is easy to access through a RideControl One digital panel.
Battery: 375 W EnergyPak battery
Crankset: Uses a 42t Steel Chainring with Alloy Chain Guard
More: Check our Guide to Priority 600 Review
The differences with this electric bike are immediately obvious.  This bike is intentionally designed for off-road riding.  It is a full suspension electric mountain bike.  It does have some similarities with the Priority Current, however,  It too has a full-frame integrated battery and oversized tires.
Motor: Utilizes a Performance CX motor that has a max speed of 20 mph. 
Suspension: It comes with RockShox suspension, allowing it to handle even the most rugged trails.
Priority Current E-Bike vs Gogoro Eeyo Eeyo 1
The Gogoro Eeyo is another city-focused e-bike.  As with all of the others, it has a full-frame integrated battery.  It also reports ranges up to 30 miles and comes in a choice of sizes.
Eco Assist: This innovative feature can extend the range of the bike to 45 miles.
Frame: While similar in appearance, this e-bike has an ultralight carbon frame, and the entire bike weighs in at an astonishing 26lbs.
Sensors: This bike is equipped with Eeyo Smart wheel sensors to deliver the exact amount of power.  This system can be updated easily by connecting the bike to your smartphone.
More: Check our Guide to Priority Ace Bike Review
Conclusion
More people than ever have cast off a suburban lifestyle and embraced living in our cities.  This has only increased the need for unique transportation solutions.  The electronic bicycle goes along way toward checking each of the boxes for many people.
The Priority Bicycle company continues to anticipate the needs of bike lovers everywhere with their classic looking but forward-thinking designs. The Priority Current E-Bike is a great example of this.  It has an incredible range and a state-of-the-art battery. 
However, it offers its riders a classic bike style at one of the lowest price points on the e-bike market.  It has upgraded features at a beginner's price. Check the Priority Current E-Bike out here and decide for yourself if it's the perfect bike for you!