Welcome to my Trek FX2 Review.
The Trek FX2 is a true hybrid bike and one of the bikes I really love and enjoy riding. It's light and speedy enough to drive in the city, but rugged and durable enough for some light train and even cross-country use. The bike might not be up to all-terrain riding, or harsh technical trails, but its components make it more reliable and useful than the average bike. 
Price-wise this is a more affordable bike, and with that comes some compromises in the component quality as well as increasing the weight of the bike. However, it's nice to see some higher-end components tacked on to a bike in this price range, much more affordable than you'd normally expect. 
Things to Consider Before Buying a Hybrid Bike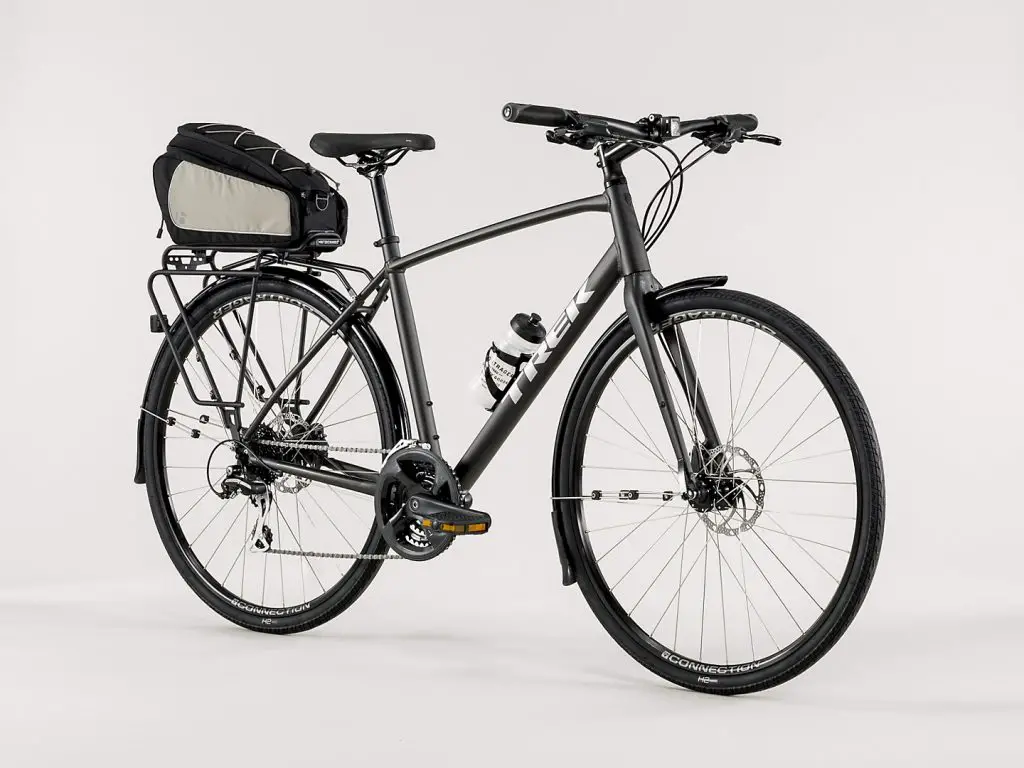 Hybrid bikes are some of the most popular options for people who want a little bit of everything a good bike has to offer. These models aren't designed exclusively for urbanites, like your standard road or racing bike, but they also aren't as heavy or durable as a true mountain bike. 
When it comes to hybrid bikes, you really need to pay attention to the model you're purchasing and its specific strengths. Some Hybrid bikes, like the Trek FX 2, are well-rounded bikes that offer a little bit of everything without necessarily excelling in any particular category. 
Other Hybrids lean more toward the road or mountain bike category, with features that are designed for one use over another. A hybrid that leans toward being a mountain bike might offer a more substantial suspension system and more gears for instance, while a leaner lighter hybrid is better designed for road use. 
Hybrid bikes are also often marketed toward entry-level cyclists, which means that they don't always get the high-quality components that more experienced cyclists like to see. That isn't to say that premium hybrid models don't exist, there are several options, but entry-level models are more common. 
Hybrid bikes can also be more affordable than many other options, which is part of what makes them so popular with entry-level cyclists. That does make it even more important to check the specs before you buy so that you know what you're getting into. 
Features & Benefits
No bike is just the sum of its parts, but you should know those parts before you decide whether or not to buy. This bike really does perform better than many of its specs would lead you to expect, but you should know what components you're working with and how long they're likely to last before you buy. 
Frame
The frame on the Trek FX2 is a fairly standard design for a hybrid bike. It's made from an aluminum alloy, which keeps the frame more affordable while still offering good durability and a lighter weight class than most steel bikes. 
The frame is also internally routed. That's a nice feature on a highly affordable bike like this since it will help protect the wiring for your brake and shifting system, helping each component last a little longer. 
You will also have accessory mounting points, including both front and rear racks, pre-drilled. However, the bike doesn't come with any of those accessories already installed. That makes customizing the bike easy, but it does mean that you should plan on spending a little more than just the purchase price on the bike before it's truly ready to ride. 
If you don't intend to add any accessories, this is a good option. 
Most impressively, the large frame size on the FX 2 comes in at only 26 lbs. That's a little heavy on the road bike side, and rather light for a mountain bike, which emphasizes that this bike is meant to do a little bit of everything. 
That's also a particularly low weight rating for a bike as affordable as this one. 
Suspension System
The suspension system is one area where this bike doesn't shine. Mostly because the Trek FX 2 doesn't have much in the way of suspension. The steel fork does a good job of absorbing impacts and keeping your ride smooth, but it doesn't have the travel room or even an air buffer to help absorb bigger impacts. 
In a hybrid bike, this isn't too much of a loss. Good wheels and a good saddle will combine well with this steel fork to give you a smooth enough ride on almost any terrain this bike is designed to handle. 
Just don't expect it to feel like you're floating over the ground when you're riding this model. 
More: The Best Hybrid Bikes for Men [Review and Guide]
Wheel
Wheels on this model are also relatively standard options. The rims have a nice double-walled construction and are made from the standard aluminum alloy. That means that they are relatively light and durable, while also being quieter than your average carbon rims. 
Similarly, the six-bolt hubs are nothing special and don't add much in the way of flash on this model. But they get the job done and are durable enough for most hybrid users. 
The spokes are also very standard. Durable enough to hold up against light trail use, but without any flash or distinguishing features that could set the wheels apart. 
That brings us to the tires. This model very much comes with hybrid tires. They have reasonable tread but are clearly designed more for speed than grip. 
If you're looking for a hybrid that can take you a little further as a mountain bike or cross-country bike, upgrading the tires to a grippier design is a reasonable, and affordable, first step. 
More: Trek Dual Sport 2 Review: Is DS2 Worth It?
Gear
Trek generally offers a good gear system even on its most affordable entry-level brakes, and we're pleased to see that the FX 2 is no exception to that trend. While the FX 2 does have a more limited gearing set than many Trek bikes, and even more limited than many hybrid bike models, they are from Shimano. 
Shimano is one of the better drivetrain manufacturers, and it's nice to see a complete Shimano drivetrain, including both front and rear derailleurs, on a bike in this price range. 
The 8 gears also give you a fair amount of speed control and flexibility, if not as much as you'd want on a more specialized bike. 
That said, the smaller gear count is helpful for many entry-level cyclists since it can help you learn good gearing habits without the complications of a more advanced drivetrain. 
Brake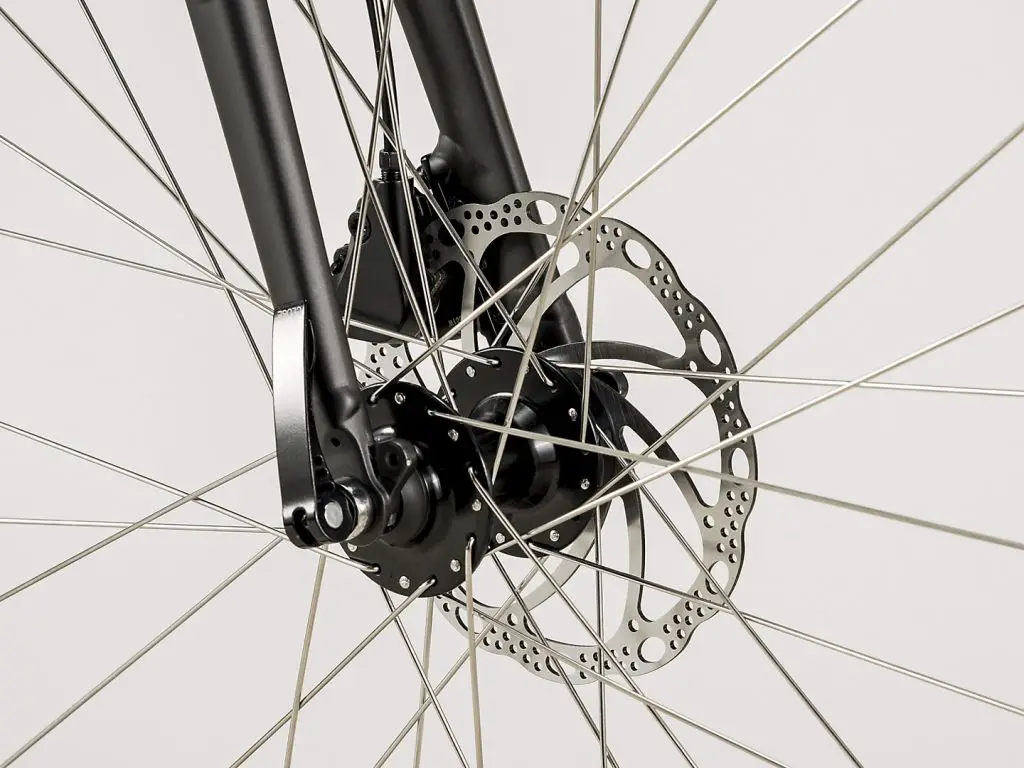 With the brakes, we get back to a place where the FX 2 really shines. Most hybrid bikes in this price range are still equipped with a basic level brake. 
While lever brakes are perfectly functional, they aren't as good in wet conditions, and they can be a little more unpredictable than other designs. More importantly, level brakes can come in cheap models that are more likely to give out and need frequent brake pad replacement. 
Which explains why Trek went ahead with installing Tektro hydraulic disc brakes on this model. The brakes are more consistent in wet weather, and also offer the stop on a dime control that you want for an urban bike, and especially for a commuter model. 
We do recommend getting the brakes tuned up when the bike arrives so that you can get the best possible performance and a longer lifespan. But we have no complaints about this design choice for the FX 2. 
Feature
Specs
What it Means to You

Frame

Alpha Gold Aluminum, DuoTrap S compatible, internal cable routing, flat mount disc, rack & fender mounts, 135x5mm QR

This frame isn't very flashy and doesn't show off much, but it's a lightweight and effective design. The geometry is good, the rider position is moderate rather than aggressive, and internal routing will help keep your components working longer.

Wheels

Bontrager H2, wire bead, 30 TPI, 700x35c tires, Formula DC-22, alloy, 6-bolt hubs,

The wheels on this bike are standard. They'll hold up against a reasonable amount of abuse, but you'll need a tire upgrade if you want to try your hand at more difficult trails or adverse conditions.
The standard design does make it easier to find tires and gives you a wider selection of compatible tires, perfect for new cyclists who are experimenting with what tire type suites their riding style.

Gear

Shimano Altus 8 speed, full Shimano drivetrain

Shimano gear systems tend to be very smooth and easy to operate, as well as long-lasting. This set is a little less flexible than some alternatives but it is a good budget option.

Brake System

Tektro HD-R280 hydraulic disc

The Tektro hydraulic disc is one of the best components on this bike. It's designed to give you an incredibly fast brake response, and better all-weather performance than most bikes in this price range.
Social Proof
Riders of this bike consistently note that the solid frame design and brake set outshine many of the other components. Its performance is solid and very consistent, fast enough for urban use and commuting, durable enough for country roads and some mountain trails. 
Experienced cyclists note that the FX 2 just isn't designed for the kind of riding that they prefer. But for hobbyists and beginner cyclists, the FX 2 is a well-balanced option. Its simpler gearing system and straightforward design make it less intimidating than many more advanced bike designs. 
Overall, most users are pleased with this bike, though it has some clear limitations that mean many riders will need an upgrade in only a couple of years. 
Alternatives
No bike review would be complete without examining how each model holds up against similar designs. We've looked at several of the best comparisons to see how the FX 2 stacks up. 
Trek FX2 vs FX3
Naturally, the first comparison we want to look at is the FX 2 vs the newer FX 3. While the FX 3 is more expensive than the FX 2, it has several important component upgrades that most riders agree to make it well worth the price. 
Notably, the FX 3 as a slightly better derailleur system. That means that changing gears will be easier on the FX 3, and also has significantly lower chances of jamming or running into other operational problems. 
The upgrade to a carbon fork, from the FX 2's steel fork, is just as important and makes the FX 3 a significantly smoother ride. 
Overall, if you're looking to save money, the FX 2 is still a good option, but the FX 3 offers better performance and may work better as a long-term bike.  
More: Trek Verve 1 Review: Is It A Good Bike To Have?
Trek FX2 vs Giant Escape 2
The FX 2 and the Escape 2 are incredibly similar bikes despite having different manufacturers. While the FX 2 is a generalized hybrid, the Escape 2 tends toward being more of a commuter model. However, both bikes come in similar sizes, have similar rider feel, and even have the same brake style and manufacturer. 
The main difference is that the FX 2 is just a slightly more aggressive, slightly faster model. If you're looking for more of a conservative commuter bike, the Escape 2 is a better option. But if you're someone who loves feeling the wind through your hair, the FX 2 will help you go faster and accelerate quicker. 
Trek FX2 vs FX1
Looking back in time a little, the FX 1, where still available, is a significantly cheaper model. However, it's drivetrain is even more limited than the FX 2, and while both bikes have similar frames, the FX 1 is 2 lbs heavier. That two lbs might not sound like much, but it does mean that the bike is much slower when combined with more limited gear systems. 
Overall, the FX 2 is a much better value and will work for most cyclists a lot longer than the FX 1. Check our detailed review of Trek FX1 here.
Trek FX2 vs Specialized Sirrus
Another incredibly similar comparison, the Specialized Sirrus is slightly more expensive than the FX 2 and offers a less aggressive rider position with otherwise similar components and similar frame weight. 
However, for most riders, the differences between these two bikes, which really are all in the frame and tire set, aren't worth the increased cost of the Sirrus. 
The Specialized Sirrus may be worth the additional cost for riders with back trouble or who are looking for a bike with a significantly less aggressive design. Otherwise, save your wallet and get the same components on the FX 2 frame. 
Conclusion
The FX 2 might be an entry-level bike geared more toward beginners than experienced or professional cyclists. Still, it's a solid design with good geometric principles and good components for the price. 
This hybrid bike isn't designed to do anything perfectly, but it does allow you to do a little bit of everything and to learn and perfect your technique. 
Overall, while this is certainly still an affordable entry-level bike, it's still a solid entry in Trek's hybrid line.