Welcome to my Trek 820 Review
Today, I will clear up some of that muddy water with a review of the Trek 820 Mountain Bike. It is a great bike for beginners or you may consider it as an entry-level bike for people looking for off road adventures without too steep a learning curve.
Here is what you will learn:
The benefit of having a Trek Custom Steel Frame.
The Comfy Bontagner saddle.
Easy Driving Uphill and Downhill.
Lets Start!!
Overview
The Trek 820, with its long list of premium features, makes it a handleable and versatile option for those back-country treks we all know and love. But, if you're looking to start light, the Trek 820 Mountain Bike will surely satisfy your needs. With all the versatility of a professional bike rolled up into a starter's-dream of a setup, you'll have the smoothest possible start for your off road adventures.
There are, as with anything, some defects. Certain features on the bike make it a little less maneuverable with larger obstacles like fallen trees and large rocks. If you're looking to bomb a particularly steep hill, you might have to do some modding. It's also a bit heavy, which might make your starting rides that much harder.
Still, we'd definitely recommend it for starters and people looking to get into mountain biking or MTb life. Here's why:
Best for Starters
This bike is simply jam-packed with features that will make it a dream to operate for even the most inexperienced of riders. If you've never been on a big mountain climb before, and want to take your mountain up some steep hills, definitely consider the 820. You might also want to give it as a gift! Perhaps to get a friend into mountain biking with you.
With such a solid, sturdy frame, this bike acts as a good training grounds for more advanced bikes. You can compare its frame with more delicate road bikes, which scrimp for weight and thus more uphill mobility. You'd think this would prove an obstacle for the 820, but we haven't noticed any significant mobility disadvantages.
Some more inexperienced climbers, however, have noticed some trouble getting it uphill. This is only really likely on the steeper climbs, as more gradual climbs allow for a more relaxing pace. In any case, moving all that weight will get your muscles working and increase your strength.
Thus, you might think of it as a workout machine, too.
Never fear for minor mistakes on the 820. Although you won't likely experience any serious accidents on smoother beginner's rides, this bike will keep you up and give you some wiggle room for missteps.
The bike is a dream to ride. The beginner in me was having a great time taking it across the countryside.
Benefits of the Trek 820 Mountain Bike
Beginners aren't the only people who might love Trek 820 Mountain Bike. Trek 820 is a great bike for anyone who wants to keep it casual and have fun. This mountain bike comes with all of these great features, which will help you keep up a smooth ride for an exciting trip into the hills:
Specs
Frame: Custom Trek Stainless Steel
Fork: 75mm, 100×5 mm QR, coil spring (coil spring stores energy to absorb shock and maintain force between surfaces)
Derailers: Rear Derailleur Shimano Tourney  TY300 and TY500
Wheel Hubs: Formula FM31/21 at the back and front
Durable Frame
The frame of Trek 820 Mountain Bike is made from Trek Custom Steel, meaning the company behind it is so confident it's put its name on the very materials from which the frame is made. With a guarantee like that, you know you're getting a quality mountain bike.
The pairing with the bike's suspension system allows it to remain adaptable in most terrains. Whether you're facing roots, rocks, or gravel, you likely won't be having much trouble with this frame-and-suspension pair.
The durability does come with a cost, however. As we've stated above, it's heavy. Depending on your preferences and leg-strength, this can be a good thing or a bad thing. If you want to develop strength for bigger mountain bikes, this benefits you. You also might be able to pick up a bit more speed on the downhill.
Again, though, you might be smart to take it a little slower on the downhills with this most affordable mountain bike.
Comfortable Seating
The Bontrager-brand seating allows for both significant versatility and optimal comfort. It's that rare combination of rider comfort and supreme reliability that you can only really find in Bontrager seats. After a day of mountain riding, you'll still be sore, but you won't be complaining too much when you're out on the rugged trails.
It also has a saddle, meaning you'll be receiving more support for a lower price on this great bike. If you're dreaming of a smooth ride that won't break the bank, you've got it right here.
More: Cannondale Scalpel Carbon II Review: Worth A Buy
Low Cost for High-Quality Materials
The combination of all this bike's exclusive features, including its Trek Steel frame, Tektro alloy handbrake, and riser handlebar, makes for a medley of features whose quality you can't doubt. You won't just be riding smooth with this setup; you'll be riding smooth for as long as you want, taking advantage of all the back-country Mtb trails and hills along the way.
But don't just take it from us. The Trek 820 Mountain Bike has more than 200 reviews on the Trek Bikes website. All of these reviews reveal an overall rating of 4 ½ stars. If this affordable mountain bike, Trek 820 were a restaurant, you'd be fighting for a reservation.
So, don't let the bike's low cost get you down. When speaking in terms of overall value and versatility, this is the most affordable mountain bike on the market. It'll get you started on your biking journey and keep you pedaling all the way up to the very day you decide it's time for an upgrade.
More: Diamondback Atroz 2 Review: Worth a Buy!!
What's more, it'll prepare you for what comes next, developing your strength and skills for better mountain bikes down the road. With such a high bang for your buck, it was really hard for us to find reasons not to recommend this smooth-riding Trek 820 mountain bike.
Is It Good for Downhill Rides?
If you're looking to do some intense downhills, you might want to find another model. Trek 820 mountain bike will be able to take you down an incline, for sure, but it's certainly no stunt bike. The stock suspension is simply not rated for mtb trails with fallen logs and debris, jumps, and other kinds of obstacles.
Most likely, if you try to bomb this mountain bike down a steep hill, you'll end up with some pretty bad cuts and bruises, or a really sore rear-end. In our trials, we found Trek 820 mountain bike to be pretty jarring at high speeds. Uphill, this hybrid bike handled obstacles like a dream. On the downhills, we found ourselves using the disc brakes quite a bit.
There is some room for modification on this mountain bike, however. With a new suspension, you might be able to wiggle your way through some more advanced downhill trails. Maneuverability, on most any bike, is often a matter of how much you're willing to modify.
If you're willing to hone your skills and get some experience modifying mountain bikes, you'll definitely be able to drag this thing through more moderate downhill phases. Doing modifications will also help you when you're out on the rugged or light trail. I've experienced any number of gear-oriented difficulties, all of which I used my knowledge from modding to fix.
More: The Absolute Best Hard-Tail Mountain Bikes Under $500
Is It Worth The Cost?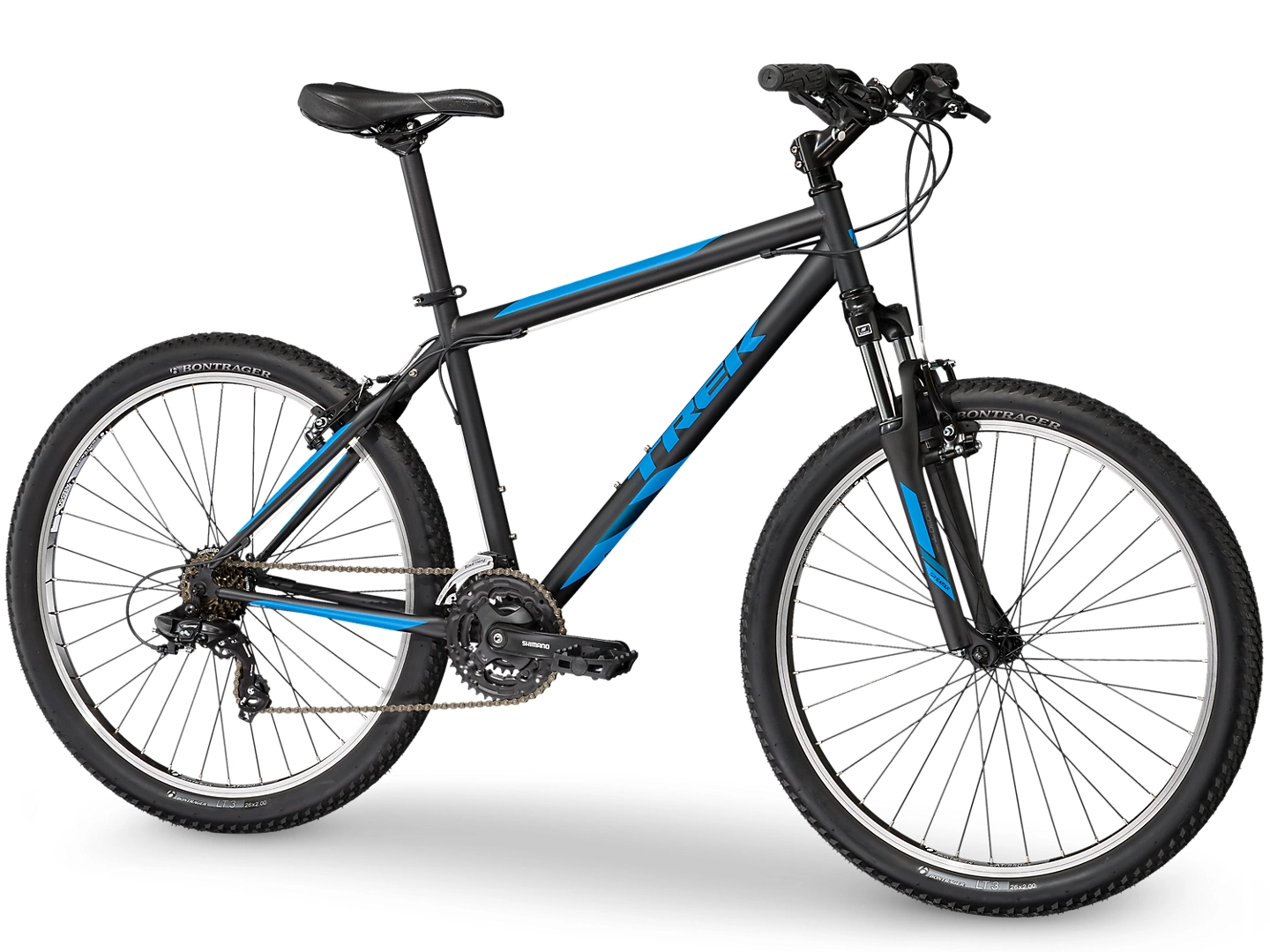 Asking if this thing is worth the cost is like asking if a gourmet meal is worth 7 bucks.
It's not exactly top-of-the-line material, and it comes with a lot of room for improvement. Then again, we seriously struggled trying to compile a good list of cons for Trek 820 Mountain Bike. It handles well, it's fun to ride, and it does the job. This an affordable mountain bike for beginners.
We didn't test it too hard on the downhills, mostly because we experienced a fair amount of resistance from it when trying to take down more challenging obstacles. This is really only the sticking point. If you're a beginner looking to get into downhill mountain riding, your price may go up a bit due to the modifications needed for a smooth ride.
If you want a great bike for uphill, this is definitely the setup for you- especially if you're just getting into uphill mountain riding, Trek 820 is an excellent starter mountain bike.
Riding Experience
To test the Trek 820 Mountain Bike, we did give it a few spins around the local hills. They're not really challenging climbs, by any means, but they offered us a good look at what makes this bike such a great choice.
Downhill: Jerky ride quality at high speeds. Could use modification.
Uphill: Extremely smooth.
Forest/Mountain trail: Good at overcoming small obstacles.
Gravel trail: Strange ride quality, but still good.
Road: Although it works, we'd recommend using this bike mainly for mountains and rugged trails.
Downhill
Downhill gets to be a little bit of a challenge. Note: I don't expect anyone to go over the handlebars if they're riding responsibly and keeping to the trails. That being said, I did experience some pretty jarring jolts here and there. Nothing serious, but definitely notable.
I found the whole experience more satisfying if I took it slow to medium-speed. The disc brakes on Trek 820 Mountain Bike are definitely your friends. To alleviate this, I found that the comfortable seating gave me a little bit of extra padding for big hits, so those obstacles on the trails weren't deal-breakers in any sense of the word.
Taking this off-trail, however, is virtually a no-go. Beneath all that detritus and muck, there are many obstacles that will just throw Trek 820 into a tizzy. I can't imagine you wouldn't be able to mod this little defect out- just keep that in mind if you're giving this mountain bike to someone else or are strapped for cash.
More: Trek 1120 Review: Is It The Best Touring Bike?
Uphill
Uphill riding was where Trek 820 Mountain bike really excelled. I was able to glide across long stretches of bumpy uphill terrain with little to no issues, and I wasn't exactly putting on my expert riding cap. This is one of the mountain bikes that gave me the peace of mind to look around, take in the sights, and do all the little things that make mountain biking so nice.
Now, I'm the kind of person whose bulging calves might show through a pair of boot-cut jeans. I love biking, and it's no secret that I've done my fair share of it. When I had some other, less experienced testers take Trek 820 Mountain bike for a run, though, I heard no complaints.
Even the most novice members of our crew found it easy to maneuver Trek 820 bike on uphill rides for short distances. Rocks, roots, and uneven ground provided little to no resistance, and the mountain bike handled heavy gravel trails like none of your business.
By the time I reached the top of my hill of choice, I was definitely feeling the burn. My calves felt like they needed iced, and I knew right then and there: Trek 820 would be a spectacular bike for building up endurance and muscle.
Some might list this model's heavy frame as a defect, but if you're not mountain biking or enjoy Mtb life competitively, I struggle to see how you can justify that. Sure, you could be the kind of person who wants an easy ride. But, if you're looking for a way to develop your skills and get a workout, the frame is a plus- especially when you combine it with all the bike's other great features.
The long and short of this mountain bike is that what you sacrifice in lightness, you gain in durability. Trek 820, for its low price, will be with you for years to come.
What Kinds of Trails Is It Best For?
Enough about uphill and downhill. LEt's get into what everyone wants to know- where will I actually be able to ride?
If you've got wooded, temperate environments around you, you know how the combination of rain and heavy vegetation makes for some bumpy trails. Roots, rocks, and all obstacles in between stand in-between you and your chosen destination.
To handle these light trails with sudden bumps, you're going to want a pretty good suspension. Without it, your eyes will be knocking around in your head and you won't be able to hear yourself think above the sound of your brain vibrating in your skull.
For bumpy, rocky, and generally rough trails, Trek 820 is a real trooper. We're not sure about sandy terrain, but we can confidently say that you'll be having a pretty easy time of it on the more obstacle-ridden trails of forests and forested mountains. It performs well on potholed city streets as well.
Again, just keep the speeds low.
On gravel trails, I often found the heavy frame to be just heavy enough to be noticeable but not heavy enough to make me feel like I'm getting a workout. It's a weird limbo on smoother terrain as it's not suited to light trails.
That being said, it works just fine. If you're looking for something that will take you up steep, paved roads, potholed city streets and gravel trails, Trek 820 is the best for its cost.
All in All
All in all, the Trek 820 Mountain Bike is a great model for those just starting or those looking to invest in mountain biking without breaking the bank. To do serious downhill riding, you might have to modify it. But on ascents, it rides like a dream. It's sturdy, tough, and great for those who want to sharpen their skills and strength. However, if you are looking for a bike for a not-so-rough terrain, Trek 820 is not that suited to light trails.