As one of the most respected bike brands in the United States, Trek bicycles has a model designed for just about any cyclist. But how much is a Trek bike, really? And are they expensive? Read on to find out.
If you've landed on this page, you are probably wondering whether paying for a Trek bike is simply buying a brand name instead of real value.
While Trek Bike is popular and most people love the idea of owning a two-wheeler from a top brand, the first question that usually comes to mind is, "how much is a Trek bike?"
Perhaps you already have an idea of how much Trek bicycles cost, but other questions you may want answers to are: are these bikes expensive, especially when compared to other brands?
Considering the type of materials and components that go into manufacturing these bikes, can we truly say they are worth the money?
Should you dig deep into your pockets and pay more for these bikes or should you consider a cheaper option?
Continue reading to know the Trek Bikes Prices of Trek Bicycle Corporation 2022 .
Are Trek Bicycles Expensive?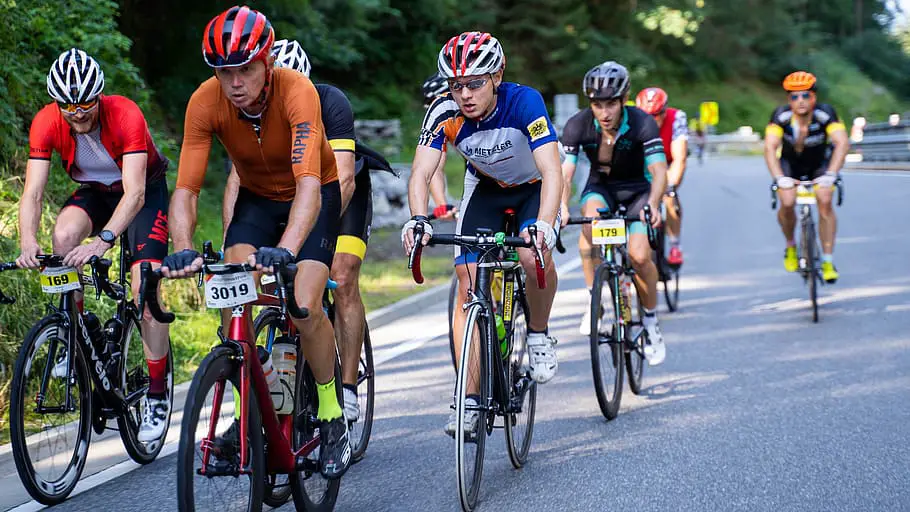 Trek bicycles are not expensive if you consider the high-quality components that go into the manufacturing process.
Of course, "expensive" is a relative term. It is easy to see the somewhat steeper price tags and quickly compare the bikes to some other low-profile brands.
But here's the thing: Trek is a specialty bike company that designs its entry-level and mid-range bikes using innovative components, materials, and features taken from their higher-end models.
For example, the frame material of these bikes are high-end carbon fiber, which is aerospace-grade material. This is an expensive material and goes a long way to affect how much a trek bike cost. These bikes also have a versatile internal cable routing system that allows brake, shift, lockout and dropper to be routed through different frame sizes.
Of course, the brand has the option to use cheaper frame materials and cable routings. But that would result in subpar bikes because the frame material and the internal cable routing system are the most important parts of a bicycle.
Carbon fiber is stiff and lightweight. This makes Trek bicycles lighter. Plus, carbon frame or carbon models can dampen vibrations from the road.
Add innovative technology and high-end parts to all of these, and you'll end up with a justifiably expensive bike.
How Much Does a Trek Bike Cost?
Now that we know why Trek bicycles typically have steeper price tags compared to most other bicycle brands, it is time to find out how much a Trek Bike cost.
The Trek Bike range from $500 to $12000. On Lower side you will find beginner level and kids bike while on the high-end you will find the professional level like Elite road and full-suspension mountain bike with disc brakes or rim brakes.
Here is a small list of some selected Trek model lines and their prices:
Road
1. Madone
Experienced riders looking for the ultimate superbike will find the Trek's Madone bikes well-fitting. This Trek road bike comes with aero bars and is extremely light, incredibly fast, and features top-of-the-line components. They cost between $4,000 and $12,000. check our review of Trek Madone SL6 here.
These Trek road bikes are best for elite road riders looking for a fast and efficient bike.
Check out the Trek Madone on TrekBikes.com.
2. Emonda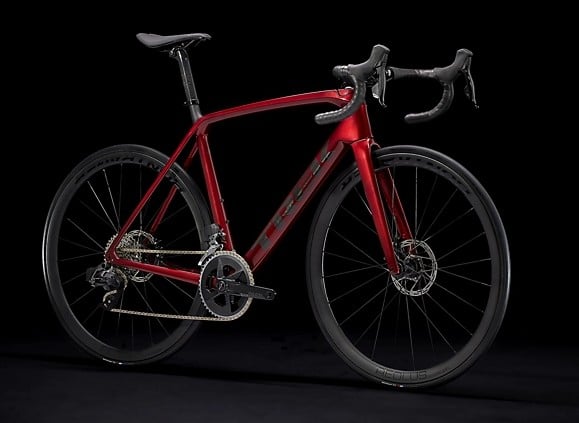 The price of Trek Emonda ranges between $2,000 and $12,500, depending on the specific model. These are some of the best-performing and lightest Trek road bikes money can buy.
Riders who want a Trek road bike for fitness, racing, and leisure riding can choose this bike, regardless of their experience level. Check our Trek Emonda ALR 5 Review here.
Check out the Trek Emonda on TrekBikes.com.
3. Domane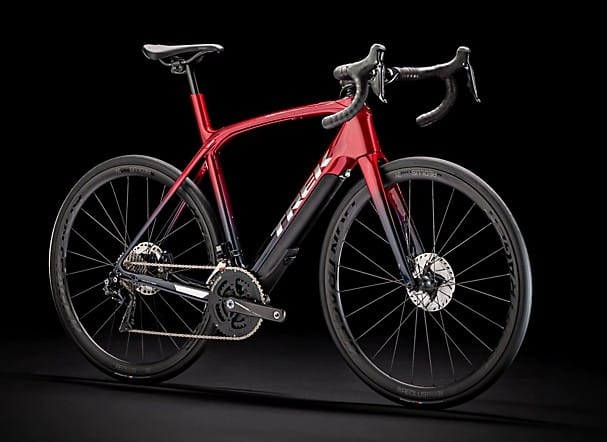 The Domane series is Trek's performance road bikes available in both aluminum and carbon frame. These road bikes come in a wide range of costs from $1,400 up to $12,500, so you're likely to find something suitable regardless of your budget.
Consider this series if you want an ideal endurance road bike that's equally versatile. Check our Trek Domane SL6 review here
Check out the Trek Domane on TrekBikes.com.
Mountain
1. Marlin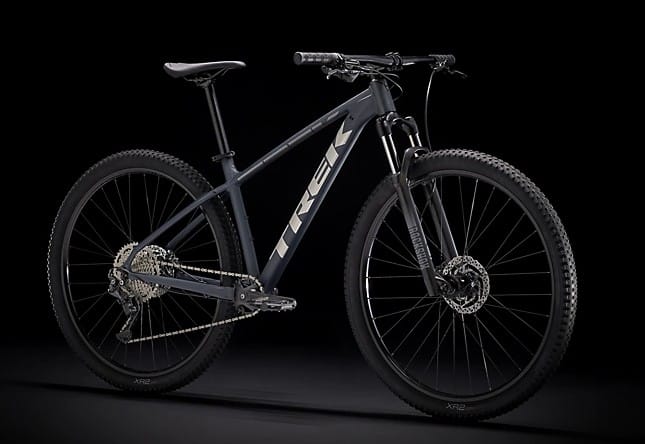 The Marlin series is Trek's well-liked entry-level MTB bike. These mountain bikes are available for around $900 to $1,200 and come with 29ers or 27.5" puncture resistant tires.
Trek Marlin is a solid choice for off-road riding and can be used for daily commuting as well. Check our Trek Marlin 6 Review and Trek Marlin 5 Review.
Check out the Trek Marlin on Trekbikes.com.
2. Roscoe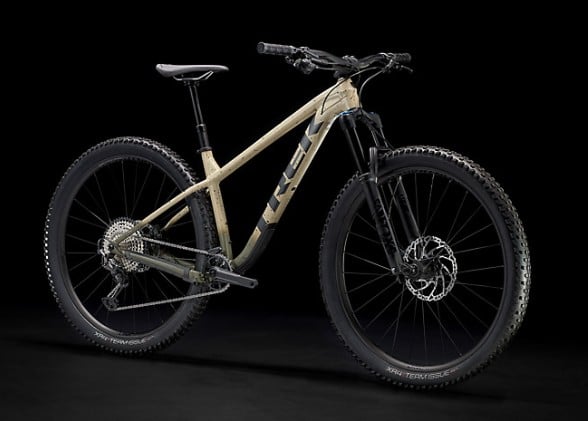 Trek's Roscoe line features trail mounting bikes that cost between $1,200 and $2,700. These hardtail mountain bikes are well-specced with SRAM, Shimano, or RockShox components. Check our Trek Roscoe 8 Review Here
Consider the Roscoe bikes if you want something suitable for more rough terrain riding.
Check out the Trek Roscoe on Trekbikes.com.
3. X-Caliber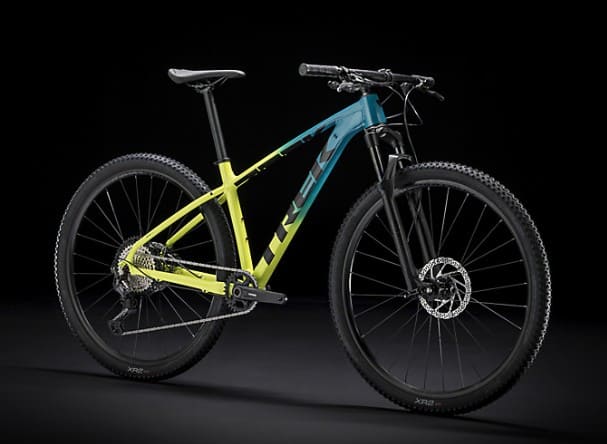 If you are looking to take on a more technical trail but have a tight budget, you'll find excellent quality mountain bikes in Trek's X-Caliber lineup. These 29ers cost anywhere from $1,000 to $1,900, making them fantastic choices for beginners and intermediate trail riders. For more details about Trek X-Caliber and other mountain bikes click here.
Check out the Trek X-Caliber on Trekbikes.com.
Hybrid
1. Dual Sport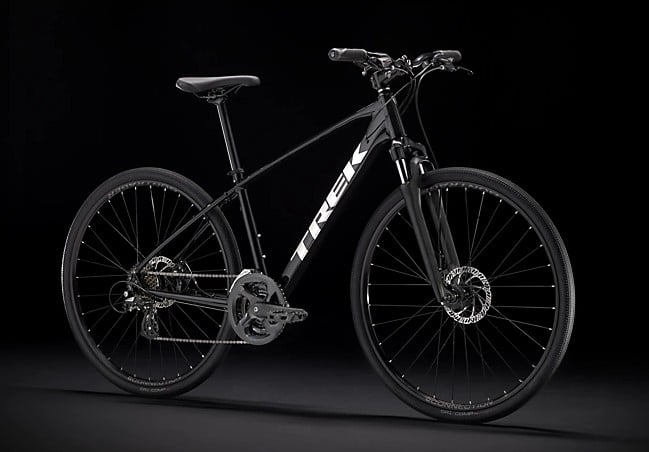 If you want a Trek bike for on and off-road rides, the Dual Sport is an ideal choice. These bikes feature both step-through and step-over frames. They all have disc brakes with 63mm front suspension and typically cost under $1,300. Check our Trek DS2 Review Here
Check out the Trek Dual Sport on TrekBikes.com.
2. FX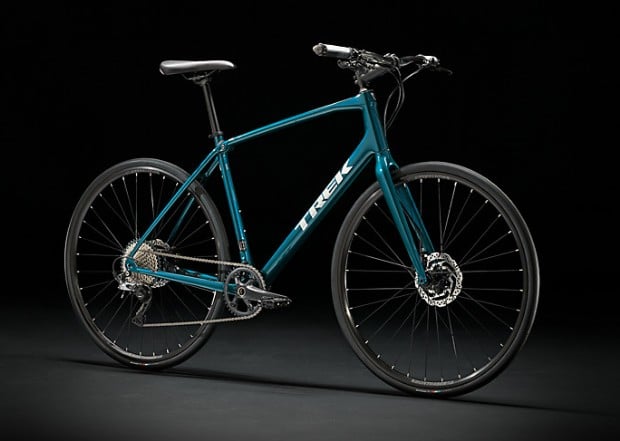 Trek FX is an affordable aluminum bike that costs around $500 to $2,000. With around 15 models available in the series, there is something for both men and women cyclists.
These efficient hybrid bikes come in a comfortable upright geometry with carbon wheels (700c wheel size) and mid-range or entry-level components.
Consider the FX if you are looking for an affordable Trek bike that's great for recreational or fitness purposes. check our review of Trek FX2 and Trek FX1.
Check out the Trek FX on TrekBikes.com.
3. Verve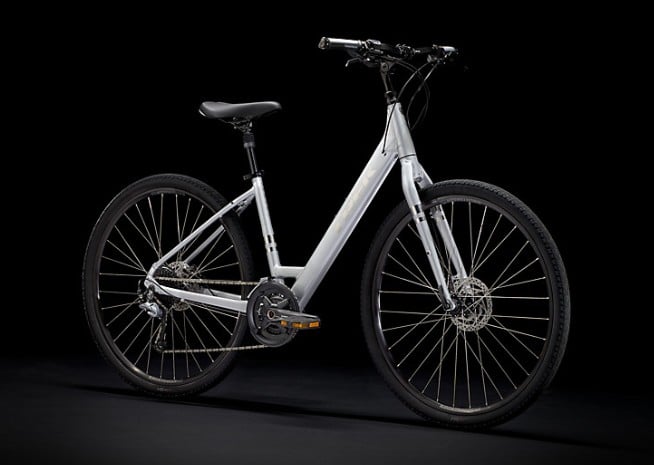 Costing between $600 and $900, the Trek Verve lineup is a fantastic choice for entry-level riders looking for an all-around workhorse. The aluminum frame bikes roll on 700c wheel size and have reliable disc brakes. for more details about Trek Verve Click here.
Check out the Trek Verve on TrekBikes.com.
Is Trek Bike Worth the Money?
Here's is a straightforward answer: yes!
Trek bicycles are worth every single cent, and it is not too difficult to figure out why. If you know anything about bikes, it will become immediately apparent why these bikes are worth their somewhat eye-watering price tags.
Trek doesn't compromise when it comes to quality. It shows in their choice of construction materials starting with high-quality aluminum and carbon wheels. You will find only reliable components on these bikes, such as parts from SRAM and Shimano.
To crown it all, the brand uses high-end, cutting-edge technology to manufacture its bikes. This gives the bikes their great looks and makes them last longer.
You get exceptional value for the money when you invest in any of the models. Little wonder elite cyclists often go with the renowned brand.
To get a feel of how well-specced these bikes are, check out this quick YouTube video. It runs through the specs and upgrades in one of Trek's latest bike models – the 2021 Trek Marlin 7.
What is the Most Expensive Trek Bike?
The Emonda, Domane, Madone, Supercaliber, Rail, and Domane+ series are some of the most expensive models in Trek's lineup, with most of them costing up to $12,000 or more.
The Madone model tops the list. You should be ready to part with anywhere from $4,699 to $12,499 just to get a standard Madone without any fanciful customization.
The Trek Butterfly Madone is the most expensive bike ever sold in the world to this day. It fetched a whopping sum of $500,000 at Sotheby's auction to raise money for a cancer charity.
Conclusion
Should you buy a Trek bike? Ultimately, that decision is up to you. But if you can afford it, we say why not?
Of course, not everyone should buy a Madone, Emonda, or Domane. These high-end Trek models are best suited to pro cycling athletes.
If you are a beginner looking to own a Trek bike, a good choice would be a model, such as 820, FX, or Marlin. These are beginner-friendly options and they'll go easy on your pocket.
Lastly, exactly how much is a Trek bike? This will depend on the model. Thankfully, even mid-range and entry-level options are designed with the brand's advanced technologies. This means whether you are buying a kid's Trek bike, a women-specific model, or any of Trek electric road bikes, you can be sure you are getting the best bang for your money. Additionally, Trek bicycles are customizable in Project One. In Project One, pick your most-loved model, choose a design scheme and choose a curated build to turn your wildest ideas into reality.
To simplify your search for the right bike, use Trek's bike finder to narrow your choices and compare models.
I'll like to hear your thoughts or questions in the comments. Remember to share this post if you liked it.