Welcome to my Trek Domane SL 6 Review.
Today I will show you why I think Trek Domane SL 6 is the best road bike available on the market in 2021. If you are looking for a performance road bike that can be relied upon to be fast and comfortable, this should be your pick. It incorporates road-smoothing advantages of a lightweight OCLV Carbon frame with the added functionality of Front and Rear IsoSpeed, a top-notch drivetrain (full Shimano Ultegra drivetrain), and the best of the high-quality wheels.
It also has hydraulic disc brakes to ensure you stop in any weather conditions. If that weren't enough for you, it also comes with a storage compartment for stowing ride essentials.
In this review, I will go deep into every feature and benefit of this fantastic bike.
Things to Consider Before Buying a Road Bike
The most important thing for you to consider when shopping for a Road bike is where you will be planning to take your new ride. The Trek Domane SL 6 is perfect to take on smooth roads that will allow you to maximize your speed to allow you to zoom along at an expeditious pace. Trust us, you will be noticed as you are flying on by!
Bike Frame Materials: When shopping for a bike to take out into the world, you have to account for the bike frame materials are very important because this is where most of the bike's weight comes from. The Trek Domane SL 6 ss made out of a carbon frame, which is extremely lightweight yet durable.
Gears: The bike gears control the bike to reach certain speeds and determine how it handles going some of the ups and down you will run into via elevation. For speed and climbing slopes there are different gears. Certain types of bikes require different gear settings. The Trek Domane SL 6 has gears that work effectively to get up to speed quickly.
Seat and Handlebars: The seating and positioning of the handlebars determine what riding position you will be in and, to nobody's surprise, is extremely important. The Trek Domane SL 6 has a comfortable, yet aggressive riding position, which works best when pushing the speed limits. 
Brakes: The braking system on the bike is vital to ensure the safety of the rider. On this bike, your brakes will be your best friend as they can bring you to a stop when necessary.
Features & Benefits
The features and benefits of the Trek Domane SL 6 are well for both performance and comfort.
The frame of the Trek Domane SL 6 is made with carbon fiber which will ensure a reliable ride. It can handle rough terrain while also keeping at a speed that will keep you on your toes. the frame of the bike is designed based on Trek's innovative Stache platform. This bike will perform to the level of expectations that Trek has relied upon for years.
The frame of the Trek Domane SL 6 can handle all terrains you expose it to and do so with comfort. Because of how rugged the frame is, it does weigh a little more than some of the similar road bikes by Trek. Compared with a steel frame, a carbon fiber is more lightweight and can get you moving fast quickly. Along with it being lighter, you do not have to worry about all the additional noise a mechanical frame would give off.
More: The Best Bike for Short Female On The Market [Review and Buying Guide]
Frame:
500 Series OCLV Carbon & IsoSpeed
3S chain keeper
142 x 12mm thru-axle
Specifications:
Domane SL carbon
Tapered carbon steere
Internal brake routing
Fender mounts
Flat mount disc
12 x 100mm thru axle
Suspension System
The suspension system is the system that keeps the rider from becoming overwhelmed from the roughness of the uneven roads. For road bikes, the suspension system is one of the most important things to consider because it will determine how comfortable and safe a ride you will have with rough terrain.
The Trek Domane SL 6 is outfitted with the latest technology suspension. The suspension on the Trek Domane SL 6 is so good that many people are wondering if it will be sold as a separate part for use with other bikes. Right now, this suspension only available in Trek models.
Wheel
When seeking a top-level speed out on the road, you need the wheels to get it done. The Trek Domane SL 6 can fit up to 38c wide wheels to offer speed while also accounting for the roughest roads. The wheels are tubeless-ready, which only ensures you continue to reach high consistent speeds.
The wheel materials used are durable and support your speed in an effective fashion. When thinking about the Trek Domane SL 6 wheels is that they are stable, strong, and create strong traction.
More: Diamondback Road Bike Reviews: Is It A Good Brand?
Gear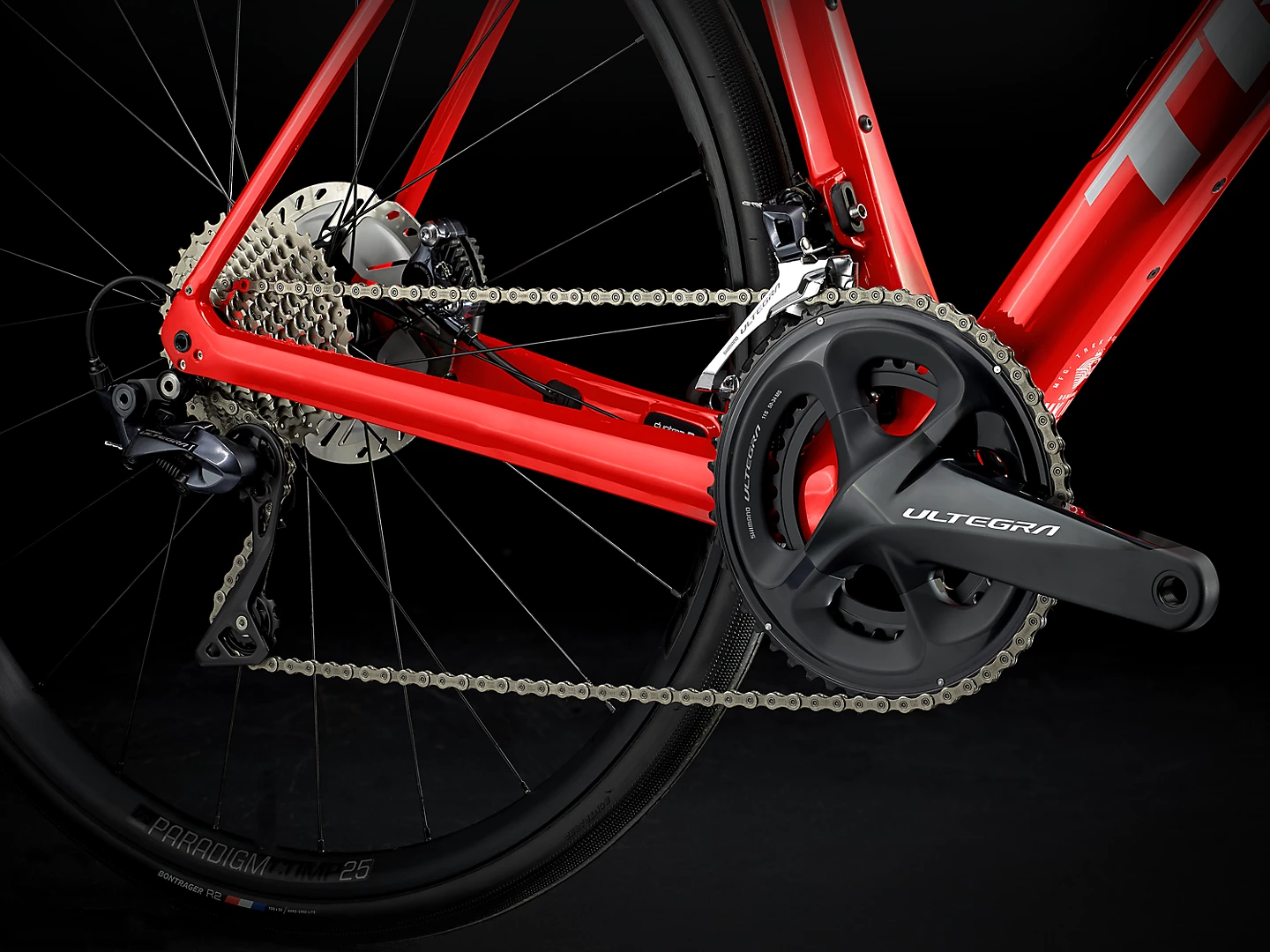 The Trek Domane SL 6 has all of the gears that you should need for long rides over difficult terrains. The only downside to the gearing system that we could find is that some people have reported that they wish the bike had gears to make climbs easier.
The Trek SL 6 has a range of 2 x 11-gears. This can give you access to 22 different gears as you see the need based on the speed and terrain you are dealing with.
Shimano manufactures the gear component, which comprises all drivetrain gear components and shifters. The shifting gears with this system are easy and it remains in the gear without accidentally shifting out. These gears allow the rider to cross different terrains without damaging the chain.
Brake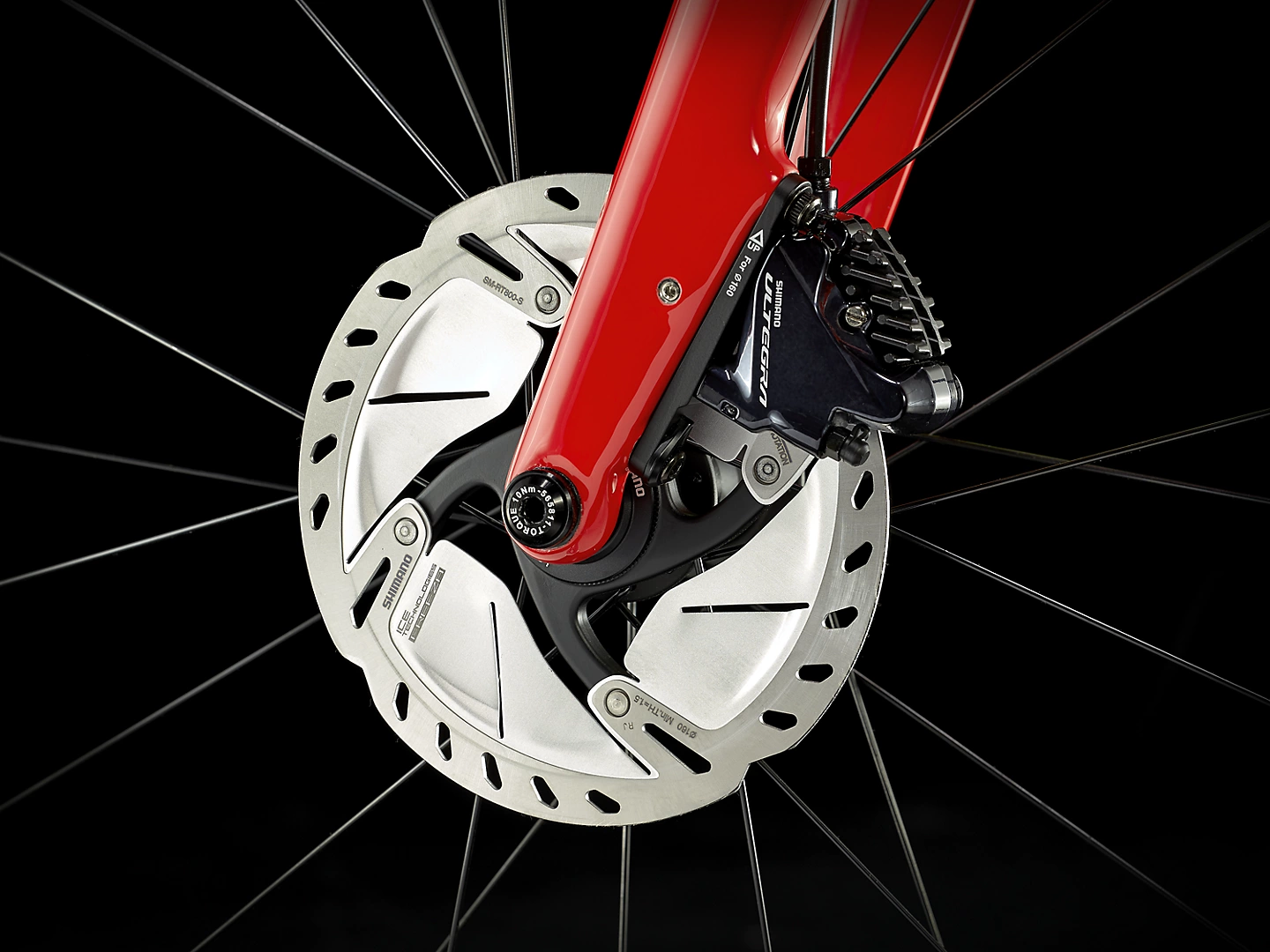 The Trek Domane SL 6 relies on a hydraulic disc brake system to stop you quickly. Hydraulic brakes are highly effective for making quick stops even in wet conditions. Shimano makes the brake system. Hydraulic braking systems offer the most powerful stopping power. You can trust this bike to come to a clean stop no matter the terrain or road conditions.
Compared to mechanical brakes, hydraulic brakes are high-performance in all weather conditions. Mechanical brakes use a cables system, while hydraulic brakes use pressure to force the hydraulic fluid to activate the brake pads.
The Trek Domane SL 6 is considered to be one of the best bikes in cycling. It is highly rated by consumers and continues to demonstrate a high level of reliability for all. When looking to find your next bike, you really need to consider the Trek Domane SL 6
More: Specialized Allez Review: The Only Bike You Need To Have
Feature
Feature Specs
What This Means

Frame

>500 Series OCLV Carbon
>Front & rear IsoSpeed
>Internal storage
>Tapered head tube
>Internal cable routing
>3S chain keeper
>DuoTrap S compatible
>Fender mounts
>Flat mount disc
>142 x 12mm thru-axle

The frame of the SL 6 is optimized for road performance so you can drive as fast as you can.

Wheels

Front Wheels:
Bontrager Paradigm Comp 25, Tubeless Ready, 25mm rim width, 100x12mm thru-axle
Rear Wheels:
Bontrager Paradigm Comp 25, Tubeless Ready, 25mm rim width, Shimano 11-speed freehub, 142×12 thru-axle

The 29+ wheels absorb much of the bumpiness of the terrain, which allows you to go over rocks and branches easily. The 3″ thickness allows for strong traction with the ground for added stability. You can expect to get a fast rollover with these wheels too.

Suspension

Carbon Adventure Fork

The suspension system uses a carbon fork to insulate you from bumps in the path. This carbon adventure fork makes even the most rough road an easy ride. It is extremely effective at providing adequate suspension for the bike's frame.

Materials

Carbon fiber frame

The Trek Domane SL 6 offers high-quality materials that must for a speedy and reliable ride. Its lightweight carbon fiber construction makes it one of the best bikes on the market.

Brakes

Shimano Ultegra hydraulic disc, flat mount

The Trek Domane SL 6 comes with all-weather stopping power due to its hydraulic disc brakes. The brakes have the stopping power to bring the bike to a complete stop without applying much strength to the hand brake. Hydraulic brakes are very reliable as rain or mud has little impact on their functionality.

Gears

2 x 11 gearing system

The Trek Domane SL 6 12-speed shifter allows you to get you in motion as fast as you want it to happen.
Alternatives
Trek has a comprehensive line of road bikes. Here is a summary of how the Trek Domane SL 6 compares with the other Domane SL models and the Specialized Roubaix:
Trek Domane SL 6 vs  Trek Domane SL 5
The Trek Domane SL 6 is very similar to the Trek Domane SL 5. They look very similar, and the biggest difference between the two is that the SL 6 comes in at 1.8 pounds lighter. When you are in the world of milliseconds, that weight matters.
They are both reliable bikes and constructed similarly. You can't go wrong either bike but one will move just faster. The choice is yours.
More: If you are looking for cheaper road bike here is our list of road bike under $1500
Trek Domane SL 6 vs  Trek Domane SL 7
As we referenced above, the Trek Domane bikes are of similar construction, but the major difference is the weight of the bike itself. That is the case here too. The Trek Domane SL 7 is now lighter than the SL 6 model by a whole pound. That does play a difference when you are looking to move quickly.
Trek Domane SL 6 vs Specialized Roubaix
When comparing the Trek Domane SL 6 to the Specialized Roubaix, you will be surprised how similar they are. This is surprising as they are from different companies. They are built similarly and perform conquerable to each other.
In considering your choices between the two, the Trek Domane SL 6 will be nicer on your wallet while performing just as well as the Specialized Roubaix.
Conclusion
The Trek Doman SL 6 bicycle is a bike that will push your speed limits to the brink. This top-notch bike will provide top-level performance and will thrill any thrill-seeker with its speed. This bicycle is a top-rated performance bicycle. With the various options out in the market, this one will meet your needs if you are an avid thrill-seeker seeking performance and comfort in one bike.
If you are also seeking to jump out into more rugged terrain, the cycle will make that happen too. There is something great about a bike offering a wide range of capabilities, while constantly displaying a versatility that provides the rider the kind of bike ride they deserve.