There are many reasons why people choose cycling as their main method of exercising. One of them is that riding your bike at least three to five days a week, for around 30 minutes to 60 minutes a session, can help keep you on a healthy track for the rest of your life. Cycling regularly can help with preventing arthritis, obesity, depression, and diabetes. 
While there are many great different bikes, one of the most popular bikes is the mountain bike. If you are looking to buy a high-quality mountain bike, we suggest checking out the Trek Roscoe 8 review for a comfortable ride on rough trails.
Trek Roscoe 8 Trek Bike | A Quick Overview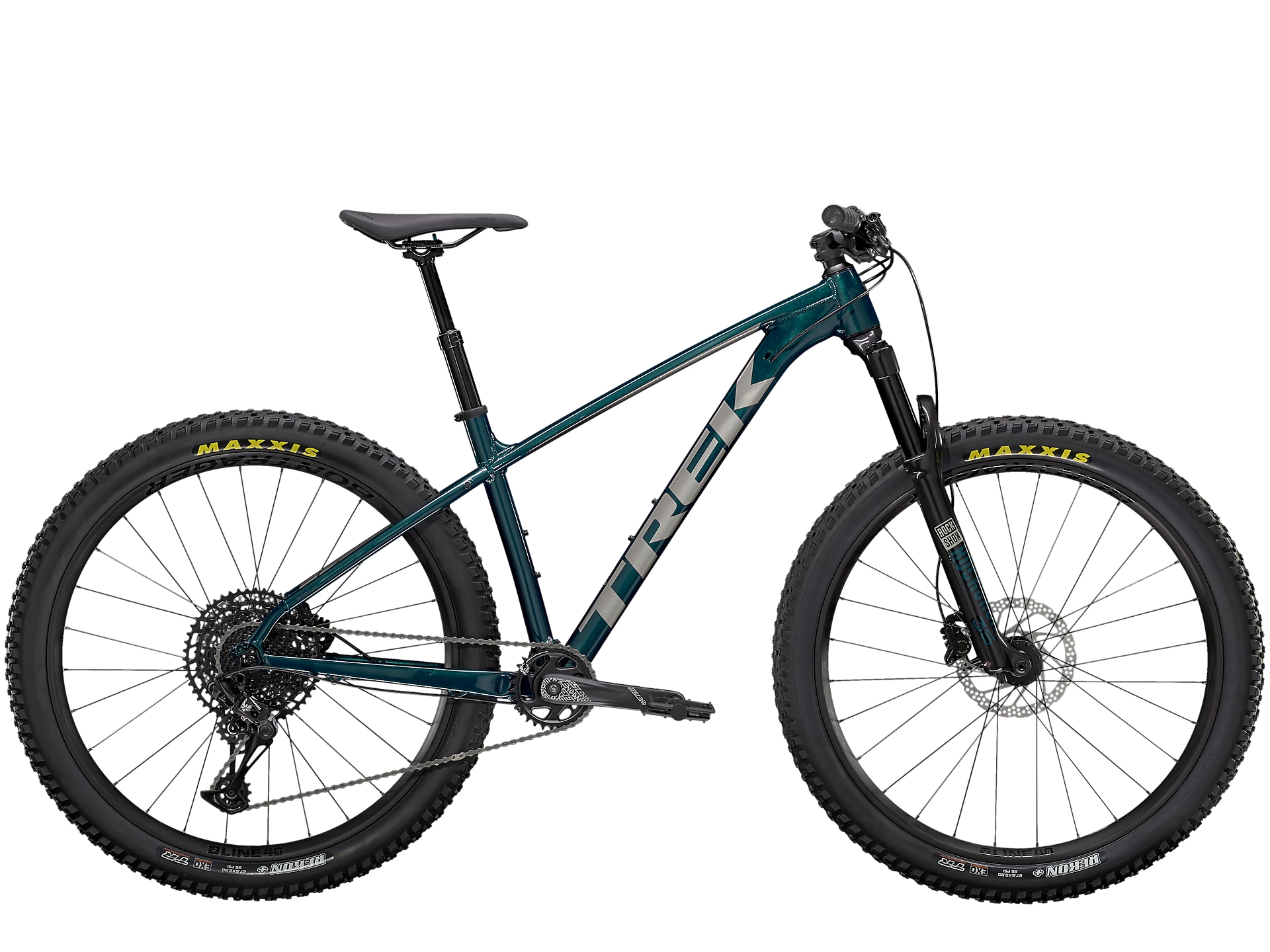 Trek is one of the most well-known bike brands. Trek is based in Wisconsin but word of mouth by many faithful and happy customers has caused them to reach audiences on a global scale. Nowadays, Trek sponsors many biking teams as well as individual bikers.
Trek makes a variety of different bikes (gravel bikes, triathlon bikes, etc), and we are going to focus on Roscoe's climbing position. The Trek Roscoe 8 is known as a hardtail bike (a hardtail bike only has a suspension fork compared to a full-suspension plus tyred trail hardtail which has both a suspension fork up front as well as a rear shock). Basically, they do not have any rear suspension.
The frame on the Roscoe 8 is made from Trek's aluminum of Alpha Gold grade and it has a great and sleek design frame. The bike also comes in sizes of: 13.5 15.5, 17.5, 18.5, 19.5, 21.5, and 23 inches. These side variations guarantee that despite your height and size, you will be able to find a bike for you.
Pros of the Trek Roscoe 8 Performance Bike
The Trek Roscoe 8 riding bike is able to handle tricky trails, able to handle unfavourable environments such as harsh weather (heavy rain and winds etc), is super responsive brakes, is an affordable price for its class, and it is a comfortable ride. This good bike has a tapered head tube, motion control damper and internal cable routing system for a smooth ride. Get high pedaling efficiency with serious fun and a comfortable seat tube.
Cons of the Trek Roscoe 8 Trek Bike
Its aluminum frame might not bode well with everyone. It is also a bit higher maintenance than other performance bikes-drivetrain needs to be fine-tuned in order to achieve the best performance. Lastly, its wide handlebar may cause discomfort.
What to Consider Before Purchasing
It is no surprise that biking is a great exercise to incorporate into your daily exercise routine; however, if you find that cycling simply is not enough then you should consider a strong and durable bike. They are built to take on tougher terrains and they are great if you want to go off-roading which is why you might realize that riding on the smooth sidewalk with a tyre trailed hardtail is not ideal.
Before purchasing hardtail bikes, get the Trek Roscoe 8 review on how a durable bike should perform, do consider the following aspects: Do you prefer to bike off-road?; Or do you want a bike to ride around your neighbourhood?; Do you prefer a full-suspension trek bike over a hardtail?; Would you be willing to pay more than $1800.00 for a quality trek bike?
You Should Consider the Trek Roscoe 8 review for performance bikes if you: enjoy riding on tough terrains (this means you would prefer to ride on bumpy roads than paved roads), want a high-quality hardtail bike for a reasonable price, love the look and material of aluminum frames over that of carbon frames or live in an area where you will be able to use your Trek Roscoe 8 gear bike often.
You might want to Reconsider the Trek Roscoe 8 bike if you prefer to bike on smooth, paved roads. If you bike only a few times a year or if you would not pay more than  $1,000.00 for a bike.
Full In-Depth Review on the Trek Roscoe 8 Mountain Bike
The Engineering Aspects | Components and Designs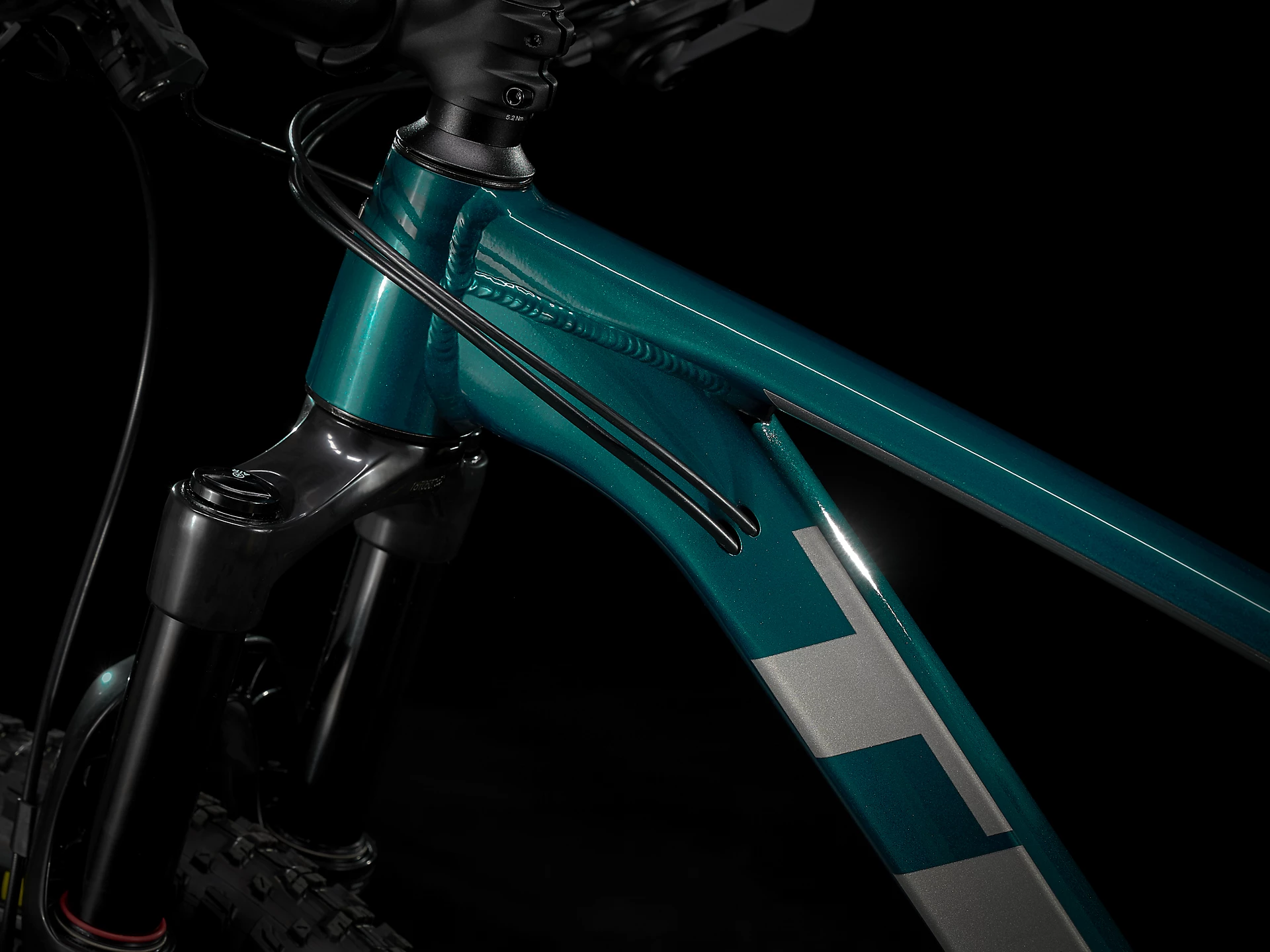 We had previously mentioned that the Trek Roscoe 8 gear bike is a trail hardtail back. What this means is that it lacks rear suspension. While some bikers do not like that aspect, others are fine with it. You should consider whether or not you are comfortable with a bike that lacks rear suspension.
When a bike lacks rear suspensions this means that the overall weight of the modern bike is reduced. This, in turn, can help with control (this means you have more control over how fast you are going, your turns, and your braking) and the overall design helps with overall durability.
The Trek Roscoe 8 Mountain Bike is known to pick up speed a lot faster than most people might think which is also something to consider before you purchase this bike or if you are considering purchasing this bike-for some it is a pro while for others, a con.
We had mentioned previously that the Trek Roscoe 8 bike is made from an aluminum frame as well as mentioned the sizes (please look back at the quick overview if you need a refresher). The aluminum frame means that it will be heavier than a good bike that has a carbon frame.
If you are someone that prefers lightweight bikes then you might want to consider what your limit is. If you are someone that prefers a heavier bike, then consider that the Trek Roscoe 8 performance bike weighs around 14.5 KG.
All About the Wheels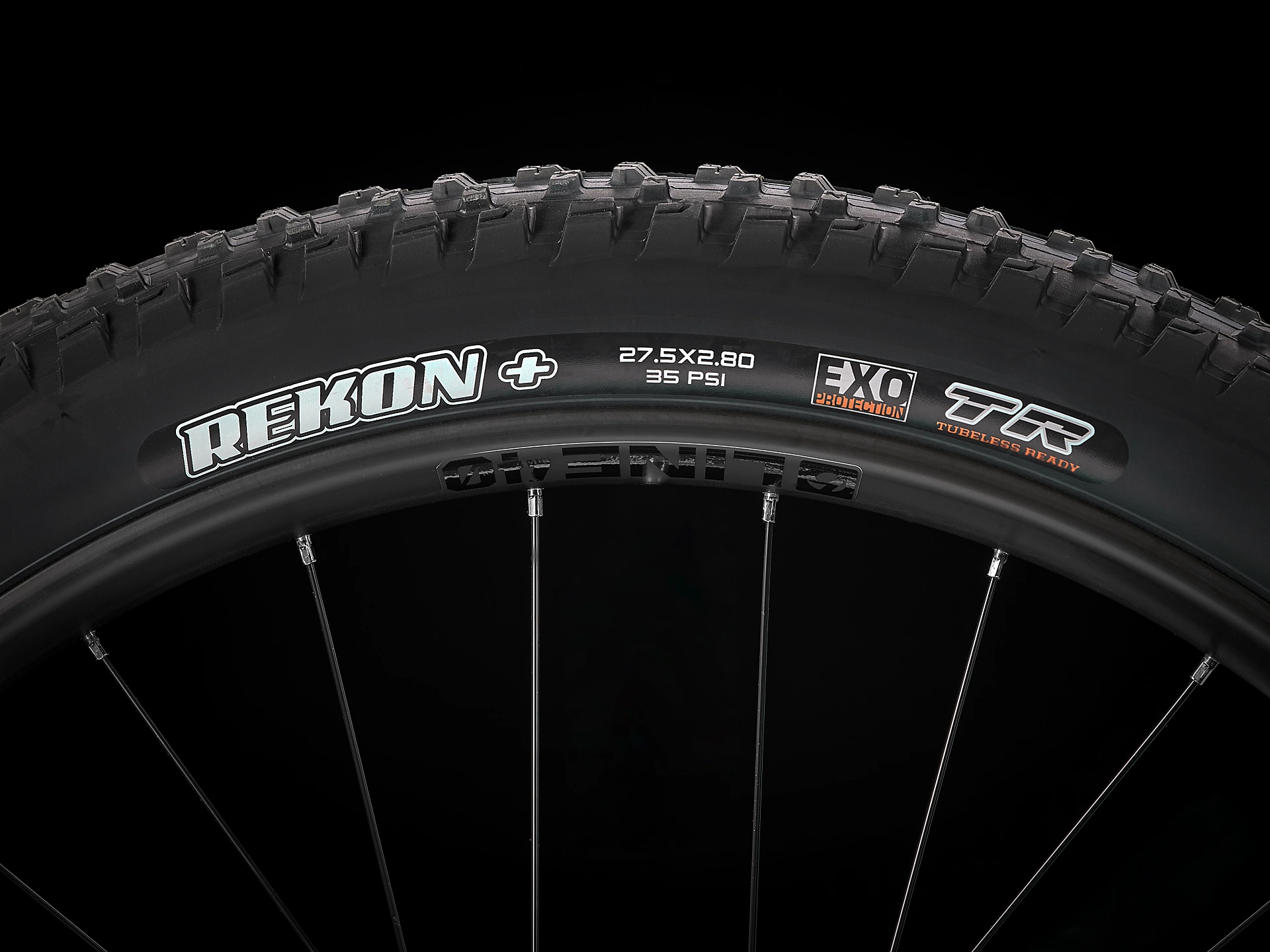 As for the wheels of the Trek Roscoe 8 Mountain Bike, they come with 27.5 plus tires. These tires are comfortable to ride on because they were designed to help grip and cushion the bumps and rough terrains. This bike has strength sidewalls, NX Eagle 12 speed gear, modern luxuries, indexed action, matte black finish, internal routing system, sealed bearing, modern geometry, alloy axle, long wheelbase, and big tires with high pedalling efficiency for great performance.
A good set of wheels will have you feeling as if you are "glued" or stationed on the surface which is great especially if you are a new rider. You want to feel as if you are on a bike that is able to keep you safe, not one where you feel as if you might fly off at any second.
You can, of course, switch out the wheels for bigger ones or smaller ones depending on what you are comfortable with.
The Trek Roscoe 8 Mountain Bike tires are Maxxis' Rekon 27.5 x 2.8 tubeless tires. Tubeless tires are used to run lower-pressure rides which will improve your contact with the surface as well as aid your performance.
Another bonus is that tubeless tires are known to be less susceptible to flats. When you are out on a long trail, the last thing you would want is a flat tire or worse…two flat tires.
More: Best Hardtail Mountain Bike Under $1500 On the Market
Performance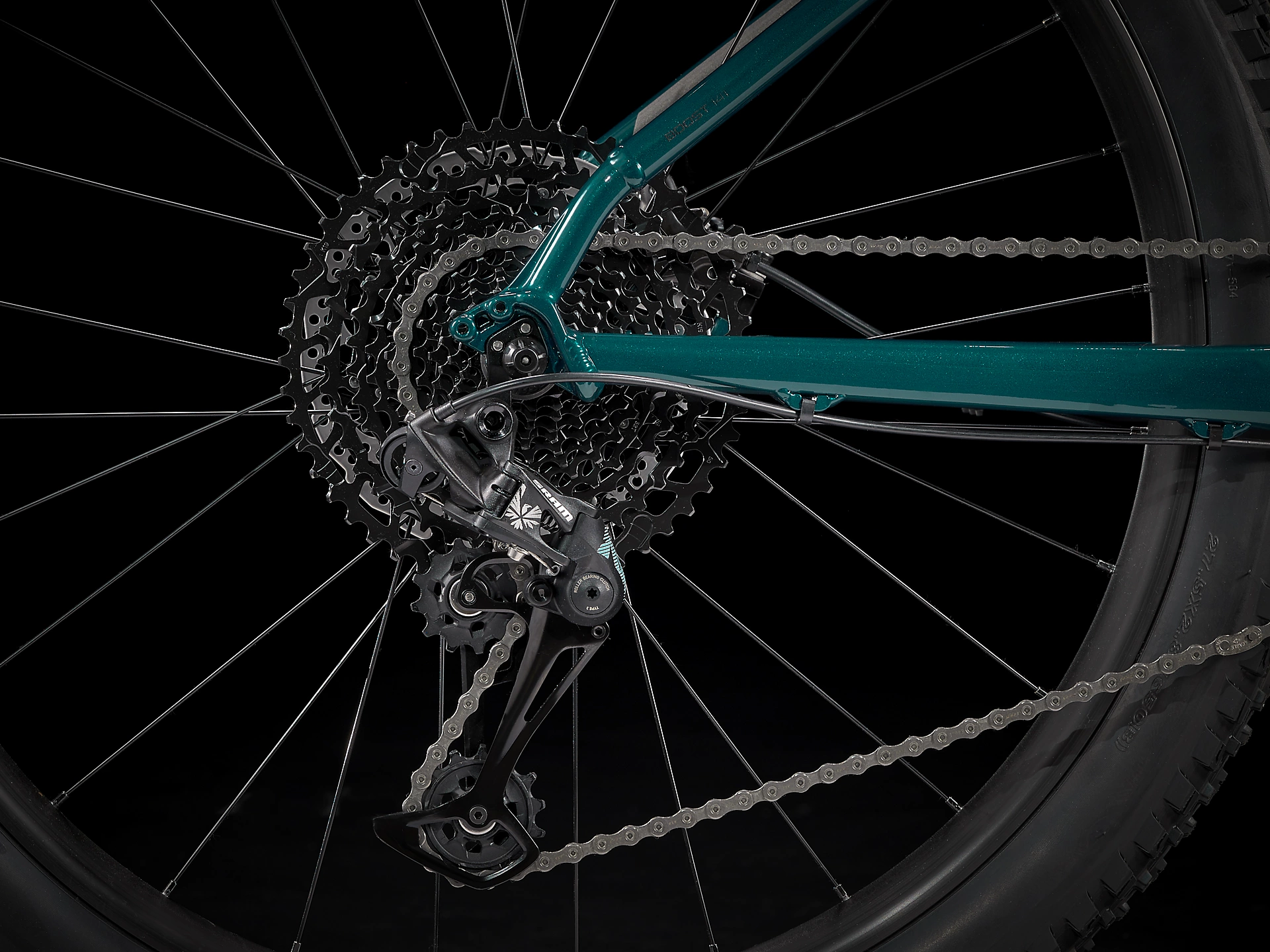 The Trek Roscoe 8 bike rides like a dream on rough terrains. This is due to its light frame which allows the biker to have a great amount of degree and control over the bike (braking, speeding up, slowing down, turning, etc).
The Trek Roscoe 8 bike's suspension makes riding on harsh trails a breeze and the drivetrain ensures that you can not only pick up speed easily but also shift easily as well.
While it is important to note that these features are great, you should also be aware that they might not be ideal for long journeys as you will hit your maximum speed a lot faster than you might expect. However, for winding trails and mountain hiking, the Trek Roscoe 8 is a great choice.
More: Gravity FSX 2.0 Review: Is It A Good Beginner Mountain Bike
Other Specifications
Here is a quick rundown of all the specifications for the Trek Roscoe 8 Trek Bike.
Bike weight: 14.55 KG
Wheel size: Mazzi's Reckon, tubeless wheels, 60 TPI, 27.5 x 2.80"
Frame Material: Aluminum-AlphaGold
Drivetrain: SRAM NX Eagle, 12-speed
Saddle: Bontrager Arvada, steel rails, 138 mm (width)
Brakes: Shimano Hydraulic Disc, MT501, MT500 Caliper
All About the Warranty
All Trek Roscoe 8 Mountain Bikes come with a lifetime warranty for the original owner for the frame sets. Please note that the frame sets include the frame and the rigid fork. For other parts of the Trek Roscoe 8 performance bike, the warranty would be between 1 and 4 years. If you do happen to buy extra mountain biking gears and accessories from Trek, they will also provide a warranty on those items as well.
More: Cannondale Scalpel Carbon II Review: Worth A Buy
Price Ranges
Trek Roscoe 8 Mountain Bikes fall under the category of "luxury bikes." However, there are many sub-tiers that luxury bikes can fall under. The Trek Roscoe 8 falls under that of an affordable luxury bike.
A Trek Roscoe 8 Trek bike cost around $1,789.99 at the time this article is written. While we would not be surprised if the Trek Roscoe 8 does increase in price for years to come, as of 2020, this is not such a bad price. Some people might argue that for a hardtail bike, that price is a bit steep. However, with its great reviews, some customers feel it is worth the splurge.
What Else You Should Know…
What kind of tires could you fit on the Trek Roscoe 8 Mountain Bike?
> 27.5″ x 2.8″ or 29″ x 2.4″ tires
Is the Trek Roscoe 8 Mountain Bike a gravel bike?
> No, the Trek Roscoe 8 is not a gravel bike; it is a hardtail bike.
Are Trek Roscoe 8 suitable for normal roads (paved and cemented roads, smooth roads)?  
> While they are not made to ride on smoother surfaces, they can be done if needed.
| Feature Type | Feature Specs | What This Means |
| --- | --- | --- |
| Weight | 14.55 KGs | Converted to weights, this bike weighs about 32.07 lbs. You will want to consider if this is too heavy or not heavy enough for you. |
| Wheel Size | Mazzi's Reckon, tubeless wheels, 60 TPI, 27.5 x 2.80" | Some people will find these wheels to be a bit too big and if that is the case for you, you need to figure out if you can work around these wheels. |
| Frame Material | Alpha Gold Aluminum | Super heavy-duty frame material. |
| Warranty | Lifetime warranty | You can trust that you are buying from a good brand when there is no expiration date on their warranty. |
| Retail Price | $1,789.99 | Subject prices may change due to offers and promotions or price increases. |
What Customers are saying about the Trek Roscoe 8 Mountain Bike
We did not want to spend too much time looking up specifications about the Trek Roscoe 8 without considering what customers think of the bike. After all, who better to trust than those that spend their hard-earned money on the Trek Roscoe 8 Mountain Bike, right? All the reviews below can be found on Single Track's website:
User: DMan23
Recommendation: Lucky to own one.
User: Raw Adventure
Recommendation: I love this bike. Great on any trail, I highly recommend it!
Three Alternatives
If you like the Trek Roscoe 8 Mountain Bike but are still unsure if this is the mountain bike for you, then we wanted to offer three alternative bikes that you can consider while you are searching for your dream mountain bike.
Diamond Bike Overdrive
The Diamond Bike Overdrive also has an aluminum frame comparable to the Trek Roscoe 8 Mountain Bike (29″ Butted 6061-T6 Aluminum frame).  Similar to the Trek Roscoe 8 Mountain Bike, the DiamondBack Overdrive also has a good level for seat tube angle which is great when you are riding down bumpy roads.
To learn more about this bike, click here.  And you can check our detailed review here
Trek Marlin 6
The Trek Marlin 6 and the Trek Roscoe 8 Mountain Bike have very similar frames-aluminum frames. If you are someone that prefers a heavier bike then this would be a good option. The Trek Marlin 6 comes equipped with Tektro M290 disc brakes along with a 24-speed drivetrain which will give you a similar, smooth riding experience as the Trek Roscoe 8 Mountain Bike.
To learn more about this bike, click here
Roscoe 7
Consider the previous model of the Trek Roscoe 8 Mountain Bike. The Roscoe 7 is an older model which means it is a lot cheaper (price: $1,279.99). That is almost $500.00 cheaper than the current model. If the only thing stopping you from buying the Roscoe 8 Mountain Bike is the price then we highly recommend the Roscoe 7.
In Conclusion
We understand that finding your ideal mountain bike is anything but easier. While a mountain bike is not as big an investment as a car or a house, if you take care of it enough, it will last you a very long time. And after trying the bike and finding other users' reviews, I think having Trek Roscoe 8 Mountain Bike ticks everything you are looking for in a mid-level mountain bike and is worth every penny you will throw on this bike.
Stay safe and happy biking!