Finding the best hardtail mountain bike under $1500 can be a challenge. We know for a fact that these kinds of bikes are the workhorses out of the many mountain bikes in existence. But can you find the best mountain bikes under 1500 USD?
The short answer is yes.
I have used over dozen of Hardtail Mountain bikes over the years here are my seven best hardtail mountain bikes on the market.
IMAGE
PRODUCT
DETAILS
 rating
price

Best Under $1500

Trek Roscoe 7

Speeds: 12
Tire Size: 27.5 inches

Savadeck Deck 300 Carbon Fiber Mountain Bike

Speeds: 10
Tire Size: 27/29 inches

Cannondale Trail 3

Speeds: 12
Tire Size: 29 inches

Specialized Fuse 27.5

Speeds: 11
Tire Size: 27.5

Trek X-Caliber 8

Speeds: 12
Tire Size: 27.5/29

Diamondback Mason 2 Hardtail Mountain Bike
Royce Union RHT Lightweight Aluminum Men's Mountain Bike

Speeds: 11/22
Tire Size: 29
Review of best hardtail mountain bike under $1500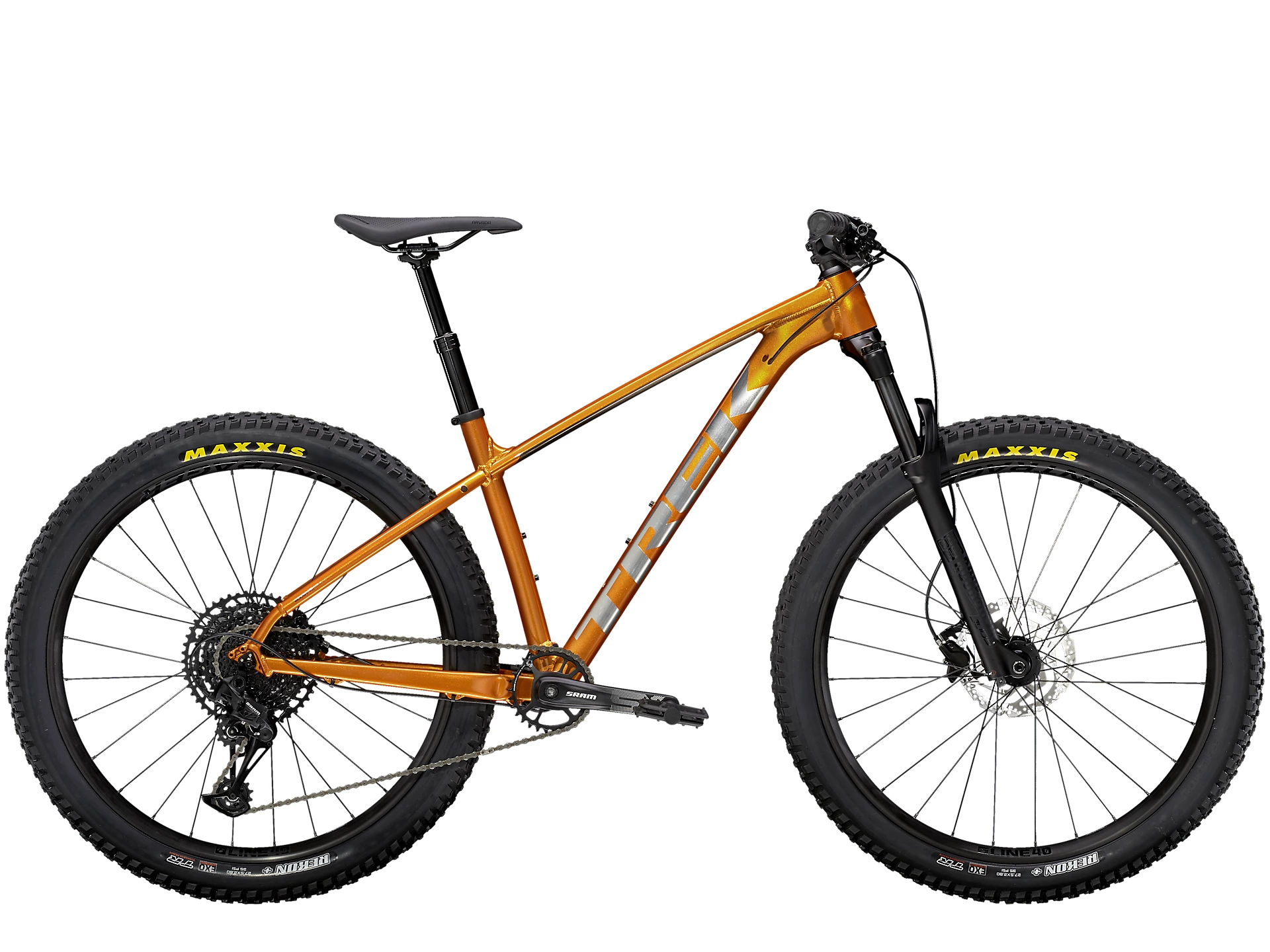 First, we begin with the Roscoe 7 from Trek Bikes. This is for the rider who enjoys a casual ride off the beaten path. While riding on the pavement seems nice, the rugged terrain is where this bike really does the best job. This mountain bike is the
The wheels' height is 27.5 inches high, which is ideal for those who are of average height or a bit on the tall side. Plus, the tires are super-sized, so you get an excellent amount of traction while you are taking on the rocky, unpaved trails. You get plenty of grip and stability, so your rides are a lot smoother.
This bike has plenty of gears, making it super easy for the newbie rider. If you are new to mountain biking, using these gears to your advantage will be key. The shifting of gears for mountain bikes won't be as difficult as on some bikes.
On top of that, even the most experienced riders will appreciate the easy gear shifts. It makes riding the uphills and downhills a breeze. 
The Roscoe 7 also has RockShox, which is perfect for supporting various amounts of weight depending on the rider. So if you weigh 160 or 225, it's got more than enough to handle you. Not bad for a fork that is lighter than your average coil spring.
For a bike that is priced at the south of $1500, no wonder why it's considered the best overall on our list. 
Up next, we'll be looking at the Savadeck Deck 300 Carbon Fiber Mountain Bike. The carbon fiber frame on a mountain bike is always a good thing—the reason why is because of one word: durability.
It's perhaps one of the most durable hardtail mountain bikes on the list. Not only is it durable, but it's also insanely lightweight. This means you can easily pick it up and carry it if you are on a trail where the obstacles are not manageable (translation: you can't ride around or over something).
This also has a Suntour fork suspension, which provides excellent support and comfort. You'll be able to hit the trails knowing that whenever you hit the constantly rocky patches of any pathway, you won't feel uncomfortable in the slightest due to all the shock that's being produced. Gone are the days when the riding gets so uncomfortable, that you'd rather hop off the bike and walk. 
Included in this bike is a Shimano Deore M6000 Speed Controller. This includes 10-speeds that you can shift with ease. When the path gets a bit more challenging, you can be able to make easy shifts when needed. 
The shifting won't feel sticky in the slightest. Nor will you have a hard time switching back and forth. Once you get the hang of it, you'll know when to shift at a moment's notice. 
This has 26-inch tires that will provide riders with plenty of grips. Even on the rugged trail or rocky terrain, you'll need plenty of it so you can handle all of the rocks, dust, and dirt. Plus, you won't be afraid to go a bit faster if you want to. 
However, this bike has three tire options that you can choose from. But regardless, you get the same benefit in the excellent grip for a smooth, comfortable ride every single time. 
The next bike we'll be looking at is the Cannondale Trail 3. This bike is something that will do best on low-impact trails and gravel roads. If riding casually is your thing, there is no denying that this is the obvious choice. 
The bike has a Premium SmartForm C2 Alloy Frame, which is lightweight and super strong for most riders. And it has a remote lockout, which is perfect if you want the best responsiveness out of your pedals. On top of that, it makes uphill and level terrain riding a breeze. 
If you want excellent handling, this bike is second to none. Especially when you're going to be spending a lot of time on the rocky trails that come with a few topsy, turvy curves. Whether you are new to mountain biking or have done it for years, this bike, in particular, will be very easy to handle.  
But here's where the real fun begins with this bike. Did you know that this bike has its own app? No joke. 
You can be able to track everything from the calories you have burned, how fast your average speed is, and how far you have travelled all on one app. Simply put, this is no ordinary mountain bike. But with the ability to keep track of important stats in one app, it's very well ahead of its time compared to its competitors. 
Not to be outdone, the app also reminds you when you need to get your bike serviced. Is there any other bike out there that can do that? If you genuinely want this bike to last you quite a while, the app will keep you ahead of the curve and allow you to get it fixed when it's needed. 
Up next, we have the Specialized Fuse 27.5. One of the interesting things about having a hardtail mountain bike is that it has no rear suspensions. But it does have a chassis that can handle some rough riding. 
If you are looking for a bike made for the trails that can be a real challenge, look no further than this model. At 27.5 inches, the wheel height is perfect for most riders. Not to mention, the tires can handle plenty of the rugged terrain so grip won't be a problem.
This comes equipped with the RockShox Judy Silver TK fork, which from what we're gathering, is one of the best in the business. That's because it will allow for easier weight distribution making the bike more stable and well-balanced for most riders. 
The plus size tires make gripping onto the trails a lot easier. The trails you ride on won't stand a chance of knocking you off. If traction and stability are what you want, you got it with this bike.
If you are a complete newbie to mountain biking, this might be the first real bike you'll ever buy. It's safe to say that you'll have a lasting first impression with all the specs that this bike has. Specifically, you'll be able to take on the rugged trails with ease along with the flat smooth surfaces. It's a bike made for the rough outdoors, and you'll feel like a pro after trying it out a few times.
Next on the list is another bike from the Trek brand. We'll be taking a closer look at the X-Caliber 8. If you are looking to go the distance, go fast on the trail, or both, then this bike could be the perfect match for you.
This includes the RockShox fork and hydraulic disc brakes. These are two parts of the bike that will no doubt make operation a lot easier for both new and seasoned riders. This bike is for the casual bike rider and someone who likes to do bike races off the beaten path.
You can call this a multi-purpose bike if you want to. But you don't have to do any kind of extreme riding to enjoy the benefits of the X-Caliber 8. This has large tires that are perfect for steep hills or rocky mountain roads.
Made from a durable lightweight alloy, this bike's frame is super tough and can last quite a while. If you are looking to make an upgrade to tubeless, that will be a lot easier compared to other mountain bikes on the market. On top of that, the frame itself is compatible with high-end parts.
If and when you need to replace one of the smaller parts, you won't have any trouble finding something that will be compatible with the frame itself. Replacing the parts and installing them yourself may be a bit easier so long as you have a bit of bike repair know-how. 
Another thing worth pointing out is that this has Smart Wheel Sizing, which will make fitting wheels on your bike a lot easier. Larger frames equal larger tires, while smaller frames equal smaller tires. Seems simple enough, right?
Lastly, you get a wide range of gears for this single-shifting bike. It makes controlling the bike a whole lot easier. And you can shift gears at a moment's notice. 
If simple is what you want, then you'll get it. Especially when having to shift gears is one thing you need to do while riding. 
Now we'll be taking a look at the Diamondback Mason 2 Hardtail Mountain Bike. If you want a bike that is lightweight but very sturdy, you're looking at it. The tough aluminum frame is tough and can handle almost all kinds of smooth and rough, off-the-road riding.
It also includes the RockShox Judy Gold RL fork, which will allow the bike to handle all the bumpy riding on rough terrains. If you are someone who would rather go off-road than on smooth surfaces, you're going to love this bike. You will feel more comfortable on this bike compared to anything else you've ridden in the past. 
Also equipped are the Race Face cranks, which include an 11-gear driveshaft that makes shifting a breeze. You can shift from one gear to the other with ease without having to slow yourself down. With hydraulic disc brakes equipped, you'll be able to stop quicker compared to other bikes whenever a sudden obstacle appears. 
This also has Vee Rubber T-Fatty Tires, which can lead to one thing: excellent stability and grip. If you want to navigate the rugged terrain with the greatest of ease, it's these tires that will get the job done. 
If you are on the short side and maybe running out of luck finding a good hardtail mountain bike, this is your best option. Even with the wheels standing at least 28 inches, it's still a well-fit bike for someone who stands at below-average height.
Our final bike on the list is the Royce Union RHT Lightweight Aluminum Men's Mountain Bike. As you could guess, the frame is made from durable aluminum. It's tough, can handle the rocky roads, and can last quite a while. 
The bike has a Shimano hydraulic disc brakes driveshaft with a total of 22 gears. This means you have more than enough gears to shift. Whether you are going uphill or levelling out, you can choose the speed that works best for you.  
It has a Suntour XCT suspension fork that will take on all kinds of bumps. You'll feel more confident taking on the tough roads with a suspension fork like that. You'll be able to retain control while you are going fast on the rough trails. These are more common in XC bikes.
With hydraulic disc brakes equipped, the stopping power on this bike is amazing. When you engage the brakes, your bike will come to a complete stop in seconds. No delays, no problem. 
The Kenda Small Block tires will provide you with excellent grip while rolling through the bumpy pathways. You'll be quite impressed with these tires every time you go for a ride. 
Hardtail vs Full Suspension
What's the difference between a hardtail bike and a full suspension bike? Both mountain bikes are worthy of taking on the tough tracks for riding off road. But how do they stack up against each other?
With a hardtail bike, you can be able to climb up hills with ease and at faster speeds. On smooth trails, you can be able to speed up fast and maintain control of your bike. If you are someone who is a beginner, you'll be better off riding a hardtail compared to a full suspension. 
Hardtail mountain bikes are more lightweight compared to full suspension bikes. Just because it's lightweight, it doesn't mean it's not durable. The frame material is durable enough to handle all the bumps, bangs, and everything in between. 
More: Find the Best Mountain Bike under $300 [Review and Buying Guide]
Buyer's Guide
Choosing one bike or the other can be difficult. That's why it's important to look at some of the specific features before making your final decision. Here are some of the things to look for:
Bike Suspension
Keep in mind that hardtail mountain bikes have no rear suspension. But they do have front suspensions. Most of these have fork suspensions. 
The fork suspension is located in the front of the bike. And it's designed to help absorb the bumps that happen on rough terrain. If you are looking for a smooth ride on rough bike trails, a mountain bike with a fork suspension will be the best option.
More: Mongoose Ledge 2.1 Review: Is It a Good Budget Bike?
Bike Frame Materials
There are different types of frames to choose from. You can choose from aluminum, carbon fiber, and alloy. All three are durable, but not created equal.
If you are looking for superior durability, aluminum holds the edge over the others. Your second best choice would be carbon fiber. They can handle the bumps, bangs, and even the potential scrapes if you end up skidding or going sideways for some odd reason. 
More: Diamondback Release 3 Reviews: Worth Buying?
Wheel Size
The wheel size will vary. However, one rule of thumb to remember is a larger frame will equal a larger wheel size. If you are a rider who is tall in height, you may want to consider the idea of choosing a bike that is higher in wheel height (shorter height equals smaller wheel height).
This shouldn't be confused with the tire size. However, larger tires will usually equal better grip on rugged bike paths. 
Full suspension mountain bikes or the best mountain bikes under 1,500 have a wide variety of tubeless tires, rim brakes, continent tires, and hydraulic brakes for a smooth riding experience.
More: Diamondback bicycles overdrive 29 3 review: Is A Good Mid-level Bike?
Gears
Not every mountain bike will have the same number of gears. But the number will range from as little as 7, but no more than 27. The more gears your bike has, the better you'll have a chance at tackling hills, level ground, or any biking situation you find yourself in. Having more "speed" on your bike doesn't mean you'll be going faster. 
Brake Type
Stopping power is important. Especially when you need to make a quick stop when there are sudden obstacles in the way (or when you need to stop for safety purposes). Hardtail mountain bikes have disc brakes of two types: mechanical and hydraulic. 
Hydraulic brakes are low in maintenance and have more stopping power compared to mechanical brakes. The mechanic brakes are easier to maintain but are high in maintenance itself. However, they are less likely to fail compared to most brake systems. 
More: Gravity FSX 2.0 Review: Is It A Good Beginner Mountain Bike
Conclusion
In choosing the best hardtail mountain bike under $1500, there are a few great choices. But we can make two recommendations for you. First, we love the Roscoe 7 because of its ability to handle the rough terrain, excellent grip, and overall ability to absorb the shock originating from all that bumpy riding. 
Our second favourite choice is the Savadeck Deck 300 Carbon Fiber Mountain Bike. It's lightweight to where you can literally carry it on the last mile of your journey if you want. Other than that, it handles quite nicely and can handle plenty of riders both on the light and heavy sides.