Mountain bikes offer you an exciting way to get around town or get through some off-road trails with ease. While many people want to get into mountain biking, the cost of entry can be too high for many people who want to get into the sport.
At Mongoose, they realized that buyers wanted a beginner mountain bike that got them the features they need at a price they love. That's why they designed the Mongoose Ledge 2.1 to give riders all the features of a more expensive mountain bike at a much lower cost.
In 1974, Skip Hess started Mongoose in his garage with a vision to create bikes that would revolutionize the world of sports. The Mongoose legacy is full of record-breaking BMX and mountain bikes that are a testament to the Mongoose vision and ideals. Even in their entry-level Mongoose Ledge 2.1, this dedication is still clear.
This Mongoose Ledge 2.1 review will give you the details about this bike you need to know so that you can see if it is the right mountain bike for you. Let's start by looking at what you need to consider before buying a mountain bike.
Things to Consider Before Buying a Mountain Bike
Mongoose Ledge 2.1
A mountain bike will get you from point A to point B, whether on a sidewalk or through a forest trail. However, not all mountain bikes are treated the same. We want to highlight some of the standout features on the Mongoose Ledge 2.1 that make it a top pick for many new mountain bike owners.
Many bikes in this price range wouldn't be able to go anywhere near a mountain, but the ledge 2.1 offers unique features that make it the king of mountain biking.
Features & Benefits
Frame
The frame of any bike is what connects all of the elements and gives a bike its structural integrity. As mountain bikes are designed for more aggressive riding, they need frames that will stand up to the elements and harsh riding conditions. A mountain bike needs a durable frame, or it will be uncomfortable to ride and won't be very safe for the rider.
Even with its more affordable price tag, the frame of the Ledge 2.1 is constructed with rigid materials that help keep the bike going. An aluminum alloy frame means that the bike is equal parts light and durable as it can hold its shape well and is not too heavy for riders to feel overburdened when going faster.
Suspension system
Suspension on a mountain bike is a crucial element as it helps make the ride more comfortable when going over rough terrain. Suspension can come in the form of front shock absorbers with most bikes. While certain mountain bikes having an additional shock located under the seat. This added suspension element helps larger bumps feel smoother when riding over them.
The Ledge 2.1 is unique in its market segment as it comes with that additional shock under the seat, which is not very common for this lower price range. Riders will benefit from the extra absorption as every bump will feel less substantial, and taking this bike on more extreme outings will be a breeze.
More: Trek Marlin 4 Review: Is It A Good Beginner Bike?
Wheels        
Just like any other bike or vehicle, the wheels on a mountain bike play a large role in how it handles any given terrain. Mountain bike wheels are specially designed with larger knobs that are designed to grip gravel and loose surfaces better than standard tiers. Without these specialized tires, a mountain bike would be much harder to control and could even be dangerous.
The Mongoose comes with either a 26 or 27.5-inch wheel option that gives riders the wheels they need for their adventures. What is nice about the wheels that come with this bike is that they are great for mountain biking and riding around on pavement. The knobs are large enough for mountain biking without getting in the way of reliable street-riding performance.
More: Discover the Best Mountain Bike Under $200
Gears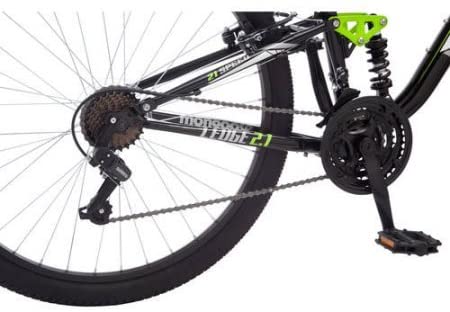 Like a car, most modern bikes come with gears that make it easier to peddle in different situations. For example, having multiple gears means you can go up a hill or on flat ground while exerting the same amount of energy to your pedals. This is crucial for mountain biking as the right gears help you get past otherwise difficult obstacles on the trails.
Not only does this bike have 21 gears for the rider to take advantage of, but it has a respectable derailleur that makes gear shifts quick and snappy. Mountain bikers will love the range of gears offered by this bike that allows them to tackle the trails or just bike around the neighborhood without having to break too much of a sweat peddling.
Brakes
The last important feature to look for in a mountain bike is a good set of brakes. For obvious reasons, you need the breaks on any bike to be predictable and effective so you can stop quickly when needed. Each bike will have a front and rear set of brakes so the rider can slow down without worrying about getting thrown off the bike or not having enough force to make a safe stop going down a hill.
The breaks on this bike are not the best, but they are certainly good for the price. It won't stop on a dime like some of the premium mountain bike options, but the activation is very smooth and linear, so riders know what to expect every time they pull the brakes. If you feel so inclined, you can also replace the brake pads if you really want more aggressive stopping power.
More: Find the Best Mountain Bike under $300 [Review and Buying Guide]
| Feature Type | Feature Specs |
| --- | --- |
| Frame | The bike's frame is simply the large metal outline that holds the elements together and provides structural integrity. |
| Suspension | Suspension allows bikes to go over harsh terrain without transferring all of that energy to the rider. |
| Wheels | The wheels of a mountain bike need to be suited for more diverse terrain with designs that allow for more grip. |
| Gears | Gears make pedaling easier by adjusting the chain's position to make most pedaling in more aggressive conditions feel less fatiguing. |
| Brakes | Brakes on a mountain bike help bring the rider to a safe and controlled stop by applying even force to the wheels when the levers are activated. |
Social Proof
No matter where we looked, users everywhere really seemed to love this bike. Many customers praised it for its many features, while others like the way it looked. Regardless of who bought it, customers everywhere really enjoyed this bike for the price.
Alternatives
While the Mongoose Ledge 2.1 offers great value for the price, it may not be the ideal bike for every rider type. For that reason, we also want to look at the Mongoose excursion to highlight some of its key features.
Mongoose Excursion
In many ways, the mongoose excursion is like its sibling bike, the Ledge 2.1. Upon a brief first glance, it may even be difficult to differentiate between the two cycles. However, the Excursion has certain features that are not present on the ledge 2.1 that may make it more suitable for certain riders.
For example, the Ledge 2.1 features a standard set of good brakes at most braking tasks. However, the excursion comes with more modern disk brakes that offer a little bit more bite when you need to stop really quick.
Another key difference is that the Ledge 2.1 has an added suspension element that is not present in the excursion. While some may see this as a downside, it seems like this element was not featured on the excursion as this bike is more suited for casual riding. This fact is even more noticeable when you realize the excursion has a more comfortable seat design than that found on the ledge 2.1
Overall, the Mongoose excursion comes in at essentially the same price as the Ledge 2.1, so you really need to think about what you want out of a mountain bike. For the more adventurous rider who values performance, the Ledge 2.1 is the way to go. For more relaxing rides with more comfort features, the Excursion has you covered.
Conclusion
Many people think m9outnain biking requires substantial investments to get started in, but the Mongoose ledge 2.1 says otherwise. For the price, you are not going to find any other package that comes even close to the performance of this bike. It's intentional choice of features and aggressive design makes it destines for trail riding.
While it may have just average brakes and decent construction, those are the kind of sacrifices you expect to make at this price range. Overall, the Mongoose Ledge 2.1 is one of our favorite mountain bikes in its segment.