Cycling is often seen as an elite sport thanks to the high price point for a great bike and quality biking gear. Fortunately, a lot of the big biking manufacturers (Trek included) have seen that and know how important it is to offer high-quality bikes that are a little more affordable for your average entry-level cyclist. 
The Marlin 4 is one of those bikes. A slightly less refined member of the Marlin line, it's still a high-quality mountain bike from a trusted manufacturer, and it's still more than trail ready. 
Let's take a look at what this bike has to offer. 
Overview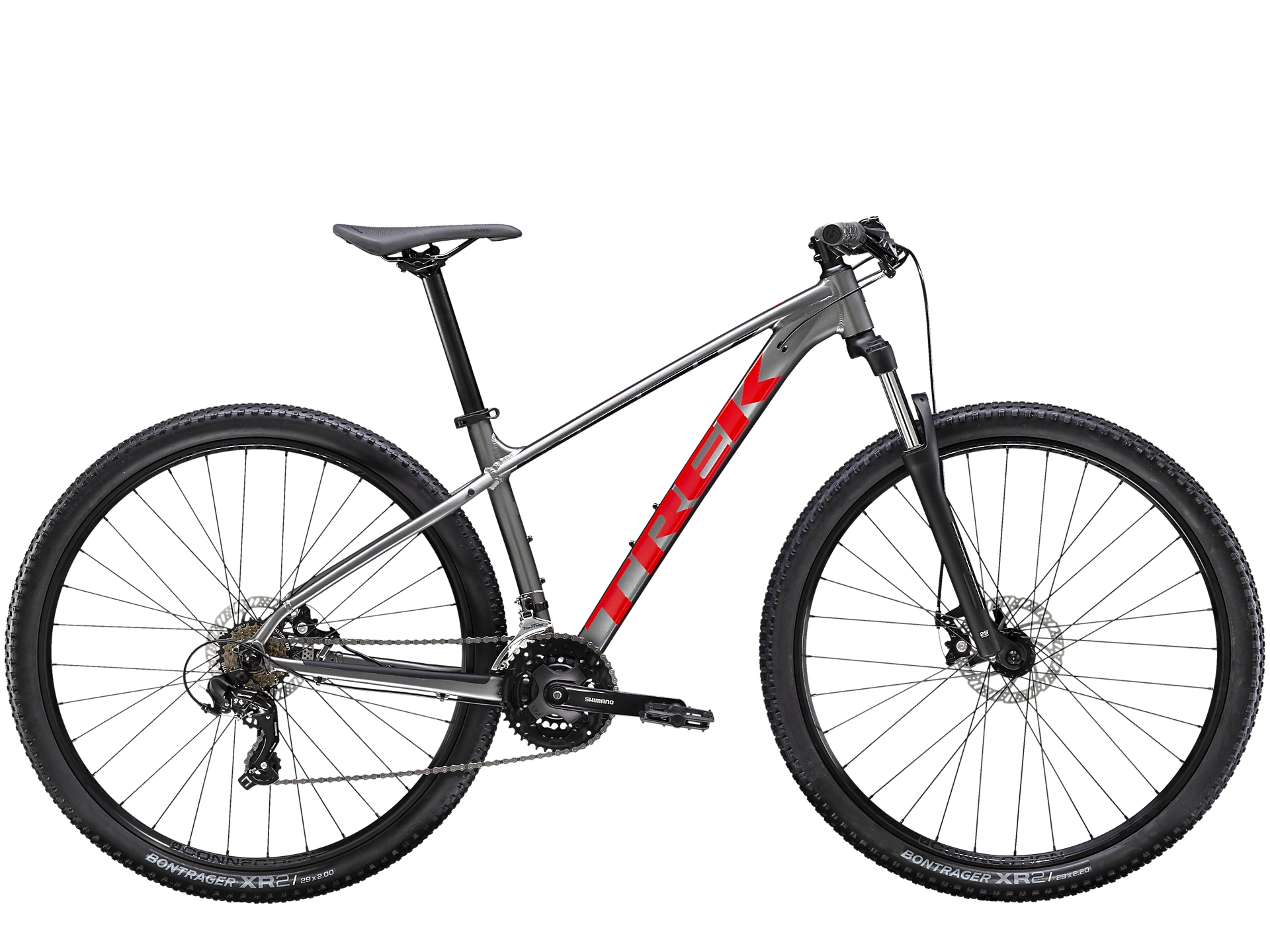 The Marlin 4 isn't the first bike most people think of when they think of the Marlin line. Cyclists tend to gravitate toward the Marlin 6, which offers a slightly fresher and more feature-rich bike. 
But that isn't a problem because the Marlin 4 doesn't need to be in the spotlight to perform. 
Instead of adding many bells and whistles, the Marlin 4 focuses on good bike mechanics from good construction principles to a well-balanced components to create a bike that can keep up with premium models, but without the higher price tags. 
Things to Consider Before Buying a Mountain Bike
Mountain bikes are a great choice if you're looking to be able to explore the woods and trails near your home on a bike. They're fantastic for hills and rough terrain, but you don't actually have to live in the mountains to take advantage of mountain bike design benefits. 
Mountain bikes are designed to handle off-roading and riding away from the asphalt. They offer a smoother ride and better jump capacity than road bikes, but they are a similarly specialized bike. If you're looking for a road commuter or a bike for light riding you might be better off with another design. 
That's not because mountain bikes aren't great bikes, they are! But getting a bike that's designed for the way you're going to use it helps ensure that your money is buying the features and benefits that will most help you as a rider. 
Features & Benefits
Now that we've talked a little about the Marlin line and mountain bikes in general, let's dig into the details about the Marlin 4 and what you can expect from this affordable mountain bike. 
Frame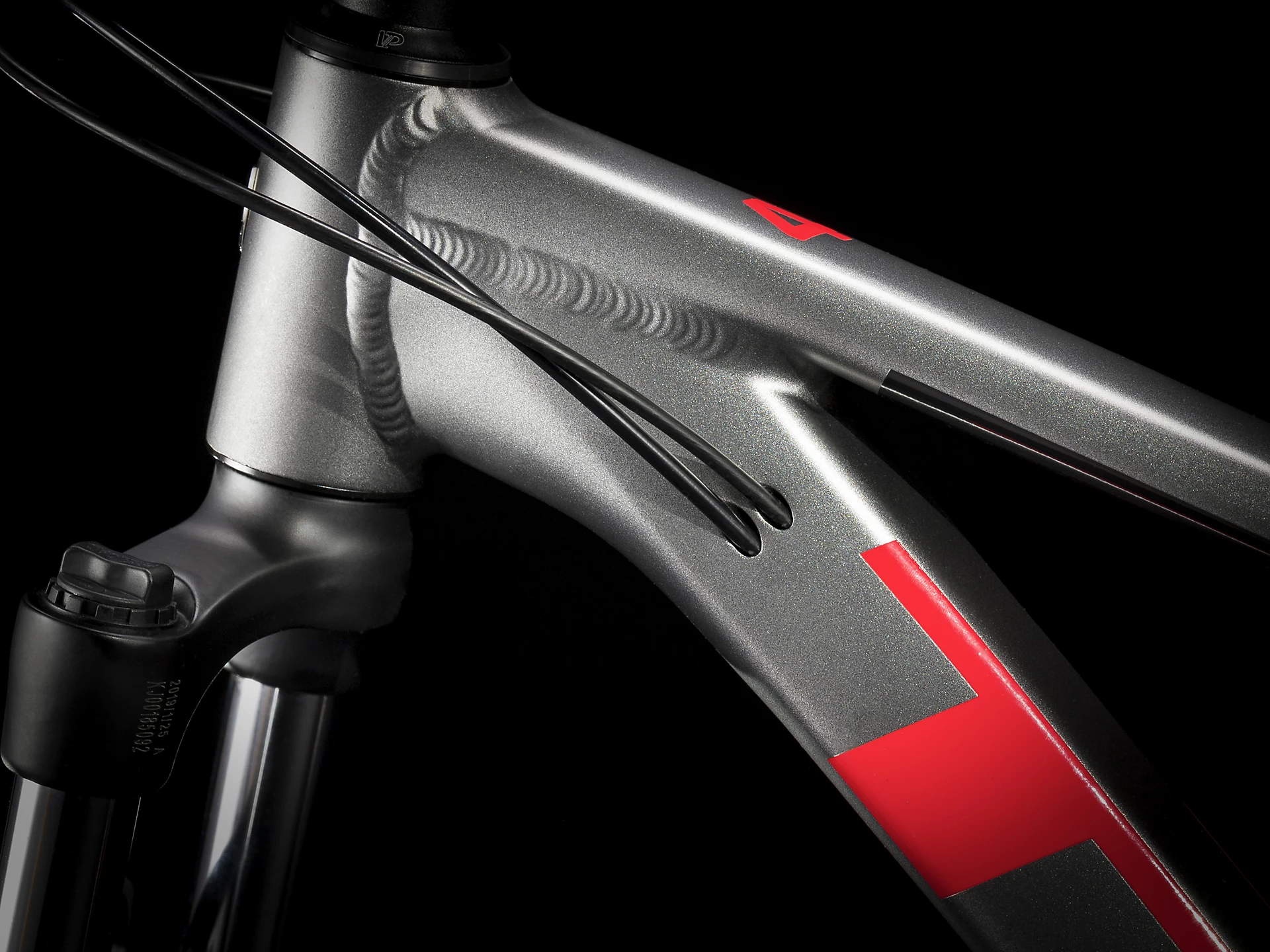 The frame on the Marlin 4 is made of Trek's Alpha Silver Aluminum alloy. That means superior performance and great balance, but the Silver alloy is just a little heavier than their more expensive Gold alloy (Not that the metals are alloyed with silver or gold either one, those are simply the names of the finished metal)
This frame doesn't have a lot of extras. It's pretty much the basic frame. However, like the other models in the Marlin line, this frame does have the mounting locations for a bike rack and other accessories. You do get a kickstand and internal routing standard with this design though, both of which help keep your bike in good condition. 
Internal routing is especially important if you're planning to hit the trails with your Marlin 4. Keeping the wiring internal helps prevent premature damage and can especially help prevent wiring from getting cut or damaged while you're out. 
This bike is just a little heavier than many serious cyclists prefer, slightly more than 31 lbs. That extra weight does mean that it takes more horsepower to get this bike rolling, but it's a good middle-ground for most beginners and even intermediate mountain cyclists. 
More: Discover the Best Mountain Bike Under $200 
Suspension System
The suspension system on the Marlin 4 is, like most of the bikes in the Marlin line, a little slimmer than many mountain bikers prefer. The suspension is mostly in the front Suntour fork, which offers 100 millimeters of travel. 
Suntour is a good brand when it comes to suspension, so while this fork might not move as much as you prefer, it will still absorb more of the impact on your bike that you're likely expecting. It's also a good fork for handling road vibration, which makes gravel riding and even riding on damaged pavement significantly easier. 
That said, it can't compete with a full suspension system, including a suspension saddle in terms of performance. The Suntour XCE 28 suspension fork will smooth things out, but you'll still feel some of the bumps and bruises along the way. 
Still, if you like a more natural feeling ride, minimal suspension can actually help you connect with trail riding. It's good for making your ride a little easier to handle while also helping you learn how different kinds of terrain will affect your bike. 
More: Find the Best Mountain Bike under $300 [Review and Buying Guide]
Wheel
The wheels on this bike are one area where we don't have any real criticism. Considering the bike's price point, it's no surprise that it doesn't come pre-loaded with a truly premium tire set, but the wheels are well designed and efficient. The 29″ wheel design is a little more aggressive than some of the alternatives, and double-walled rims add to the bike's durability overall. 
The included tires give you a reasonably grippy tread but are also maneuverable and up to a little bit of cornering without too many problems. The big advantage here is that the tires are durable and up to quite a bit of active trail riding (and learning) before you'll need to invest in replacements. 
Gear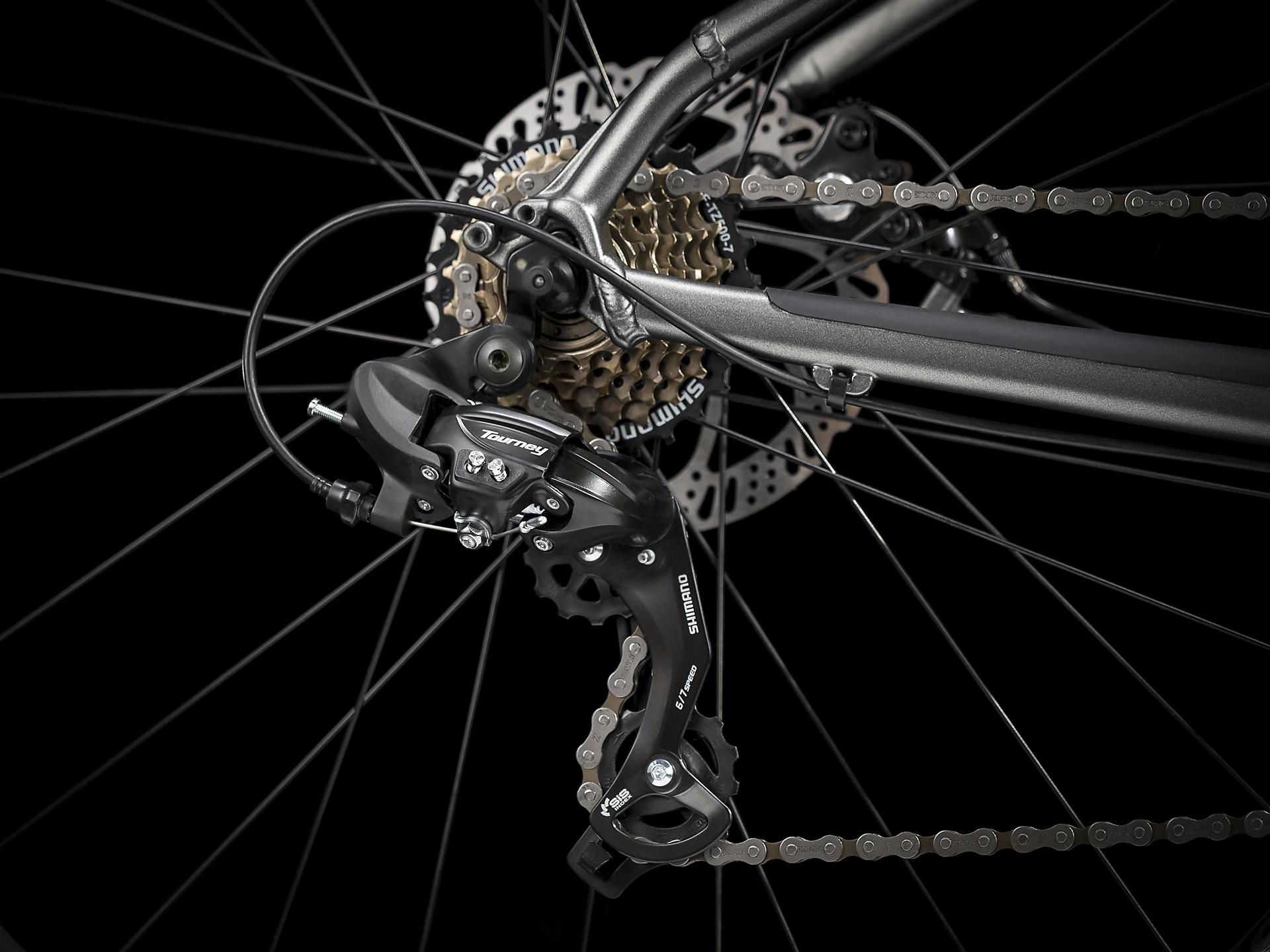 This is where a lot of gear-loving cyclists don't appreciate the design of the Marlin 4. However, if you're in the camp that more gears aren't necessarily better then this might be a design that appeals to you. 
The Marlin 4 has a fairly bare-bones drivetrain in terms of the number of gears it gives you. It's only a 7-gear bike. 
However, that does give you a fair amount of flexibility as a trail rider. There are just enough gears to make climbing and dealing with different slopes more doable, but not so many that you're likely to have trouble using your shifter effectively, even as a novice. 
More importantly, the Shimano drivetrain is a great option despite the limited gears thanks to its impressively smooth and consistent performance. Shimano not only offers consistent performance; their drivetrains are also easy to maintain and tend to last. 
More: Diamondback Bicycles Lux 3 review: Is It a Good Hardtail Mountain Bike To have
Brakes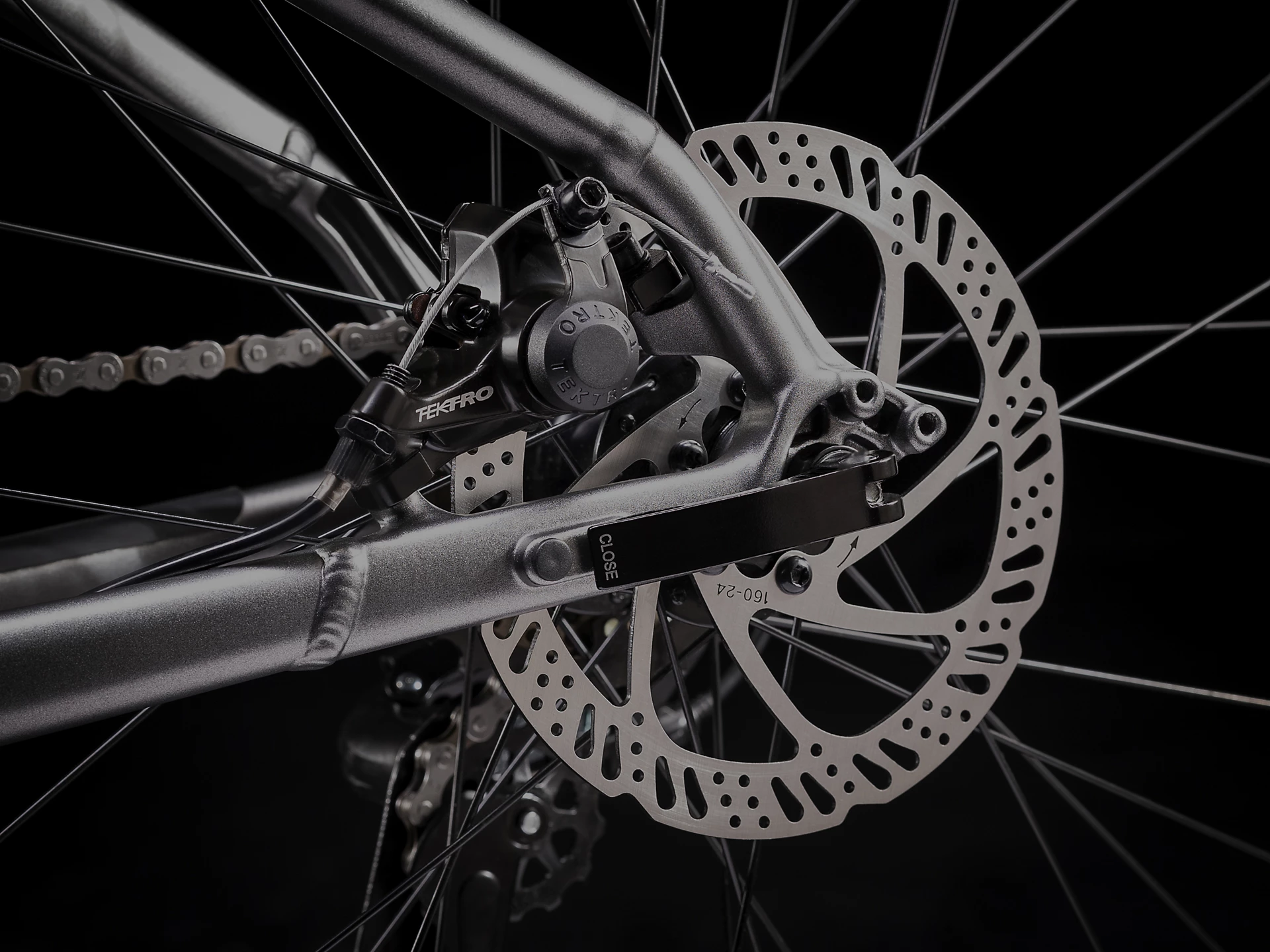 Next to the frame balance and weight, brakes are possibly your most important feature, and they might be more important than the frame quite frankly. Brakes are your number 1 safety feature, and it's important to have great brakes in good working condition to make sure you always have firm control of your bike. 
The Marlin 4 comes with a set of Tektro mechanical disc brakes which are, overall, a great option in this price range. They aren't quite as effective as the more advanced hydraulic disc brake design, but they are still more responsive than linear-pull brakes. 
Mechanical disc brakes are also less prone to getting gravel stuck and potentially damaging both the brake and the rim, which is definitely a big concern for most mountain cyclists. These brakes will need less maintenance and are much less likely to be the reason you're walking beside your bike, than linear-pull models. 
It's nice for an affordable bike to see this kind of adaptation included even on the more budget-friendly models in this line. 
| Feature Type | Feature Specs | What This Means |
| --- | --- | --- |
| Frame | Alpha Silver Aluminum, internal routing, disc brake mount, rack and kickstand mounting locations | This is a good frame overall despite being a little on the heavy side. Its internal routing will keep your bike working longer and with less maintenance, while the impressive balance and durable alloy both make riding easier and more enjoyable. |
| Suspension System | SR Suntour XCE 28 suspension fork | The suspension is a little light on this model, which makes for a bumpier, earthier feeling ride. Still very manageable and suited to a wide range of trails, including fairly advanced technical trails. |
| Wheels | Bontrager Connection, double-wall, 32-hole, 20mm width, Schrader valve, Bontrager XR2 Comp, wire bead, 30 tpi, 27.5×2.20" | Durable rim and spoke design combine with good grippy tires for a basic wheel set up that caters to beginning riders and intermediate experience ready to start learning some more advanced riding techniques. |
| Gears | Shimano Altus EF500, 7 speed, Shimano Tourney TY300, 34.9mm clamp, down swing, down pull | Fewer gears mean less versatility on the trail, but also less chance for mechanical failure, jamming, or inefficient use of the drive train. Not great for gear lovers, perfect for cyclists who like a simpler kind of ride. |
| Brakes System | Tektro MD-M280 mechanical disc, 160mm rotor | Mechanical disc brakes are great for trail riding and offer reasonable all-weather performance. They are less likely to get fouled with debris, but it's important to get regular maintenance to keep them working properly. |
Social Proof
Overall cyclists rocking the Marlin 4 tend to say the same thing. It's a great bike at an affordable price point, but that doesn't mean it's a fantastic bike. If you're looking for a good beginner or intermediate option, working with a tight budget, and don't mind losing some of the bells and whistles of more expensive models, Marlin 4 is the right bike. 
If you're expecting competition level performance and to be a pro rider three days after opening the bike you might be better off with a more expensive model that offers more features and versatility.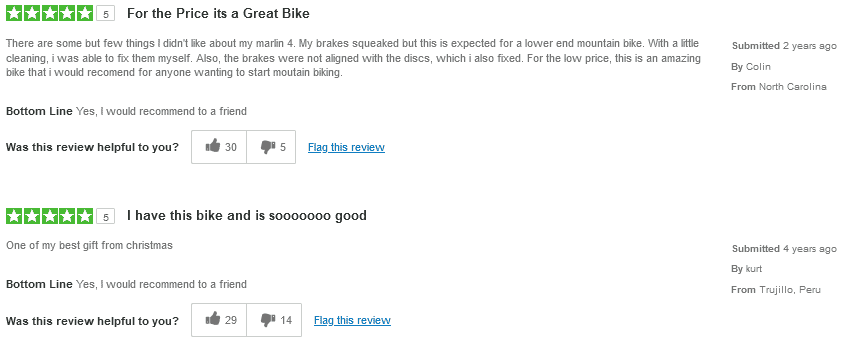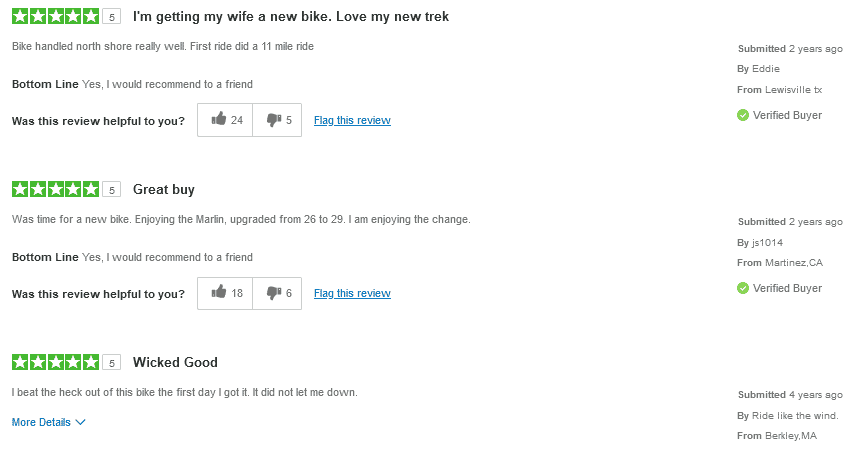 Alternatives
Of course, the Marlin 4 has quite a bit of competition, specifically from other bikes in the Marlin line! We've also decided to compare the Marlin 4 to a similar bike from another manufacturer to see how it holds up and help you decide which model is the right choice for you. 
Trek Marlin 4 vs Marlin 5
The Marlin 4 and the Marlin 5 are remarkably similar beasts. Both models use the same basic frame, wheel components, and have similar forks. However, the Marlin 5 does offer an expanded drivetrain of 21 gears. 
The Marlin 5 also features upgraded hydraulic disc brakes, but they are similar enough that the two brake designs offer similar performance value. 
Overall, the Marlin 4 is probably the better option if you don't mind having a more limited gear drivetrain. But the Marlin 5 is only slightly more expensive, so it's worth the upgrade if you prefer bikes with more gear options. 
Trek Marlin 4 vs Marlin 6
Unlike the Marlin 5, there are a few more upgrades when you're talking about the Marlin 6. Again, both bikes use the same frame and the same basic wheel design. 
However, in addition to using the upgraded gear system, the Marlin 6 also offers a slightly better suspension system that's designed to help smooth out the trail a good bit more than the suspension on the Marlin 4. It's still just a front suspension system, but a little extra travel in the fork goes a long way. 
That said, the Marlin 6 is the more expensive of the two by a fair amount. It's worth the extra money, but the Marlin 4 is still a fine bike if you're on a tighter budget. 
Trek Marlin 4 vs Giant ATX 2
The Trek Marlin 4 is again a very similar model to the Giant ATX 2. The ATX 2 also uses an internal routing system on the frame, and weighs about the same as the Marlin 4. Its balance point is similar, though it's a slightly less aggressive bike thanks to the smaller wheel sizes. 
However, while less aggressive, those smaller wheels also mean more tire variety, making it a good option for cyclists who want selection or looking for something other than standard mountain bike tires for their new ride. 
The fork on the Giant ATX 2 also has slightly less travel room, making for a bumpier ride. 
Overall, we'd say that the Marlin 4 is a bike that will do just a little more than the Giant ATX 2, including that it will match your skill better longer. However, the Giant ATX 2 may be the better bike for beginners who don't want an aggressive design on day one. 
Conclusion
The Trek Marlin 4 might not be a bike you want to take to a championship race or marathon, but it's not supposed to be that kind of bike. It's designed to be a good starter option and a functional mountain bike for riders on a budget. The design is simple, as are the features, but effective. 
Overall, this is a good option for a starter bike, an intermediate bike, or a bike for family members who aren't all that sure of mountain biking yet.