Hey Biker, Welcome to my Trek Marlin 6 Review of 2021. 
I have used dozen of bikes over the year and I going to help you with picking your next bike.
Trest me, you don't want to waste over $500 on a bike that will not fit you. If I were you, I would go with one that looks professional and fun to drive. Let's start our review.
Overview
The Marlin 6 is solidly in the middle of its line as a good entry-level mountain bike for beginners. It's not really designed for more advanced cyclists to use, though it is a good all-purpose bike as long as you don't want to push it too hard. 
This bike is a value mountain bike that works well for most trails, has good suspension, and comes with a relatively hardy tire and wheelset that holds up well enough for most cyclists. 
Things to Consider Before Buying a Mountain Bike
Mountain bikes are a fairly specialized kind of bike for most consumers. They are good all-rounder bikes if you're looking for something that can handle a wide variety of terrain types and can handle mild jumps and bumps along the trail. However, that doesn't mean that mountain bikes should be treated as a good bike for everyone. 
Why aren't mountain bikes a good all-rounder bike?
Because their specialized design means that features like suspension and a heftier frame get all the manufacturing budget while streamlining the design and other speed features tend to be less of a priority. 
If you're looking for a road bike or a commuter bike you won't get the same fast performance and quick stopping power from a mountain bike. There are some more generic all-rounder bikes available, but don't make the common mistake of thinking that mountain bikes are one of them. 
Features & Benefits
Like all mountain bikes, it's important to look at the individual features and benefits that come with the Marlin 6. This is where the Marlin 6 really differentiates itself from the other bikes in the Marlin line, as well as from other entry-level mountain bike designs. 
Frame
The Trek Marlin 6 is a bike that comes in two different framesets, one for men and one for women. The main aesthetic differences between the two designs are color, though the women's frame does have a slight drop in front of the saddle to make mounting easier. 
Both frames are made from Alpha Silver aluminum. That alloy is one of the better lightweight and high-density options for bikes, though it is a little more prone to damage than the Alpha Gold aluminum found on some other Trek bikes. 
Both frames are fairly rugged, able to handle small jumps, and the routine bumps and bruises of any mountain trail. However, the frame is a little less responsive to user control and may not be able to hold up the extreme pressures of a highly challenging technical trail. 
Overall, this frame is good for getting you up to speed and learning mountain biking techniques, but it won't be enough to help you with the most advanced trails or to take you to the competition level. 
Suspension System
Like most beginner mountain bikes, the Marlin 6 relies on a suspension fork for its suspension, without too many other adaptations to minimize trail vibration and other jostling on the trail. It's enough to give you a reasonably smooth ride, but not enough that you'll forget you're riding a mountain trail. 
The suspension lock-out mechanism does let you eliminate the suspension entirely whenever it's not necessary, and to limit the function of the suspension when it's full range of motion isn't helpful. 
Suntour's XCT suspension fork is very durable. It's a common choice for beginner mountain bikes because it's very affordable, but also very durable without a ton of maintenance. 
More: Diamondback Bicycles Lux 3 review: Is It a Good Hardtail Mountain Bike To have
Wheel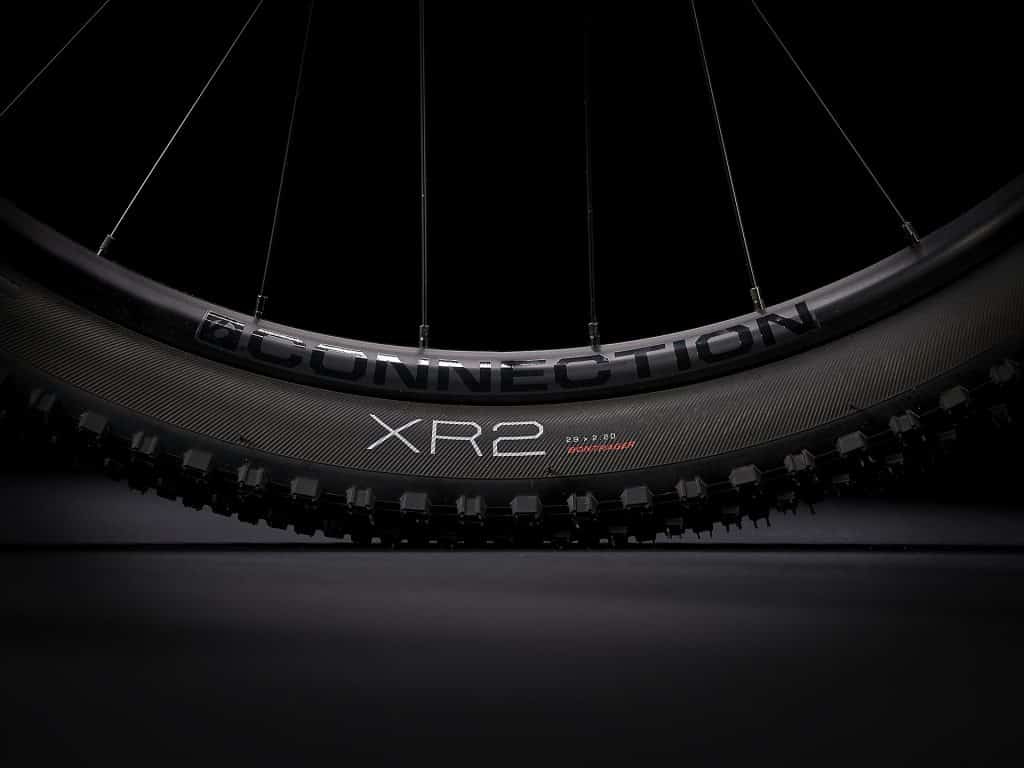 Wheels are exceptionally important for mountain bikes because the wheels and tires are your first line of defense against bumps and jumps and determine how well your bike will perform under stress. The Bontrager rims are well designed to handle the stress of mountain trails, with durable spokes and double-walled rims that help eat bumps. 
The Bontrager tires are also reasonably grippy and work well for all-terrain use. They are also damage resistant which helps avoid flats and other damage that can force early replacement. However, you may still want to upgrade to a better tire set quickly. 
Unfortunately, these rims are not tubeless-ready, so you won't be able to put a more suspension heavy and durable tire design on the wheel without also upgrading the rims. 
Gear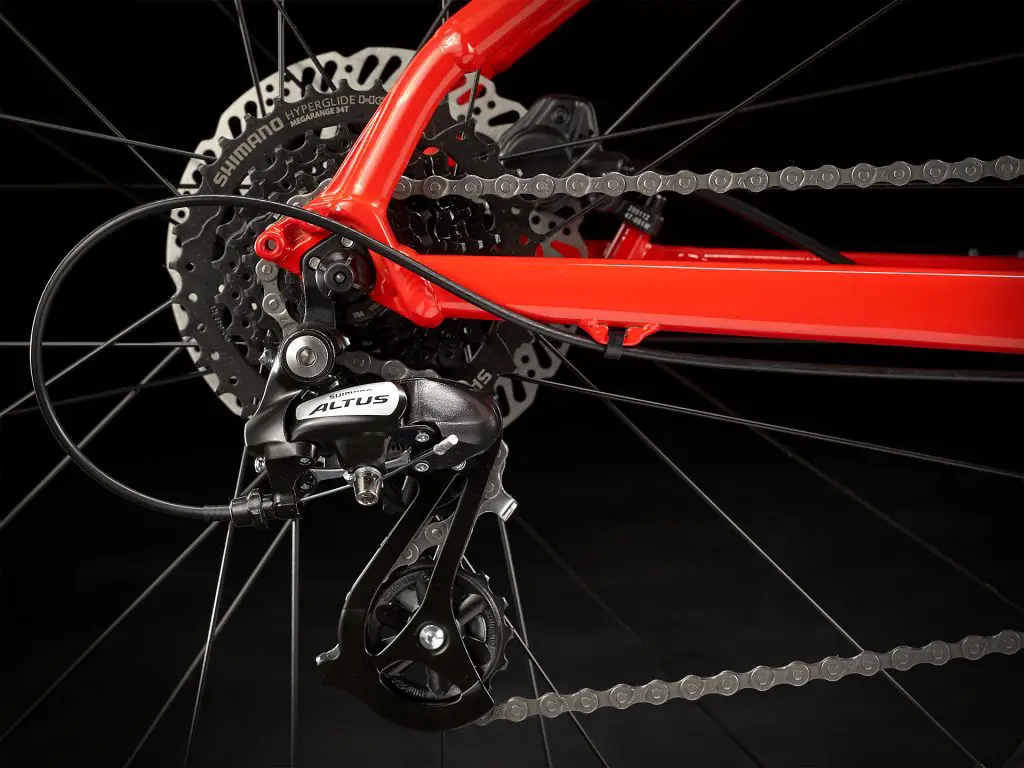 The gearing system on the Marlin 6 is about what you would expect. However, it's nice to see that they did opt for the Shimano gearing system. The Altus drivetrain might be one of Shimano's entry-level drivetrains, but it's still got the high quality and expertly calibrated design you expect from Shimano. 
The Altus 8 gear system is more than flexible enough to help a beginner get their feet under them and learn how to adjust the speed and flexibility of the bike. It's a little more limited than you'd want on a more advanced mountain bike. But, for a beginner's mountain bike like the Marlin 6, it's perfect. 
More: Discover the Best Full Suspension Mountain Bike Under $1000
Brake
The last thing you really want for a great mountain bike is a great bike system. Fortunately, this is one area that the Marlin 6 isn't using beginner components. The Tektro hydraulic disc brake might not be one of the more advanced models Tektro offers, but it is one of the more advanced types of brake you can get. 
Hydraulic disc brakes are great for all-weather performance and they are more consistent than other brake types in all-terrain conditions. It's incredibly difficult to jam this style of brake thanks to its design and high responsiveness. 
Tektro is also a fantastic brake manufacturer, so it's nice to see Trek has continued to use its components for the 2021 fresh release of this model. 
| Feature | Specs | What it Means to You |
| --- | --- | --- |
| Frame | Alpha Silver Aluminum, internal routing, disc brake mount, rack, and kickstand mount | Both of the frames for this bike are well designed to be a stable enough frame for a beginner but are slightly less well optimized for an advanced cyclist. We appreciate that there are men's and women's versions because it makes this bike more accessible to more people. |
| Suspension System | SR Suntour XCT 30 suspension fork | The Suntour fork is a good beginner option that offers reasonable suspension for most mountain trails but also lets you lock out the suspension when it isn't needed. |
| Wheels | Bontrager Connection, double-wall, 32-hole, 20mm width rims, Formula DC-20 and D-22 hubs, Bontrager XR2 Comp MTB Tires | The wheels are reasonably durable overall, but they aren't tubeless-ready, so you are limited in tire choice. That's alright since beginners are unlikely to need the benefits that a tubeless tire brings. Double-walled rims and good hubs also add to the durability of this design. |
| Gear | Shimano Altus M315 shifter with Shimano Altus M310 Derailleur | The Altus system might be a little more limited than most Shimano shifters, but it's more than enough to help you get used to mountain biking and shifting on trails. |
| Brake System | Tektro HD-M276 hydraulic disc OR Tektro HD-M275 hydraulic disc | Hydraulic disc brakes are a great choice for all-weather and all-terrain bike use. These are a great choice for mountain bikes, and very responsive. |
Social Proof
Cyclists using this bike are generally very pleased with its performance. It's not a great bike for experts but it's a good option for almost all beginner mountain bikers. It's designed to handle trail riding relatively well but does have performance issues for those riders who have tried to take the Marlin 6 out on a technical trail. 
Alternatives
Of course, there are several other bikes in the Marlin line compete with the Marlin 6, along with a few other bikes that are similar but not quite the same. If you're not sure whether the Marlin 6 is for you, these reviews should help you decide. 
Let's see how the Marlin 6 holds up to its competition:
Trek Marlin 6 vs Marlin 5
The Marlin 5 is a slightly less advanced bike than the Marlin 6 bike in several respects. There are a lot of similarities of course since both bikes share the same frame material. Both bikes are also available in both men's and women's specialized frames, each with their own color choices so that you can customize your bike to suit your personality a little more. 
The Marlin 5 drivetrain is a Shimano 2×7 gear system vs the Marlin 6's Shimano 2×8 system. That means that the Marlin 5 is a little more limited in movement and a speed variability. Depending on the rider that may not be a bad thing, but it can be an advantage for cyclists who would rather focus on other aspects of mountain riding skills. 
Both bikes offer great hydraulic disc brakes, which is important for all-weather all-terrain mountain bike performance. 
For the $100 or so difference between their prices, we'd say that the advantages of the Marlin 6 are worth it, but the Marlin 5 is still a fairly solid option for cyclists on a budget. check our details review of Trek Marlin 5
Trek Marlin 6 vs Marlin 7
The difference between the Marlin 6 and the Marlin 7 is just about as significant as the difference between the Marlin 5. 
The Marlin 7 might only be about $100 more than the Marlin 6, but that $100 gets you a bike that's just about race and competition-ready vs a bike that really isn't designed for a competition setting. 
Some of the advancements are subtle, like an improvement in the aluminum alloy used for the frame. Other improvements, like the 2×9 gear system, are much more noticeable. They've also upgraded the suspension system to a RockShox fork instead of a Suntour fork. The difference is a much smoother ride, with the same lockout option. Check our detailed review of Trek Marlin 7.
Trek Marlin 6 vs Specialized Pitch 
The Marlin 6 and the Specialized Pitch are both fairly similar lightweight aluminum bikes. But the Specialized Pitch is a little more streamlined with a chunkier tire and a more aggressive rider position. 
Overall, these bikes are similar in price and function but targeted for very different kinds of riders. The Specialized Pitch might be a beginner bike, but it's also designed to be a more aggressive bike both in speed and cornering performance. 
That means that the Specialized Pitch is a better option for cyclists who are looking to push the limits of their bike, while the Marlin 6 is a better option for cyclists who want more of a universal design that will help them develop and find their riding style. 
More: Discover the Best Hardtail Mountain Bike Under $1000
Trek Marlin 6 vs Giant Talon 3
One of the biggest differences between the Trek Marlin 6 and the Giant Talon 3 is that the Talon 3 is exclusively a men's bike, while the Marlin 6 is available in both men's and women's versions. 
The Marlin 6 is again the slightly less aggressive bike of the two, while the Giant Talon 3 gives you a slightly more aggressive rider position and Talon set overall. 
Both bikes give you a Tektro hydraulic disc brake though, which is critical for the bike's performance on any mountain trails. 
Like the Specialized Pitch, the main differentiation between the Marlin 6 and the Giant Talon 3 isn't price or quality, it's the target audience. The Marlin is more generalized while the Talon is more aggressive and a little more streamlined. 
Conclusion
Overall, the Trek Marlin 6 is a good bike for most mountain biking beginners. It's strong enough to hold up to basic trails and even moderately difficult trail, and the design is general enough to make it easy to learn. It's also a flexible bike that's well suited to people who don't yet know what their riding style is. 
It's not a great bike for cyclists who are looking for a more advanced all-rounder, but that's not a bad thing for a bike that's been specialized for beginners like this.