When it comes to mountain biking, it can often feel like there are tons of options for men and even a wide variety of unisex bikes, but not nearly as many options for women's specific bikes. That can make it harder for less aggressive women riders to get into this fantastic sport since men's bikes are built with different proportions and more aggressive rider position in mind. 
Fortunately, Diamondback's Lux line is an answer to those problems. Designed for less aggressive women riders, but with all the features and adaptability you would expect from a great mountain bike. This line really shines on the trail and can be a great introductory bike. 
Don't think that the Lux line is just for beginners though. These bikes are perfect for any cyclist who prefers a less aggressive rider position and who wants to have the benefits of better suspension and a great frame for women. 
In this review, we'll be looking specifically all the Lux 3, a more advanced version of this bike than the previous two. But are the improvements worth the higher cost? Do the new components mesh as well as previous versions of the bike? That's what we're testing. 
Overview
Diamondback Bicycles Lux 3
One of the first things people tend to notice about the Lux 3 is its relatively upright rider position. With only three sizes it's easy to get a more aggressive position by ordering a size up, or a more relaxed position with a size down, but none of these bikes are going to give you the extreme aggression of a racing bike. 
The Lux 3 is an 11 gear bike, as opposed to the 18 gears of the Lux 2, features the same hydraulic disc brakes as the Lux 2, but with a significantly upgraded suspension system courtesy of the Rockshocks fork. 
This newer model also offers a wider handlebar, which gives the rider the option of being a little more aggressive when they want to be. 
The slightly larger tire size is also a nice adaptation on this model, giving you a little more power and speed without putting a lot of burden on the rider. 
All in all, it's got some important and worthwhile improvements over the older versions in this line. More importantly, the new component set seems to work well for the vast majority of riders. 
Things to Consider Before Buying a Mountain Bike 
Mountain bikes are specialized machines. While many people consider mountain bikes one of the more versatile designs (after all, you can ride a mountain bike on pavement, but a road bike will struggle on a mountain trail), they do have some drawbacks and tradeoffs for their extreme mountain durability. 
These bikes are meant to give you a smoother ride, help you recover from catching some air on the trail, and to handle the occasional jump or serious bump in the road without any problems. 
But they aren't up to the kind of speed you can get from a road bike or even a commuter bike. You'll also be paying for a lot of adaptations that are specific to mountain riding but won't offer a ton of benefits if you're riding in the city more often than anywhere else. 
Entry-level mountain bikes are a little more versatile, mostly because you won't be paying for the higher end components of a great mountain bike. Still, when you're looking at a mid-range bike like the Lux 3, its worth considering whether you're hitting the trails or going somewhere else with your bike. 
If you're looking for a great women's mountain bike, you're in the right place. If you're looking for a streamlined racer, you might be better off with a different option. 
Features & Benefits
We've already gone over some of the features and advantages of this bike as a whole, but a bike is more than just the sum of its parts. It's worth looking at some of the parts individually to see what you're going to be working with. 
We'll highlight the strengths of each part of the Lux 3, as well as any weaknesses. That way, you'll have a more accurate idea of what you're getting and what kind of maintenance you need. 
Frame
The Lux line has its own specially designed aluminum frame. It's a double-walled frame for added durability, and the aluminum itself is surprisingly light. That means that you'll get a lot of work out of this frame, and it won't weigh you down while you're riding. 
At under 29 lbs, this frame is slim enough to rival significantly more expensive frames, and it's nice to see a lighter option in this price range. Weight is an even more important consideration in a women's bike since reducing the weight of the bike can help riders perform without having to work too hard in the process. 
This frame also gives you a less aggressive rider position. That means a slightly more back-friendly upright position. However, it also means a good bit more wind-drag that can cause slowdowns on the trail. 
The biggest problem with this slimmed down and lightweight frame is that it doesn't have any kind of internal routing. Internal routing allows the wires for each component to run through the frame instead of outside it. 
Many cyclists prefer internal routing because it looks cleaner on their bikes. But the much more important aspect of internal routing systems is that they protect the wiring and help your components last longer. 
Since this bike doesn't have internal routing you will need to plan on more regular maintenance. You may also need to replace the cabling on the bike slightly more often than you would on a bike with an internal routing system. 
All in all, this is a good frameset for most cyclists. But we would like to see a couple of improvements to call this a truly great bike. 
Suspension System
The suspension is critical to the performance of a great mountain bike. It's what absorbs the impacts on the trail and makes it possible to keep tight control of the bike without causing problems for the rider. Good suspension also helps to reduce rider fatigue, letting you ride longer trails with less effort. 
The main aspect of the suspension system in this bike is the Rockshoxs Judy Air fork. This fork helps to absorb a ton of the impact from the front end of the bike, where you're most likely to feel the bumps and bruises of mountain trail riding. 
It's 120 mm of travel, up from 100 mm of travel space on the previous version, is enough to help with even the worst a trail can throw at you. It's also enough to make jumps and catching air a lot more attractive, even for novice riders and riders that tend to be more cautious on the trail. 
It has a good rebound system, which is important for making sure that you don't lose control while riding and don't get shaken by your own suspension. 
More importantly, this suspension system also has a lockout feature. So you can control the performance of the fork on a much closer level, even preventing the fork from traveling when you want to feel the trail. 
The saddle post also helps reduce vibration, though it's a small enough aspect of the suspension that it doesn't make much difference overall. 
More: Diamondback Release 3 Reviews: Worth Buying?
Wheel
The wheels on this bike feature Diamondback's own double-walled rims. While these rims aren't quite as effective as the Bontrager rims that are common on a lot of the Lux's competitors, they're still an exceptionally durable and effective design. 
That double-walled design also helps to prevent warping, an important consideration when you're ready to start tackling more technically challenging roads. 
The spoke design on this bike is good. It's durable enough to meet the challenges of a trail without being too stiff or transferring too much of each impact up the fork and into the rider. 
We also appreciated that this bike comes with a set of reasonably grippy tires and that the wheels are a common enough size that there is a wide range of tire selection when it's time for new. 
The biggest drawback of these rims is that they aren't tubeless-ready, so you'll have to replace the entire wheel if you want to upgrade to a tubeless trail tire. 
Gear
The Lux 3 has decided to go with a slightly simpler gearing system than previous versions, with only 11 gears. However, the SRAM GX shifters and derailleur still perform incredibly well, which means that the simplicity of this design may actually be an improvement over the higher gear counts and more complicated drivetrains of the past. 
The 11 gears on this bike give the rider the versatility they need to give themselves a little more power when they want to, or to ease off a more a little more slowly when necessary. 
This system is good for beginner cyclists and a learning system while being advanced enough that experienced cyclists will still love working with this system. 
More: Diamondback Atroz 3 Review: is It Good Entry-Level Mountain bike
Brake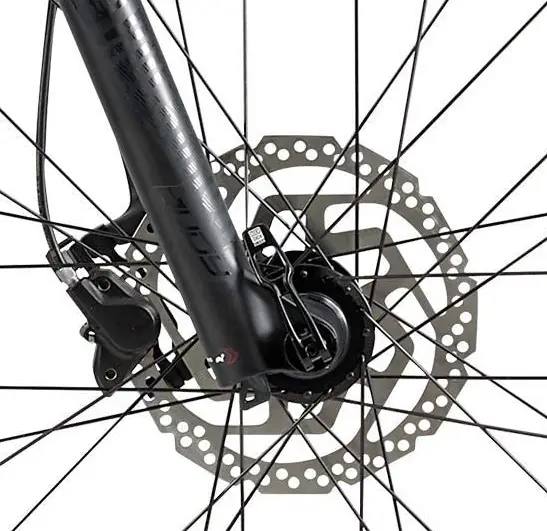 Brakes are one of the most important components of any bike, but they can be even more important on mountain bikes since you never know what might be around the next corner. 
That's why we so appreciated seeing a hydraulic disc brake system installed on this bike in the last two versions. Shimano's brakes are excellent, and the power of a hydraulic disc brake gives you a ton of control and a lot more stopping power than a traditional v-line lever brake. 
More importantly, hydraulic disc brakes are much more responsive than traditional brakes. You'll get a lot more braking power with a lot less hand pressure. That means less hand fatigue, a much more control late in a long trail ride. 
More: Diamondback Atroz 2 Review: Worth a Buy!!
| Feature | Specs | What it Means to You |
| --- | --- | --- |
| Frame | Luz 27.5″ Aluminum Frame | This frame's less aggressive design means that it's not great for people who want to ride as fast as possible, but it's a fantastic option for less aggressive riders who are just looking to enjoy the trail. It's women-specific design also means that this bike will be significantly more comfortable for most women. |
| Suspension System | RockShox Judy Silver TK air fork, 120mm travel space | The impressive 120mm of travel on this fork is a great addition if you're looking for a smooth and enjoyable ride. It absorbs a ton of shock and is even great for taking your bike through the air for a moment. |
| Wheels | 27.5″ Tires, Double-walled rims, not tubeless ready | These wheels are a common enough size that you have plenty of tire options, big enough to be considered relatively aggressive and powerful on a trail, and durable enough to handle even the most advanced mountain trail riding. |
| Gear | SRAM GX shifters and derailleur | SRAM isn't quite the best when it comes to shifters, but it's a thin margin. Their 11 gearing system and complete SRAM GT drivetrain is a huge asset on this bike because it moves smoothly and has the flexibility you need without a ton of complications from too many gears. |
| Brake System | Shimano Hydraulic Disc Brakes | The disc brakes on this bike really are the shining star of the whole system. Easy to use, requiring very little hand pressure and minimal maintenance, these brakes will keep you on the trail a lot longer. |
Social Proof
Riders on this bike tend to fall into two camps, they either love the less aggressive design and think that it adds a lot of variety to mountain bike offerings for women. Other riders think that this bike is too conservative and simply won't reach the speeds and tight-turn potential that they are looking for. 
So, it's incredibly dialed in for the less aggressive or less experienced rider, but may not be ideal for a cyclist that's looking to tear up trails on a more aggressively styled bike. 
Conclusion
Like all mountain bikes, the Lux 3 is very specialized. We can't fault this women's bike for being a less aggressive version of a mountain bike because that's exactly what some riders are looking for. 
Instead, we think that the details on this bike from top to bottom make it one of the better options if you're looking for a more moderate riding bike. 
There is one other improvement it would be nice to see that we haven't mentioned so far: more size options. While you can get a fair amount of play by raising and lowering the saddle and handlebars, it would be easier to get a good fit if the frame came in just a few more sizes. 
Still, this mountain bike is a fun and effective women's bike, and we couldn't recommend it more to the right kind of rider.