Diamondback is known for its wide selection of mountain bikes, including premium models and more affordable entry-level choices. All their bikes are designed with features like sealed cartridge bearing pivot, to offer the best possible performance in their price range, and it's no wonder that the brand has become a consumer favorite. 
The Atroz 3 is one of their more advanced entry-level bikes. In this review, we'll take a close look at the features and benefits of this bike model, along with a couple of comparisons with similar bikes.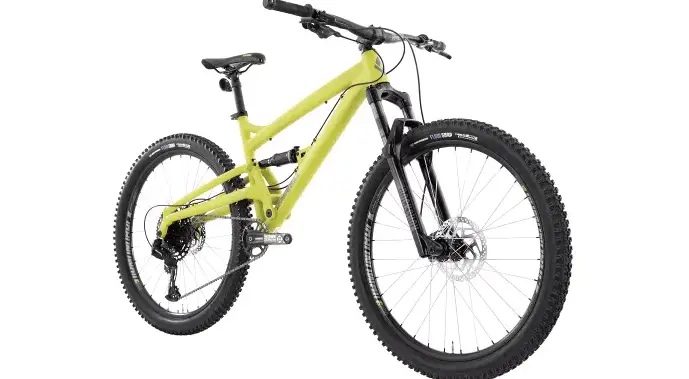 Overview
Atroz 3 is at the high-end of an entry-level mountain bike. More than $1k, but less than $2k, it's a reasonably affordable choice for mountain bikers who want a little more oomph but aren't ready to shell out the money for a premium bike.  This bike model have the best features, such as sealed cartridge bearing pivot, sync'r saddle seat tube routed, quick release thru axle, race face chester bar, solid bike stand and a strong frame. And all of it is an affordable price as well.
It is worth noting that the price on Atroz 3 has long fluctuated. It's worth keeping an eye out for a deal if you're considering this model, since the price can move up or down every few weeks, depending on demand and weather conditions. 
This mountain bike isn't as flashy as a lot of other models, with a design that focuses more on function than on using the latest frames or newer aerodynamic design principles. That said, it still offers a surprising combination of features for bikers willing to look past the surface. 
Things to Consider Before Buying a Mountain Bike
Mountain bikes are some of the most durable, hard-wearing, and flexible bikes out there as these obtain features like sync'r saddle seat tube routed, bike seat angle, single ring drivetrain, low gearing, etc. And since they are designed to handle the difficult terrain and adverse conditions on a mountain trail, your average mountain bike can handle a huge variety of terrain and weather. 
However, the increased durability and versatility of a mountain bike usually comes at the cost of speed. Features like flexible seat tube, optimized single pivot, stopping power, low gearing (you will need to use a front derailleur), rear shock, makes it a great beginner bike. The difference between two mountain bikes might be a tiny thing, mostly down to weight and how technically skilled the rider is. But a mountain bike will almost always be noticeably slower than a road bike, or even a commuter bike if you're looking at top speed. 
Mountain bikes are best suited to people who really want to go trail riding, cross-country riding, and mountain riding of course. 
If you're looking for a commuter bike or something to take to your local bike race, you're probably better off with a lighter bike design that's more specialized for speed. 
But, if you're looking to grind your way down a dirt and gravel trail, tackle switchback turns and jump over fallen logs and rocks, a mountain bike is the only way to go. 
Features & Benefits
Dimondback Atroz 3
Bikes are more than just the sum of their parts, but it's still important to take a look at every aspect of a bike before you buy it. We'll go over all the most important features of the Diamondback Atroz 3 in this section. 
Frame
If you're looking for a lot of flash on your bike, this system probably isn't a good fit. Atroz 3's frame isn't much to look at. Geometrically it's a little old-fashioned. Aerodynamic, but not as well optimized as it could be. Functional, but without much in the way of stylish flair. 
Beyond the aesthetics of the bike, it uses an aluminum frame. That's a reasonable compromise between weight and durability, without the higher price point for a lighter carbon frame. It's a responsive frame that won't weigh you down much, even as you grid through curves. 
However, it is worth noting that the frame puts you in a slightly different rider position than many other mountain bikes, and it can feel a little strange the first few times you take your Diamondback Atroz 3 up an incline. 
This bike also doesn't feature an internal dropper post. The quick-release lever on your sync'r saddle post is a reasonable alternative, and making adjustments on the trail isn't too difficult, but it can make transitions a little more difficult than if you had a fully functioning internal dropper post. 
Overall, the frame on this bike isn't anything special. Fortunately, the Atroz 3 shines in other categories more than it does here. 
More: Schwinn Sidewinder Review: Is It A Good Entry Bike?
Suspension System
Suspension is one of the more important features on a mountain bike, especially if you're hoping to avoid being sore after your first few trail rides. Suspension on your mountain bike can also help the bike itself last longer since your suspension will be absorbing impacts instead of the frame itself. 
Unlike many entry-level mountain bikes, the Atroz 3 is a full rockshox affair as it offers both front and rear suspension. The result is a much smoother ride, even though neither suspension system matches the suspension of a premium bike. 
The solo air fork provides most of the suspension up front. A RockShox Recon RL Solo Air fork with 130mm of travel, it's a good option for absorbing the worst of an impact. It's also responsive enough to help smooth out rough terrain, including washboarding, gravel, and freshly exposed rock beneath the trail. 
The fork also has a lock, letting you control the amount of shock absorption and rebound for a more customizable ride. The added flexibility and the race face chester bar as well, increases the kinds of terrain and trail the Atroz 3 can safely tackle. 
In back the Atroz 3 rocks a Rock Shox Monarch R, Air Shock, also with a rebound lock for fine-tuning performance. The air shock and the rockshox affair in back really helps improve rider experience on this bike and will help reduce joint stress and fatigue on your longer rides.
More: Trek X Caliber 7 Review: Is It A Good Bike To Buy?  
Wheels
The Diamondback Atroz 3 has standard 27.5″ wheels, with double-walled rims for added durability. The narrow wide wheels themselves have a durable spoke design along with sealed cartridge bearing pivot, that's incredibly unlikely to give out, even on the roughest terrain types. Entry-level bikers will have the best time riding and maintaining this bike as well, as it has a quick release thru axle.
The size also gives you a lot of play when it comes to different tires and designs, though the bike isn't designed for fat tires.
The biggest downside to this standard size is that it isn't quite as aggressive or fast as 29″ wheels. Unlike some other mountain bikes in a similar price range, all Atroz 3 bikes come with these wheels, regardless of frame size. 
Still, most entry-level mountain bikers won't notice any lack of aggression or speed with this design. 
The tires that come with the Atroz 3 are also workable, though they aren't a standout feature. The tread is good and offers a lot of traction and maneuverability. But the rubber itself isn't very grippy, which means that you'll be working a little harder to keep control of the bike or to bring it out of a skid. 
The outer nubs of the tire tread are also slightly less effective than we'd like, and a prone to folding on tight mountain curves. It's not unmanageable, but you'll be working around your tire capability instead of with it. 
Still, the standard sizing of the narrow wide wheels makes it simple to upgrade your tires to a better option, and there's plenty of room for large tread considering your fork clearance. 
More: Diamondback Release 3 Reviews: Worth Buying?
Gear
The SRAM 11-speed gearing system isn't quite as versatile or smooth as some alternatives, and it would have been nice to see a slightly higher quality component at this price range. However, the system performs is an improvement in a big way in most circumstances. 
More importantly, the system is very beginner-friendly, with smooth enough shifting and enough flexibility to let you start learning how to navigate and control your bike over more technically challenging trails. 
We did appreciate that the SRAM system is well matched from the shift lever to the derailleurs, giving it better performance specs than most mismatched systems. 
More: Best Folding Mountain Bike On The Market [Reviews And Buying Guide]
Brake
Brakes are another place where the Diamondback Atroz 3 excels. The Shimano hydraulic disc brakes are impressively consistent, offering a lot of stopping power and fine-tuned control. These are exactly the kind of brakes we have come to expect from Shimano, which is to say that they're among the best brakes with quality rear rotors you can get for the price. 
You won't need to worry about shuddering or brake failures as long as you remember to get regular tune-ups and replace the brake pads as needed. 
Overall, these shimano hydraulic disc brakes are an impressive addition, and one of the best features of the whole bike. 
More: diamondback bicycles overdrive 29 3 review: Is A Good Mid-level Bike?
| Feature | Specs | What it Means to You |
| --- | --- | --- |
| Frame | Atroz 6061 T-6 Aluminum 27.5 | Aluminum frames aren't quite as light as carbon frames, and this one isn't as aerodynamic as some. Still, it's hard-wearing, with good proportions and a comfortable riding position for most bikers. |
| Suspension System | Rear Shock: Rock Shox Monarch R, Air Shock w/ Rebound Adjust, 184x44mm, Fork: Rockshox Recon RL, Solo Air, 130mm Travel, 32mm Stanchions | A full suspension system with air shock means that you'll have a much smoother ride, regardless of terrain conditions.This set has a lot of play but still offers good responsiveness and control. |
| Wheels | 27.5 Trail w/ 4″ travel | Standard wheel sizes mean more tire choices. This set is balanced between aggressiveness and finer control, a good choice for beginner riders, and more conservative cyclists. |
| Gear | SRAM NX X-Horizon, 11 Speed | 11 speeds are slightly less than what you can get at this price range, 12 being the average. But it's still a lot of flexibility and control, and a good starting gear set. |
| Brake System | Shimano MT200 Hydraulic Disc, w/ 180mm Front and 160mm Rear Rotors | The brakes on this bike are excellent, offering smooth performance and high consistency, regardless of weather and terrain conditions. |
Social Proof
We've noted a few problems with the Diamondback Atroz 3, but users tend to think that the advantages of this system outweigh the cons. It offers consistently high-performance specs and moves better than we expected from an entry-level model. 
While you might be able to find a few great bikes that are better designed in the same price range, there are some definite advantages to this bike. 
Not least are the many riders who've blown past cyclists on more expensive models who had to slow down or even walk their bikes over terrain that the Atroz 3 eats like candy. 
Alternatives
Diamondback Atroz 3 vs Diamondback Atroz 2
Like most comparisons between two models of the same line, these Atroz bikes have some notable similarities mixed in with a few key differences. They feature the same aluminum frame. 
On the Atroz 2, this frame was considered one of the better options in its price range, but it's a little outdated by current standards. However, it's a responsive frame, durable, and both models have good rear shock suspension. 
Some minor improvements to Atroz 3 do mean that it the suspension system has improved in a big way than the other two. 
Both bikes are equally aggressive, with the same wheel size and similar tire sets making them mostly comparable. 
While normally we look for Shimano shifters as a mark of a high-quality bike and the narrow wide feature, in this case, the Atroz 3's slightly more advanced SRAM system wins over the Atroz 2's Shimano Acera set. It would have been nice to see a better Shimano set on the Atroz 3, but the SRAM 11-gear system gets the job done. 
If you're looking to save on your mountain bike, the Atroz 2 is almost as good as the 3 and more affordable. But the improved components are worth the price if you can afford to get the 3 instead. 
Diamondback Atroz 3 vs Stance 2
When it comes to the Atroz 3 and the Stance 2, the first thing most riders notice is the huge difference in looks. For bikes in this price range, the Stance 2 is very flashy, while the Atroz 3 is rather plain. 
Both bikes offer similar core features. They both have an aluminum frame with full rear shock suspension. Both feature Shimano disc brakes with quality rear rotors and have similar braking performance on the trail. 
However, while the Atroz is a full rockshox affair and can be fairly accused of having an old-fashioned design, the Stance has a much more modern design. It's also compatible with wide tubeless tires, which give it a smoother ride overall despite similar suspension specs. 
We also liked the starter tire set on the Stance a little better than the tires on the Atroz. 
Considering the similar price point, we'd probably recommend the Stance over the Atroz for most riders. However, if you want a really rugged bike that lets you feel the trail and can handle a lot more than the appearance would suggest, the Atroz 3 is still a solid choice. 
Conclusion
The Diamondback Atroz 3 is a good entry-level mountain bike. It's a little more expensive than some entry-level models, but it comes with the full suspension and improved brakes and high-functioning rear rotors you won't see on cheaper bikes. 
There's some room for improvement in the frame and some of the individual components on this bike. For example, the need to use front derailleur for the low gearing. But put it all together and it offers solid and consistent performance. The Atroz 3 is a real trail eater, flying over terrain that can cause problems for other models. 
As a balanced mountain bike, it's not designed for aggressive or conservative riders. That can be a real advantage to beginners who still need to find their style, but also means that this bike isn't a good fit for riders who already know that they like a more aggressive build. But it's definitely a bike that is going to give the best riding experience as it has features like seat tube routed,
Depending on what you're looking for in a bike, there are a few better options in the same price range. Still, for what it is, the Atroz 3 is a pretty good option for the right kind of rider.