Welcome to my Trek X Caliber 7 Review.
I have tested/bought a dozen mountain bike and I have come to the conclusion that if you want to get serious about mountain biking then The Trek X Caliber 7 should be your pick. 
Trust me, you don't want to buy the wrong bike. It's better to get it right the first time, or you will waste over $1000 on not up to standered mountain bike.
Overview
The Trek X Caliber 7 is what many would consider an entry-level bike in terms of the price. At roughly 1k, it's a reasonably priced machine designed to give you a lot of room to grow before you need a more advanced bike. 
The frame is reasonably lightweight, and everything about this bike is optimized to make upgrading the different components simple and affordable. 
Both of the color finishes available on the X Caliber 7 are beautiful. The paint is durable and hard-wearing, and the overall design looks good. 
While this might not be the most durable mountain bike out there, it's more than up to the challenge of most XC trails. Lightweight enough to work well in most settings, the X Caliber 7 is also designed with cargo racks that make it a good option as a commuter, cross country, and leisure bike. 
Things to Consider Before Buying XC Bike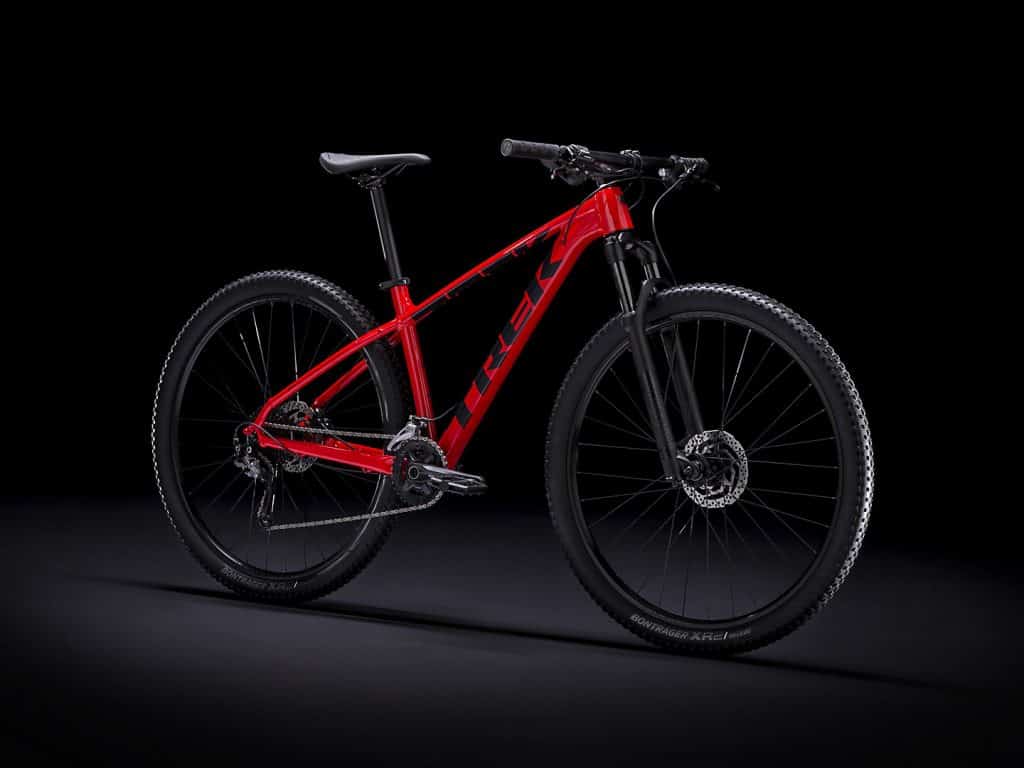 Like most specialized bike designs, cross-country bikes are built with a particular purpose in mind. On average, these bikes have more significant suspension than your average commuter or leisure bike. They also often offer larger, much grippier tires, and a more aggressive seated position. 
These bikes are designed for rough, uneven terrain. They're good in most weather conditions, and often feature a better braking system than commuter bikes. 
However, those adaptations all add cost to the bike. If you're more likely to be riding on pavement most of the time, and will rarely, if ever, find yourself on a mountain bike trail, you'd probably be better off with a different style of bike. 
Always look to match the core features and benefits of your bike to it's most common, or most technically challenging, use. 
Is the Trek X Caliber 8 a Better Bike Option Than the Trek X Caliber 7?
In the trek x caliber 8 bike review, it becomes evident that it offers some notable advantages over the Trek X Caliber 7. With upgraded components like the RockShox Judy Silver fork, hydraulic disc brakes, and a 1×12 drivetrain, the X Caliber 8 delivers improved performance and enhanced versatility. Additionally, its lightweight Alpha Gold Aluminum frame ensures an agile and responsive riding experience. For those seeking a superior bike option, the Trek X Caliber 8 proves to be a compelling choice.
Features & Benefits
Frame
The frame is always one of the single most important aspects of your bike. The weight and design of your bike frame can make a significant difference in its performance. Not to mention its impact on how hard you have to work to get the bike up and going. 
The X Caliber 7 is built with an Alpha Gold Aluminum frame. It's relatively lightweight, but with plenty of added durability to handle rough rides.
It's also got an internal routing system. Not only does that mean that your bike looks cleaner and more professional, but it also cuts down on the chance of early wear and tear on your cabling. You're much less likely to wind up with cut brake lines or other component failures thanks to the internal routing. 
It's also well balanced, giving you better overall control and a lot more maneuverability when riding. 
More: Best Folding Mountain Bike
Suspension System
The primary suspension system on this bike, like most XC bikes in this price range, is in the fork. The bike comes with a RockShox 30 Silver fork, that offers 100mm of travel. That's enough to absorb shock on the road and from normal bumps and bruises on the trail. 
It also has a locking mechanism so you can depress the coil and eliminate the suspension anytime it isn't needed. 
This fork also has 51mm offset on the largest size wheels, 29″, which gives tires a little more room to move and adapt to the demands of the trail. 
Wheel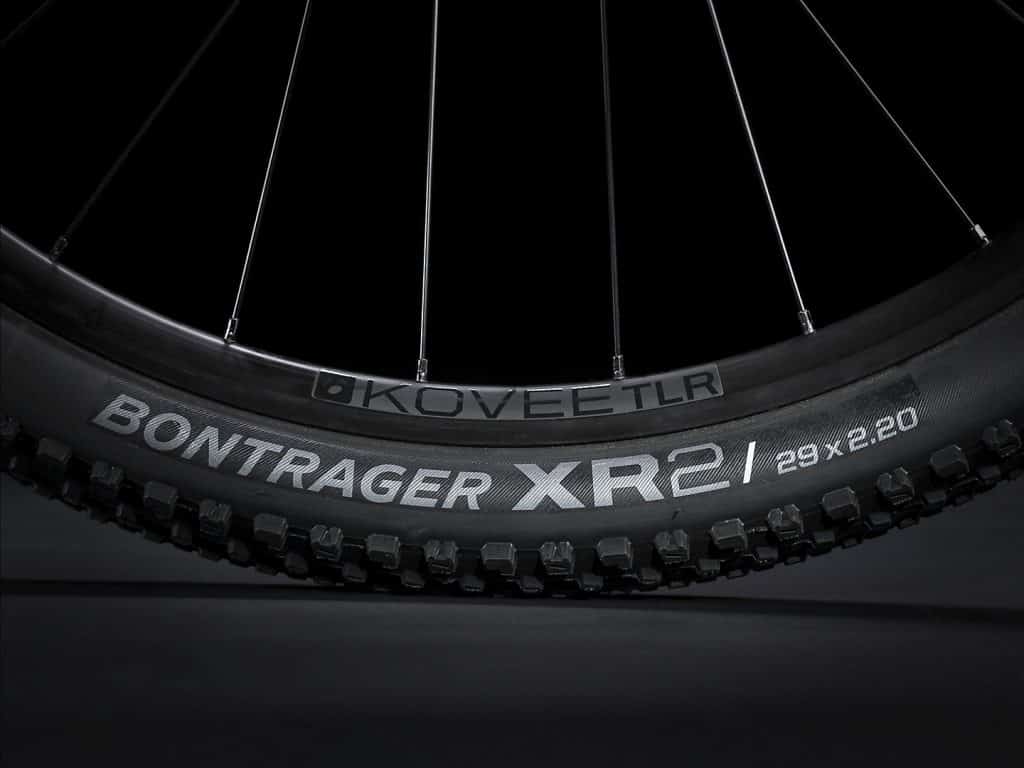 Trek's smart sizing system helps to ensure that your bike will be fitted with the best possible wheels for the frame. There are two wheel sizes to choose from, and while most frame sizes will be fitted with the more aggressive and efficient 29″ wheels, smaller wheels are more effective for shorter riders on the smaller frame sizes. 
Whatever wheel size your frame comes with, 27.5″ or 29″, you'll have plenty of traction. The wider rims allow you to mount tires with good grip and deep traction for wider terrain riding. 
The design isn't quite tubeless-ready. But, upgrading to a tubeless-ready rim is simple enough, and shouldn't be too expensive. 
Gear
Shimano makes the entire drivetrain on the x Caliber 7. You'll have a Shimano Acera M3000, 9 speed, and a Shimano Acera SL-M3010, 2 speed, giving you a total of 18 gears for maximum flexibility. 
Since you'll also be working with Shimano derailleurs, both from the Alivio line, the whole system is very smooth and effective. The shifters themselves are easy to use and unlikely to jam. The derailleur system needs minimal maintenance, no more than any other derailleurs. 
You'll have the options and versatility to need for even the most technical trails, and the flexibility to handle hills with ease. 
More: The Best Fat Tire Bike Under $1000
Brake
You'll also be getting a Shimano brake and rotor system. The disc brakes are highly effective and fast to respond. The hydraulic disc brake system is also a significant improvement over the v-brakes or mechanical disc brakes that are much more common on cross-country bikes in this price range. 
This brake design is also very low on maintenance requirements since you're extremely unlikely to get dirt and debris in any of the moving parts. 
Since the internal routing system helps to protect the wiring, it's also much easier to perform any needed maintenance or to set up new cabling systems. 
The biggest thing you'll need to watch for if you're used to other braking systems is that this system is likely to be more responsive than you're used to. Start slow and experiment to see how much pressure you need to get the speed modulation you're going for. 
Feature
Specs
What it Means To You

 Frame

Alpha Gold Aluminum with wide size variations to fit most riders

This aluminum alloy is hard-wearing and relatively lightweight, giving you the faster performance and better speeds, you expect from premium bikes. Not as lightweight as carbon fiber, it's still a significant improvement over heavier alloys and materials. 

 Suspension System

RockShox 30 Silver, Solo Air spring

The forward suspension on this system gives you a lot of shock absorption when you're dealing with the normal bumps, rocks, and debris of a mountain trail. A lockout system avoids wear and tear on the suspension when you don't need it, with a quick-release option so you can set or release the suspension while riding. 

 Wheels

27.5″ or 29″

Both of these wheel designs are good for aggressive riding and maximum pedaling efficiency. The 29″ tires are a good bit more aggressive, but the 27.5″ offer a better fit for shorter riders. 

 Gear

Shimano Acera M3000, 9 speedAndShimano Acera SL-M3010, 2 speed

 Shimano shifters are easy to use, high performance, and move between gears both quickly and easily. These shifters are long-lasting, and with 18 gear settings to choose from, you have a lot of control and power to adjust to the demands of the terrain.

 Brake System

Shimano MT200 hydraulic disc

The hydraulic disc brake design on this bike gives you a highly responsive and fast-acting brake system. It's designed to make stopping faster and easier, without any tugging or putting the bike off balance.
Better yet, the system is virtually maintenance-free since all the moving components are protected from excess grease, mud, rocks, and other possible sources of mechanical problems. 
Customer Reviews
Riders who've played with this bike for a while to see what kind of performance they can expect consistently come back saying that the X-Caliber 7 exceeded their expectations. Relatively similar to the Trek Marlin line, another slightly more affordable entry-level mountain bike from Trek, this system features just a few upgrades that help it last longer as your experience and skill both grow. 
While this bike might not have the optimization of a more expensive mountain bike, it still performs well enough to take you down advanced technical trails and even to races and other competitions. 
With the advantages of a few minor upgrades to the components over other similarly priced bikes, users consistently report improved performance with very few problems or noticeable shortcomings. 
Alternatives
No good bike review is complete without taking a look at some of the competitor models to see how each bike stacks up in a head to head comparison. These bikes are all relatively similar in design, target consumer, and core features, but each has its own strengths and weaknesses. 
Trek X Caliber 7 vs 8
It makes sense to start by looking at the latest release in the X Caliber line. The X Caliber 8 is the 2020 model just released for this line and does feature some components and design improvements that make it a better option for some riders. 
Price-wise, these two are relatively similar. The X Caliber 7 is usually the more affordable of the two. But, as demand for the older model has increased, and when the X Caliber 8 begins to go on sale, that may not always be true. 
In the X Caliber 8, Trek has upgraded the driveshaft to Shimano's Deore line, giving you 20 gears instead of 18. In terms of maintenance and performance, the Deore is similarly low-effort and high-performing, but the added flexibility makes it a better overall system. 
They've also slightly improved the fork, although the models are very similar, the newer fork system offers just a little more effectiveness in your suspension. 
Overall, both models are great beginner bikes. But, if you can afford a couple hundred more to get the latest system, it's probably going to last longer and work better as a long-term bike. 
Trek X Caliber 7 vs Roscoe 7
This is another interesting comparison because these two Trek lines actually use the same frame. However, the components and tires that come on each model aren't very similar at all. 
The biggest difference between these models is how you want to ride them. The X Caliber 7, and the whole X Caliber line, are designed for speed and precision. These are real trail-eaters that don't need much encouragement to reach top speeds. 
The Roscoe, on the other hand, is designed for a slightly heavier, slacker, grippier riding experience. That makes them slower than the X Caliber in general, but also much steadier. 
If you like your trails loose and fast, look to X Caliber models. Looking for a slightly slower but more controlled ride, the Roscoe 7 might be your better bet. 
Price-wise these bikes are so similar that it shouldn't be much of a deciding factor one way or the other. 
Trek X Caliber 7 vs Marlin 7
The X Caliber 7 and the Marlin 7 are both designed for largely the same market. They're reasonably affordable entry-level XC mountain bikes that are designed for the best possible performance at a low-price range. 
However, the Marlin 7 is a couple of hundred dollars cheaper than the X Caliber 7. While the components lists are similar, the Marlin 7 is a step down in almost all component categories. 
That doesn't mean that it's not a good high-performance bike, the Marlin 7 is still a great entry-level bike. 
However, you will get serious performance improvements, both in speed and in shifting ability, if you can afford to upgrade to the X Caliber line. Check our guide to marlin 7 here.
Conclusion
Overall, the X Caliber 7 might not be the best XC bike out there, It's not even the best XC bike in its own model line. That doesn't mean that it's not a solid entry-level option and one that's particularly well suited to fast an adventurous rider who is looking for a bike that can grow with you. 
Its frame is designed to be easy to upgrade, highly durable, eye-catching, and most of all, fast and extremely efficient. 
If you're looking for a fast mountain bike that competition ready, but it isn't too expensive, the X Caliber 7 is a good choice.