The Diamondback Overdrive 29er is a mid-level hardtail bike without an extortionate price tag. It's designed with an aluminum frame that makes it great for riding at top speeds and remaining rust-free when exposed to rain while not contributing too much weight to the overall bike.
This hardtail bike is available in one color and designed with Shimano hydraulic disc brakes to offer great modulation as well as a high-quality suspension system that can charge down any singletrack or over bumps in off-road trails. Let's take a look at some of the main features of this bike and reasons it makes an excellent choice for any biker type.
Things to Consider Before Buying a Mountain Bike 
diamondback bicycles overdrive 29 3
Before we dive into this Diamondback Bicycles Overdrive 3 review, there are some key components you'll need to consider before buying a mountain bike. Don't be overwhelmed! We've provided the bare essentials below to keep in mind during your search process.
Wheel Size
First, what wheel size works best for your size and the conditions you'll ride in? The most common options include 26, 27.5, and 29 inches. The smaller wheels make the overall bike smaller, making this measurement more suitable for shorter riders. But the larger wheels can handle tougher terrain and often tend to offer more control. Not to mention that the larger surface area allows you to accelerate quicker and maintain a high speed. Although you wheel need to apply more control when riding with 29-inch wheels.
Frame Material
There's an abundance of frame materials to consider when buying your mountain bike, including steel, aluminum, carbon fiber, and more. Steel is the least expensive, which is great if you're on a low budget or are a beginner. Many steel-frame bikes owners confirm that this material helps to absorb shocks and improves the overall comfort when riding a bike.
Aluminum deems to be the most popular material because it's reasonably priced (not as expensive as carbon fiber) but is more lightweight, allowing you to accelerate easier. Plus, aluminum is rust-free, which is ideal if you live near open waters or plan to ride your bike when it's raining.
Suspension System
Lastly, one of the most essential features to consider when buying a mountain bike is the suspension system. If you plan on riding in tough trails, over logs, rocks, and gravel, a full-suspension bike is a great option as it features two suspension systems: on the front and the back.
Although this extra suspension system can contribute additional weight to the bike, making it more difficult to accelerate and intensifying your rides. In which case, a hardtail bike—which only has a suspension system on the rear—makes the bike's weight lighter and allows you to enjoy a more adventurous ride.
More: Discover the Best Mountain Bike Under $200 in 2020
Features and Benefits 
Here are some of the top five features and benefits of this hardtail bike and important features to apply to the above section when deciding which bike is right for you.
Frame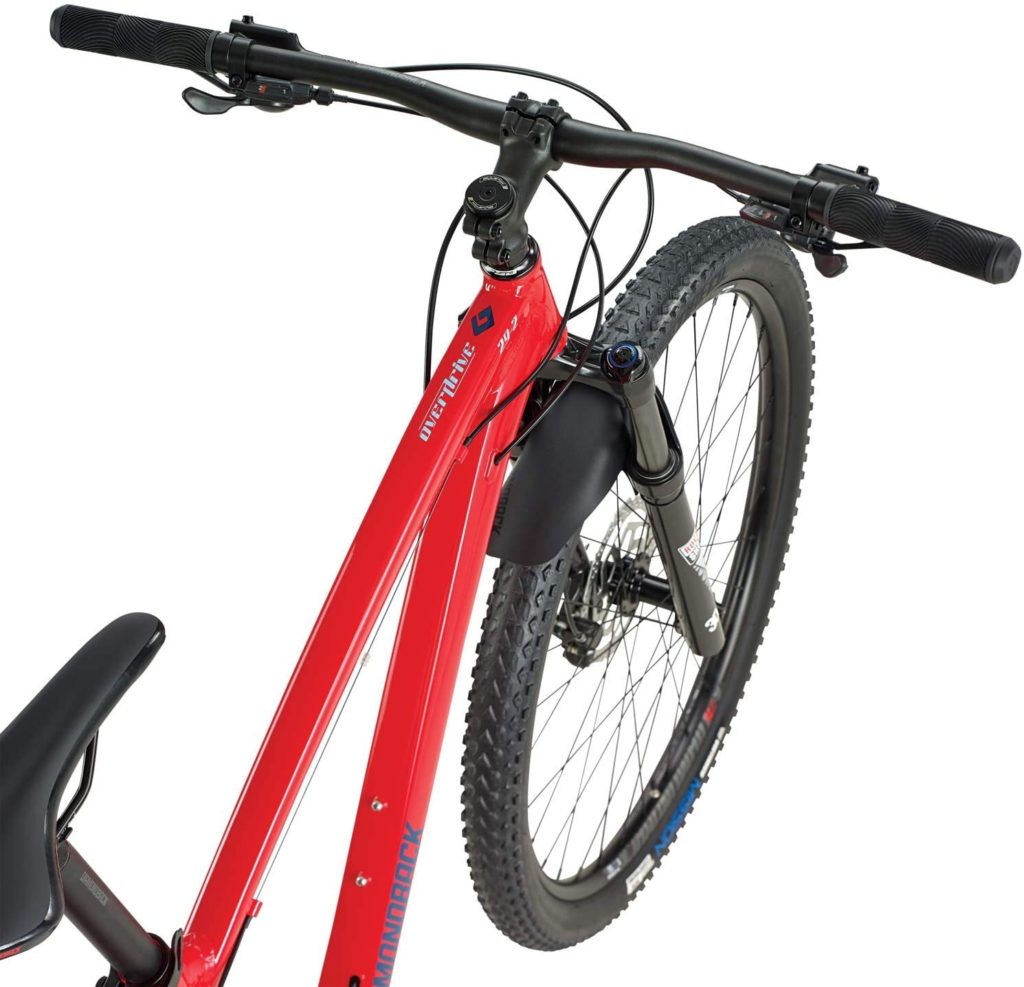 The Diamondback Overdrive 29er comes equipped with an aluminum frame with many qualities and benefits. For example, its lightweight allows you to accelerate with power and ease, while maintaining the bike's top speed easier than other hardtail bikes.
Also, an aluminum frame helps to absorb shocks, thus acting as an additional suspension system to the bike when you're riding over bumps or off-road trails. Furthermore, an aluminum frame isn't prone to rust, allowing you to ride your bike outdoors when it's raining without any issues.
Finally, this material is durable so you won't be constantly having to fix and maintain the bike; it'll last a long time and won't collapse or break when you're undergoing intense rides.
Suspension System
If you're looking for a hardtail bike with a reliable, high-quality suspension system, then the Diamondback Bicycles Overdrive 3 makes an excellent choice. It's equipped with an SR Suntour XCT suspension fork to provide plenty of added control and comfort on your trails.
It also features 100mm travel to absorb shocks and bumps when you're riding over tree trunks, rocks, and on uneven surfaces while the lockout option increases efficiency while you're climbing uphill.
More: Trek Marlin 4 Review: Is It A Good Beginner Bike?
Wheels

Furthermore, this hardtail bike comes with 29-inch wheels. This large diameter provides a wide contact area with the ground, allowing you to effortlessly ride over dirt, sand, or mud. This measurement also offers plenty of traction when cornering or climbing uphill in a variety of conditions.
Also, 29-inch wheels offer a lot more momentum compared to other hardtail bikes. This helps to keep your forward momentum as you reach your incline to allow you to tackle tough uphill climbs. In addition, the increased momentum requires less preparation on your part just before you hit the hill, resulting in less speed lost as you climb longer inclines. 
Finally, this size wheel makes a larger frame overall, which is ideal for taller riders but not so much for riders below 5'2", making this bike more compatible with males.
Gears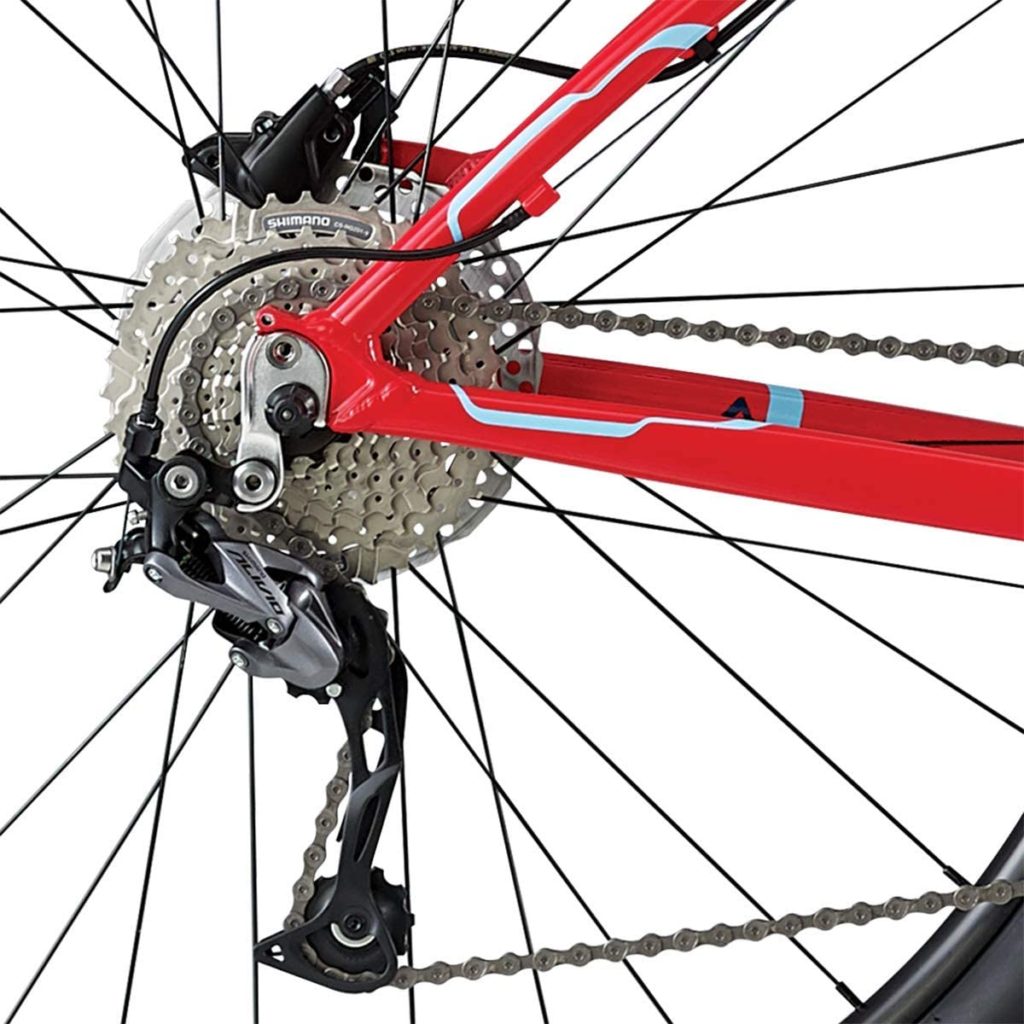 Furthermore, this bike features 18 speeds, which is plenty for offering the versatile you need when cycling up and down hills as well as being able to easily pick up speed when you're on smoother surfaces.
Alternatively, if you only intend to ride your bike on smooth pavements and not on off-road trails, you may find that you simply won't make use of the 18 speeds this bike has to offer.
More: Mongoose Ledge 2.1 Review: Is It a Good Budget Bike?
Brakes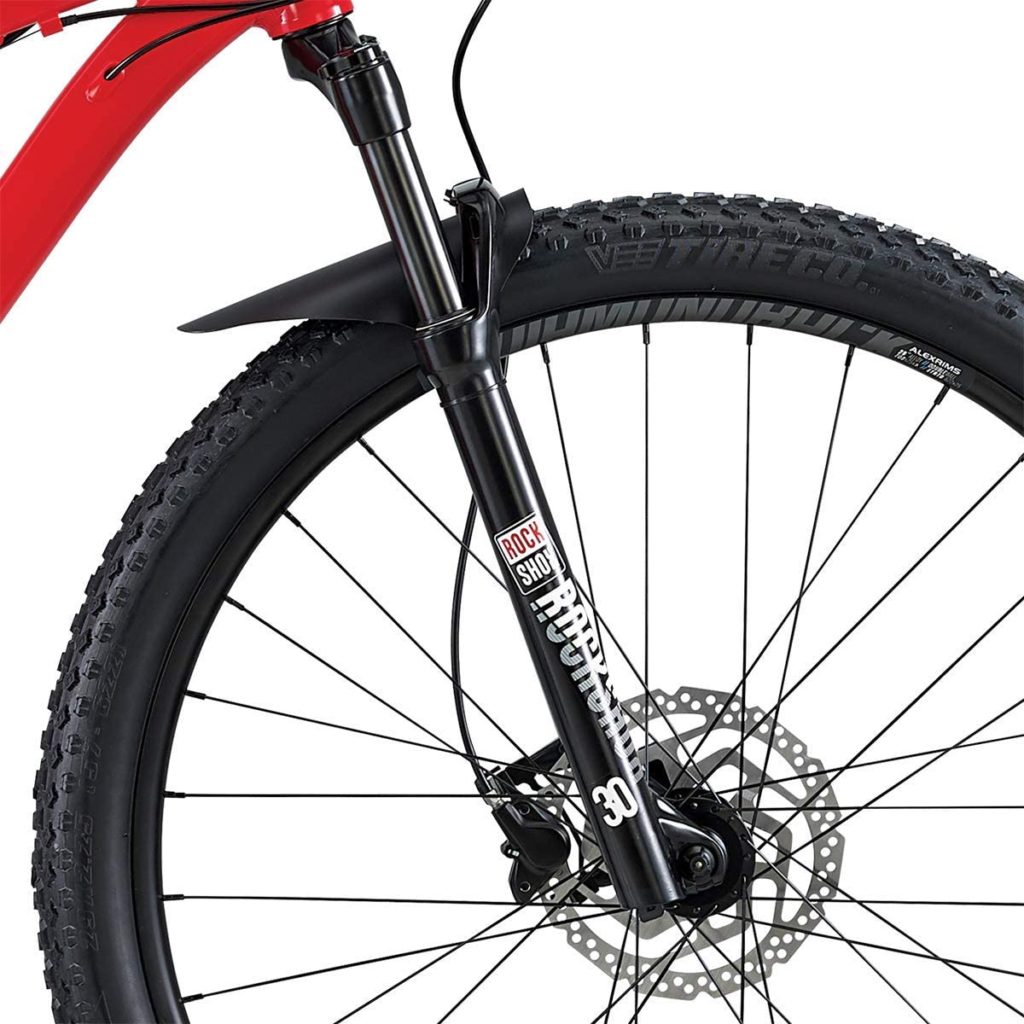 Finally, this mountain bike is equipped with hydraulic disc brakes. This brake type is highly responsive and offers plenty of stopping power to bring your bike to a stop with less force than mechanical disc brakes.
You also don't need to pressure the brakes when you apply them while still receiving all of the control you need. This feature provides you with peace of mind that you can always stop the bike whenever you need to—such as moving down a hill at a fast pace.
On the other hand, these incredible benefits make hydraulic disc brakes expensive, contributing to the overall cost of the mountain bike. They can also be complex and difficult to adjust, making them unsuitable for beginners or if you're looking for simplicity when you ride a bike.
More: Diamondback Release 3 Review
| Feature Type | Feature Specs | What This Means |
| --- | --- | --- |
| Frame | Aluminum | Lightweight material that allows you to accelerate easily and remains rust-free and durable |
| Suspension System | Suntour XCT suspension fork with 100mm travel | The suspension absorbs shocks and impacts from riding on uneven surfaces and over rocks and debris during off-road trails |
| Wheels | 29 inches | Provides plenty of traction when corning or climbing uphill in a variety of conditions. This size also offers plenty of momentum so you can move forward when traveling uphill. |
| Gears | 18 | This diverse range allows you to travel up and down hills with comfort and remain in control. Also, 18 gears allows you to shift between smooth and off-road trails in an instant and easily. |
| Brakes | Hydraulic disc brakes | Provide plenty of stopping power and control when riding downhill at high speeds. Although, this brake type is expensive and can be difficult to maintain and adjust. |
Social Proof
Of course, you may want to explore some of the comments left by owners and users of this bike. We found two comments that summarize and reflect this hardtail bike's potential. 

Alternatives
Not sure if the Diamond Bicycles Overdrive is the best option for you? We've found two similar models to compare this hardtail bike to that also have similarities, providing alternatives if you're looking for some features that the Diamond Bicycles model doesn't offer. 
Diamondback Bicycles Overdrive vs Trek Marlin 5
Trek Marlin 5 makes an excellent alternative to this bike for numerous reasons. First, it also boasts a sleek and modern aluminum frame with the added bonus of internally routed cables to keep them from collecting dirt or becoming damaged.
The Trek Marlin 5 comes with an SR Suntour XCE 28 suspension fork and 100 mm of travel suspension, making it more compatible with riding on rougher terrain than the Diamondback Bicycles model. In fact, Marlin's saddle ensures comfort when riding in these scenarios and on longer cross country trails.
In addition, both bikes come equipped with hydraulic disc brakes that only require one finger to operate the brakes, preventing any strain or discomfort when you're riding. This feature also allows children and people with less strength in their hands to feel safe and in control when you need to bring the bike(s) to a stop.
A difference between these two mountain bikes is the tires. Diamondback offers 29-inch tires whereas Trek Marlin provides 27.5 inches, making the latter more compatible with shorter riders and the overall bike smaller. However, the smaller wheels don't provide as much control and steering power, not to mention that they don't accelerate as quickly.
Diamondback Bicycles Overdrive vs Hook 
Alternatively, you may be considering the Overdrive Hook over the Overdrive 29. The most notable difference between the two is that the Hook features an XCM Suntour SR fork with a suspension travel of 120mm. This feature makes the mountain bike easier to tackle trail obstacles as well as comfortably managing rough conditions that the Diamond Bicycles Overdrive 29 would otherwise struggle with.
In addition, the Hook bicycle offers an eight-gear speed, whereas the Overdrive 29 offers 18 speeds. This is a vast difference between two mountain bikes that have various similarities. In particular, the Overdrive model can conquer tough trails while propelling you forward in these conditions. As such, imagine how the bike can perform when on smooth pavements without any rocky trails or mud present.
Finally, the Hook bike features smaller wheels—measuring 27.5 inches, although they're wider at 2.35 inches. This smaller wheel size makes it more difficult for the Hook mountain bike to travel as fast as the Overdrive but is suitable for shorter riders. However, the thicker tires allow you to cycle in mud much easier without losing control of the bike.
Conclusion 
Overall, we hope you enjoyed this Diamondback Overdrive 29er 3 review. This bicycle is great for traveling on smooth pavements and adjusts well to switching to off-road trails. It's not a bicycle that you can use to commute with as it lacks some features, such as fenders, a rack, etc. Plus, this bicycle is designed for those who love to feel in control of the bike and enjoy an adventurous ride, making it more suitable for fitness purposes and trudging through mud in off-road trails.