Schwinn is easily one of the most reliably popular bike brands in the United States. They are known for creating bikes in all different price ranges and for every type of cyclist, from beginners to experienced pros. 
The Sidewinder is one of the more affordable mountain bikes you can get and is designed to be incredibly accessible to all cyclists. 
In this review, we'll go over what you can expect from a Sidewinder, as well as give an in-depth review of the most important components of the Schwinn Sidewinder mountain bike. After we've reviewed the Sidewinder by itself, we'll also go over a few comparisons to other similar Schwinn models. After all, comparing each model is one of the best ways to determine which model is right for you. 
Let's get started!
Overview
The Sidewinder is definitely one of Schwinn's lower-end options, with the focus being on creating an affordable and workable bike over precision components or higher-level specs. This isn't really meant to be a bike for professionals or for people looking to start improving their cycling skills to a more advanced level. 
However, since the Schwinn Sidewinder mountain bike is available as an e-bike (electric bikes), it's a good option for people who want to be out on the trails, but who are looking for a little bit of motor assistance to make the trails easier or help the bike go faster. This bike helps you to ride smooth through cross-country terrains.
Things to Consider Before Buying a Mountain Bike
Schwinn Sidewinder mountain bikes are the most rugged and durable type of electric bike that's easy to get your hands on. They are designed for high durability, shock absorption, and are meant to maintain a great grip on even the most slippery or powdery mountain trails. 
These aren't necessarily bikes that are meant to reach maximum speeds. The adaptations that make them more durable and provide extra grip on the trail also generally slow the bike in terms of speed. That's a good thing on a lot of mountain trails. 
It's not such a good thing if you're trying to compete in a race. 
While Schwinn Sidewinder mountain bikes are often treated as the default all-purpose bike since they are well-designed to hold up to most challenges, you probably only need a mountain bike if you are going to be riding mountain trails or live somewhere with a lot of gravel and dirt roads. 
Features & Benefits
Schwinn Sidewinder
Even when you purchase the e-bike version of Schwinn Sidewinder mountain bike you should still pay attention to the other components of your bike. After all, it doesn't matter if your bike can reach top speed in only a few seconds thanks to an advanced motor if your frame, suspension, and other bike components can't hold up to it. 
Frame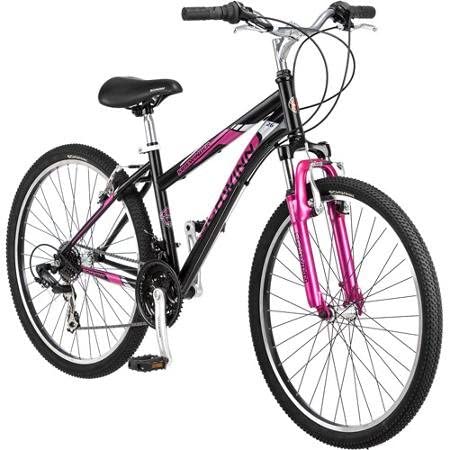 The frame is one of the most important features of your bike. It's what holds all of your bike together, determines the maximum weight capacity of your bike, and can have a huge impact on your riding experience. 
Schwinn Sidewinder mountain bike uses a steel frame instead of aluminum alloy or carbon fiber. The steel is significantly more durable and holds up better if you end up accidentally hitting something while you're learning a new trail. 
While steel is certainly one of the more durable materials you can use, it's also one of the heaviest bike frame materials. That additional weight is a huge consideration because it means that you're going to have to work harder to get your Schwinn Sidewinder mountain bike up to speed. 
That heavier weight can also impact your bike's traction on trails, your balance as a rider, and how quickly the bike comes to a stop. It's generally best to stick to a bike that's as light as you can afford, though in this case, the Schwinn Sidewinder mountain bike isn't quite heavy enough to affect performance for most new cyclists.  
It's also worth knowing that the steel frames of the Schwinn Sidewinder bikes don't have the corrosion problems and issues with regular wear and tear that many aluminum frames can suffer from. 
With that in mind, there is some good news with this Schwinn Sidewinder mountain bike model. The steel Schwinn mountain frame is available in configurations and paints colors for both men and women, making it a good universal design for all new cyclists. 
More: Trek Marlin 7 Review: Is it A Good Bike?
Suspension System
The suspension is one of the most important aspects of a good mountain bike. Think about an average mountain trail. It's going to have a lot of dips and curves, might have rocks or unexpected branches in the way of the trail, and the gravel and other surface material of the trail itself aren't usually very smooth either. 
All those jolts and bumps can get in the way of safely steering and controlling your electric bike if you don't have a good Schwinn suspension fork or suspension system. Suspension is critical for making sure you have control over your bike as you ride. 
Good suspension also cuts down on the fatigue of your ride by reducing the stress on your body. 
The suspension on the Schwinn Sidewinder mountain bike is surprisingly good considering its affordable price point. The Schwinn suspension fork has a surprising amount of play for an affordable front suspension fork, and the rear wheel is also able to absorb a fair amount of the shocks and bumps of regular use. 
This system is a great option for people who are looking to get into mountain trail riding for the first time and who are more likely to stick to the less technically challenging trails. 
It's adaptable enough to start exploring more advanced trails with a relatively light rider but doesn't have the range you need for a heavier rider on more difficult trails. 
Wheel
The 26-inch wheels are a good option for new front suspension mountain bike riders. They aren't as aggressive as other larger wheelsets, but the smaller design does make the bike easier to mount and control. 
Since the wheels of the Schwinn Sidewinder mountain bike are of a standard size it's relatively easy to get new tires for this set. The spoke design and walls of the standard wheelset are reasonably durable but don't be surprised if they do warp a little after a hard hit or a bad fall. 
The tires that come standard with the Schwinn Sidewinder mountain bike feature a nice knobby tread that does perform reasonably well on most mountain trails. 
Gear
While many people associate gearing with road bikes, having a range of gears can actually be more important for mountain bikes than road bikes because you'll need a range of gears to handle hills and help modulate your speed on the curves. 
Both the men's and women's bikes feature 21 gears more than enough to handle pretty much any trail this Schwinn Sidewinder mountain bike or electric bike can tackle. The 21 gears are also variable enough to make it simple to start learning good gearing habits and developing your skillset for more technically advanced trails. 
The Shimano shifters do a great job of offering smooth performance across the whole range of their gearing system. These shifters use an easy twist access shifter that makes switching rapidly relatively easy, though they do require a slightly different technique than lever shifters. 
Fortunately, the handlebars are well designed for twisting shifters. 
More: Trek X Caliber 7 Review: Is It A Good Bike To Buy?
Brake
This Schwinn Sidewinder bike uses a combined braking system. But, instead of having two brakes on each wheel, you'll get a different style of front or rear disc brake on the front and rear wheels. 
The front-wheel uses a mechanical disc brake that offers fast responsiveness and smooth speed modulation. Mechanical disc brakes are widely considered one of the better options for mountain bikes thanks to their better performance and more reactive design. They don't need nearly as much pressure as lever pull brakes for the same results. 
The linear-pull in back gives you a secondary brake that's a little less responsive, but still packs powerful modulation power and makes it easy to come to a reasonably controlled stop. 
Using both styles of front or rear disc brake also greatly improves the all-weather performance of the brake setup. Any time you're in conditions that might otherwise challenge your brake's ability, the other brake tends to be able to pick up the slack. 
The combination gives you a significantly more powerful braking option than average for a bike in this price category. 
Feature
Specs
What it Means to You

Frame

Steel frame available in both a men's and women's version

The frame made of steel is a more durable option for many people and doesn't have the corrosion issues that can sometimes come along with aluminum alloy frames.
However, while this steel Schwinn mountain frame has pretty good geometry and works well for both men and women (assuming you buy the appropriate steel mountain frame) it's also significantly heavier than most bikes.
That extra weight can make it more difficult to ride smooth on more technical trails and can make it take a little longer to stop or respond to course adjustments.

Suspension System

Schwinn steel suspension

The suspension on the Schwinn Sidewinder mountain bike is surprisingly good, absorbing a lot of the usual bumps and bruises from trail riding and making it a lot easier to maintain control on the goal.

Wheels

26″ standard wheels

The 26″ wheels on the Schwinn Sidewinder mountain bike are a relatively standard size, giving you a lot of tire options when you need to get a replacement. However, this wheel size is also relatively conservative and isn't well suited to more aggressive riding styles.

Gear

Shimano 21 gear twist shifters

The Shimano derailleur on this system helps ensure that gearing is smooth, even though this isn't one of their premium component sets.
21 gears are more than enough to tackle most trails, especially if you're looking at some of the less technical mountain bike trails the Schwinn Sidewinder is really designed for.

Brake System

Front disc brake and rear linear-pull caliper brakes

A combination of different braking styles can take some getting used to but offers a lot more control and power than usual linear-pull brakes.
Overall, this design is very responsive and has an impressive all-weather performance.
Social Proof
The Schwinn Sidewinder is consistently considered a good entry-level affordable front suspension mountain bike. It's hobbyist price point, and good design principles make it more effective than the heavy steel mountain frame would indicate at first glance. 
The Schwinn Sidewinder mountain bike isn't necessarily up to the most technical trails. Still, it's a good option if you're looking for a more affordable bike and don't need the lightweight and better performance features of more expensive components.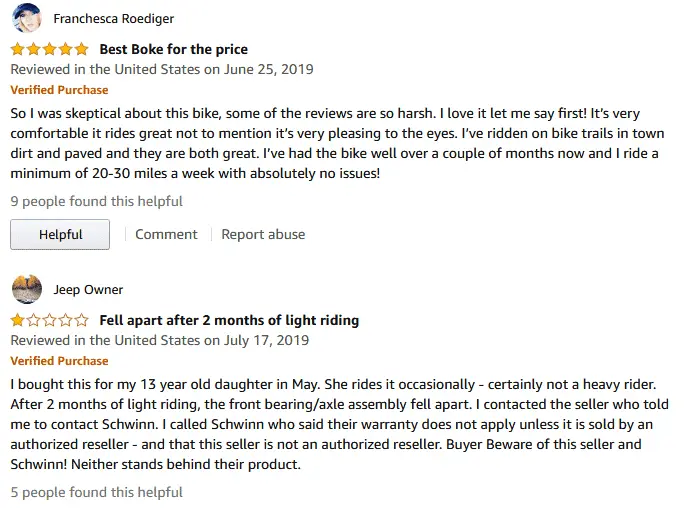 Alternatives
With a prolific brand like Schwinn, there are plenty of different models you can choose from when you're looking for a bike. Let's see how the Sidewinder holds up to some of it's closest same-brand competition. 
Sidewinder vs Ranger
The Schwinn Sidewinder and the Ranger are both entry-level mountain bikes with relatively similar components and good responsiveness. One of the biggest differences between these two Schwinn bikes is that the Ranger has a lighter aluminum frame than the Sidewinder's heavier steel version. 
That lighter frame means that the bike is lighter and a little more responsive, but not quite as stable as the steel frame of the Sidewinder. 
The Ranger does compromise a little on the brake system compared to the Schwinn Sidewinder mountain bike, though, using two linear-pull brakes instead of a combination linear-pull and mechanical brake on the Sidewinder. 
That doesn't mean that the Ranger doesn't have a good brake system. It's a good system overall, just requires a slightly different technique. 
Overall, these two are relatively comparable, but the Ranger is a slightly lighter and more adaptable bike than the Schwinn Sidewinder mountain bike. 
More: Best Fat Tire Bike Under $1000 [Review and buying guide]
Sidewinder vs Boundary
The Schwinn Sidewinder is a good unisex bike since there are versions available as both a men's and women's bike. The Boundary is a bit more rugged version and is primarily available for men rather than as a unisex bike. 
While both of these Schwinn bikes use a steel frame, the Boundary does have a couple of important improvements for riders who are looking for a harder-wearing and responsive bike. 
The most important of those improvements is that the Boundary uses a mechanical disc brake for both wheels. That means you get faster responsiveness overall, as well as longer-lasting brakes that need less maintenance than your average linear-pull braking system. 
More: Best Folding Mountain Bike On The Market [Reviews And Buying Guide]
Sidewinder vs High Timber
For the last comparison, we're going to look at the Schwinn Sidewinder vs the High Timber. The High Timber differs a little from the other comparisons we've made in that, while still using the same frame materials and a similar style, the High Timber uses two linear-pull brakes and otherwise has largely the same components as the Schwinn Sidewinder. 
Both have 21-speed gearing systems from Shimano, and both have similar wheels. 
However, the one place that the High Timber does have a bit of an advantage is that it's available with a larger and more aggressive wheelset. 
So, while we'd consider the Sidewinder a more balanced bike for most users, the High Timber is a good option for people who want to push their bikes a little harder or want a more aggressive setup without significantly increasing your price point. 
More: The best full suspension mountain bike under $2000
Conclusion
While the Schwinn Sidewinder mountain bike isn't likely to be a go-to bike for competitive and professional cyclists thanks to a slightly clunkier design and heavier profile, it's still a reasonable choice for most casual cyclists. 
This bike is durable enough to perform reasonably on mountain trails, while also being affordable for the casual consumer who isn't sure whether it's worth investing a significant amount in a new hobby. 
While the Sidewinder isn't a premium bike, it's still more than worth consideration if you don't mind a little extra weight as you tackle the trails.