The Gravity FSX 2.0 is an exciting model on the biking market as a full-suspension mountain bike at a more affordable price with a flexible frame that works well for a wider variety of cyclists than your average mountain bike.
This bike has a lot of people talking, but we're taking a closer look to see if the total package lives up to expectations and to see what kind of rider will benefit most from this design. Is the Gravity FXS 2.0 the affordable mountain bike of your dreams, or is this bike another middle of the road option with obvious limitations that will only take you so far before you need to invest in a more advanced design?
We've looked at the total package of this bike and all of the individual components to get a better sense of its performance and design strengths and weaknesses. We'll also compare the Gravity FXS 2.0 to its predecessor, the Gravity FSX 1.0, to see if the model line improvements are worth getting the newer design.
Let's dive in.
Things to Consider Before Buying a Mountain Bike
Gravity FSX 2.0
Mountain bikes are one of the most popular styles of bikes everywhere. They are sold in mountainous areas. But it's not uncommon to see mountain bikes cruising in the plains or even in urban areas. For such a popular style, you might find yourself wondering if a mountain bike is a right option for you, even if you aren't planning to go to any mountain trails any time soon.
The truth is that mountain bikes are incredibly durable and versatile trail riding machines, but they aren't the right choice for everyone. Your average mountain bike has a more substantial suspension system and many times a more complicated drivetrain than your average road bike.
Put together, a mountain bike takes more work to ride and will generally be a slower option than a road bike or even a slimmer, more streamlined hybrid. Plus, you're putting a lot of money into durable tires, suspension, and a gearing system you may not need if you're mostly going to be riding on flat trails and paved roads. If you're looking for a speed demon or even just an efficient commuter, you're probably better off with a different style.
But if you're looking to lose yourself in some backwoods and mountain trails, you're in the right place.
More: Mongoose Ledge 2.1 Review: Is It a Good Budget Bike?
Features & Benefits
Right out the gate, some design advantages are worth mentioning before we dig into the component details on this bike.
The Gravity FXS 2.0 is available in four sizes, and its user-friendly geometry means that it's a good fit for a wider variety of body shapes and sizes. Men and women both consider this bike fairly comfortable, making this bike a truly unisex design.
More: Diamondback Release 3 Reviews: Worth Buying?
However, since there isn't another good place to mention this, we also wanted to bring up the pedals. The rest of this design is hard wearing and clearly designed to handle a fall or a jump or two without any problems.
But the standard pedals on the Gravity FXS 2.0 are plastic, and they are fairly prone to breaking after a fall. That can mean an expensive last-minute replacement, or a better option may be to replace the factory pedals as soon as you receive the bike.
Frame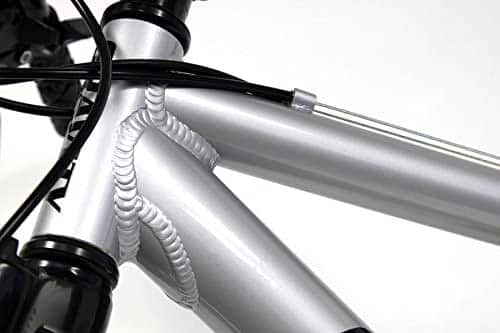 The frame of this bike is one of the most critical aspects of the design. It's clear from the beginning that the manufacturers put a lot of thought into this design. We'll talk about the suspension more in a moment, but we did want to note that this frame does a good job of working with the suspension system to smooth out your ride and give you better results.
It's a well-balanced frame for most users, assuming you have the right frame size under you. It's important enough to get a good fit that you may want to go to a professional bike store in order to get measured before ordering.
That's in part because this frame is also designed to be very comfortable as well as efficient. Getting the wrong size may make this bike more difficult to ride, or less comfortable than it's intended to be.
The frame is made from a high-quality aluminum alloy, which performs well overall and is a good lightweight option. However, to reduce the overall weight of the frame, this design does sacrifice a fair amount of durability.
Unlike carbon fiber frames that are incredibly durable and lightweight, this design is light (coming in at approximately 20lbs, depending on what size you order). Still, it doesn't handle the punishment of rough riding as well as carbon.
More: Diamondback Bicycles Overdrive 29 3 review
Suspension System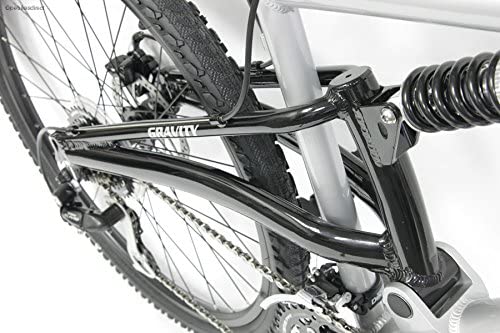 A full suspension system isn't terribly common in beginner and even mid-tier mountain bikes, so it's nice to see full suspension as an innovation on this design.
Both the fork and the crankset are Suntour designs with a lot of travel space meant to catch even the worst bumps and jumps before they make it to the saddle. The fork also features an advanced lockout system for when you don't need quite as much suspension, letting you lock out all traveling, or simply limit the suspension range to give you more control on the trail.
CantiBeam SinglePivot Rear Suspension provides even more protection for the saddle, helping even out the ride since you'll feel less of the impact on the back wheel as well as your leading wheel.
The system is fairly effective and easy to use. However, the addition of a full suspension system makes this bike a little better for intermediate and advanced riders instead of beginners. Simply put, the suspension can make it harder to judge the trail and control your bike.
However, losing the bumps and vibration of riding lets you ride longer with less soreness and fatigue over time.
Wheels

The wheels on this bike aren't particularly special, but they are effective. Forged aluminum disc hubs complement the braking system, while also providing additional support for the Maddux double-wall aluminum rims.
The combination is a relatively durable wheel designed to resist impact damage and warp over time and does a good job of both.
The aluminum rims are also relatively quiet even while braking, which can be a significant advantage for trail riders who want to experience the environment and not just their whirling wheels.
Relatively grippy tires are included in this model, though the smoother design doesn't corner as well on loose terrain as is ideal. These tires will work well for beginner and intermediate riders, but advanced riders will probably want an upgrade.
Gear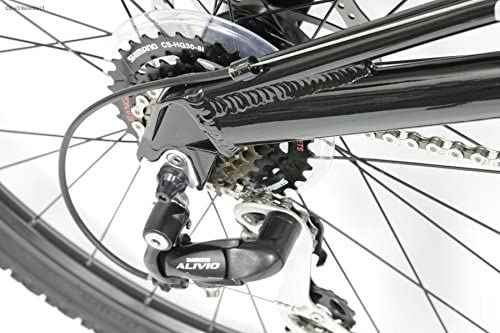 The full drivetrain on this bike comes from Shimano and offers an impressive 24-speed system to give you ultimate control and flexibility on the trail. This is one detail that is less beginner-friendly since it takes some experience to learn how to make the most of a wide gear range on a trail, but this is a great system for intermediate and advanced riders who like using an advanced shifting system.
More: Trek Marlin 4 Review: Is It A Good Beginner Bike?
Brake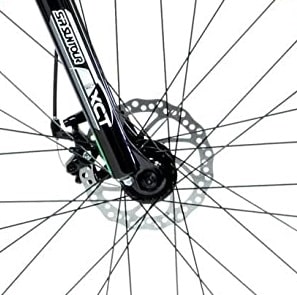 The Tektro Novela Disc brakes are the real standout single component of this design. They're a more advanced disc brake than are often included on intro and intermediate level bikes, and they offer higher performance standards to go with that higher quality.
Great for all-weather riding, disc brakes also perform particularly well on the trail since they are less likely to get jammed or get debris caught between the brake system and damage the hubs.
This system is easy to use and highly responsive, which means less grip strength for impressive stops or decelerating before your next sharp curve.
More: Discover the Best Mountain Bike Under $200 in 2020
| Feature Type | Feature Specs | What This Means |
| --- | --- | --- |
| Frame | Aluminum Alloy | The lightweight design makes this bike easier to accelerate, ride, and maneuver, but it means that the frame is less durable than heavier bikes made from the same material. |
| Suspension System | Full Suspension, Suntour Fork, CantiBeam SinglePivot Rear Suspension | This isn't the most advanced suspension system in the world, but its lockout system works well and lets you make quick adjustments on the fly. Better for intermediate and advanced riders, this system is rider-friendly enough that some beginners may be able to learn on this bike, but it may be more challenging. |
| Wheel | 26" double wall T6 aluminum alloy rims | Relatively durable and high-performance design has many tire options but may need a tire upgrade for the most advanced riders or trails with particularly loose soil or sand. Unfortunately, the tire selection in the 26″ range is very limited, and you may need to order replacements instead of purchasing locally. |
| Gears | 24 gear Shimano Drivetrain | Shimano offers some of the most effective and smoothest shifting drivetrains overall, and this set gives you a lot of flexibility and control. |
| Brake System | Tektro Novela Disc brakes | This improved disc brake is easy to use and highly responsive, letting you decelerate quickly and come to a full stop without any problems. Suitable for beginner and advanced cyclists, this is a great safety feature for a mid-range mountain bike. |
Social Proof
Riders on the Gravity FSX 2.0 are impressed with the quality of the ride it offers for its price range. The combination of advanced and intermediate components works to create a ride that's not quite the same as a premium mountain bike. Still, neither is it quite the intermediate experience you'd expect for a bike in this price range.
The impressive bike and suspension systems are generally thought of as the best features of this bike, but its unisex design is great for families with more than one cyclist.
The bike does need a fair amount of maintenance to stay in peak performance condition, but most users report that the maintenance is worth the quality of the rides they get out of this bike.
Alternatives
Gravity FSX 2.0 vs 1.0
There's a relatively minimal price difference between the 1.0 and the 2.0, mostly because there are only a few small improvements between the two models. If you're looking for a slightly better deal you may want to go for the 1.0, but it won't take you as far in terms of skill and variability.
Why is that?
Because the 1.0 didn't have a lockout feature on the front suspension fork, while the 2.0 does. That might seem like a small detail, but when you're looking at a bike for intermediate and advanced riders, that lockout feature really can make a world of difference.
We'd recommend upgrading to the 2.0 just to have a little more control and a bike that will let you ride with a slightly different style when you need it for the moderate price difference.
Conclusion
Overall the Gravity FSX 2.0 might not be the perfect mid-range mountain bike, but its strengths far outweigh its flaws. The design is fairly moderate and clearly designed to offer a more comfortable ride, but that can be an important feature for cyclists with joint or back issues who need to avoid the trail's stresses.
It would have been nice to see a slightly more durable frame, but in this weight and price class, it's hard to argue with a frame that only weighs approximately 20 pounds. This bike will let you go faster than most aluminum frame bikes and doesn't come with the carbon fiber price tag that can be prohibitive for many cyclists.
Overall, a great intermediate mountain bike.