The Cannondale Scalpel has been a staple in Cross Country (XC) Cycling since 2015. The bicycle is among the very best in its class. Cannondale has produced a racing machine that prospers both on the track and off through continuous refinement, and if you want to win trophies, this bike is made for you.
Light-weight and rugged, the 2015 base model scalpel was the first of its kind. Cannondale intends to keep this bicycle at the forefront of the XC market through continuous development and minor tweaks that have a serious impact on its performance. Year after year, the Cannondale Scalpel proves itself to be the leader among XC bicycles.
The Cannondale Scalpel Carbon 2 is equipped with 29″ wheels as well as a carbon frame. Therefore it is light, rugged, and durable. This bicycle is also equipped with front and rear suspension, and the four inches of travel in the rear make for the smoothest riding bike you may ever find.
Why Scalpel?
If you are looking for performance out of your bicycle, the Cannondale Scalpel can fill that desire. Its light-weight enables better handling capabilities and its durability has proven itself time and time again. Many Cross Country cyclists, from veterans to first-timers alike, have turned to Cannondale to purchase the bike that they know can perform.
Things to Consider Before Buying a Mountain Bike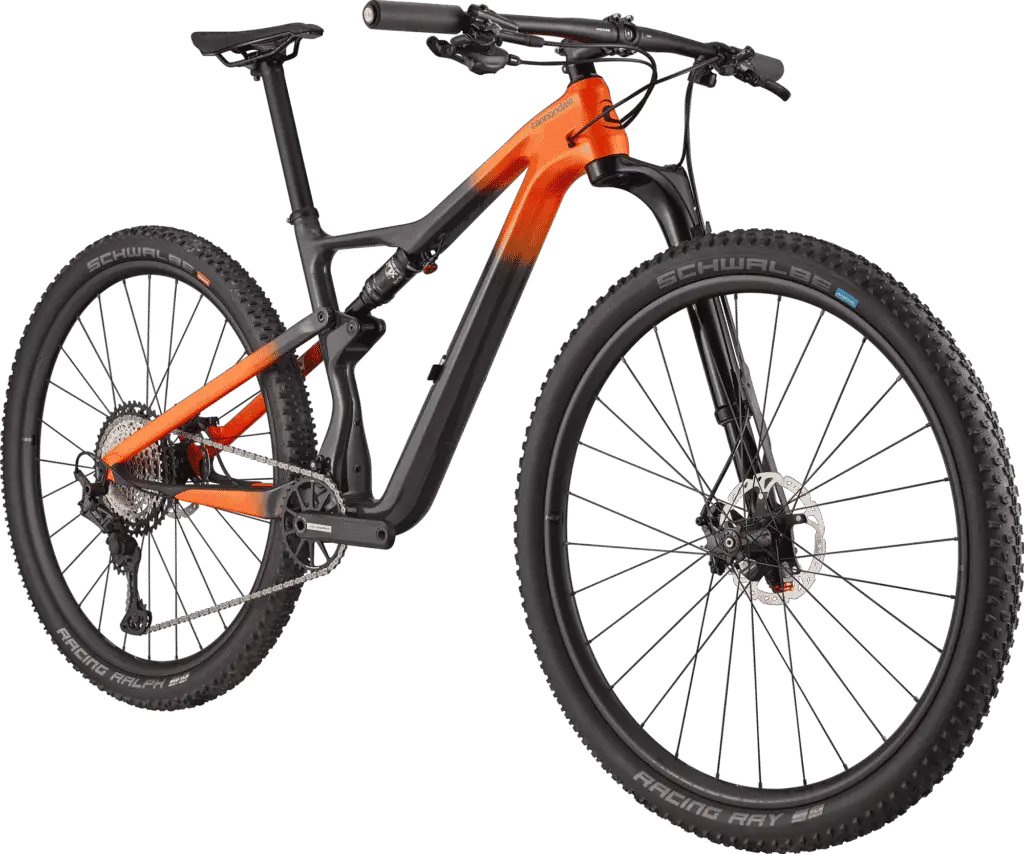 There are many details that go into the fabrication of a bicycle. From initial design to performance testing, the process that goes into their development is often detail-oriented and laborious. That is why your trust should only be vested in well-established bicycle companies when selecting a bicycle custom-tailored to your needs.
However, with so many different types of bicycles, as well as the various bits of hardware preinstalled on them, the process of selecting a bike that suits your needs is not so clear-cut. From brake types to frame composition, there are a lot of details that may seem overwhelming while you are shopping. Luckily, we have developed a buying guide that will elaborate upon some of the more occult details of the bicycle so that you can make your purchase with confidence.
Budget
Budget is going to be the most important decision you'll likely make as it pertains to purchasing a bicycle. Bicycles can get quite expensive, depending on what type of bike you are looking at getting.
Typically, entry-level bicycles are priced anywhere from $500 to $2000. One would think that you get what you pay for but the heart of the matter is not that simple. Oftentimes a more cost-effective bicycle option will outperform its mid-range competitors, but higher-end bicycles may stump all. It all boils down to what the individual cyclist has a preference for, as well as the cyclist's abilities.
Therefore, it is imperative that you first establish a budget so that you do not spend any more money than you need to get a mid-range bicycle at best. Plus, there is always the option of after-market parts once you get familiar with the bicycles' handling abilities.
More: Hyper Havoc Mountain Bike Review: Is It A Good Bike To Have?
Type of Bike
There are many various types of bikes, each suited for a specific riding style. While some of them are versatile, like the mountain bike, others are so specialized that it is often unfruitful to use them in any other way. The most popular bicycle styles today are Cross-Country, Mountain, and Downhill bicycles. Don't know the differences? No worries, we got you covered.
Long-distance cyclists often use Cross-Country bicycles. These bikes are well suited for hilly terrains due to their unique design. They are lightweight, and the mechanics of the bike makes riding uphill much easier than can be done with other bikes. Cross-Country bikes are typically more aerodynamic so that you can achieve much higher speeds and they are gifted with agility as it pertains to sharp cornering.
Mountain bikes are the most popular bicycle in the world because of their versatility. They perform well on rough terrain (they are called mountain bikes for a reason!) as well as in urban areas. Their braking system is second only to downhill bikes, and they hit corners with a high degree of aggression that will push you through before you know it. 
Downhill bicycles are made for the speed demons among the crowd, you know who you are! These bikes are intended to only go downhill and as such, they are built for speed. Due to their market demand, downhill bikes must have only the premier brakes, suspension, and wheel components.
Frame Size
Your bicycle's frame size can either make or break your cycling experience. The frame's size should be matched to your height so that you can have control over your bike and push it to its limits. There are two common parameters in determining frame size – reach and stack.
Reach is the distance between the bike's pedals and its handles. This is the most important aspect when it comes to riding position, so you should consider what will provide the most comfort for you as you are riding. A smaller reach will have you sitting straight up while a longer reach will allow you to lean into the bike's handlebars.
The stack is the distance from the pedals to the seat and is the most important parameter to consider. The stack will affect how easy it is to balance yourself on the bicycle, as well as to reach the pedals. If that wasn't enough, it also affects how well you can take corners. Getting your bicycle's stack height correct will allow you to lean into the corners which helps with overall bicycle control.
Wheel Size
The classic 26″ wheel size has been replaced by the industry standard 27.5″ wheels. Additionally, there is a 29″ wheel size option that has been growing in popularity over the past decade due to other bicycle refinements. The differences between the two-wheel sizes are primarily grip, roll-ability, and control.
The 29" wheel diameter offers a much better grip as well as the ability to roll over practically any obstacle that you may face, within reason of course! The larger circumference means that more surface area of the wheel can be in contact with the ground – which translates directly to grip.
Although it may not offer advantages in grip, nor rolling ability, the 27.5" is the most common bicycle wheel size for a reason. Since they are not nearly as large as the 29ers, they offer the rider better control and handling abilities. Handling is, without a doubt, the most important aspect of a bicycle – especially at high speeds.
More: All About the Trek Roscoe 8 Mountain Bike | Full Review
Suspension
Suspension plays a critical role in both rider comfort and the handling of a bike. There are a few different suspension options for most common bikes today and they are full suspension, front suspensions, and no suspension.
Bicycles with no suspension systems are only seen on leisure bicycles intended for cruising on smooth, flat surfaces. Any XC or mountain bike will have some suspension system, so we will not focus on suspension-free bicycles. This leaves the option for either full-suspension or front suspension.
Front suspension bicycles are termed hard-tails since they lack any rear suspension system. Hard-tails are oftentimes lighter than full-suspension bikes, which increases the handling of the bike as a whole. These bicycles are easier to pedal because there is no flex in the rear when you push down the pedals. This suspension type has been a favorite among new cyclists and veterans alike and is always a great choice.
Full-Suspension bikes are a tad bit pricier. However, the advantages they hold over their hard-tail brethren may make them an investment that you cannot pass up. What may prove difficult terrain to shred on a hard-tail becomes a breeze with full-suspension bikes since they absorb sudden jolts on both the front of the rear. This means an increased degree of stability and speed is offered by this suspension system and makes for a great option for new cyclists' wishing to boost their confidence in riding.
Features & Benefits
The Cannondale Scalpel Carbon 2 is loaded with a seemingly never-ending list of features that make it a great buying option. Here are just a few of them:
Frame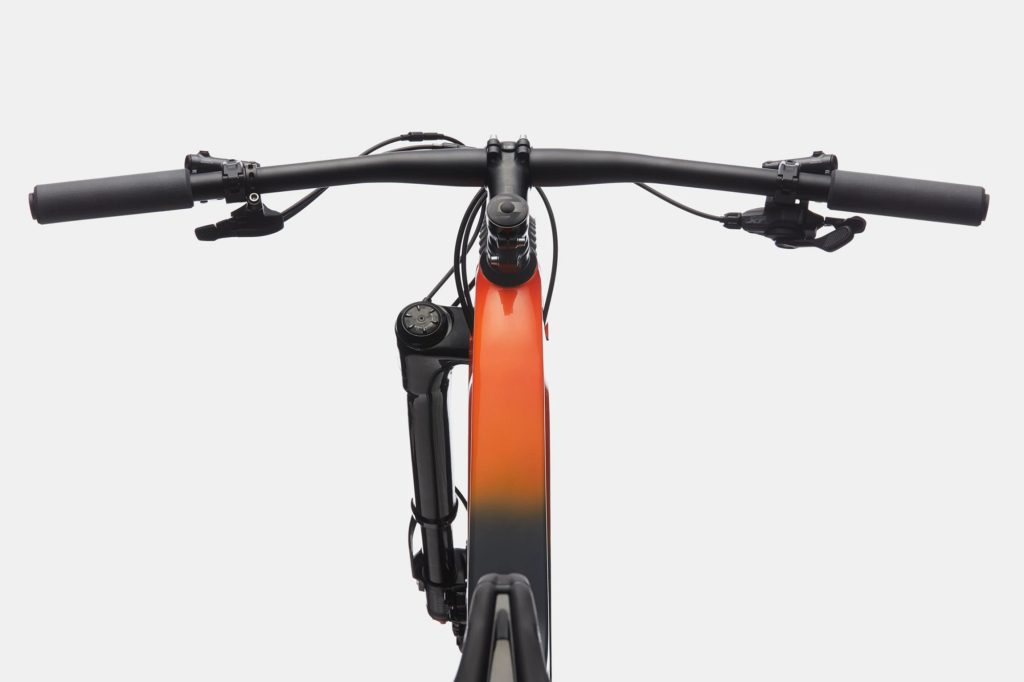 The Cannondale Scalpel Carbon 2 boasts a trend-setting frame composed of an all-new BallisTec Carbon. This frame is stout and instrumental in the bicycle's riding precision. The carbon frame offers an exceptionally rigid option in terms of drive-train effectiveness as well as complete frame torsion. The stiffness at the front fork also contributes to the bike's overall handling with a superb response to the steering. This makes under-steer irrelevant to tight corners on the Cannondale Scalpel Carbon 2.
The 71-degree angle of the frame's head tube offers the best reflex times and when in conjunction with the stiffness of its frame and a 444mm chain, you will likely never find a bicycle that will handle like the Scalpel Carbon 2. However, some cyclists may find the steep head tube angle to be a bit off-putting, but there is a fix for that. Cannondale also offers an aluminum extension tube that increases the angle, so that you can ride in comfort.
More: Best Hardtail Mountain Bike Under $1500 On the Market
Suspension system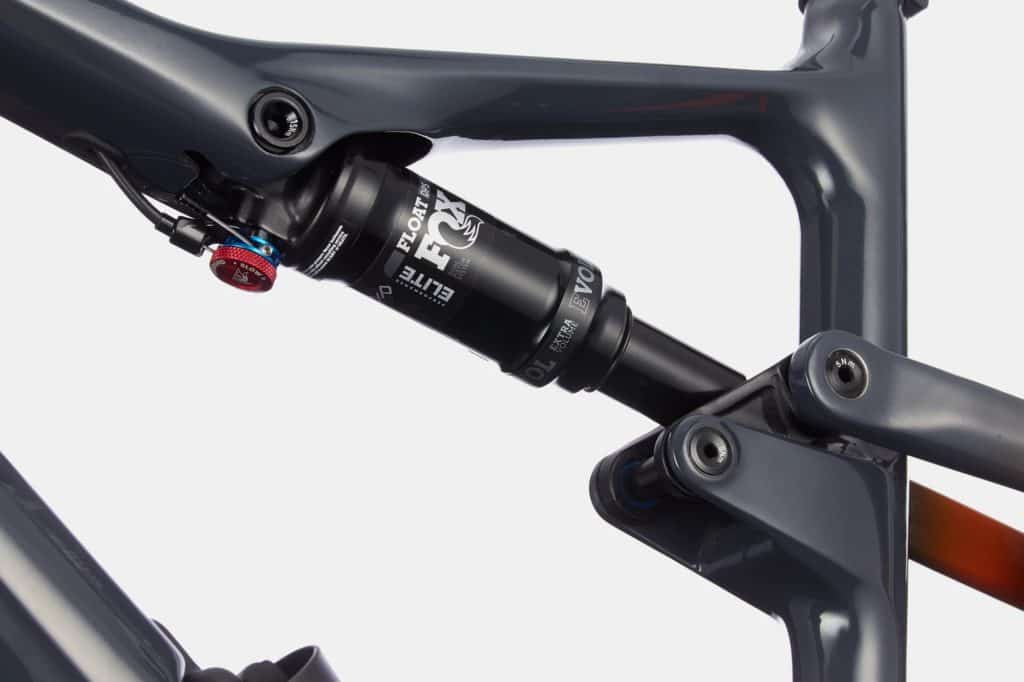 The front fork of the Cannondale Scalpel Carbon 2 includes an industry renowned Lefty Ocho shock absorber that enables 100mm travel. Remote lockout is also included on the suspension fork to customize the amount of travel if you are not content with the factory standard.
Located at the rear is a Fox Float DPS suspension system with an innovative 4 bar linkage design that replaces Cannondale's older single pivot design. Remote lockout is included within the rear as well so that customization over the suspension system is left to the cyclist.
Adjustable rebound on both the front and rear of the Cannondale Scalpal Carbon 2 makes the suspension system of the bike a major selling point. Full-suspension bikes are rumored to be sluggish and often hard to pedal due to the amount of flex within the rear. However, with the recent changes to the Scalpal, Cannondale has produced a full-suspension bicycle that is snappy and offers power transfer that is unparalleled by other bikes.
Wheel

The Cannondale Scalpel Carbon 2 is equipped with 29" Hi-Impact Carbon wheels. These wheels are super light-weight yet incredibly resistant to any abuse you can throw at them. The circumference of the wheel allows you to glide over just about any hindrances in your path while allowing for a high degree of maneuverability.
By producing a rim composed Hi-Impact Carbon, Cannondale has discovered yet another method to increase the performance of an already dominant bicycle. The innovation underlying this carbon wheel is unmatched by other bike manufacturers and will keep the Scalpel at the forefront of performance bicycles.
More: The Best Fat Tire Bikes for a Range of Conditions
Gearing System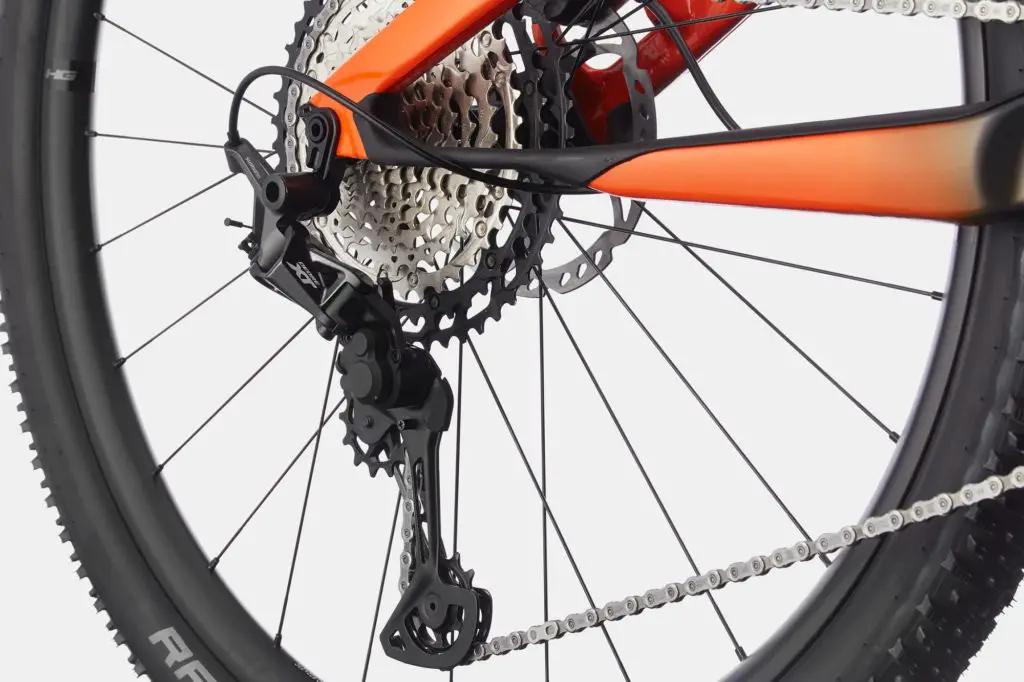 A solitary ring drive-train coupled with an 11-speed cassette may leave large voids between gears. However, with time this a feature that is definitely worth the investment. The Shimano 12-speed chain and shifters allow you to go from grinding uphill to climbing with just a single shifter adjustment. The rear pie plate features 42 teeth, further aiding you with those steep hill climbs.
Additionally, the Cannondale Scalpel Carbon 2 comes preloaded with Shimano 12-speed rear cogs as well as a Shimano derailleur. Control over your bike's speed is vital if you are an avid racing cyclist. Cannondale has deliberately developed all these features to produce one of the very best XC bicycles on the market.
More: The Absolute Best Hard-Tail Mountain Bikes Under $500
Brakes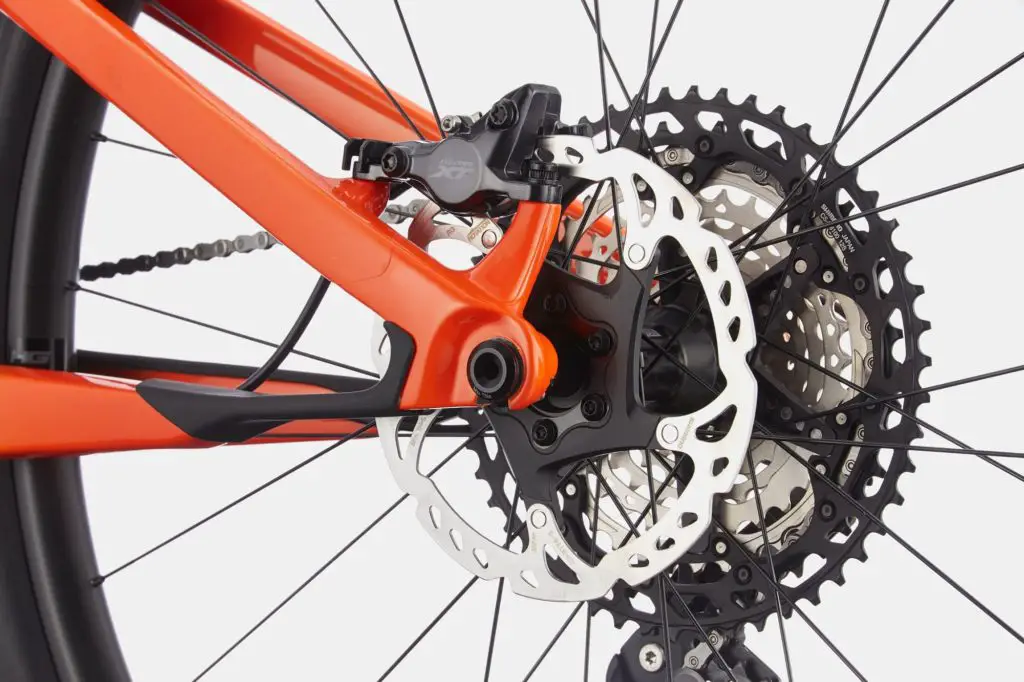 The Cannondale Scalpel Carbon 2 is equipped with industry-standard Shimano hydraulic disk brakes mounted on 160mm XT rotors. Hydraulic disk brakes offer much more stopping over their mechanical disk, or worse – linear-pull, type braking systems.
Shimano is a leader among bicycle braking components, so rest assured, the Cannondale Scalpel Carbon 2 is equipped with top-of-the-line braking components. The hydraulic braking system included on this bicycle delivers enough power to come to a complete stop from high-speed, even on a steep incline. Since they are hydraulic disc type, you never need to worry about warping the wheels under hard braking.
More: Diamondback Atroz 2 Review: Worth a Buy!!
| Feature | Pros | What this Means |
| --- | --- | --- |
| Frame | Light, rugged, unmatched Geometry design | High degree of control over the bike; capable of high-speeds |
| Wheel | 29", Light, carbon design | Sheds weight in places other competitors don't for increased speed capability |
| Suspension | 4 bar linkage is a major upgrade over single bar designs | Full-suspension system that offers superb power delivery while keeping comfort in mind |
| Gearing | Great power delivery | 12-speeds offers you outstanding control over speed |
| Brake | Hydraulic disk brakes delivers industry leading stopping power | You will be able to stop on a dime if need be |
Social Proof
The Cannondale Scalpel Carbon 2 has been featured in many cycling races and marathons all over the world. From this fact, it's no wonder that Cannondale places so much emphasis on the dedication to their craft. Stemming from years of experience within the bicycle fabrication industry, Cannondale has garnered a reputation for being one of the very best.
After developing a championship-winning bicycle, Cannondale has continued their dedication to the 2015 Scalpel base model. They continually upgrade the bicycle, so that professional cyclists can reap the benefits of choosing a world renowned, trophy winning machine.
After the sheer number of championships and trophies professional cyclists have received at the hands of this bicycle, it is no wonder that many people from around the world are beginning to consider purchasing this particular model. With dominant features, and an unbeatable handling platform, the Scalpel 2 has become one of the most popular bicycle's across the markets. 
More: Trek Marlin 7 Review: Is it A Good Bike?
Alternatives
The Specialized Epic bicycle is another bicycle that shares many of the same features of the Cannondale Scalpal 2. It makes for a great alternative to look into before buying the scalpal. The following are some of the very minor differences between the two.
Both the Cannondale Scalpal 2 and the Specialized Epic bicycles have developed a frame that utilizes the flexibility of the rear triangle. The Scalpal uses a flex-pivot located within the chain stay whereas the Epic's is located at the seat stay.
The Scalpal uses the propriety Cannondale Asymmetrical Integration drive train to enable more tire clearance. Their drive train also enables for a more rigid and stiffer wheel. Unfortunately, the Epic has nothing comparable to this feature as Cannondale is the industry leader among bicycle drive trains.
Conclusion
The Cannondale Scalpel Carbon 2 is the epitome of modern, state-of-the-art bicycle. With the features that Cannondale has been refining since 2015, purchasing this bicycle will place you into a class shared with trophy contenders and race winners. This bicycle was built for speed and leads the competitors with its unparalleled handling abilities.
Cannondale has built and maintained its reputation for delivering top-notch racing machines among cycling enthusiasts. Through continuous development they have been able to push the Scalpal model to the fore-front of the Cross-Country bicycle market. The Cannondale Scalpel Carbon 2 is a light, durable, and rugged bicycle that in a class all its own and a cost-effective option.