The Hyper Havoc mountain bike is available in a wide variety of sizes and styles. This bike has a lightweight frame as well as a twist shifter that makes gear changes easy and seamless. This mountain bike makes it easy to get outside and have a blast, with a design that allows for a full day of biking with ease. Hyper Bicycles is a company that was founded by a former BMX rider, so they know their stuff when it comes to biking. 
Things to Consider Before Buying
Hyper Havoc Mountain
Assembly is required with this bike so it is definitely recommended that you have some experience with assembling a mountain bike. Ideally, experienced mountain bikers should consider buying this bike or a beginner who has done plenty of research. If you are a beginner mountain biker, do some research on how to assemble this type of bike, before you buy it. There are also some great beginner options out there and pre-assembled bikes such as this one on Amazon.
If you're new to mountain biking, consider what type of mountain biking you will be doing and what bike fits with that style. Some mountain biking styles to consider: trail, cross country, all-mountain, and downhill. Also, remember that the size of your bike frame and tires depends on how tall you are. Do some research on what size bike is best for you, given your size. 
Features & Benefits
When buying a mountain bike, it can be easy to get overwhelmed with all of the different options out there. It is easy to feel like all bikes look the same and get confused by terms like "full suspension" or "21-speed". We're here to simplify this process for you a bit. We took some time and researched what exactly sets the Hyper Havoc mountain bike apart from all the rest. Below are some features, specifications, and benefits of this bike, including the frame, suspension system, wheels, gears, and brakes. 
Frame
This mountain bike is made with an aluminum frame. Aluminum is a great option because it is affordable, meaning a good price point for you, and it is lightweight and durable. Aluminum can be a bit stiff, which has its benefits and drawbacks. Overtime, the frame's stiffness can lead to small 'fractures" in the frame, an issue that might not occur with high price point material such as carbon. For the beginner mountain biker, this is still a great option.
More: All About the Trek Roscoe 8 Mountain Bike | Full Review
Suspension system
This bike has a full suspension system with fork, meaning its range of motion is extremely versatile. The suspension system in a mountain bike has an effect over the control and traction, so this is a super important feature. Having a good suspension system will also make a mountain bike more comfortable and easier to ride. 
Wheels
This Hyper Havoc mountain bike comes with wheels that are 26 inches. The frame size is paired with the wheels of an appropriate size. This wheel size is typically good for a terrain that requires the biker to react quickly. This wheel size can also feel very stable. Some wheel sizes are better for different heights. Twenty six inch tires are ideal for someone who is between 5' 0" and 5' 5". If you're taller, you might want to consider a larger tire size. 
More: Gravity FSX 2.0 Review: Is It A Good Beginner Mountain Bike
Gears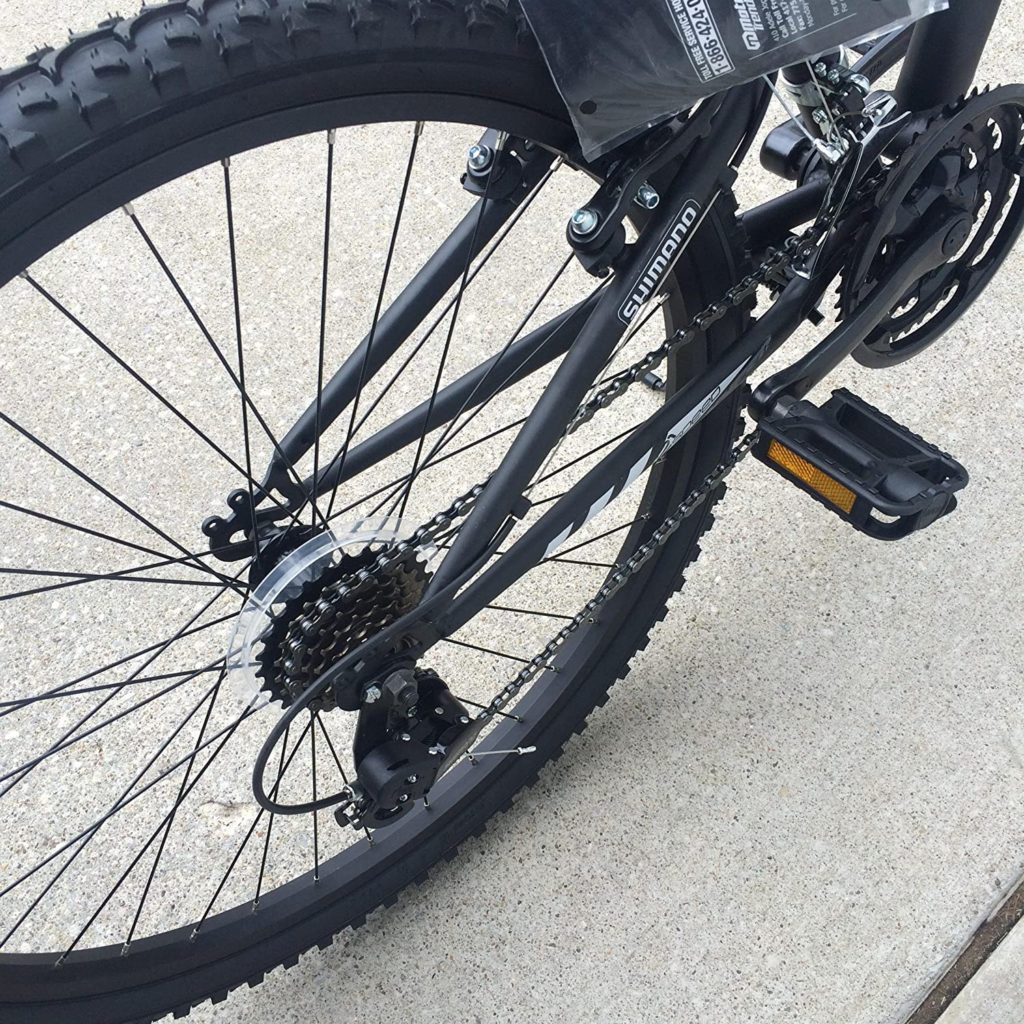 This bike's gears include a 21-speed twist system. A 21-speed mountain bike has three gears in the front and seven in the back. Basically, this allows you to ride at different speeds, inclines, and terrianes. This makes your mountain bike more versatile. It also allows you to cater your bike to the exact setting that works best for you and for where you like to bike. 
Brakes
The Hyper Havoc mountain bike is equipped with front and back brakes, as opposed to just back brakes. With front and back brakes, you will be able to stop more quickly. Having both front and rear brakes also helps you stop more safely. Learning to brake properly on a mountain bike is actually incredibly important. 
It is important to use both brakes when stopping, even though it might be easy for some beginner bikers to avoid the use of the front brakes. Many beginning mountain bikers have made the mistake of slamming on the front brakes and flipping over the handlebars. This doesn't mean you should avoid the front brakes, because they are super important to use. You just have to learn to use both the front and back brakes together and to use them properly. 
More: Diamondback Bicycles Overdrive 29 3 review: Is A Good Mid-level Bike?
| Feature Type | Feature Specs | What This Means |
| --- | --- | --- |
| Weight | 50 lbs | The average mountain bike weighs about 29 lbs, so this is a slightly heavier than average bike. However, a heavier bike does not mean that your biking performance will suffer. |
| Suspension | Full suspension with fork | Full suspension mountain bikes typically come at a higher cost than mountain bikes of other types. This is because the full suspension manufacturing process is a lot more complex than other mountain bike options. In the process of making a full-suspension bike, the manufacturer essentially has to make two different frames, and it requires a lot of different hardware. This type of suspension allows for improved traction, control and comfort. |
| Frame Material | Aluminum | Aluminum frames typically come at a slightly lower price point than other types of frames such as carbon. Aluminum is still a high quality material and is made to last. Aluminum is lightweight, durable and stiff. |
| Manufacturer | Hyper bikes | Hyper Bicycles inc. was started in 1990 by pro BMX biker Clay Goldsmid. Originally started by just making professional level BMX frames, Hyper Bikes has grown into so much more. As a company made up of avid BMX bikers, they later established the same credibility in the mountain biking arena. Basically, they know their stuff when it comes to bikes. |
| Dimensions | 52.36 x 7.48 x 27.17 inches | These are pretty typical dimensions for a mountain bike. When looking at a mountain bike's dimensions, it is most important to consider the width and length. The frame size also is dependent on your height so do some research on what frame is best for your height. The taller you are, the larger the frame size is that is recommended for you. |
Social Proof
After searching the internet extensively, the overall verdict is that this is a great mountain bike. Buyers were happy with their purchase and could get a lot of use out of this high-end, yet reasonably priced mountain bike. Buyer's reported easy assembly, comfort and durability. Some customers talked about the years of use they got out of this mountain bike and how it is one of the best they've had the pleasure of riding.
More: Diamondback Release 3 Reviews: Worth Buying?
Alternatives 
There is a mountain bike out there for everyone and there is a chance that the Hyper Havoc mountain bike isn't necessarily the best option for you. It can be overwhelming to shop online for mountain bikes, with tons of options out there. Lucky for you, we've done plenty of research and have listed a couple of alternatives below in order to help you find the perfect fit. Some considerations to keep in mind when shopping for a mountain bike: the best size frame and tires for your height, what type of terrain you'll be using it on, what type of brake/suspension system is ideal for you, and how many different gear speeds you'd like to have.
Sirdar S-800 
The Sirdar S-800 comes equipped with 29-inch wheels, so it is ideal for someone who is over the height of 5'5″. This bike has 27 different gear speeds and a gear shifter that allows you to change gears with the ease of just a fingertip. This bike comes at a higher price point than the Hyper Havoc and goes for about $400. This bike also has an aluminum frame and requires assembly.
Similarities
Aluminum frame
Requires assembly
Difference
Larger wheels, made for taller bikers
More speed options
Higher price
Mongoose Dolomite Men's Fat Tire Mountain Bike
The Mongoose Dolomite mountain bike comes with 26-inch tires and a steel frame. A steel frame is thought to be one of the most durable frame material options. This bike offers seven speed options, extra-wide tires, and mechanical disc brakes. This bike requires assembly and is a bit more expensive than the Hyper Havoc. This bike can be ridden in mud, snow, dirt and even on city roads. This bike is made for a rider between the heights of 5′ 6″ to 6′ 0″. Check our review here
Similarities
Same size tire
Assembly required
Differences
The steel frame sets this bike apart from the Hyper Havoc because steel is thought to be one of the most durable options. Steel is also a bit less stiff than aluminum. 
More expensive (approximately $400)
Less speed options
Ideal for taller bikers
Hiland 26-inch Mountain Bike
The Hiland 26-inch mountain bike comes equipped with a steel, 18-inch frame. This bike has an eye-catching gradient paint job and a double-disc braking system. The Hiland mountain bike also offers 21 different speeds and is a bit more expensive than the Hyper Havoc, running at around $340. This bike requires assembly but comes 85% preassembled, making life easy for you. This bike is ideal for someone who is 5' 7" – 6' 0" tall. 
Similarities
26- inch tires
21 gear speeds
Differences
More expensive
Steel frame is more durable than the aluminum frame of the Hyper Havoc.
Brighter paint job
Conclusion
When shopping for a mountain bike, it can be a bit overwhelming. With tons of options out there, how can you know that you're choosing the right one? Well we've got the answer for you. The Hyper Havoc might be the perfect mountain bike for you with its high quality aluminum frame, 21-speed gear system, and full suspension system, this bike is a force to be reckoned with.
The Hyper Havoc is made by a company with plenty of experience and knowledge when making bikes. This bike also comes equipped with front and rear brakes. When researching what buyers think, it is pretty clear that they were pleased with their purchase of this bike.
This bike does come disassembled so it is good to do some research and preparation before buying it, if you are new to mountain biking. There is a bike out there for everyone though, so we gave you a couple of alternative options as well just in case the Hyper Havoc isn't the absolute best option for you. Just remember, there is definitely an option out there for you. You'll just have to do a little research to find the perfect fit.