Biking has been around now for 200 years. Since the bicycle's debut in 1817, there has never been a hobby more shared by individuals across the world. As such, the bike has seen its fair share of technological upgrades and innovations that have pushed the bicycle's performance to its limit. Some of these improvements are obvious – such as the braking systems, but others are not so directly blatant.
You never stop considering the amount of technology that goes into a bicycle, that is, until you've decided that you would like to purchase one. At that point, the internet or bike salesman will throw out words like, '100 mm travel, hydraulic disk breaks, 7-Speed derailleur, etc.' and expect that you know what it is they are talking about.
All you know is that you want to get out on the road and feel the wind on your face. Don't worry, we've got you covered. We've amassed a one-of-a-kind detailed guide on some of the very best bicycles on the market, the versatile mountain bike. So read on if you need help with deciding what kind of mountain bike would be best suited to your needs!
IMAGE
PRODUCT
DETAILS
 rating
price

Best Overall

Trek Marlin 4

Frame Comp: Alpha Silver Aluminum
Brakes: Mechanical Disk, 160mm Rotors
Wheel Options: 27.5"x2.20"29"x2.20"
Drive-Train: 7-Speed

Budget-Friendly Option

Giant ATX

Frame Comp: ALUXX-Grade Aluminum
Brakes: Linear Pull
Wheel Options: 26"x2.2" or 27.5"x2.2"
Drive-Train: 7-Speed

Mongoose Dolomite

Frame Comp: Steel Alloy
Brakes: Dual Mechanical Disc
Wheel Options: 26"x4"
Drive-Train: 24-Speed

Schwinn High-Timber

Frame Comp: Steel Alloy
Brakes: Linear Pull
Wheel Options: 26"/27.5"/29"x2.20'
Drive-Train: 21-Speed

Specialized Rockhopper 29

Frame Comp: A1 Premium Aluminum
Brakes: Mechanical Disc, 160mm Rotors
Wheel Options: 29"x2.1″
Drive-Train: 8-Speed

Framed Rendal Alloy

Frame Comp: Steel Allow
Brakes: Hydraulic Disc, 160mm Rotors
Wheel Options: 29"x2.1″
Drive-Train: 7-Speed

Vilano Blackjack 3.0

Frame Comp: 6061 Aluminum
Brakes: Mechanical Disk, 160mm Rotors
Wheel Options: 29"x2.1″
Drive-Train: 24-Speed
Review Of The Best Hardtail Mountain Bikes Under $500
Whether you've been riding your whole life or just now getting started, Trek is a great company that garners trust from the biking community. Their Marlin 4 mountain bike was produced for newcomers and trail veterans alike so that a hefty price tag will never keep you from riding ever again. The Marlin 4 may be on the market with an affordable price tag, but its quality far exceeds this price point. 
The Marlin 4 is distinguished from its competitors by its superb handling, which stems from the manufacturer's attention to the bike frame's geometry. This same type of frame is seen on some of Trek's higher-end models and provides features such as internal cable routing. Needless to say, the bike frame alone is one of the major selling points of the Marlin 4.
The bike also has two wheel options, 27.5" or 29" and mechanical disk brakes with plenty of power to stop them. The Tektro brake system comes in on 160 mm rotors on both the front and back wheels. While stopping precision may not be one of the Marlin 4's best features, the stopping power will certainly surprise you. This makes hitting hills and descents a bit less risky.
The Marlin 4 also boasts a 21 gear, 3×7 drive-train built from Shimano Tourney components as well as a cassette with a 14×28 tooth range. This makes the bike a not-so-great choice for steep inclines, however, if you are looking at casually riding, this aspect will not affect you. 
A sleek, new design makes the Marlin 4 a go-to for many newcomers in the world of mountain and trail biking. It is rugged and a cost-effective machine, which makes it a great option for every-day use.
Giant's ATX is making waves in the biking industry all around the world, and that may be due in part to the fact that this bike can be ridden in just about any part of the world. It's lightweight and a rugged option to its competitors and even offers three, stainless spoke, wheel sizes. This makes it easy for you to tailor your height to your bike frame.
Fabricated with ALUXX-Grade Aluminum, the ATX is a lightweight alternative to many Steel options out at retailers. A front-end coil-over enables you to stay glued to the ground in rough terrain, while absorbing much of the bumpy ride. Selecting the correct size wheel to accompany the frame will enable you to whip around any tight cornering situation and allow you to handle your bike like a professional.
The ATX is equipped with Shimano EF41 brake levers to activate a linear-pull braking system in times of need, and will not disappoint. The brakes provide plenty of stopping power so that you can accept the challenge of any steep incline.
Dolomite - Mongoose
Mongoose has a reputation for building quality bikes for a fraction of the price of other big-name companies out there. The Mongoose Dolomite is one such example of the craftsmanship they put into their products. This bike is a 26″, fat-tire model that will take you anywhere, in any conditions. This has enabled many bike enthusiasts to ride in the snow or on muddy trails. Going off-road on this bike is no problem!
The wheels are what sets this bike apart from its competitors. The Dolomite comes from the factory with 26″ inch diameter by 4″ wide wheels. Needless to say, this bike is intended for off-road use. The wheels provide out-of-this-world traction and absorb most of the discomforting bumps and crevices you will be exposed to while riding.
Although its frame doesn't sport any shock-absorbing features, the Mongoose Dolomite's frame was designed with the user's comfort in mind. It is composed of a lightweight Steel alloy material that offers strength and longevity. The geometry of the frame enables better control over the bike as a whole, especially when off-roading. However, you will see the benefits of the frame design even while cruising on the pavement.
Other Mongoose Dolomite features are adjustable, dual disk brakes, Shimano Tourney derailleurs, and a 7-speed gearing system. Mongoose also designed this bike with options for future modifications, making this bike one of the very best in the off-road class.
High Timber – Schwinn
If you ask any biking enthusiast who the best bicycle companies are, you are most likely to hear Schwinn at least a few times. Needless to say, Schwinn has a reputation for delivering quality bicycles tailored to newcomers and veterans alike.
The High Timber model from Schwinn is among the best options for a mountain bike that does not trade quality for a low price tag. It is technically a hybrid bike, which means that it is suited for rough terrain and pavement alike. It also comes with a limited lifetime warranty that will give you peace of mind in its purchase. 
Some of the features of the Schwinn High Timber are Shimano twist-shifters that work with a 21-speed gearing system, front/rear linear-pull alloy brakes, and an unparalleled suspension fork to allow only the most precise control over your bike.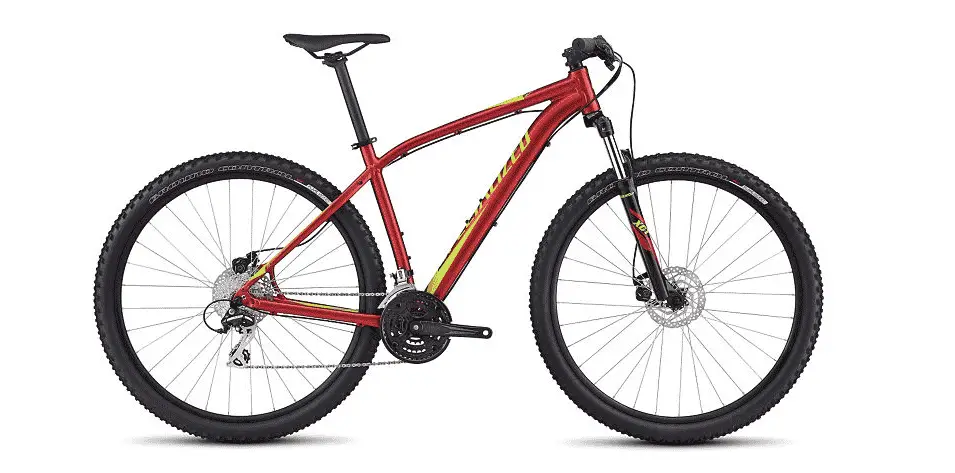 The Rockhopper 29, from manufacturer Specialized, is one of the very best bikes on the market as of yet. It is an entry-level cross-country mountain bicycle that offers a cost-effective solution to a top-shelf product. There are six models of this bike, and all come in at an inexpensive price.
The Rockhopper comes with a lightweight, A1 aluminum frame that sits on either 27.5″ or 29″ wheels. Its geometry, as well as weight, enables unparalleled handling and rider comfort when you are off-road. Internal cable routing gives this bike a sleek look, and if that isn't enough, you should really check out the color options Specialized offers for these models.
Comfort is a major perk for this bike. The SR SunTour XCE shock-absorbing fork at the front wheel will take on any bump, rock, or other obstruction you may find on your path and make it seem like nothing. Not to mention the fact the SunTour XCE will also aid the user in difficult cornering situations.
The Rockhopper braking system involves the 29 Radius CX7 mechanical disc set mounted on 160mm rotors that supplies supreme stopping power. Front/rear Shimano derailleurs and an 8-speed gearing system offer simplicity without risking reliability. It has been said, by many experts in the biking communities, that the Rockhopper 29 is the best entry-level bicycle money can buy. We believe it.
To the common person, Framed may seem as an unfamiliar name in the biking world. However, the company has focused intently on establishing itself as a leader in bicycle fabrication. They are a small company based in Minnesota and dedicate itself to producing high-quality bikes and bike parts.
From the trails to the streets, the 29″ Rendal Alloy will suit all your needs. As the name suggests, it is composed of a lightweight alloy with a lustrous geometry, making this an easy bike for anyone to ride. The SR SunTour fork at the front wheel enables up to 100mm of travel to keep your ride as smooth as the bike's looks. 
The Rendal Alloy features the market-standard Shimano Tourney derailleurs along with a Shimano, 7-speed cassette. This makes the process of switching gears intuitive when you need to pedal uphill – not to mention the fluidity of the gear change itself.
This bike is distinct from its competitors which is due primarily to its phenomenal hydraulic braking system. Hydraulic brakes offer much more stopping power with a gradual delivery system. Typically hydraulic brake systems are only included with high-end bicycles, usually in the price range exceeding a grand. However, Framed has produced a bike with this feature, and many, many more, all for a price that will not break the bank.
Blackjack 3.0 - Vilano
If you already know that it's a 29" mountain bike that you're going to purchase, look no further than Vilano's Blackjack 3.0. The bike has low-profile handlebars that serve to aid its maneuverability, which is a major downfall of 29" wheelbase models. This makes the Blackjack a perfect entry-level 29" bicycle, and affordable too.
A 17-inch frame composed of lightweight aluminum alloy ensures that the bike is made to last, and enable you to pick up some speed. The geometry of the frame is among the best that we have seen and is crucial for a well-handing 29er. Traction is superb, and the front-end suspension will provide you with a ride like no other you've ever experienced.
Shimano derailleur's and a Shimano shifter enables you to choose from up to 24 speeds as you're out pedaling about. Integrated Shimano brake levers activate the mechanical disk brakes to provide you a gradual, but powerful, delivery of stopping power.
With all the components and features that Vilano has included in the Blackjack 3.0, one would expect the price on the bike to be a bit steeper. However, the low-cost of this bike makes the Blackjack an investment that you will thank yourself for in the years to come.
A Little More Help with The Details…
Selecting a bicycle that will suit all of your individual needs in an ocean teeming with information and spec sheets can be daunting. However, knowing a few of the most common terms involved in the bicycle industry can do wonders. Listed below are a few of the features that you need to know about to select a bike that will keep you riding in the years to come.
Suspension
The suspension is a bicycle feature typically reserved for mountain bikes solely. This addition provides for protection over unexpected bumps, holes, rocks, twigs, and other obstructions. The suspension parts are placed on the front fork of the bike and absorbs sudden vertical action with a spring. The suspension simply lets the front fork 'float' above the wheel.
While it isn't necessarily required, bike suspension is a must for anyone looking to keep comfort a top priority in choosing a bike. Aside from comfort, front-end suspension also provides better traction, more control of the bike, and even better braking. Front fork suspension is now a market standard among mountain bikes, and it is easy to see why.
More: Diamondback Atroz 2 Review: Worth a Buy!!
Frame Material
Frame material is the primary contributor to overall bike weight. The industry has been fabricating bicycles for years now using only two types of materials: Steel and Aluminum.
Steel is the most common type of material for frames in more cost-efficient bikes. Bicycles with a steel frame is said to ride smoother on the pavement, but that is up for you to decide. Steel frames are also rugged and can stand the test of time.
Aluminum is typically reserved for cross-country or competition bikes as the material is lighter than its steel counterpart. This makes loading or storing your bike a breeze. However, lightweight does not imply the frame will bend under you. Aluminum frames have proven themselves every bit as strong and up to challenge as Steel frames.
More: Hyper Havoc Mountain Bike Review: Is It A Good Bike To Have?
Wheel Size
The most common wheel sizes on adult bikes are 26", 27.5" and 29", with each having its own advantages and disadvantages. It also should be noted that the size of the wheel you choose will directly impact the bike frame size requirement as well.
26" wheels were, at one point in time, the most common in the industry. They offer the best maneuverability among all the wheel sizes and come in as the lightest. Due to their small radius, they are also the strongest. However, their small size can be slowed or even stopped easier than any other wheel size.
27.5" wheels highlight the advantages of both the 26" and 29", while diminishing their setbacks. For example, a 27.5" wheel will not be slowed quite as much as the 26" on rough terrain and is much more maneuverable than the 29". More surface contact with the ground allows the 27.5" more grip on the terrain, but not too much. In recent years, we have seen a few manufacturers completely abandon their 26" base models in favor for the 27.5".
29" wheels are a great choice if you are looking for speed and grip. The more rubber that touches the ground means the more grip you will have at high speeds, and the 29" is the best that money can buy right now. The wheel size also offers the greatest stoutness among its peers and will roll over almost any obstacle in your way.
More: All About the Trek Roscoe 8 Mountain Bike | Full Review
Drive-Train
The drive-train of a bicycle may seem like a bit of an occult subject, in practice, it is easy to use. The handlebars on the bike also serve as a gear switching mechanism. Utilizing gear switching can save you effort while pedaling, especially if you are going uphill.
Most modern bikes come with a 7 or 21 speed. Either drive-train is suitable for biking. The only difference between the two is that the 21-speed offers in-depth control while the 7 speed is a one-size-fits-all option.
More: Best Hardtail Mountain Bike Under $1500 On the Market
Brakes
Unlike motor vehicles, bicycles have seen a plethora of braking systems over the years. Even nowadays, there is still a handful of brake types that you will see in any bike shop. However, caliper and disk brakes are the two most common types used today.
Caliper brakes work by clasping either side of the metal rim on the wheel. In this way, the metal rim slows its rotation due to the friction of the brake pads. Caliper brakes have been around for decades, so rest assured they are guaranteed to work for you. This brake type is often the standard for road and youth bicycles as it is simple, ergonomic, and effective.
Disk brakes stray away from applying friction to the metal rim of the wheel, which can cause warping in unfortunate circumstances. This issue has been solved by allowing the pads to clamp down on a metal disk attached at the center of the wheel. This braking system provides much more stopping power than its outdated caliper system counterpart.
However, with the addition of a rotor, disk brakes tend to add a bit more weight than traditional braking systems. If you are doing competitions, this could be a deal-breaker.  
More: Trek X Caliber 7 Review: Is It A Good Bike To Buy?
Wrapping Up
Just because you can't afford a top-of-the-line bicycle doesn't mean you should give up and stay inside. Markets are ever-changing, and there will always be ever-more innovation  that strives to reduce the cost involved with fabricating bikes. In just the past 10 years alone, we have seen a significant price drop in the cost of mountain bikes from nearly all companies across the spectrum.
That means that now it is more affordable than ever before to get your feet wet and start biking. Whether it's shredding some trails, bombing steep inclines, or simply cruising down the street on your commute to work, there is an option out there for anyone's budget.
The important takeaway here is that you do your research on the specific bicycle you want. As can be seen, there are a lot of mechanical parts on a bicycle that each, independently, contributes to the overall functionality of it. A single component not working at its full potential can have detrimental effects on the handling of your bike. Likewise, swapping one component for a higher quality one can make a world of difference, and we can attest to that.
It goes without saying that you should have an intent for your bicycle before even looking at a catalog. You may not be able to tell, but there is a vast difference between a street bike and a mountain bike. It's these kinds of differences that you need to be aware of before making your purchase, so that you can return home after your bike ride, unscathed.
One final piece of advice is that, if possible, take the bicycle for a ride before purchasing it. Bicycles are not a one-size-fits-all type of contraption. On the contrary, bikes are a highly individualized piece of machinery, so, what works for your friend may not work for you.
For future reference, if you should have any questions, contact the bicycle manufacturer's customer support team. These individuals are willing and ready to help you with any and all problems you should have in selecting a mountain bike. The customer support's contact information is listed on their website, so all you must do is call them!