Welcome to my Trek Dual Sport 2 Review.
I've used a lot of bikes over the years and Trek Dual Sport 2 is my favorite commuter/hybrid bike on the market.
Feel free to try other bikes if you are searching for an all-purpose bike, but if I were you, I'd go with one that's proven to be high quality, easy to drive, and heavy-duty bike.
Overview
This affordable entry-level model features some great adaptations that make it an effective and desirable option for a commuter bike. The frame of the Trek Dual Sport 2 bike is lightweight and well-balanced, especially when paired with all-terrain tires like the ones that are installed when you buy the bike. 
This model is relatively accessory light, with most of the manufacturing budget having gone to get better components on a good frame. 
While this might be a good commuter bike for the road, we were also pleased to see some mountain bike adaptations, like a suspension fork and hydraulic disc brakes, adding to the effectiveness of this design. 
Things to Consider Before Buying a Commuter or Hybrid Bike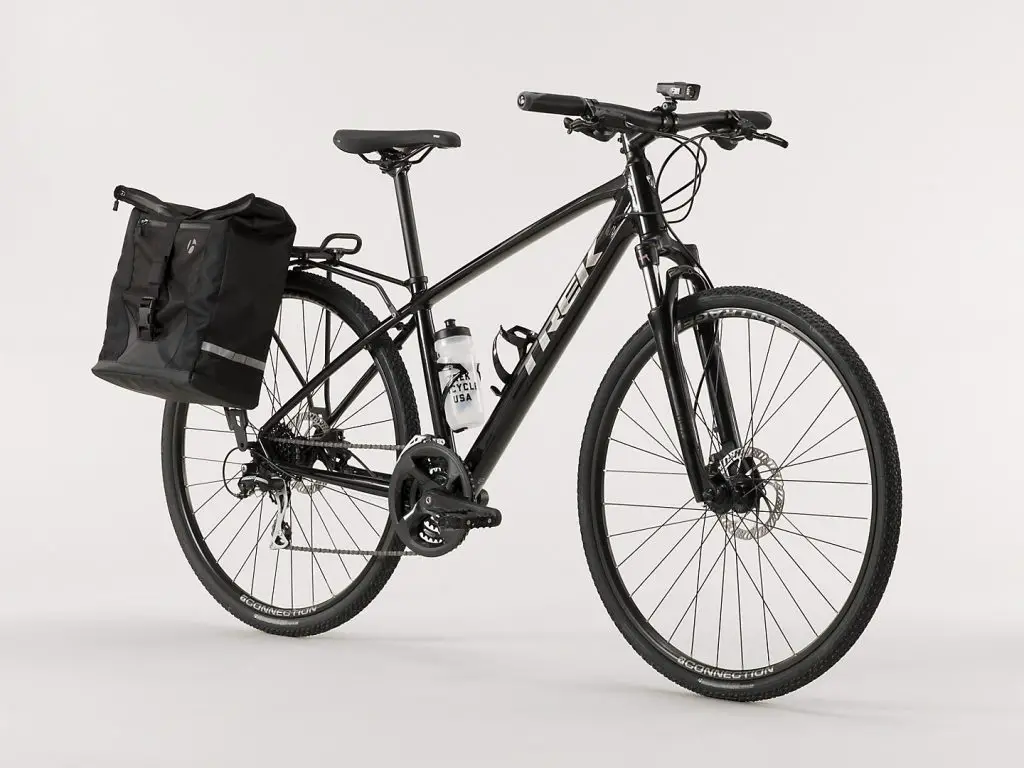 Commuter bikes are often the more all-purpose style of bike. They aren't really meant for racing, which means that they're generally a little heavier. They also use wider tires with a grippier tread that gives you more stability but potentially slow the bike down a little. 
These bikes also often have mounting holes drilled, but don't always come with the accessories you may want to make them a more commuter-friendly model. 
That said, it's often cheaper to buy the accessories you want and add them than it is to buy a hybrid bike that comes with accessories pre-assembled. 
Overall, commuter bikes are good as an option for people who want to commute, and for leisure riders who aren't looking to take on big races or challenging trails. 
Features & Benefits
Frame
The frame is made from high-quality Alpha Gold Aluminum. It's designed to give you a streamlined and well-balanced system. The frame doesn't come with the added accessories, but it is rack and fender ready, so you can add them whenever you like. 
For more accessories, you may need to take this frame to a shop to get the necessary modifications. Fortunately, for most commuter bikes, you shouldn't need much more than just a rack. 
However, where a lot of commuter bikes allow for a slightly heavier frame design than good mountain bikes and racing bikes, this model is a little lighter than average. It's less than a pound of difference, 
More: Best Bike for Overweight Rider
Suspension System
Unlike a lot of commuter bikes, this model does come with a pretty good front suspension. The suspension is all in the fork, and the Trek Dual Sport 2 features an SR Suntour NEX, coil spring, preload hydraulic assisted suspension. 
There's only about 63mm of travel in that fork, but that's still a lot more than you can expect from most road bikes. It's more than enough to absorb the occasional bump in the road or a small pothole or two. 
It also features a hydraulic lockout system that makes it easy to avoid wear and tear on your suspension by locking it in place. That can also be a good option anytime you're riding somewhere you really want to feel the terrain through your bike. 
Fortunately, locking and unlocking the suspension is relatively simple, so you don't need to worry about going through a complicated process every time. You should be able to reach the lockout mechanism easily, seated on the bike, or standing next to it. 
More: Trek X Caliber 7 Review
Wheel
The wheels on are designed to fit 700x40c tires, a common and adaptable size for commuter and road bikes. 
The rims have a double-walled system for added durability. They're made from aluminum alloy, which, while not quite as lightweight as carbon fiber wheel rims, does tend to cut down on the noise from those wheels. 
That's less of an issue since Trek Dual Sport 2 is designed with disc brakes, but it's still worth considering in case you upgrade to a combination system down the line. 
Gear
The drivetrain on this hybrid bike is all Shimano parts, from the Altus line. They're affordable, but also highly effective, with minimal pressure needed to switch gears. 
The Trek Dual Sport 2 also comes with a particularly wide range of gears, perfect for navigating urban hills and dealing with heavy stop and go traffic. 
You'll get one 8 gear system, and the other shifter is a 3 gear. That gives you a total of 24 distinct settings to move through. As you get more accustomed to the system, you'll discover that the wide range of gears on this bike makes it much simpler to make the most out of your pedaling power. 
More: the Best Hybrid Bike Under $500
Brake
Next to the frame, the brake system is probably the second most important part of your bike. It's one of the most important safety features on your bike. 
Fortunately, since Trek Dual Sport 2 comes with a hydraulic disc brake from Tektro, you're in good hands when it comes to stopping power. 
Disc brakes don't put pressure on the rim like more standard V-brakes. Instead, they apply pressure directly to the wheel rotor, in a more efficient use of friction that stops your bike faster than rim braking. 
Disc brakes are also usually better protected than rim brakes, which means that they'll need slightly less maintenance in the long run. You'll still need to plan on regular maintenance when you can, but otherwise, these brakes should need little adjustment or care. 
| Feature | Specs | What it Means To You |
| --- | --- | --- |
| Frame | Alpha Gold Aluminum | This aluminum alloy is hard-wearing and relatively lightweight. It's not quite as light as carbon fiber, but it's not as heavy as steel. As a durable option, this frame can hold up to reasonably hard use if needed. |
| Suspension System | Suntour NEX, coil spring, preload | This suspension system is a good medium between the more responsive systems in mountain bikes and the lower suspension requirements of a road bike. It has 63mm of travel space, plenty for rough pavement, potholes, and even gravel and other more difficult terrains. |
| Wheels | Bontrager Connection alloy, 32h | The standard wheels on this design are good for riders of most heights and weights. They're double-walled for added durability and designed to work with versatile 700x38c tires. |
| Gear | Shimano Altus line shifters | The Altus line might be one of Shimano's more affordable design options, but they're still highly effective and work well in almost all train conditions. These shifters give you a wide range of gear options, letting you change the speed and efficiency of your bike to match your own skill as well as the demands of your riding terrain. |
| Brake System | Tektro HD-275 hydraulic disc | Tektro and Shimano brakes are two of the best options out there, and while some people have a slight preference for Shimano, you can still expect these brakes to perform incredibly well. The hydraulic disc brake design is incredibly effective, and responsive with very little pressure, letting you modulate your speed with greater precision and ease. |
Is the Trek Roscoe 8 a Better Option Than the Trek Dual Sport 2?
When comparing the Trek Roscoe 8 and the Trek Dual Sport 2, a trek roscoe 8 mountain bike review reveals that it offers more advanced features and capabilities. With its sturdy build and powerful suspension, the Roscoe 8 is better equipped for rugged terrains and off-road adventures. However, the Dual Sport 2 excels in versatility due to its ability to handle both off-road trails and city streets. Ultimately, the choice depends on personal preferences and the intended usage of the bike.
Customer Reviews
Users of Trek Dual Sport 2 bike consistently comment that the weight is low enough that you can't really notice it while you're riding. They're reasonably speedy, very responsive, and the Trek DS 2 works well on a variety of terrain from pavement to loose gravel. 
Overall, riders tend to love this hybrid bike and appreciate its lower price point. However, several riders do note that this bike is good but louder than some of it's more expensive competitors. 
If you're looking for a perfectly quiet ride, this bike might not be for you. But, in all other performance categories, the Trek DS 2 performs as well or better than its competition in the same price range. 
Alternatives
Last, we want to take a look at how this bike holds up against some of the similar Trek models. After all, each bike is designed with a specific purpose in mind, and knowing what the strengths of similar models are can help you narrow down which option is the right one for you. 
Trek Dual Sport 2 vs 3
The Trek Dual Sport 2 and the Dual Sport 3 are, at first glance, very similar models. Both are hybrid bikes that are beefy enough they would have been considered mountain bikes only a few years ago. Both use a lightweight aluminum frame, and both have front suspension and hydraulic disc brakes. 
However, for the additional $200 to upgrade to the Dual Sport 3, you also get tubeless-ready rims, an upgrade Shimano Acera drivetrain, and a matching Shimano hydraulic brake set. 
Those changes lead to a better-optimized bike, but aren't necessarily worth the additional cost, depending on how you want to ride the bike.
If you're looking for a true commuter bike, the Dual Sport 2 is plenty for what you'll need, and can even handle some light trail riding. 
If you're looking for a commuter bike, you can also take to the mountains regularly, it might be worth getting the component improvements included in the Dual Sport 3. 
Trek Dual Sport 2 vs FX 2
The FX is a lighter, slimmer design than the Trek Dual Sport 2, but since both bikes are in the same price range, it's difficult not to compare them. The FX 2 is a more recent model than the Dual Sport 2, but that doesn't mean that it's necessarily using nicer components. 
The Trek Dual Sport 2 also uses a Tektro hydraulic disc brake system, and also uses Altus line Shimano gears in the drivetrain. 
However, at approximately 26 lbs, the FX 2 is three pounds lighter than the Trek Dual Sport 2. It also uses slimmer tires with less of a significant tread. 
Where the Dual Sport 2 is almost a mountain or rugged trail bike, the FX 2 is much closer to a road bike. Both are great bikes for their price range and for entry-level users, but where the Dual Sport 2 is more rugged and stable, the FX 2 is going to be significantly speedier and is more designed for the road. 
More: Check our review of Trek FX1 Here
Trek Dual Sport 2 vs Giant Roam 2
The Trek Dual Sport 2 and the Giant Roam 2 are about as similar as two different bike models possibly could be. They have a similar frame, similar weight, and the same weight capacity. 
Both models use a hydraulic disc brake system. The Dual Sport 2 uses a Tektro model, while the Roam 2 uses a Shimano, but they are in roughly the same price point and have similar performance ratings. 
Both of these bikes also have a mild front suspension system in the fork. In fact, both bikes use the same fork. 
With bikes this similar (both even use a Shimano drivetrain), the next question needs to be if there is a significant difference in price. Here too, these two models are very similar. They are usually within $50 of each other, and so a good sale on either model might make it more affordable. 
However, which prices this similar, it's less about which is cheaper at the time, and more about which brake system and configuration you prefer. If you're truly not sure which bike is a better fit for you, see if there are any local bike stores around that will let you give both models a quick test. 
Conclusion
The Trek Dual Sport 2 might once have been considered suitable for mountains, and with its front suspension, hydraulic disc brakes, and durable design, it can still be used as one on at least some mountain trails. 
Now considered more of a hybrid, this bike is a good option for commuters who are looking for a slightly sportier model, or who want the added flexibility of an all-terrain bike.