The Chameleon is Santa Cruz's most recent refinement of its mountain bike lineup. It is a highly adaptable hardtail and meets the needs of different riders. Dive into the performance specs of the bike in this Santa Cruz Chameleon Review.
Whether you want a bike that will support you for a weeklong backpacking trip or something suitable for a hard ride on the trail, the Santa Cruz Chameleon can morph to suit your needs.
The fun-loving hardtail is engineered to satisfy different riding preferences and styles, making it a solid choice for a wide range of cyclists. Depending on your preferred setup, it will work well on day-long adventures in the saddle or support you on loose trails, singletracks, and descents.
While it is a fantastic choice for descents, the Santa Cruz Chameleon is not the best model for riding on rocky trails because it is a hardtail. The bike shines on dirt trails.
The Chameleon comes in a few different builds available in aluminum or carbon frames at varying price points. The bike also features either 27.5+ or 29-inch wheels. This gives you the flexibility to choose what works for you, as well as what suits your budget. This review covers everything you need to know about the Santa Cruz Chameleon Carbon build.
Santa Cruz Chameleon Overview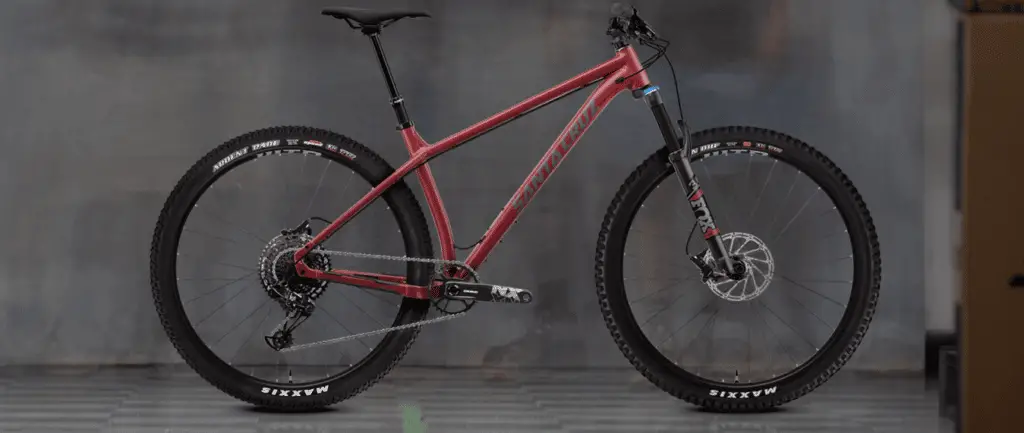 For nearly three decades, the shape-shifting Santa Cruz Chameleon has evolved about eight times, with its most recent iteration offering increased versatility.
To enable the bike to stay true to its chameleon name, Santa Cruz engineered this version with swappable dropouts. This means it can run on both 29" wheels for better rolling performance and 27.5+ wheels for nimble riding.
While the Chameleon is available in an aluminum frame, the model under review is the Carbon Chameleon. But before we go into the nitty-gritty details of the Santa Cruz Chameleon Carbon review, here are a few pros and cons.
Things to Consider Before Buying a Hardtail Mountain Bike
While budget plays a significant role in choosing a bike, it is not the only consideration. Here are some other important factors to keep in mind when shopping for a hardtail mountain bike that will suit your need.
Purpose: First, decide what you want to use the bike for before creating a budget. Do want to take up trail riding or are you looking for something to hop on for your daily commute? Factor in how much you are willing to part with to get what you want. This will help you narrow down your options.
Frame material: As you probably already know, hardtail mountain bikes do not have a suspension at the rear, so they offer less impact absorption capabilities than full-suspension bikes. This means, with a hardtail, you are relying solely on the frame material to protect your rear from jarring bumps.
Your choices come down to aluminum alloy and carbon frames. Many alloy frames feature excellent forks, wheels, and other components, making them the go-to option for many riders. If you prefer carbon for its lightness, make sure you avoid a cheaply constructed frame, as that can quickly result in uncomfortable rides. 
Wheels: Choose wheels with thru-axle hubs if you are going for higher-end models. These will offer additional stiffness and improved performance on the trail. Consider wheels with double-wall rims if you opt for hardtail bikes at the lower price points.
Wheel size: Mountain bikes have three wheel sizes: 26", 27.5", and 29" (fondly called 29er). 26-inch wheels are gradually phasing out from the performance bike category, so it is best to go for either the larger 29er or the more nimble 27.5 wheel size.
The 29er has the advantage of rolling over obstacles on the trail without breaking a sweat. Also, it is more stable and maintains momentum. The downside is that it is not the easiest to handle.
Choose 27.5-inch wheels if you want to strike a balance between easy handling and tackling tougher terrain. Also, this wheel size is great for riders of a smaller build.
Fit: Lastly, but of equal importance, is the bike's fit. You want to keep an eye out for the bike's sizing and fit recommendations when choosing a hardtail mountain bike. That's because the right size and fit are not just for your comfort during rides but also for safety.
Mountain bikes come in small, medium, and large sizes. One way to find out what suits you is to measure the standover height.
Consider a bike with 2-inches or more of clearance between the top tube and your body when you stand over the bike with your foot flat on the ground. Another way to measure this is to check out the fit guide or size chart.
Features and Benefits
What makes the Carbon Chameleon stand out? This part of the Santa Cruz Chameleon review highlights the major performance features of the versatile hardtail bike.
Frame
The Chameleon comes in a carbon frame that is both durable and light at only 27.47 lbs or 28.75 lbs. The bike cables route through the tubes at the front, giving the Chameleon a clean appearance.
The frame features a triple-pack of cargo-carrier mounts under the downtube. This added utility comes in handy if you ever plan to load up and go on a weekend of bikepacking.
If you have a more aggressive riding style, you'll love the Race Face Aeffect dropper seat post, stem, and handlebars.
Suspension System
The FOX 34 Rhythm front fork offers 120mm of travel or 130mm in the plus mode. The bike angle remains the same, regardless of the fork.
Beating the Chameleon through rough and fast descents can be extremely fun. Plus, the bike is capable of thrashing through rolling terrain. However, it is still a hardtail, which means you will get some kick in your backend every now and then if you are not careful about choosing your terrain carefully.
More: Alchemy Arktos 29 Review: Best High-End Mountain Bike?
Wheel & Tires
The Chameleon has four interchangeable dropouts. These are:
142 x 12 Singlespeed 27.5+
142 x 12 Singlespeed 29er
Boost 27.5+
Boost 29er
This swappable system means you won't feel or notice any difference in the BB height and frame geometry of the bike, no matter which wheel size you choose. You also get plenty of clearance in the 29er mode.
The Carbon Chameleon has a Maxxis 29" x 2.3" or 27.5" x 2.8" front and rear tires, depending on whether you choose the 29er or plus mode. These well-threaded tires are grippy and perform excellently, even on loose trails.
More: Schwinn High Timber Mountain Bike Review
Drivetrain
The Carbon Chameleon features an SRAM NX Eagle drivetrain with an 11-50t cassette. The capable setup combined with a DUB crankset offers 12 speeds.
Together with the adjustable dropouts and plenty of clearance, the Chameleon can run on geared or single-speed drivetrain, making it a highly versatile hardtail bike.
Brake
Santa Cruz's hardtail comes with SRAM Guide T brakes and Avid Centerline 180mm rotors. Bringing the bike to a safe halt is effortless because the braking system provides adequate stopping power so you don't go crashing into threes or whatever is in front of you.
More: Yeti Cycles SB140 Review: Worth Buying ??
Features Summary
| Feature Type | Specification | What This Means |
| --- | --- | --- |
| Frame | Carbon | Durable carbon frame construction with internal cable routing at the front. |
| Suspension | Fox Rhythm 34, 120mm or 130mm | Switchable fork maintains the same angle in both plus and 29er builds. |
| Wheel | 27.5+ and 29" | Swappable dropouts allow you to ride the bike in the same frame height, regardless of wheel size. |
| Tires | Maxxis Rekon 27.5" x 2.8" front and rear tires or Maxxis Minion DHF 29" x 2.3" front tire and Maxxis Ardent Race 29" x 2.35" rear tire | Capable tires work well on a variety of terrains. |
| Drivetrain | SRAM NX Eagle 12 spd rear derailleur and shifters with SRAM PG123011-50t cassette | The higher-end chainring setup and drivetrain is dependable and offers 12 speeds for quick acceleration. |
| Brakes | SRAM Guide T with Avid Centerline 180mm rotors | The brake offers incredible stopping power even when riding on sloppy descents at high speeds. |
What Others Are Saying
Whether you choose one of the higher-end carbon frame models or prefer to go with a slightly more affordable aluminum frame build, it is a good practice to check out what others think about the bike before signing the dotted line or hitting the buy button.
For this reason, I did some digging around on the internet and included a few screenshots of what other riders think in this part of the Santa Cruz Chameleon review. 
Take a look at the screenshots below:
Santa Cruz Chameleon Alternatives
In this part of the Santa Cruz Chameleon Carbon review, I'll highlight a few other alternatives just in case the model under review doesn't quite sit well with you.
Santa Cruz Chameleon vs Specialized Fuse
If throwing a hardtail around on tight trails is your thing, the Specialized Fuse Expert 29 is engineered with low-slung top tubes just for that purpose.
Like the Santa Cruz Chameleon, Fuse's frame can take both 29ers and 27.5+ wheels and tires. Climbs are easy with this nimble bike, thanks to the steep seat angle.
Specialized Fuse Summary
Price: $2,700
Wheel size: 29"
Drivetrain: SRAM NX Eagle 12-speed drivetrain with 11-50t cassette
Click here to check out the Specialized Fuse Expert 29 mountain bike.
Santa Cruz Chameleon vs Yeti Arc
Although the C1 is the cheapest among Yeti's Arc model range, it is the closest to the Santa Cruz Chameleon in terms of price.
The carbon frame hardtail weighs only 26.6 lbs and offers 130mm of front travel and features 29-inch wheels.
Yeti Arc Summary
Price: $3,600
Wheel size: 29"
Drivetrain:  Shimano SLX with 10-51 cassette
Click here to check out the Yeti Arc.
Santa Cruz Chameleon vs Salsa Timberjack
Featuring a lower, slacker, and longer geometry, the Timberjack GX Eagle 29 is Salsa's playful, all-around hardtail mountain bike.
The Timberjack v2 aluminum frame is solidly constructed with plenty of cargo mounting options so you can load up and head out for a weekend of bikepacking.
Timberjack Summary
Price: $2,499 (MSRP)
Wheel size: 29"
Drivetrain: SRAM GX Eagle with XG-1275 10-52t 12-speed cassette
Click here to check out the Salsa Timberjack GX Eagle 29.
Santa Cruz Chameleon vs Trek Roscoe
Similar to Santa Cruze, Roscoe's hardtail lineup cater to the needs of beginners, enthusiasts, and pro riders alike.
The Roscoe 9 is Trek's top-end model. The aluminum frame bike comes with a FOX 36 Rhythm 140mm travel fork, powerful Shimano 4-piston brakes, and Bontrager Line 30 wheelset. All of these combine to deliver amazing capability for a wide range of riding styles. Check our review of Trek Roscoe here
Trek Roscoe Summary
Price: $2,699.99
Wheel size: 29"
Drivetrain: Shimano SLX/XT drivetrain with 10-51 cassette
Is Santa Cruz Chameleon worth it?
Yes, the Chameleon is worth the money considering its extreme adaptability and versatility. You can use it for a whole lot of riding styles and purposes since the bike can take 27.5" or 29" wheels, and even run a single-speed or geared drivetrain.
Are Santa Cruz bikes worth the money?
Although Santa Cruz bikes usually come with steeper price tags compared to the competition, the bikes feature quality frames, well-engineered geometry, and reliable components. Plus, you get a lifetime warranty on your purchase.
More: The Absolute Best Hardtail Mountain Bikes Under $500
Are Santa Cruz bikes good?
Yes, Santa Cruz bikes are not only among the best mountain bikes available, but they are also some of the most adaptable options. They are usually on the higher end of the spectrum when it comes to price, but that is well justified. The brand manufactures its bikes using first-rate carbon and aluminum materials together with components from trustworthy companies, such as SRAM.
Conclusion
Like a true chameleon, the Santa Cruz has continued to morph over the years to suit different riding needs. In its most recent version, the bike proves to be faster and lighter. This makes it suitable for a variety of riding styles, including jumping, backpacking, cross-country, and singletrack.
It holds its own as a climber and stays straight even on steep climbs. Overall, the lightweight bike with its reliable and durable wheelset is well worth the buy. Click here to check out the Santa Cruz Chameleon mountain bike series.