Yeti Cycles brings something different to the 650B market with its long-travel SB140 trail bike. Find out the performance specs of this trail masher in this Yeti Cycles SB140 Review.
The Yeti SB140 C1 bike is an excellent choice for the versatile trail rider looking to experience exceptional fun on the trail. Engineered around the brand's C/Series carbon build, stocky tires, and Switch Infinity technology, this trail bike is remarkably responsive and nimble.
The C1 C/Series is one of the five complete builds of the SB140 model, and it is the least expensive build kit.
If high-speed trannies plus zipping, twisting, and dodging obstacles on the trail top the list of experiences you want while mountain biking, you may as well consider Yeti's most playful but capable trail ripper yet – the SB140.
Yeti SB140 C1 Overview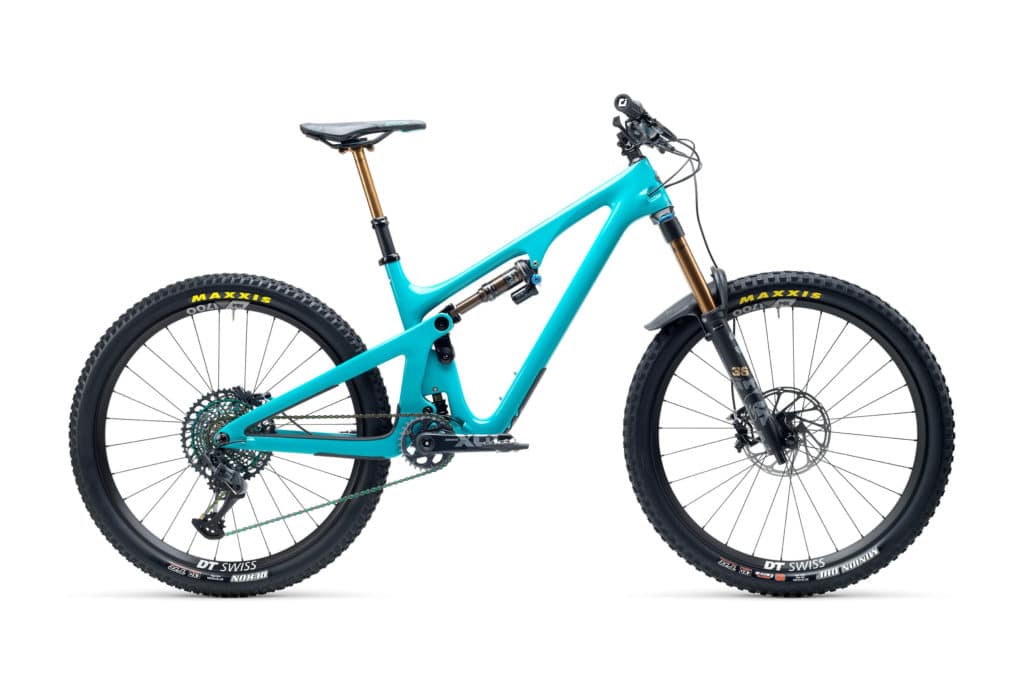 Yeti's mountain bike lineup features awesome bikes, and the SB140 is not an exception. Yeti did not design the SB140 model to be a race bike or something you ride on straight roads, at least not if you want to have fun with it. Instead, this bike makes your everyday trail a blast as it corners extremely well at high speeds on trails!
The SB140 C1 features a carbon fiber frame and 27.5-inch wheels. It has 140 mm of rear travel paired with a 160 mm fork that works seamlessly with the brand's patented Switch Infinity suspension system.
If you're familiar with Yeti Cycles, you'll know these are just a few out of the long list of first-rate and inventive features of the bike. But before we properly dive into the Yeti Cycles SB140 review to see the major performance features, here are some pros and cons of the C1 C/Series.
Things to Consider Before Buying a Mountain Bike
Your budget is not the only consideration when choosing a mountain bike. Here are some other things to keep in mind when shopping for a model that will work for you:
Bike Style: The first thing you want to do is figure out the kind of riding you will be doing before even browsing through the different bike models available. When it comes to mountain bikes, your choices include:
Trail: Go for trail mountain bikes if you want a versatile model that can handle climbs as well as descents.
All-mountain / Enduro: These types of bike styles are usually downhill oriented, so you'll have to do more pedaling when you're riding uphill. But they have more suspension, meaning they offer impressive stability even on gnarly trails.
Cross-country: Consider a cross-country bike if you want a powerhouse bike engineered for speed and increased efficiency. This bike style typically offers less impact absorption, though.
Downhill: If you plan to ride on steep terrains mostly, the hefty build of downhill mountain bikes makes them a great choice, but they are not designed to pedal uphill.
Fit: The best mountain bike for you is one that fits you right. Choosing a bike with the right size and fit is not just for your comfort during rides but also for safety.
Mountain bikes come in small, medium, and large sizes. One way to find out what suits you is to measure the standover height.
Consider a bike with 2-inches or more of clearance between the top seat tube and your body when you stand over the bike with your foot flat on the ground. Another way to measure this is to check out the fit guide or size chart.
Build: The frame material and suspension are two of the biggest factors that determine a bike's build quality and price.
Carbon fiber and aluminum alloy are the commonest frame construction materials for mountain bikes. Choose a carbon fiber frame if you prefer a lightweight bike. But this is usually more expensive. Aluminum alloy frames come at lower prices and offer great durability.
When it comes to bike suspension, your choices include hardtail and full suspension. Hardtail bikes do not have a suspension at the rear, so they offer less impact absorption capabilities.
Full suspension bikes come with both front and rear shock, resulting in smoother rides with better impact absorption. However, the sophistication of manufacturing full suspension bikes makes them more expensive.
Wheel Size: Mountain bikes have three wheel sizes: 26", 27.5", and 29" (fondly called 29er). Larger wheel sizes (29-inch) offer the advantage of easily rolling over obstacles on the trail. The downside is that they are not the easiest to handle.
Consider 27.5-inch wheels if you want to strike a balance between easy handling and tackling tougher or steep terrain.
Accessories: Lastly, you should have a budget for a few useful accessories, such as a dedicated trail helmet, padded liner shorts, glasses, gloves, and more.
You may even want to change the tires, tune the gearing, or even adjust the cockpit length. All these will cost extra cash. Thankfully, they count as upgrading your bike!
More: Best Hardtail Mountain Bike Under $1500 On the Market
Features and Benefits
While nothing beats physically take a bike for a test ride, this part of the Yeti SB140 C1 review will highlight the bike's performance specs, so you can get an idea of what to expect if you choose to go for it.
These are the major performance features of the Yeti SB140 C1 C/Series:
Frame
The Yeti Cycles SB140 C1 bike is engineered using a C-Series carbon frame. This frame has the same strength and stiffness found in Yeti's TURQ Series, although it is a bit heavier.
The bike has an aggressive yet playful geometry. This design gives it increased agility and gets the wheels off the ground.
With a steering angle of 65 degrees, descents are always fun and the 77-degree steep seat tube angle provides a comfortable riding position during climbs and descents.
To top it all, the internal cables routing gives the frame a neat look. Besides aesthetics, the wiring makes for easy maintenance and quiet rides.
Suspension System
This model boasts of the Switch Infinity Suspension – the standout feature of most Yeti bikes. The suspension system is tailor-made for extreme fun on the trail. It uses a translating pivot that switches direction during rides.
In a nutshell, the Switch Infinity Suspension reduces kickbacks and provides you with an efficient pedaling platform.
The suspension together with 140 mm of travel in the rear, an upgradable Fox Performance 36/160mm fork, and DPX2 rear shock all combine to provide you with smooth rides, every single time!
More: Alchemy Ronin Review: Worth A Buy?
Wheel & Tires
The SB140 rolls on 27.5" wheels that are 30 mm DT Swiss M1900 on the C/Series (and XM1700 on the TURQ Series).
The lightweight aluminum rims go well with wide 2.6" tires. Yeti uses the same tires across all SB140 build kits, with the front wheel featuring a Maxxis Minion DHF 2.6 Exo tire and Maxxis Rekon 2.6 Exo on the rear.
These tires are extremely durable and excellent for dry and hard-packed trail riding. But these might not work so well if you plan to ride in muddy and wet trails.
Gear
The bike features an efficient Shimano SLX 1X drivetrain with 12-speed transmission. This gearing and drivetrain will take you wherever you want without fail, regardless of whether it is a post-work ride or an all-day epic ride.
More: Schwinn High Timber Mountain Bike Review
Brake
Shimano SLX 4 Piston brake is more than capable of providing reliable stopping power in all riding conditions for Yeti's C1 C/Series. It can slow down when necessary so you don't bump into trees, even when you ride at high speeds during descents.
The brakes work well with the Shimano SLX drivetrain to provide greater control and confidence on the trail.
More: Yeti SB-5c: The Ultimate Review
Features Summary
Here is a glance at the SB140 C1 C/Series performance specs.
| Feature Type | Specification | What This Means |
| --- | --- | --- |
| Frame | C Series carbon fiber | The frame has impressive strength and stiffness but is slightly heavier than the TURQ Series bikes. |
| Suspension | Switch Infinity suspension technology with Fox Performance 36/160mm Fork | The suspension provides exceptional anti-squat characteristics as the bike moves through its travel. |
| Wheel | 27.5 inches (650b) DT Swiss M1900 30mm | Lightweight yet strong aluminum rims allow you to have incredible fun jumping up and down the trail. |
| Tires | 27.5" x 2.6" (Maxxis Minion DHF 2.6 Exo front tire and Maxxis Rekon 2.6 Exo rear tire) | The tire provides impressive cornering traction while creating a balance between rolling speeds and braking efficiency due to the tread design. |
| Gearing/Drivetrain | 1 x 12 transmission | Provides adequate acceleration on descents and helps in steep climbs. A dependable drivetrain and chainring setup. |
| Brakes | Shimano SLX 4 Piston | This provides greater downhill control, reliable stopping power, and consistent braking performance. |
What Others Are Saying
Want to know what other riders think about this bike? I would too if I'm planning to invest a few thousand dollars in a bike. In this regard, I've included a few testimonials in this part of the Yeti Cycles SB140 review to keep things balanced.
The following screenshots are from verified users, riders, or testers and they all tend to be positive.
Yeti SB140 Alternatives
If you're not a pro cyclist or feel that the SB140 is too much for you to handle, you may way to check out other great alternatives.
Yeti SB140 vs Yeti SB130
The Yeti SB130 is a mid-travel trail bike with 29-inch wheels and a high-quality frame, designed for the basic rider.
Like the SB140, the SB130 comes in a variety of builds and two different carbon versions. It is lightweight and offers a smooth, tireless ride, thanks to its low-profile design that's easy to handle.
Yeti SB130 Summary
Price: From $5,600 – $8,900
Wheel size: 29"
Travel: 150 mm or 160 mm front and 130 mm rear travel
Frame only: $3,800
Click here to check out the Yeti SB130.
Yeti SB140 vs Yeti SB150
Consider the SB150 if you prefer a manlier Enduro mountain bike that pedals well. This machine is built to be a capable climber and fast descender.
The combination of the Switch Infinity system and responsive brakes provides comfortable rides and greater control. However, it can be a bit sluggish when riding at slow speeds.
Yeti SB150 Summary
Price: From $6,000 – $9,500
Wheel size: 29"
Travel: 150 mm front and 130 mm rear travel
Frame only: $4,200
Click here to check out the Yeti SB150.
More: The best full suspension mountain bike under $2000 [buying guide and review]
Frequently Asked Questions
Is the Yeti SB140 a good trail bike?
The SB140 is not only an amazingly good-looking bike, but it also offers a comfortable and upright riding position. It is a great trail bike for extremely challenging climbs and long rides. Plus, it is a fast, fun, and capable bike. 
How much does the Yeti SB140 weigh?
Yeti SB140 comes in five build kits, with each weighing slightly different. The T3 TURQ weighs 28.83 lbs, the T2 TURQ weighs 29.05 lbs, and the T1 TURQ weighs 29.55 lbs. The C2 C/Series and C1 C/Series weigh 30.10 and 30.35 lbs respectively.
How much is a yeti SB140?
The price for the Yeti SB140 starts from $5,600 to $9,000. You can also get a Frame-only TURQ built kit for $3,800.
What does Yeti SB mean?
The SB suffix is short for "Super Bike." Yeti Cycles were nicknamed "SB" by a test rider after testing the brand's SB-66 series. The SB-66 mountain bike was the first to use the patented Switch Suspension Technology.
Conclusion
The SB140 is on the pricier side, but it is worth the money. Whether you choose the C1/Series or opt for one of the other build kits, you can be sure you're getting an incredibly nimble and fun trail bike.
It puts up an amazing performance when it comes to twists and turns on the trail, thanks to the first-rate suspension, fleshy tires, and top-tier components. This is the bike for you if you're looking to smash every obstacle on your trail rides.
Click here to check out the Yeti Cycles SB140 mountain bike.