Go on long rides and enjoy every mile with Terry's widest cutaway saddle. Discover how one of the industry's foremost women saddle manufacturers offers comfort without sacrificing performance in this Terry Butterfly Century Saddle review.
The Terry Butterfly Century Saddle is perhaps Terry's most popular saddle. It is the go-to saddle for women who want increased comfort for endurance or long-distance riding. This is all thanks to the thin layer of gel along the saddle top.
Featuring a very low profile, the Buttery Century has the widest cutaway among all the models in the manufacturer's lineup.
It is engineered to suit women with wider sit bones. If that's you, this saddle will allow you to enjoy longer mileage during tours. To top it all, it comes with Poron foam that uses the XRD technology for increased shock absorption and extra comfort during endurance cycling.
Terry Butterfly Century Saddle Overview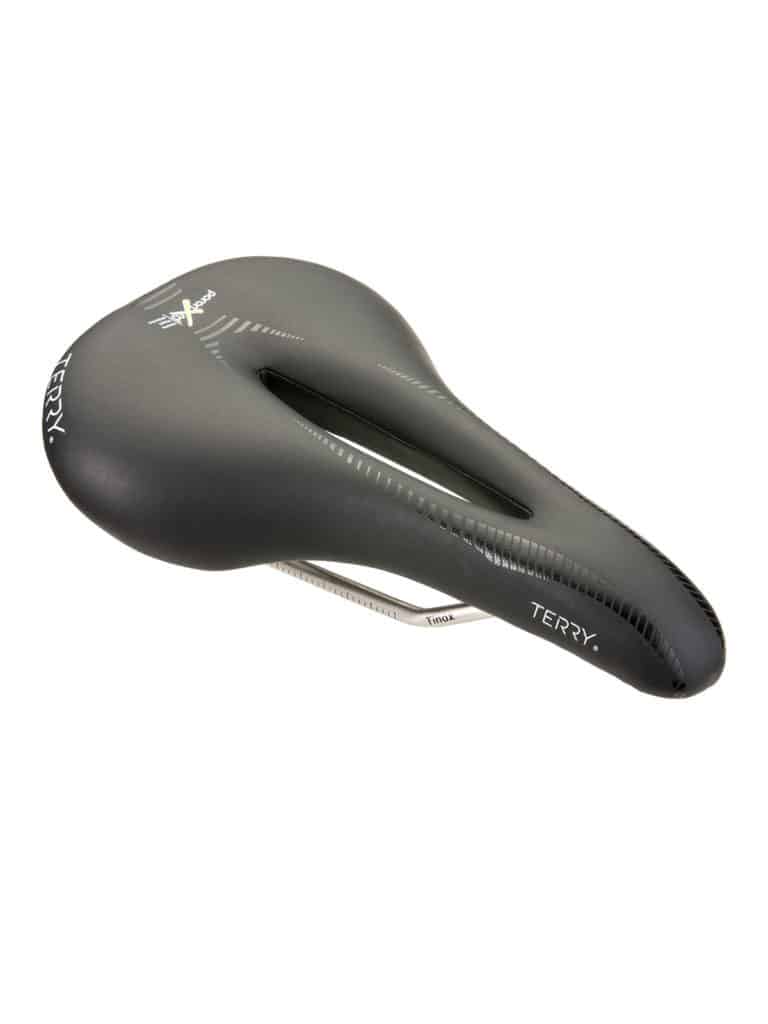 Renowned Italian bicycle saddle manufacturer, Terry Bicycles, engineered the Butterfly Century Saddle with endurance riding in mind.
Terry strikes a balance between comfort and functionality by adding an extra layer of Poron XRD in the Butterfly Century design. This layer of shock-absorbing material between its foam layers and base dampens road vibrations. The technology accounts for the less padding and somewhat thin profile of the saddle.
If you are a female rider looking for a saddle designed by women for women, you may want to pay close attention to this Terry Butterfly Century Saddle review.
Let's get started with a few pros and cons.
Things to Consider Before Buying a Bike Saddle
With nearly all bike saddle manufacturers trying to outdo each other with chic and classy saddle designs, it can be an uphill task trying to choose something that will work for you.
One of the "tricks" to narrowing down your options is to look beyond aesthetics or eye-catching designs. Instead, consider the following important factors:
The right fit: It is a great idea to measure your sit bones before you go looking at bike saddles. That's because the right bike saddle for you will depend largely on the size of your sit bones.
As a general rule, wider saddles are more suitable for women because they tend to have wider hip-width. However, you want to choose something that fits your sit bones, while taking note of whether it is for women or men.
You will experience rubbing and chaffing if it is too wide. It will not provide adequate support for your buttocks if it is too narrow. This is why you should work with your measurements to determine which saddle is the right fit for your body type.
Type of cycling: A long and narrow saddle with just a little padding is your best bet for road cycling. Wide saddles with springs or plush padding should be on your radar if you mostly do recreational cycling with an upright riding position.
Consider a smaller-shaped saddle with a bit more padding if you do mountain cycling. These types of saddles provide leverage for mountain bike racers when cornering and descending.
Choose a saddle that falls between mountain and road cycling-style saddles if you do long-distance riding. This type of saddle will have a narrow nose and have some cushioning for your sit bones. 
Saddle cover: Choose a saddle with a leather cover if you want something that will fit like a glove over time. Many of them have a break-in period of approximately 200 miles, though.
A synthetic cover is lightweight, low-maintenance, and does not have any break-in time. But it may not be as durable as a leather cover.
Another option is a cotton cover. This has a shorter break-in period compared to a leather cover but moves a bit when you ride.
Saddle rails: The different materials used in the rails affect the flexibility, weight, strength, and even the cost of the saddle. Your options include:
Steel: Steel rails are strong and dependable, but can be heavy. Consider a lightweight saddle if you want something suitable for racing.
Alloy: These are lighter than steel but have excellent strength.
Titanium: Titanium rails are the preferred option for riders who want lightweight saddles. These have good shock absorption qualities but they can pricier than steel and alloy rails.
Carbon: Consider carbon rails if you want an alternative to titanium rails. Be ready to spend more money, though, because they are generally more expensive.
Pressure-relieving design: Bike saddles come with a few different cutaways designed to relieve pressure in the area between the sit bones and to allow airflow.  Decide whether you want a center cutout, small indentation, split seat, or no accommodation at all. This is more a matter of personal preference.
Type of cushioning:Choose a saddle with gel cushioning if you are a recreational rider. Foam cushioning springs back to shape quicker, making it a fantastic choice for road cycling. Some saddles do not have any cushioning at all. This may be worth considering if saddles with cushioning have not worked for you in the past.
Some endurance bike saddles come with a combination of gel and foam. The extra gel layer adds a little bit of comfort for longer rides. 
Features and Benefits
What sets the Butterfly Century saddle apart from other models? Why should you consider buying it?
This part of the Terry Butterfly Century Saddle review will shed light on the features of the saddle and what they mean to the rider.
Materials
In keeping its tradition of designing high-quality saddles, Terry assembled some first-rate materials to build the Butterfly Century.
These materials include:
Cover
A slate-colored Fibra-tek cover adorns the Butterfly Century saddle. You can hop on this saddle and ride away right out of the box without any discomfort resulting from an initial break-in period. That's because the cover is a synthetic material.
You can confidently use this saddle in wet conditions or even wash it without bothering about possible damages from water because it is waterproof. Plus, it is low-maintenance and doesn't require a conditioner since it is not leather.
Insert
The stiff shell has thin layers of foam that provide just enough cushioning suitable for long-distance riding.
With the female anatomy in mind, the shell construction gives the saddle an overall low profile and increases its flex.
Rails
The saddle shell connects to your bike's seatpost clamp using two parallel titanium rails. The rail material ensures the saddle maintains a lighter weight while providing excellent support.
The silver-plated titanium rail matches the slate or dark-ash cover. The rails are strong and allow you to easily adjust the saddle a few inches forward and backward on the seatpost.
More: Specialized Power Saddle Review: Is This Product Right for You or Not?
Shape and Size
The saddle has a pear shape with sculpted foam. It also has a wide center cutout – the widest in Terry's lineup. This design lessens soft tissue pressure in the genital area and also minimizes pressure on the pubic bone arc.
Also, riders will experience better airflow from the wide center cutout for greater comfort during extended cycling.
Shock Absorption
One of the most interesting features of the Butterfly Century is the Proton XRD shock-absorbing layer. This material eliminates the need for any bulky padding, yet it is effective at dampening vibrations from road shock. In addition to absorbing shock, the shock-absorbing material also gives the saddle its thin profile.
The Proton XRD together with a thin layer of gel along the top of the shell provides all the comfort a rider needs for long-distance cycling.
More: Brooks England B17 Steel Saddle Review: All you need to know
Features Summary
Here is a glance at the features of the Butterfly Century Saddle.
| Feature Type | Specification | What This Means |
| --- | --- | --- |
| Cover  | Fibra-tek cover  |  Synthetic cover material reduces rubbing and chaffing that may occur during long-distance rides. |
|  Insert | Thin gel layer, widest cutout  | The gel layer ensures pressure relief for endurance cycling and the wide cutout allows airflow while minimizing soreness.  |
|  Shape and size | Low-profile, pear shape design, measuring 10.3" x 6" (262 mm x 152 mm)  | The lowest profile saddle from Terry ensures the rider's comfort.  |
|  Shock absorption |  Poron XRD foam layer | Riding over long distances is quite comfortable, thanks to the shock-absorbing material between the foam layers and the base of the saddle.  |
| Rails  | Ti 316 titanium rails  | Lightweight, strong, and durable titanium rails will serve you for a long time.  |
What Others Are Saying
In the part of the Terry Butterfly Century Saddle review, I'll quickly show you what other women say about the saddle.
A few poking around on the internet reveals that most female riders who bought and use the Butterfly Century saddle are happy with their purchase.
Take a look at the screenshots below:

Terry Butterfly Century Saddle Alternatives
No doubt, the Butterfly Century saddle is a great model, but there is no such thing as a one-size-fits-all when it comes to bicycle saddles. For this reason, this Terry Butterfly Saddle review will be incomplete if I don't offer you other alternatives, just in case this model isn't quite what you're looking for.
Have a look at these other remarkable saddles from the same manufacturer, perhaps you will find something that suits you.
Butterfly Century Saddle vs FLX Gel Saddle
The FLX Gel saddle comes in a unique split saddle design with an extra gel insert for greater comfort. However, it is stiffer than the Butterfly Century, making it a great choice for performance cycling. 
It features a sleek shape with a very slim profile tailored to female cyclists who move around on the saddle and like to ride fast over long distances. The manganese rails keep the overall saddle weight low.
The perforated leather cover with a white patent accent is durable. The shape of the saddle eliminates numbness in soft tissues, and the slim nose reduces chaffing during long rides. Check our FLX Gel Review
FLX Gel Saddle Summary
Price: $135.95
Rails: Manganese
Area (length x width): 10.2" x 5.5" (260 mm x 142 mm)
Weight: 9.1 ounces (258 grams)
Click here to check out the FLX Gel Saddle.
Butterfly Century Saddle vs Corta Saddle
Terry's Corta Saddle is a snob-nose style model built for the competitive female rider. The women-specific saddle features state-of-the-art technology and has a sleek modern design with distinctive graphics and silver-plated titanium rails.
This model has a shorter overall length, meaning there is no excess surface area that can lead to chaffing. With a shape that's flat at the rear and a dropped nose, the saddle provides enough support for sustained seated climbs. It also offers outstanding relief in the soft tissue and genital area.
Terry Corta might be the right saddle for you if you are looking for a model designed specifically to support climbing and aerodynamic power pedaling. Check our Corta Saddle Review
Corta Saddle Summary
Price: $189.95
Rails: Titanium
Area (length x width): 9.8" x 5.8" (250 mm x 149 mm)
Weight: 8.2 ounces (235 grams)
Click here to check out the Corta Saddle.
Conclusion
I'm positive that this Butterfly Century Saddle review has helped you decide whether Terry's lowest profile, widest cutout saddle is the right option for you.
The shock-absorbing Proton XRD material, thin gel layer along the top of the hard shell, and the minimal padding all combine to form a robust saddle design for the longest rides.
In a nutshell, the Butterfly Century saddle might be the right choice for you if you are in the market for a hand-made bike saddle designed for an aggressive or performance riding position. Click here to check out the Terry Butterfly Century Saddle.