Eyeballing Brooks B17 Standard saddle to go on your bike? Confused as to whether it's the right choice for you? Not sure if its the best bike saddle for you?
B17 Standard Saddle is one of the classic models to exist in Brooks' production for over a century.
And, Brooks England continues to sweep the market by offering B17 for demanding rides like touring, mountain biking and trekking.
Brooks offers B17 in various versions such as B17 Narrow, B17 Sprinter and what not.
But this Brooks saddle review focuses on B17 Standard Steel Saddle and covers every minute detail about its design, style, features and performance.
Let's get into its detailed review:
Brooks England B17 Bike Saddle
Brooks England B17 Steel Saddle Review
Overview
Brooks England has been in the saddle-making business since 1866. It happens to be one of the leading and iconic brands to launch bicycle gear, offering luxurious comfort and style.
With the expertise of more than a century, Brooks continues to manufacture premium products that excel in durability, quality, and beauty altogether.
Here's where Brooks amalgamates their timeless aesthetics with innovative technology. Brooks B17 Saddle is their flagship model, designed for MTB, sports touring and trekking purposes.
It is one of the finest saddles, featured in Brooks 1898's catalog.
To emphasize, it has existed in the market for over 100 years now. Still, it continues to allure the customers with its quality, comfort, and performance.
Who is it for?
The B17 saddle is the best choice for long-distance cyclists. Introduced in the 1890s, the design of B17 remains unchanged and is still most suitable for trekking and touring cyclists looking for something durable and comfortable.
​Almost 130 years later, the classic B17 is still amongst Brooks' best-selling and riders' most-loved saddles for long distance rides.
Brooks England B17 Steel Saddle Specifications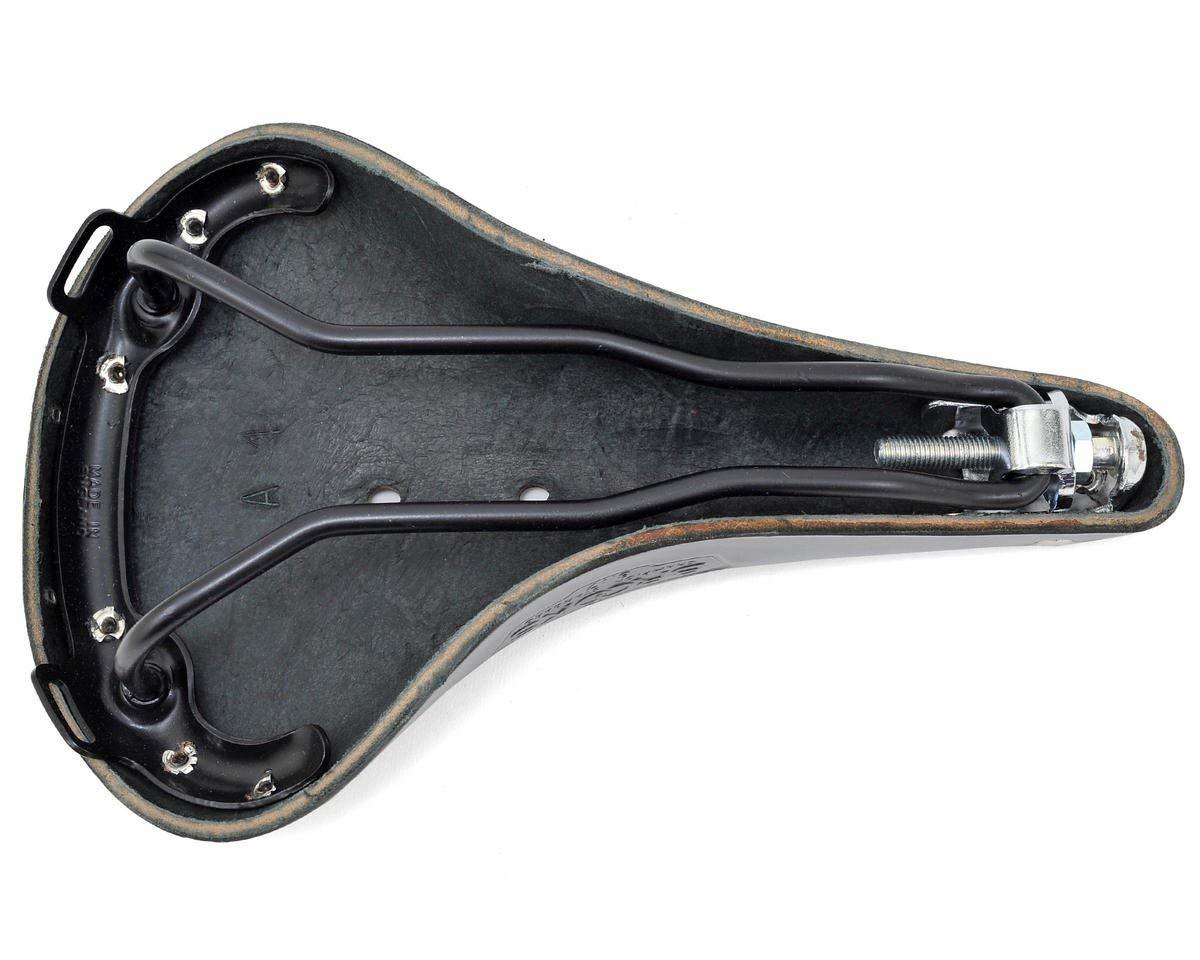 The simple design of Brooks B17 saddle features stretched leather "hammock" construction. Such unique design ages and break-in over time.
If maintained with care, the B17 will conform to the contours of your body and last for years to come. Usual break-in time is around 160 to 1000 km. Once they break in, the comfort that this saddle provides is to swear by!
Weighing around 520 grams, the B17 Standard saddle is a bit heavier as it is made for demanding rides.
​This standard leather bike saddle measures 275 mm length x 170 mm width x 65 mm height.
Brooks England B17 Saddle: Key Features
Premium Construction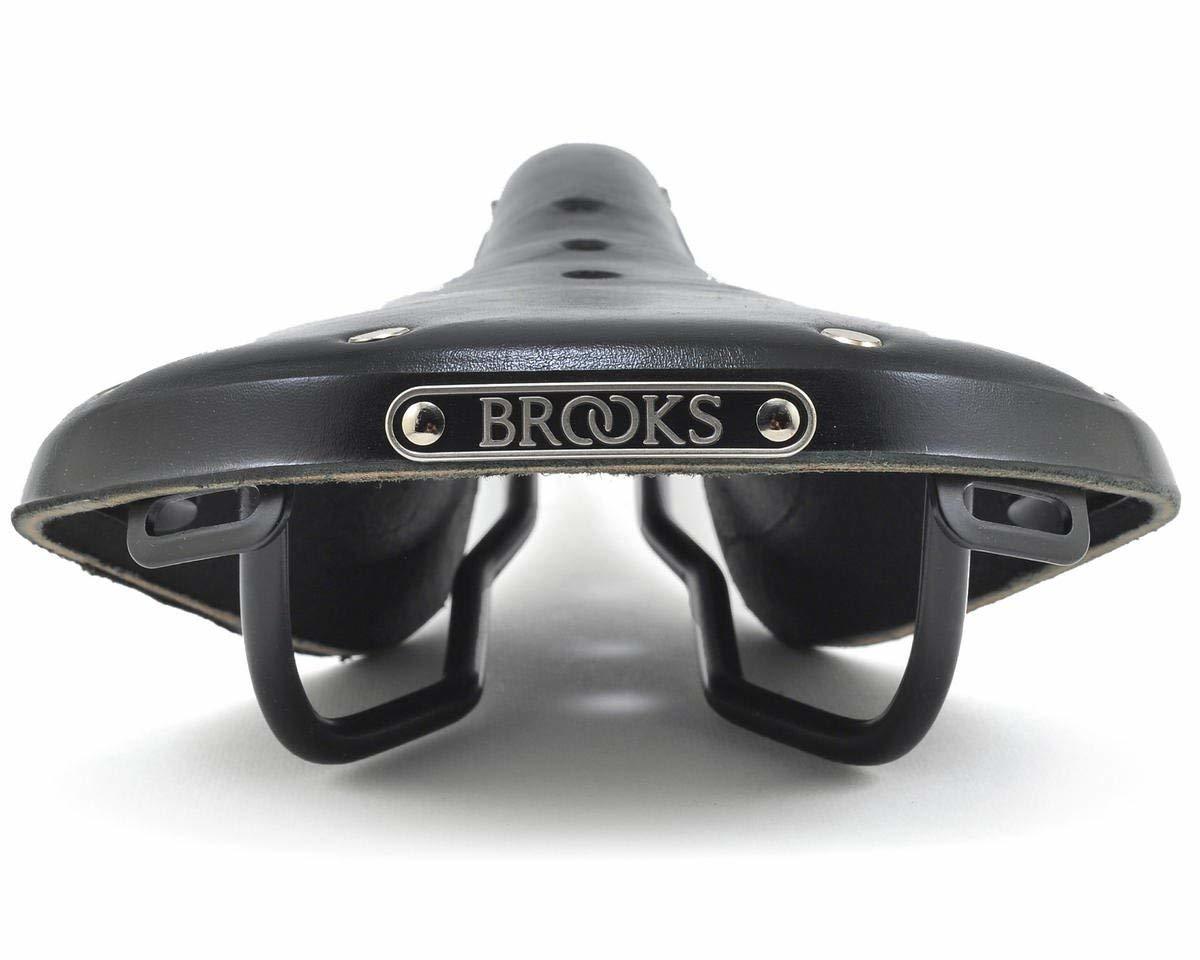 No gel-inserts, no cutouts, no fancy pods.
Classic B17 bicycle saddle comprises of leather stretched over a metal frame to create a hammock for your flexes and buttocks, as you ride.
Over time, the leather will break in and mold to the shape of your body. Thus, it becomes your personalized bike saddle that's super-comfortable to ride on. Owing to its durability, you can call it a seat for life.
But, you need to maintain and proof the saddle against rain.
Three holes on the top are provided for proper ventilation during rides. Thereby, adding to its comfort level.
For your utmost convenience, B17 has loops to accommodate traditional English-style touring bag.
Adding to its pleasing aesthetics is the "Brooks" logo at the back.
Material
Brooks B17's top is made out of pure vegetable tanned leather for excellent longevity.
Whereas, the bottom of Standard models features steel rails with black powder coating for added protection.
​Made in England, the copper-plated tubular steel rivets on this saddle are hand hammered to affix the leather top to steel rails.
More: Selle Royal Respiro Moderate Bicycle Saddle Review
Unique Shape
Slim, short nose and wider rear of Brooks England B17 saddle make it more suitable for upright rides. The hide on this saddle feels quite smooth. Hence, shifting around on B17 feels comfortable.
Deliberately made for touring, trekking and even training, this road bike seat excels in providing comfort to the rider.
B17 is quite heavy as compared to new saddles in the market, but the comfort it provides is worth it.
Seeing its design profile, the B17 Standard version is an excellent choice for touring, road riding and trekking. But, might feel uncomfortable for off-roading due to its wider rear.
Performance
In the middle, the leather remains suspended without any base. That is why it tends to flex under rider's weight.
The transition between rear and nose of the saddle provides good space between thighs. Therefore, there'll be no scuffing or soreness at your thighs, even after long rides.
As it is made from pure leather, you need to maintain it timely, unlike plastic saddles which require no maintenance.
More: The Best Bike Seats for Overweight Cyclists
Available Versions
Standard B17 model is available for both genders, with B17 being for Men and "B17 S" for women.
Brooks also makes "B17 Narrow" version with just 151mm width, especially for people who prefer narrower saddles.
For a higher price, Brooks England offers "B17 Special" model with similar leather cover, but copper-plated steel rails and hand-hammered copper rivets.
Topmost, expensive Brooks B17 version has to be their "B17 Special Titanium". It is lighter in weight, has premium titanium frame and copper rivets.
​Pros
​2 years of warranty
​The wider sit-bone area is supportive
​Molds to your anatomy
​Traditional design is comfortable and stylish
​Premium leather
​Ideal for trekking, touring and training
​Cons
​Heavy
​The break-in period is long
Customer Reviews
The Brooks England Standard B17 saddle has received myriads of positive reviews, all credits to its classic, comfy and durable design.
Many riders agree to the fact that B17 saddle breaks in beautifully over its lifetime. Therefore, it becomes super-comfortable and a breeze to ride on.
One of the riders claims B17 to be worth every penny, due to its durable build. If maintained properly, it seems to last for over 15 years.
Also, riders have loved its performance on long rides and termed it as "most comfortable bike saddle" for the same. No soreness or tenderness at all.
​On the downside, few riders have not liked how long it takes to break in.
Price
Price of Standard B17 bike saddle ranges from $65 to $95 (steel rails). Though a bit pricey, the B17 might be the only saddle, you'll ever require to buy, if maintained with care.
​If you want to save weight, go for "B17 Special Titanium" priced over $150, as it weighs just about 440 grams.
Q. How long do you have to wait for B17 to break in?
Break-in period for B17 depends on the type of rides.
Standard B17 version features pure, hard leather. That is why it might require quite a few weeks of hard rides for it to break in.
But, I think the B17 saddle is fairly comfortable, right from day 1.
Q. Is B17 comfortable?
B17 saddles come with "hammock construction" and hard leather. And, that's what makes it so comfortable.
It does not fill up your crevices with fancy gel inserts; rather it offers a stiff hammock for your bum. Such design excels in absorbing shocks and causes less rubbing at thighs.
​Besides, ventilation provided by this leather seat is far better than padded seats.
More: Terry Corta Saddle Review: Worth A Buy?
Q. Why is B17's nose pointed up?
As you sit on the wider rear of B17, the pointed up nose prevents sliding forwards.
Also, the seat that's tilted at the back takes pressure off men's genitals. That makes it extremely comfortable to ride on.
Q. Where to buy Brooks B17?
​You'll find Brooks England B17 saddle available for purchase in almost any bike shop. If not, you can purchase it online directly from their official website or Amazon.
Maintaining your Brooks B17 Standard Saddle
Leather saddles need special maintenance to deliver the best performance for years.
For around $6, Brooks provides a saddle conditioner viz. "Proofide" to protect leather tops from over-drying and cracking. Apply Brooks Proofide regularly (every few months) to maintain the excellent condition of your B17. You can apply it on top as well as underneath the saddle.
Besides, you can even rub this conditioner onto your new B17 saddle to reduce its break-in time.
After repeated use, the middle leather tends to sag over time. There's a tension bolt positioned under the nose section of B17. Every six months or a year, give it half a turn for proper tensioning.
​Do not expose B17 to water or rain. Always put on a waterproof cover when not in use or during rainy rides.
Final Verdict
If you are looking for comfort and durability along with style, you cannot go wrong with Brooks B17 Standard Saddle.
Although at first, it might feel hard to touch. But in reality, B17 is very comfortable to ride on and breaks in beautifully over time as miles pile up. If you're not willing to wait for the break-in period, B17 is not for you!
Classic saddle profile, pure leather top and suspended hide is what makes it stand out from the competition.
Made for longer rides, Brooks B17 saddle won't cause soreness even after long hours of touring and trekking. This Brooks saddle review signifies that B17 is not designed for racers.
Bottom-line is, the Brooks B17 saddle is sleek, super-comfy and durable enough to last for years. So we give it 4.8 out of 5.