If you're looking for a specialized level bike saddle to suit your energetic riding position, then the Specialized Power Pro Saddle with mirror technology can be a great option. However, if you're hesitant to try this product, then this specialized power saddle review is for you.
To make things easier for you, I have done a good review that will definitely help you in deciding whether or not this product is for you.
On the other hand, this content contains all the vital information that you need to know about this specialized mirror saddle.
Nevertheless, if you can't wait to find out if it's for you or not, then let's start this saddle review.
​Specialized Power Saddle Review
SPECIALIZED Power Pro Saddle
Overview of the Specialized Power Pro Saddle
The Power Pro Saddle is manufactured by Specialized which is currently known as one of the most popular and reliable brands.
Even so, it's an ultra-light bike saddle that has a patented body geometry design and Mirror Technology. Moreover, it comes with durable and hollow titanium rails.
On the other hand, its elongated and extra-wide Body Geometry proper sit bone and channel support along with titanium rails offer all-day comfort and ensure blood flow. The saddle also has a 3D printing with liquid polymer for perfect reflection of your anatomy.
Either way, this Specialized saddle is available in 143mm and two other widths.
The base of this saddle is designed using a reclaimed carbon process. Specialized makes use of 15% reclaimed carbon fiber to build a sustainable base. This is a step to a closed loop production with an aim to maximize efficiency in factory production while minimizing waste.
Who is the Specialized Pro Saddle For?
This mirror saddle is designed for both men and women who want to choose to adopt an energetic riding position in the drops.
​Moreover, it is suitable for individuals who prefer to stay in one position while riding his/her bike.
​Specialized Power Saddle: Key Feature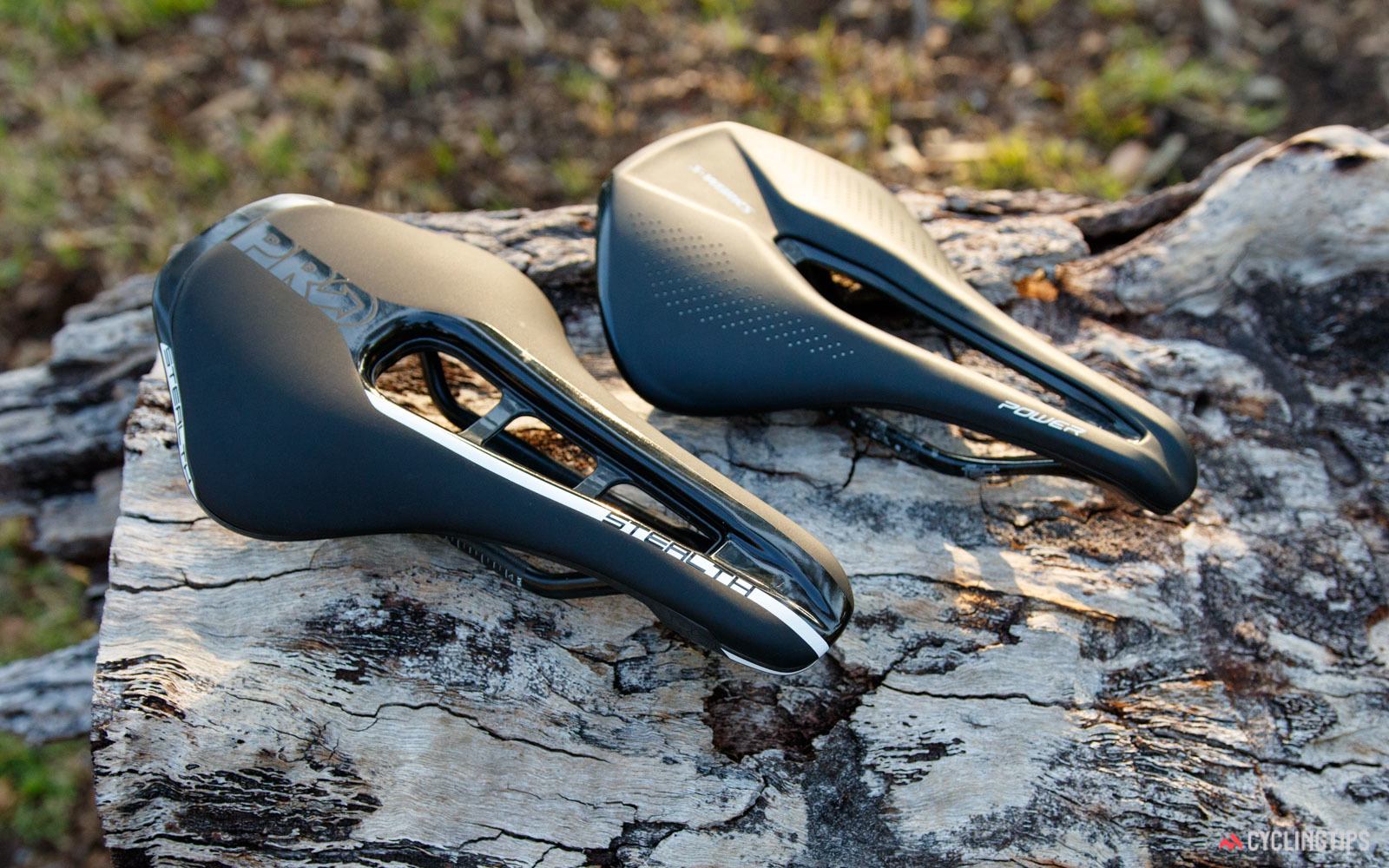 ​Comfort
The Power Pro with mirror is a very comfortable saddle thanks to the elongated as well as extra wide Body geometry superior sit bone support, channel support and high-quality titanium rails.
This mirror saddle, on the other hand, also feels comfortable when positioned upright and in a two-degree angle.
Its cut out center minimizes the pressure as well as the flatter cross-section combination to provide you a comfortable ride.
Moreover, the Specialized Power Pro is constructed using supportive and super lightweight PU padding for support and comfort on longer cycles. Also, this Specialized saddle comes with liquid polymer 3D painting that creates an infinitely tunable honeycomb structure. This plays an important role in reflecting on your anatomy and keeping you comfortable.
Performance
When it comes to performance, you can always count on Power Pro Saddle. This Specialized saddle with mirror technology performs a bit better compared to other specialized bike saddles.
This high-performance Power Peo with mirror saddle from Specialized is a game changer and performs amazingly when you are cycling on the hoods.  
Durability
While doing the research, I have found out this Specialized mirror saddle is not only a winner regarding performance and comfort but durability as well.
On the other hand, this saddle suits in most road bikes. Even so, the Power Peo with mirror saddle is covered with a water-resistant, tough, and light cover.
 Another good thing about the cover is that it doesn't show any signs of tear and wear even though you've used it to cycle thousands of miles
More: The Best Bike Seats for Overweight Cyclists
Versatility 
The Power Pro with mirror was designed and constructed to utilize time trials as well as road bikes.
With that said, this specialized saddle is truly a versatile option. In fact, it is suitable for a wide variety of bikes.
Price
When it comes to price, there is no doubt; the Specialized Saddle is great for value for your money.
Weight, Size & Other Features
The Power Pro with mirror is accessible in three widths – 143mm, 168mm, as well as 155 mm. The 143mm model, on the other hand, weighs 211 grams.
Moreover, this saddle is three-centimeter shorter compared to traditional seats that are currently available on the market.
​Another great feature of this saddle is the SWAT-compatible supports molded into its base for integrated and sleek storage solutions where you can store your camera, bottle cages, or other accessories
More: Check Our Guide to Selle Royal Respiro Moderate Bicycle Saddle Review here
​Pros
​Highly Comfortable
​Durable
​Perfect for both men and women
​Offers great performance
​Versatile
​Cons
​It will take some fiddling to set up
​A bit pricey
​Some customers aren't happy with the weight
Customer Reviews
Lots of customers praised the perfect and comfortable seat bone of the Specialized Saddle with Mirror Technology. Moreover, they also revealed that pressure cut-out center perfectly works.
Regarding performance, most users are very happy and only a few are not satisfied.
​Overall, the Power Pro Saddle is a nice investment and a great value for your money, according to several customers.
​Frequently Asked Questions
​1. Where Can I Purchase Specialized Pro Saddle?
The Power Pro with mirror is available in several online shops such as Amazon. Or you can visit the official website of Specialized.
​2. Does This Product Come With A Warranty?
​Yes. Specialized offers a lifetime warranty to the original owner.
​3. Is It Possible to Return The Product if Does Not Fit On The Bike?
​The manufacturer understands that buying an item through the internet is not easy. For that reason, Specialized provides a 30-day satisfaction guarantee on the items (including Power Pro with mirror) you have purchased from their website.
More: Brooks England B17 Steel Saddle Review: All you need to know
​4. How Long Do Customers Have To Wait For the Delivery?
​The delivery time will depend on the shipment method you have selected. For example, if you choose FedEx, your order may arrive after two to three working days.
​5. How to Determine The Right Saddle Width?
Things you will need:
Tape Measure
Crayons or Chalks
Cardboard
Step 1. Put the cardboard on a bench.
Step 2. Sit on the cardboard, and make sure that your feet are raised up to mimic your riding position.
Step 3. After which you need to stand up and color the cardboard using the flat side of the crayon. The depressions created by your sit bones will remain visible against the colored area.
Step 4.  In millimeters, measure the space between the midpoints of the depressions that are left in the cardboard.   
Step 5. Lastly, take the measurement and add 25mm to 30mm so that you will be able to determine the right saddle width.
More: The Best Bike Saddle: Top Picks
​Final Verdict
I would like to recommend the Specialized Power Pro with mirror to those who are looking for a lightweight, versatile, comfortable, as well as durable bike saddle.
On the other hand, if you prefer an energetic riding position, then this Power Pro with mirror saddle may suit you.
I also loved its cut out center; in fact, it minimizes the pressure making your all-day ride more comfortable.
Not only does it come from a reliable and popular manufacturer, but this saddle will also take your riding experience to a higher level.
Either way, I hope this Specialized saddle review helps you a lot in deciding whether this is or not for you.