Fitted with voluminous 2.1-inch tires, the Salsa Journeyman 650b Claris bike is engineered for a blend of adventures and fun. The cockpit and frame geometry makes the budget drop-bar rig comfortable to ride, even during long-distance explorations.
Thanks to the capable 650b wheels, the bike offers fun and plush rides, and the wide tires provide excellent traction on rough terrains.
The road bike comes at a minimal investment without compromising functionality and quality. This bike will appeal to you if meandering backroads or riding over a mix of tricky pavement and loose gravel is your thing.
Journeyman 650b Claris Overview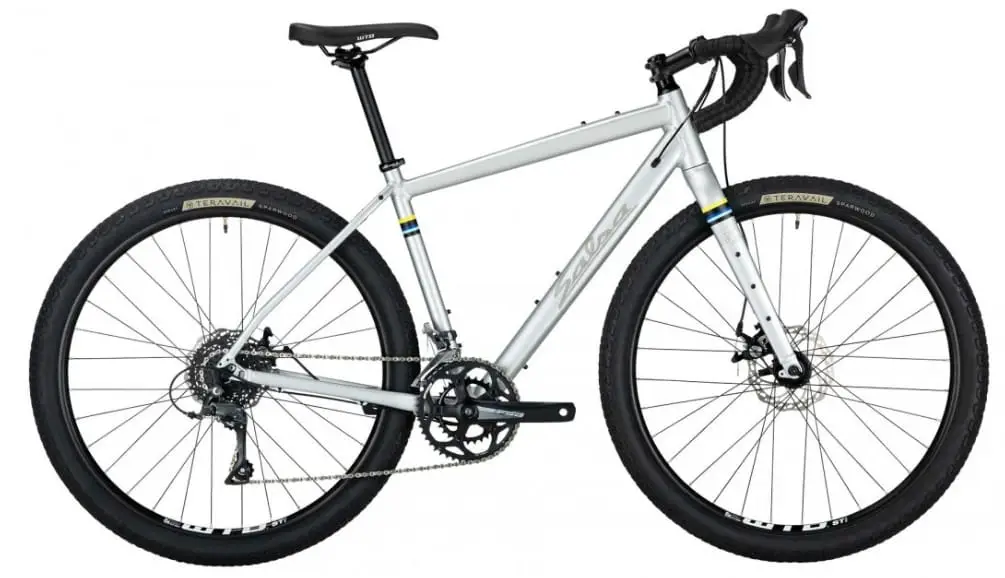 Adventure riding is everything when it comes to Salsa bikes, and it shows in the Journeyman series. The 650b Claris is an ideal touring bike model for entry-level or intermediate cycling enthusiasts.
It strips off components that could make your road ride cumbersome, but it comes with plenty of mounts to add all the accessories that will make your adventure more convenient.
When you compare the Salsa Journeyman 650b Apex vs 650b Claris, it is clear that the latter is not the manufacturer's most outstanding all-road bike. But it will do just fine if you are in the market for an ideal budget road bike.
The Journeyman 650b Claris is available in drop bar and flat bar versions, with the latter costing a little less due to cheaper components. This review is all about the drop bar model, which is a more adventure-focused model.
Before I delve into the full review, here are a few pros of the bike and some areas that could use some improvement.
Things to Consider Before Buying a Road Bike
Choosing a functional road bike model that suits you requires deliberate consideration. Here are the most important things to consider before making a purchase.
Frame materials: Your best bet is to pick a road bike model constructed with aluminum or carbon fiber frame materials.
Aluminum models are generally less expensive than carbon fiber options and provide smooth rides. Models with carbon fiber materials are generally better at absorbing vibrations and are more comfortable than aluminum-frame road bikes.
Interestingly, many aluminum models feature carbon fiber front forks that absorb some of the vibrations on the road.
Choose a carbon fiber option if you want a stronger and lighter road bike that can help you go faster. An aluminum model will work fine if you only want to ride for fun and fitness.
Groupset: Consider choosing a road bike with a groupset. Groupset refers to matching major bike components from the same manufacture. These include drivetrain, wheels, and brakes. A groupset provides consistent and a more refined appearance.
Wheels: The wheels can impact a bike's weight, aerodynamics, handling in the wind, and acceleration.
This may not matter so much if you are buying a road bike for fitness or recreational purposes. But if you want something as a competitive cyclist, you should consider getting a road bike that is higher up in its model range. These options are usually engineered with lighter and faster wheels.
Frame Geometry: This is one of the most crucial factors to consider when choosing a road bike. Your choices are down to performance (race) and recreational (sport) geometries.
Bikes with a race or performance geometry are your best bet if you are a competitive rider looking for something ideal for road-bike racing or triathlons. These bikes feature higher-end components, stiffer frames, and lighter wheels. However, they are generally more expensive.
On the other hand, bikes with a sport or recreational geometry are most suitable if you plan to ride them a couple of times per week. These offer a more upright riding position with more relaxed steering.
Handlebar Style: Road bikes come in a drop bar or flat bar style, with each offering distinctive advantages.
Drop bars are ideal if you want a model that allows you to change your hand position, especially during long rides when hand fatigue can be a problem. You can grip the bars on the drops, hoods, and bars.
Most importantly, the aerodynamics and geometry of the drop bar bikes allow you to shift your body weight forward, making climbs a lot easier.
The geometry of flat bar road bikes is similar to recreational bikes, allowing you to ride in an upright position. This means there is less strain on your back, arms, and neck. Also, it is easier to look around and take in the scenery with this type of bike, making it a great choice for commuting.
Features and Benefits
This part of the Salsa Journeyman 650b Claris review takes an in-depth look at the major components that make the bike stand out.
Frame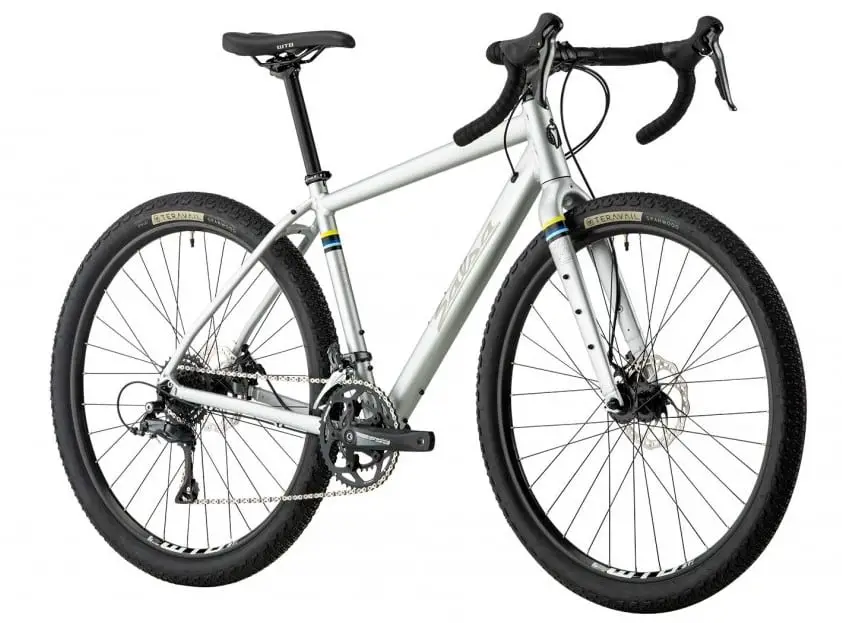 650b Claris is built around a 6061-T6 aluminum frame with a Fantail aluminum fork. Thanks to aluminum tubing, the bike is lightweight yet strong and capable. Plus, the fork provides plenty of tire clearance.
The frame geometry works well for a wide range of fun and explorations, from racing on gravel to winding backroads. Also, the full-length internal cable routing provides adequate protection for the shifting cables. The result is an overall improvement in performance, especially when riding in challenging conditions.
The frameset features many mount points that allow you to attach bikepacking accessories, racks, and front and rear fenders. This means you won't have to splatter mud on your outfit while riding in inclement weather. You can also mount a light set on the fork-crown, which is useful if you will be riding in low-light conditions.
Besides looking cool, the drop bar lets you apply more power to your pedals as you climb steep hills. Also, when you have to put in long miles, you can change up your hand position to reduce weariness.
Suspension System
This model does not feature a suspension-correction frame. That's not surprising since front rear and rear suspension have limited use for road bikes.
The shock absorbers will only add to the bike's weight and negatively impact its performance. Also, a suspension system can change the bike's geometry.
Fortunately, the Fantail aluminum fork absorbs some of the shocks on bumpy roads. In addition to this, the flexible 27.2 x 350mm Salsa Guide Seatpost and WTB Volt saddle improves comfort when riding bad patches.
More: Priority Ace Review: Are Spades or Clubs worth having?
Wheel & Tires
Fitted with 650b Novatec wheels, the bike rides efficiently and comfortably, whether on pavement or gravel.
The 2.1-inch tires blend well with the wheels and have excellent treads to provide greater cornering grip and traction on loose dirt, gravel, and on just about any rough terrain.
However, the tires are not tubeless compatible. Luckily, you can swap them out for tubeless tires. You can even change the wheels and slap on wider tires if you are feeling more adventurous.
More: Alchemy Chiron Review: One Of the Best Road Bike?
Gearing/Drivetrain
Salsa puts quite a bit of engineering ingenuity into the gearing and drivetrain for this model. The component comprises Shimano Claris GS 8-speed derailleur and SunRace 11-34t cassette. It also comes with a Shimano Claris STI shifter. All of these combine to make going uphill a breeze for the Journeyman 650b Claris.
Some avid riders compare the Journeyman bike models' climbing ability to that of a goat – it is simply impressive.
Brake
The Journeyman 650b Claris comes with Promax DSK-330R flat-mount brakes. These are mechanical disc brakes that offer swift stopping power, even at high speeds. Adjusting the brakes is easy too since they are mechanical disc brakes.
Combined with the shallow-drop Salsa Cowbell handlebar and Shimano Claris brake levers, the braking system allows you to maintain your position while riding longer in the drops.
More: Priority Classic Plus Review: One You Should Have
Features Summary
Here is an overview of the specs covered above.
| Feature Type | Specification | What This Means |
| --- | --- | --- |
| Frame | Journeyman specific 6061-T6 aluminum frame material and Fantail aluminum fork | T6 aluminum alloy provides extra strength and durability with generous tire clearance from the Fantail fork. |
| Suspension | No suspension | You won't get large shock absorption from bumps since there is no suspension. But the Fantail aluminum fork provides some vibration absorption capabilities. |
| Wheel | 650b x 2.1" wheels | Swift and efficient wheels provide high-volume and luxurious rides. |
| Tires | 27.5 x 2.1" Teravail Sparwood tires with wire bead | The tire treads provide increased traction and stability on rougher surfaces for smoother rides. |
| Gearing/Drivetrain | 16 gears, Shimano Claris GS 8-speed drivetrain with SunRace 11-34t cassette and FSA Tempo Adventure 46/30t crankset | The reliable drivetrain and chainring setup provide adequate acceleration when climbing uphill. |
| Brakes | Promax DSK-330R flat mount with 160 mm rotors | Quick stopping power brings the bike to a safe halt. |
What Others Are Saying
This part of the Salsa Journeyman 650b Claris review highlights what users think about the bike. Although this may not be Salsa's most popular road bike model, it does have a fair number of positive reviews.
After digging around the internet, I found a handful of honest customer ratings and reviews. Take a look at the screenshots below.
Journeyman 650b Claris Alternatives
Whether or not the Journeyman 650b Claris is the right road bike for you, there are a few other models you may want to check out from the same manufacturer. Perhaps, you may find something more appealing.
Journeyman 650b Claris vs Apex
Price is not the only difference when comparing Salsa Journeyman 650b Apex vs 650b Claris. Indeed, both bikes feature the same 650b wheels, but the Apex has a more robust construction with an aluminum frame and Fantail Deluxe carbon fiber fork.
It features SRAM Apex 1 gearing, making it an ideal choice if you are looking for a Salsa model that will ride faster on the gravel.
650b Apex Summary
Price: From $1,499 (MSRP)
Gearing/Drivetrain: SRAM Apex 1 with SRAM PG1130 11-42 cassette and SRAM XSync 40t crankset
Brakes and Rotors: TRP Sypre-C flat mount with 160 mm rotors
Weight: 25 lbs 8 oz based on 22.4" (57cm) size
Click here to check out the 650b Apex.
Journeyman 650b Claris vs Sora
The Journeyman 650b Sora has the same frame and fork as the 650b Apex, which is generally more robust than the 650b Claris. It features a Shimano drivetrain but is equipped with the same brakes and rotors as the 650b Claris.
This model is slightly more expensive than the bike under review, but it performs well both on and off the road and the shifting is comparatively lighter.
650b Sora Summary
Price: From $1,199 (MSRP)
Gearing/Drivetrain: Shimano Sora GS 9-speed with SunRace 11-34t cassette and FSA Vero Pro Adventure 46/30t crankset
Brakes and Rotors: Promax DSK-330R flat mount with 160 mm rotors
Weight: 26 lbs 7 oz based on 22.4" (57cm) size
Click here to check out the 650b Sora.
More: The Best Bike for Teenager On The Market [ Review and Buying Guide]
Conclusion
The 650b Claris is a well-specced and decently-priced rig that puts up an impressive performance on the road and gravel, and it does well as an all-purpose ride in just about any condition.
The aluminum frame, tire clearance from the Fantail aluminum fork, and the bike's geometry combine to make long-distance rides very comfortable. In addition, it races on the gravel and meanders back roads surprisingly well.
In a nutshell, the Journeyman 650b Claris is a great option if you are in the market for a low-cost ticket to adventure. Click here to check out the Salsa Journeyman 650b Claris road bike.