Looking for an affordable electric cargo bike, perhaps one that can easily replace your car? The RadWagon 4 by Rad Power Bikes should be on your radar.
This Class 2 electric cargo bike features major upgrades from previous iterations. But you won't have to break the bank to own it because it maintains an entry-level price point.
This Rad Power Bikes RadWagon review will give you a general idea of what the heavy-duty cargo bike feels like and what it can do.
Read on to find out if this e-bike works for you.
Things to Consider Before Buying E-bike
E-bikes essentially offer the same advantage of using a motor to supplement pedaling power. But they don't all have the same performance and definitely won't fit all types of terrains. Think about the following before you invest in one.
Purpose and Terrain:Consider the primary use for the bike and where you plan to use it. Do you want to carry cargo or an additional passenger or is it mainly for your commute to work? Would you be using it for urban commuting, trail riding, or mounting biking?
Drive Type: Your options are "pedelec" and "twist-n-go" in terms of drive type. Pedelec models monitor your pedaling and automatically offer motor assistance based on your speed, force, and rate.
The twist-n-go models allow you to trigger the motor assistance using a switch when you want.
Range: The range is the distance an e-bike can travel on one full charge. The bike's range depends on the load it carries and the terrain type, among other factors. A model that can cover at least 25 miles should be on your radar if you plan to cover lots of grounds.
Batteries: Look for models with batteries from reputable manufacturers. A lithium-ion battery with about 800 to 1000 charge cycles and fast charging time between four to six hours is an excellent choice.
Motor Mount: A quieter e-bike model typically has the motor located in the wheel. While this is won't make disturbing noises, it requires extra work to climb steep hills.
On the other hand, an e-bike model with the motor placed at the base of the frame does well steep hills. But this type of bike is usually noisier.
Cost: "Affordable" is a relative term when it comes to e-bikes. In reality, they are not cheap. A basic model may be less expensive, but how long will it serve you? Be prepared to spend good money if you want an option with good-quality brakes, suspension, sturdy frames, and other great components.
Features and Benefits
This part of the Rad Power Bikes RadWagon 4 review is where you need to pay more attention if you're considering this electric cargo bike. The following features tell you what to expect from this e-bike.
Frame
The RadWagon 4 has a frame engineered from a 6061 aluminum material. This alloy material is durable and can take a ton of weight.
The electric cargo bike weighs approximately 77 lbs when it is fully assembled. This is a heavy frame weight by all standards. But considering it is designed to haul plenty of cargo and a second adult passenger or two kids, this weight is understandable.
The bike comes in three attractive colors, including white, black, and orange. But it is only available in one frame size.
This frame size will provide a comfortable riding experience if you're 5ft 2in tall or within that range. Unfortunately, the size may not fit shorter riders.
Suspension
A typical electric cargo bike has little to no need for suspension support, and the RadWagon 4 is no exception. Keep in mind that the e-bike under review is not particularly a lightweight option. Adding suspension will make the already heavy bike unbearably weighty.
That's not to say the RadWagon 4 does not do a good job of absorbing shock. Its rigid steel fork combined with the bike's natural suspension should provide a fairly comfortable ride on rough road patches, gravel, or roads paved with cobblestone.
Consider adding a suspension seat post to the bike if you need more support.
More: Check our detailed review of Rad Power Bikes RadMission here
Motor
The motor on this electric cargo is a Bafang 750W geared hub motor located at the rear. This provides an impressive 80 Nm powerful torque output. This type of motor power is not what you see every day on entry-level e-bikes.
With a heavy frame and tons of weight to carry, it is not surprising that the RadWagon 4 has such a powerful motor to support it.
Combine the 750W motor with the highly responsive pedal and throttle system, and it is pretty easy to see why the bike can zip through traffic at a peak speed of 20 mph. Climbing steep hills with motor assistance is a breeze, even when it is loaded up to capacity.
Brake
A powerful motor is important but so is a reliable braking system. Thankfully, the RadWagon electric cargo bike comes with Tektro Aries MD-M300 mechanical disc brakes.
If you're new to e-bikes, it is instructive to learn that Tektro is a trusted brand when it comes to manufacturing reliable brakes.
In terms of performance, though, hydraulic disc brakes are better than mechanical models. But Tecktro brakes are quieter, have less hassle, and easy to repair.
More: Priority Current E-Bike Review: Worth Having?
Wheel and Tires
The wheels and tires are among the vital performance features of the RadWagon 4. The 22-inch custom wheels use 12-gauge stainless steel spokes. A 12-gauge spoke may not be the highest gauge, but it provides durability.
The 22" x 3" tires come with puncture protection. This means there's a very slim chance of getting a flat, as long as you ride in the city.
Unfortunately, you can't swap the RadWagon 4 tires with just any generic model because the wheels are custom-made to fit only tires by Rad Power Bikes. If you have to buy a new tire for some reason, you have to order from the manufacturer.
Fortunately, you don't have to wait for too long to get your orders fulfilled. After all, it isn't for nothing that Rad Power Bikes is known as the largest e-bike company in the US!
Display and Assist Modes
Unlike some e-bikes with displays on the side of the handle, the RadWagon 4 has its LCD located in the center of the handlebar.
This position allows you to quickly glance at the readout without taking your eyes off the road. It is a backlit LCD, meaning you are not restricted to riding the e-bike only in bright light conditions. You can enjoy your cycling when it is dark and still see the screen clearly.
A smoother riding experience is possible with five different pedal-assist levels. These assist levels can help you make the most of the motor's powerful performance to suit different road conditions or terrains.
The display lets you track your riding performance with the various readouts and metrics on the display.
The readouts and metrics include:
Current Speed
Max Speed
Average Speed
Motor Power Watts
5 battery levels
5 pedal assist level and walk mode
Odometer
Trip meter
Light settings
The LCD features a USB port. I find this feature particularly useful because it allows me to keep my smartphone and other devices charged during my commute.
Keep in mind that the USB charging port may not recharge some large phones and other large devices.
Battery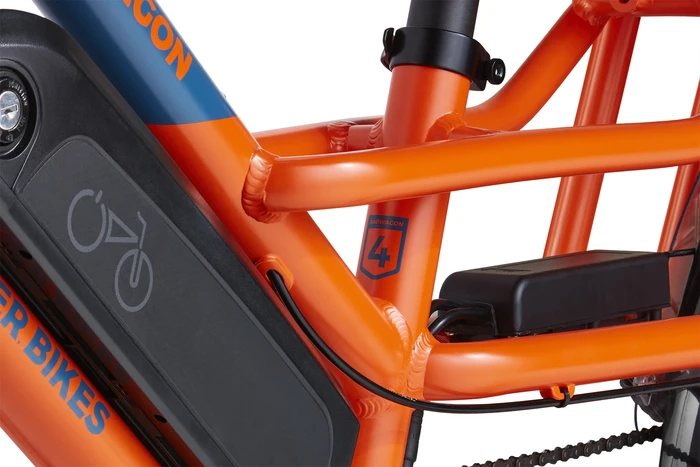 A 672 Wh (48V, 14 Ah) capacity Samsung battery powers the e-bike. It has an estimated 800 charge cycle. In reality, this should last for several years with proper maintenance.
Once fully charged, the battery can keep the bike going for up to 45 miles. This may not be an outstanding range, but it is fair enough for an electric cargo bike. Ideally, users are less likely to travel too far on this type of e-bike because of its sheer weight.
Recharging the battery from 0 to 100% typically takes about six hours. This is not particularly fast compared to some other Rad Power Bikes models.
The battery comes complete with a 2 Amp charge, which is rather basic. Thankfully, you can use a higher amp charger to reduce the charging time.
One thing I like about the battery is its removability. You can take the battery out and charge it indoors if you prefer or leave it mounted on the bike while you charge.
More: Rad Power Bikes RadRover 5 Review
Drivetrain (Gear)
The RadWagon comes with a gearing setup consisting of a 7-Speed chainring drivetrain. A dual-sided chainring guard and full-coverage fenders protect the drivetrain from dirt and debris. This ensures the gear shifts smoothly.
Even at high speeds, the gearing setup makes for a nearly effortless riding experience. A chain drop is not likely to happen when you shift gears, thanks to a robust drivetrain that holds the chain in place.
More: Rad Power Bikes RadMini 4 Review
Features Summary
Here are the major performance features of the RadWagon 4 at a glance.
| Feature Type | Specification | What This Means |
| --- | --- | --- |
| Wheel | 22" custom wheel | Low and wide wheels provide excellent stability |
| Battery | 672 Wh Samsung Lithium-ion battery | Long-lasting battery that provides about 45 miles range on a full charge |
| Frame | 6061 aluminum frame | Durable and strong frame capable of supporting up to 350 load capacity |
| Gear | 7-Speed Shimano | Great gear control helps you maintain a smooth running cadence |
| Brakes | Tektro Aries MD-M300 Mechanical Disc Brakes | Reliable stopping power that allows you to come to a quick and steady rest. |
| Motor | 750W Geared Hub Motor | Strong motor with impressive torque to climb steep hills and keep up with traffic |
| Tire | 22" x 3" tires | Wide and sturdy tires provide stability and traction for a smooth riding experience |
| Display | Adjustable-angle 2.75" backlit LCD display | Large-enough screen size with several vital readouts to keep an eye on your riding performance |
What Others Are Saying
This section of the Rad Power Bikes RadWagon review focuses briefly on what users are saying about the electric cargo bike.
It is only fair to get a feel of what real users of the bike think before investing your hard-earned cash. I did a little digging and found some interesting reviews of the bike from both veteran and beginner cyclists.
While not every single user is 100% satisfied with the e-bike, a large portion of buyers seem to agree that this model put up an impressive performance.
Check out these testimonials from happy customers.
RadWagon 4 Alternatives
Before I end this review, I'll like you to take a look at some other great electric cargo bike options. Who knows, you might find something that works for you if the RadWagon 4 isn't quite what you want.
RadWagon 4 vs Tern GSD
The Terns GSD is a compact and sturdy cargo e-bike with lots of accessories. It comes in only one frame size but has a fully adjustable telescopic seat post to fit different riders.
It is a 10-speed e-bike with about 75 miles maximum range on a full charge. As you may have guessed, this is a more expensive option than the RadWagon 4.
Tern GSD Summary
Price: From $3,999
Gear:  10-Speed Shimano
Payload Capacity: 400 lbs
RadWagon 4 vs RadRunner
The RadRunner is an affordable entry-level bike with a powerful motor and braking system. This might be right for you if you like the RadWagon but prefer something simpler.
It's a single-speed e-bike, making it an ideal choice for beginner cyclists or people who care less about precise gear control. It also features a basic LED control that's pretty straightforward to operate. Read more about Rad Power RadRunner here.
RadRunner Summary
Price:  $1,299
Gear:  Single-speed DNP 16T
Payload Capacity: 300 lbs
RadWagon 4 vs RadRunner Plus
The RadRunner Plus offers a wide collection of accessories and upgrades but doesn't measure up with the RadWagon 4 in terms of load capacity.
It has the same 750W geared hub, though, and is impressive in terms of speed. It features a 7-Speed Shimano gear with a suspension fork for a smooth riding experience.
RadRunner Plus Summary
Price:  $1,799
Gear: 7-Speed drivetrain
Payload Capacity: 300 lbs
Conclusion
I'll bring this Rad Power Bikes RadWagon review to a close by saying this is an excellent entry-level electric cargo bike by all standards.
It can support a ton of cargo, thanks to its durable aluminum frame construction. The powerful rear hub motor and the long-lasting Lithium-ion battery provide up 45 miles range.
The shifting gear is consistent, and the brakes can bring you to a steady stop, even at the top speed of 20 mph.
If an affordable and dependable electric cargo bike appeals to you, the RadWagon 4 might be right for you. Click here to check out the latest price.