The RadMission 1 is the most affordable electric bike among Rad Power's entire lineup. This model is approximately $500 cheaper than most e-bikes from the manufacturer.
But affordability is not the only thing going for this easy-to-ride e-bike. The single-speed bike features a surprisingly strong motor and 5 power-assist levels that push the RadMission 1 top speed up to 20 miles per hour.
Available in mid-step and high-step versions and six distinct colors, you're sure to find something that matches your height and color preference.
This Rad Power Bikes RadMission review reveals everything you need to know about the performance features of this simple but highly valuable electric bike model.
RadMission Overview
The Rad Power RadMission 1 is a stripped-down electric metro bike designed for commuting on paved roads in towns and cities. It is a Class 2 Pedal Assist e-bike with a twist throttle function that can get the RadMission 1 top speed clocking 20 mph.
I love the simplicity of this electric metro bike – it makes it easy for even first-time e-bike owners to ride and get used to.
It doesn't feature plenty of accessories, though. You won't see fenders, racks, or even a kickstand! But that's not surprising, considering it is the cheapest model from Rad Power Bikes.
Also, there are some slight tradeoffs in terms of battery and motor power, but that doesn't affect the bike's overall performance on the road. The RadMission 1 weight of about 48 lbs, combined with thin tires, gives the competent bike a lightweight and stable feel.
Things to Consider Before Buying Ebike
E-bikes are great but not all of them are created equal. Some of the crucial factors to consider before choosing a model include:
Purpose and Terrain:What you plan to use your bike for and where you plan to ride it most are the two most important considerations when choosing an electric bike.
Consider a cargo e-bike would be an ideal choice if you plan to carry an additional passenger or tons of cargo.
Fat tire bikes are best suited for rougher trails, although some models work well for cruising around town, too.
Consider a commuter electric bike if you want something for your daily commute on paved city roads.
Range: The range refers to the total distance the bike can go on a full charge. Consider an electric folding fat bike model that can travel beyond 25 miles if you plan to use it for your daily commute.
Batteries: An e-bike's range depends on the battery capacity, among other things. For this reason, you should look for bike models with lithium-ion batteries from reputable companies, such as Samsung, Panasonic, and Sony. You want to choose something with at least 800 charge cycles.
Motors: Consider a model with at least a 500-watts hub motor. Of course, higher watts offer better performance, especially when climbing steep mountains.
Assist Level: Consider investing in an e-bike model that offers at least three or four motor assist levels. This can help you get to where you want faster with the least amount of effort.
Features and Benefits
In this part of the Rad Power Bikes RadMission review, I'll cover the details of each performance feature that makes this bike model unique.
Frame
Built using a 6061 aluminum alloy material, the RadMission is available in two frame sizes and six color combinations. Taller riders will find the 21.5" high-step version more suitable, while the 18" mid-step option will best suit shorter riders.
The RadMission 1 weight of 48 lbs for the high-step version and 47.5 lbs for the mid-step version is significantly lighter than many e-bike models from this manufacturer.
The attention to detail on this bike is remarkable, and it features several slots for attaching add-ons.
Motor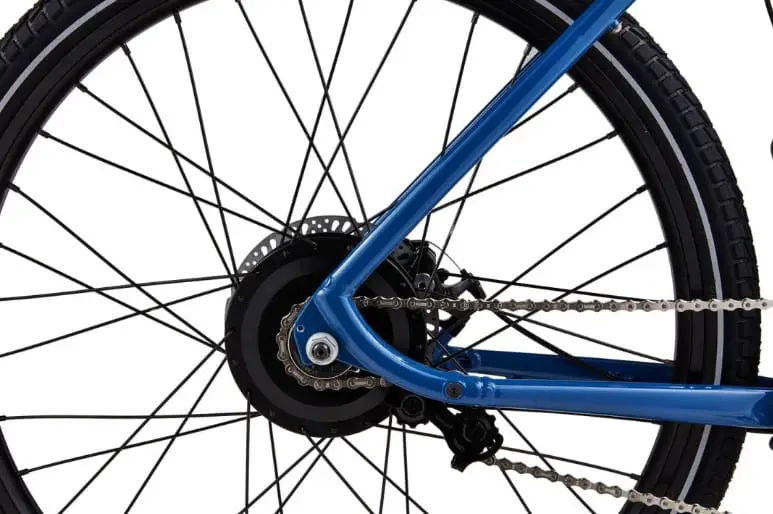 A 500-watt motor powers the bike, including the head and tail lights. While this is definitely not the most powerful motor I've seen on e-bikes, it is ideal for the bike considering its price. Plus, it provides enough pedal assistance to cover a decent range. However, you may feel a slight lag when climbing steep hills.
Surprisingly, the motor has a high-torque system of 50 Nm. This can quickly get you to top speeds after stopping at an intersection or stop sign
Suspension
This model lacks both front and rear suspension. Instead, it features a rigid steel fork. Thankfully, you can swap out the steel fork for suspension and a seatpost. Many users find that doing this improves comfort. 
Wheel & Tires
The RadMission is a joy to ride on paved city roads and sidewalks, thanks to the double-wall rims and thin but durable tires.
Other road users can easily see the bike even in low-light conditions because of the reflective sidewalls on the tires.
But you want to avoid riding on dirt paths because the tires are not designed to handle off-road so well.
Thanks to the puncture-resistant liner, the tires are less prone to flats. Meaning, you won't have to worry about changing tires often.
Drivetrain
The RadMission is a single-speed bike. That means you won't be able to change or shift gears. This might not be a deal-breaker for many riders, especially those who prefer to focus on enjoying their rides instead of worrying about the different gears.
Here's one other good thing with the drivetrain: it's difficult to experience chain drops or other chain problems associated with multi-speed models. Also, a double guard protects the chainring from dirt, debris, water, and rust.
More: Rad Power Bikes RadMini 4 Review: Worth Buying?
Brake
Tektro Aries caliper brakes and 180mm front and rear rotors make up the braking system. In simpler terms, the braking system is reliable and will bring the bike to a quick and safe stop when the need arises.
The motor cuts off immediately you apply the brakes. This makes stopping even smoother and prevents the brakes from competing against the motor.
Battery
This electric metro bike comes with a removable Samsung battery that can provide power for up to 504-watt hours.
The battery is smaller and less powerful than many batteries on other Rad Power Bikes models. But combined with the 500W motor, the battery can last for up to 45 miles or even longer. Plus, the small capacity helps to keep the bike's price down.
Juicing the battery is easy because you can plug it into any standard wall outlet. You can remove the battery and charge it indoors or lock it when parked outdoors.
More: How to Make Rad Power Bikes Go Faster
Display/Assist Modes
Instead of a fanciful LCD as often found on many other models, the RadMission features a customized LED that's pretty basic.
It seats almost in the center of the handlebars. I like this strategic location because it makes it easy for me to glance at the display without taking my eyes off the road. Plus, it is adjustable, so you can tilt it to your preferred angle.
Controlling the e-bike is straightforward with its easy-to-use display. Even beginners will find it a breeze to use the functions, which include:
Power button: for turning the display on/off
Light button: for turning the lights on/off
+ button: for increasing the assist level
– button: for decreasing the assist level
The e-bike has five assist levels that provide greater acceleration and helping you reach the RadMission 1 top speed of 20 mph.
More: Rad Power Bikes Radwagon 4 Review
Features Summary
| Feature Type | Specification | What This Means |
| --- | --- | --- |
| Frame | 6061 Aluminum Alloy | The frame makes the bike lightweight but it is sturdy enough to support a maximum payload capacity of 275 lbs. |
| Suspension | Rigid steel fork | Heavy steel fork with no suspension. But there's provision for an optional Suntour seatpost add-on for improved comfort during rides. |
| Wheel | 36 hole, 27.5" double-wall aluminum wheels | The double-wall rims provide great handling and excellent navigation in tight spots. |
| Tires | 27.5" x 1.95" Kenda Kontact thin tires with K-Shield puncture-resistant liner | Thin tires are designed specifically for riding in towns and cities. The liner improves durability. |
| Battery | 504 Wh Lithium Samsung 35e cells | The removable battery integrates fully into the downtube. It can provide more than 45 miles range on a full charge. |
| Gearing | Single-speed 16-tooth freewheel 50 T chainring | You don't have to shift gears or worry about the chain dropping. |
| Brakes | Tektro Aries (MD-M300) Mechanical Disc Brakes, 180mm front and rear rotors | A very responsive braking system with excellent stopping power |
| Motor | 500 W geared hub motor (50 Nm of torque) with 5:1 planetary reduction | The water-resistant motor provides ample power for the bike as well as the head and tail lights. |
| Display | Rad Power Bikes custom LED display | A simple LED setup with basic controls, to help you monitor your rides. |
What Others Are Saying
At first blush, it might seem like RadMission's affordability is its main attraction. But that's not the case at all, as you'll soon find out from honest customer reviews.
After scouting the internet, I found what real buyers and users have to say about the bike. While not everyone thinks the bike is great in all aspects (no e-bike is, by the way), the reviews tend to be generally positive.
Take a look at the screenshots below:
Rad Power RadMission 1 Alternatives
It is easy to love the Rad Power RadMission 1, considering all its performance features and the affordable price point.
But I'll like to briefly mention a few other great bikes from Rad Power Bikes that might equally interest you, especially if you prefer a model with better motor power or one that comes with complete basic accessories.
RadMission vs RadCity
Consider the RadCity if you prefer an e-bike for cruising urban roads. This model runs quietly even at top speeds. It is an incredibly stable and steady bike, known for outstanding performance on city roads.
Rad Power designed the bike with front suspension and thick tires to give riders the smoothest riding experience possible, especially on urban roads. Check our Rad Power RadCity 4 e-bike Review here.
RadCity 4 Summary
Price: $1,599
Top Speed: 20 mph
Range: Up to 45+ miles
Weight:64 lbs
Total Payload Capacity: 275 lbs
Click here to check out the RadCity.
RadMission vs RadRunner
The RadRunner is one of the most remarkable electric utility bikes on the market. This model has over 300 possible combinations of accessories, allowing you to customize it to be uniquely yours.
RadRunner is considerably heavier than the Rad Power RadMission 1, but it can support up to 300 lbs load capacity while maintaining impressive stability even at high speeds. Check our Rad Power RadRunner Review here.
RadRunner Summary
Price: $1,299
Top Speed: 20 mph
Range: 45+ miles
Weight: 65 lbs
Total Payload Capacity: 300 lbs
Click here to check out the RadRunner.
RadMission vs RadRover
The RadRover is a great electric fat bike with a powerful rear gear hub motor. With 80 Nm of torque, the bike is an excellent choice for blazing through city traffic and tackling steep hills.
It is an extremely fun bike designed to do a little bit of everything, making it suitable for both urban roads and off-road trails. Check our Rap Power RadRover 5 Review here.
RadRover Summary
Price: $1,699
Top Speed: 20 mph
Range: 45+ miles
Weight: 69 lbs
Total Payload Capacity: 275 lbs
Click here to check out the RadRover.
Conclusion
The RadMission should be on your radar if you like the idea of owning a no-frills e-bike that gets you around town effortlessly and safely. It is an excellent model to own, even if it is your first time buying an electric bike.
The RadMission 1 weight, coupled with its ease of use, makes it one of the simplest yet valuable offerings from Rad Power Bikes.
On top of it all, it is insanely affordable compared to other entry-level models. Click here to check out the RadMission Electric Metro Bike.