The RadCity provides excellent value for everyday riders who want an affordable and easy-to-ride e-bike that will get them around town.
The Class 2 throttle on-demand electric bike has an upright riding position with an adjustable stem, responsive geometry, and capable hardware. This provides you with an extremely comfortable riding experience, as the bike blazes through nearly all urban obstacles.
As a feature-complete e-bike, it is fitted with fenders, a rack, and integrated lights. The bike definitely offers a lot of value and is suitable for riding in any weather.
Read on to discover the RadCity 4 specs and why it might be the most suitable commuter transport mode for you.
Rad Power Bikes RadCity Overview
The RadCity is great for the neighborhood and urban commuting. Rad Power Bikes designed this bike to be a comfortable cruiser, thanks to the low-profile design and the upright frame.
The combination of its 1 x 7-speed drivetrain, half-twist throttle, and puncture-resistant tires provides an excellent riding experience, even when climbing foothills.
Of course, the RadCity 4 top speed of 20 mph does not exactly classify it as the fastest electric bike, but that's more than enough speed for your everyday commute in the city.
Let's begin the Rad Power Bikes RadCity 4 Review with a few of the good stuff and some areas that need improvement.
Things to Consider Before Buying an E-bike
Buying an e-bike is usually an investment because even the most affordable models can cost up to a thousand dollars or more. For this reason, I strongly advise that you take a few moments to ponder the following suggestions before making any financial commitment.
Purpose and Terrain:Consider what you want to use the e-bike for and where you will mostly use it before opting for a model. A commuter bike would be your best bet if you want something to cruise around town.
A cargo model works best if you want to carry plenty of stuff or an additional passenger during rides. Consider an electric fat bike for tackling challenging terrains.
Batteries: Lithium-ion batteries are widespread, but choose one from a reputable brand, such as Sony, Samsung, and Panasonic. Consider a battery with not less than 800 charge cycles if you want one that will last for a long time.
Range: The range refers to the total distance the bike can go on a full charge. An e-bike that can travel more than 25 miles is a great choice if you plan to use it for your daily commute.
Motors: Geared hub motors with 500-watts or higher are an excellent choice. Entry-level and mid-entry bikes typically have their motors on the wheel. It will cost you more if you prefer one with the motor inside the frame. In either case, motor performance is far more important than its location.
Assist Level: Consider an electric bike that offers up to three or four motor-assist levels. A walk-mode is a big plus if you prefer more sophistication.
Features and Benefits
Now, let's take a closer look at the RadCity 4 specs and see why it ranks as the best commuting electric bike of 2021.
Frame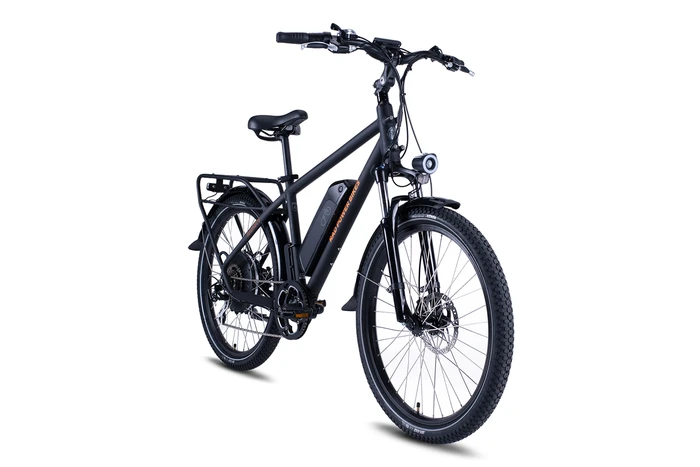 Rad Power Bikes built this bike with a 6061 aluminum alloy – a durable construction material. The bike is only available in one color and one frame size of 18.5 inches.
Short riders who prefer high-step frame style bikes and very tall riders who prefer more than average leg clearance may find the one-size frame limiting. Thankfully, the bike's stem is adjustable.
The aluminum material adds to the bike's weight. At 64 pounds, the RadCity is on the heavy side. You may find it difficult to carry the bike upstairs if you live in an apartment.
Motor
The bike is engineered with a 750 watts direct drive hub motor with 40 Nm of torque. This motor won't power through steep hills and is definitely not a great choice for long-distance rides. But it is more than enough to zip through city traffic.
RadCity 4 top speed of 20 miles per hour is a direct function of the motor assist system. While engaging the motor usually drains battery power, the RadCity 4 specs feature a motor with a regenerative braking system.
What this means as you pedal around town and apply the brakes, some pedaling power goes back into the motor. This can increase brake life and extends the battery range.
Suspension
The RadCity is built for urban cycling. This explains its rather basic spring fork. But with 100 mm travel, lockout, and preload adjustment, it is adequate for the everyday city rider.
The spring fork adds to the bike's weight, but the low profile and the wheel size combine to provide smoother rides, even on rough city roads.
Wheel & Tires
Fitted with 26" Weinmann Goliath, double-wall alloy wheels, and 2.3" puncture-resistant tires, there is little chance of experiencing flats with the RadCity, even when you ride on bad city roads.
The tires are grippy than others on many commuter e-bikes, thanks to the treads, which are more prominent.
Drivetrain
The drivetrain on this bike comprises a Shimano SL-TX50-7R thumb shifter and a 7-speed Shimano Altus derailleur. This combination makes shifting very smooth and consistent with the pedal-assist system.
Plastic fenders provide full coverage for the drivetrain, protecting it from dust, sand, and debris. Chain drops are rare with this level of protection.
More:
Brake
RadCity features mechanical disc brakes 180 mm front and rear rotors. This braking system is highly responsive and can bring the bike to a quick stop. Fortunately, more tire treads on the tires mean you are less likely to experience skidding.
Also, the brake pads last longer than those on similar bikes because of the regenerative braking system of the bike.
Battery
One impressive RadCity 4 specs are the removable 672 Wh Samsung lithium battery pack. I like that I don't have to bring the entire bike indoors during charging. I can simply detach the battery and charge it inside.
A removable battery also means you can easily detach it during cleaning and reinstall it afterward.
In terms of performance, the battery can last for a long time and can supply power for a decent range.
The 2 amps charger is pretty basic, though. Consider upgrading to a 3 or 4-amp charger for faster charging.
More: Rad Power Bikes Radwagon 4 Review
Display/Assist Modes
Sitting squarely in the center of the handlebars is a 2.75" backlit LCD with bold readouts. You don't have to look sideways or take your eyes off the road to steal a glance at the display, thanks to the center positioning.
The display is fixed, so you can't take it off during cleaning, but you can easily adjust the angle. This is a useful feature because it helps you avoid flare, especially when riding in bright light conditions.
Thankfully, you can easily see the readouts even in low-light conditions since it is a backlit display.
The display comes equipped with a USB port at the bottom, allowing you to charge your phone and other portable devices on the go.
The LCD shows the following metrics:
Battery level indicator
Speedometer (current speed, average speed, max speed)
Pedal-assist level
USB charging
Odometer
Light indicator
Wattmeter
The twist throttle and pedal-assist system are noteworthy RadCity 4 specs. The half-twist throttle features a 12-magnet cadence sensor that offers five pedal-assist levels.
In a nutshell, twisting the throttle minimizes pedaling and provides supplemental speed up to 20 mph, which is the RadCity 4 top speed.
Features Summary
| Feature Type | Specification | What This Means |
| --- | --- | --- |
| Frame | 6061 aluminum | The sturdy and stiff frame provides excellent weight distribution |
| Suspension | Spring fork, 100 mm travel, with lockout and preload adjustment | The suspension provides good shock absorption on bad patches and the 100 mm travel is more than adequate for an urban commuter bike. |
| Wheel | 26" aluminum wheels | The size of the wheel and the puncture-resistant tires lifts the wheelbase a little higher to minimize flats. |
| Tires | Kenda K-Rad 26" x 2.3" tires | Practical and reliable tires can comfortably get through most urban roads, including potholes. |
| Battery | 672 Wh Lithium NMC Samsung 35E cells rated for 800 charge cycles | The battery will last for years. It can provide up to 45 miles range on a single charge. |
| Gearing | 1 x 7-speed | The gearing system is sufficient for city riding. |
| Brakes | Tektro Aries (MD-M300) mechanical disc brakes with 180 mm front and rear rotors | A responsive braking system brings the bike to a safe stop within a short distance. |
| Motor | 750W brushless Shengyi direct drive hub motor with 40 Nm of torque | Provides ample power to zip through traffic and scale low hills. |
| LCD | Adjustable-angle backlit LCD with USB port | You can tilt the display to your preferred angle and read the metrics easily. You can also charge your portable electronic devices on the go. |
What Others Are Saying
This Rad Power Bikes RadCity 4 Review will be incomplete without highlighting what other users think about the bike.
If you take a few minutes to do a quick search on the internet, you are sure to find overwhelming positive reviews about the RadCity. However, I'm more interested in showing you honest reviews from real users.
The screenshots below are from verified buyers, so you can be certain these are not mere praise singers.
RadCity Alternatives
As great as the RadCity is, it may not be the perfect e-bike for you or you may want to have an idea of what other similar models are available.
In this part of the Rad Power Bikes RadCity 4 Review, I'll quickly highlight a few alternative models to help you compare.
RadCity vs RadRover
The RadRover is a mid-tier electric fat bike with a powerful rear gear hub motor. With 80 Nm of torque, the bike can take on steep hills and blast through city traffic.
It is an extremely fun bike designed to do a little bit of everything, making it suitable for both urban roads and off-road trails. Check our Rad Power Bikes RadRover 5 Review here
RadRover Summary
Price: $1,600
Top Speed: 20 mph
Range: 45+ miles
Weight: 69 lbs
Total Payload Capacity: 275 lbs
Click here to check out the RadRover.
RadCity vs RadRunner
Consider the RadRunner if you're in the market for a truly impressive electric utility bike. This model has over 300 possible combinations of accessories, allowing you to customize it to be uniquely yours.
It is slightly heavier than the RadCity but can support up to 300 lbs load capacity while maintaining impressive stability at a top speed of 20 mph. Check our Rad Power RadRunner Review here
RadRunner Summary
Price: $1,299
Top Speed: 20 mph
Range: 45+ miles
Weight: 65 lbs
Total Payload Capacity: 300 lbs
Click here to check out the RadRunner.
RadCity vs RadMission
Going for nearly $500 less than the average price of Rad Power Bikes, the RadMission is your best bet if you're looking for an insanely affordable e-bike.
While it is a cheaper and no-frills model, the e-bike is lightweight and packs a punch when it comes to battery and hub motor.
RadMission Summary
Price: $1,099
Top Speed:
Range: 45+ miles
Weight: 48 lbs
Total Payload Capacity: 275 lbs
Click here to check out the RadMission.
RadCity vs RadMini
The RadMini is an excellent choice if you want an electric folding fat bike. It folds into a compact size but it is still considerably heavy.
The good thing about the design is that it can work great both as a commuter and mountain bike, thanks to its fat tires, RST suspension, and powerful geared hub motor. Check Our Review to Rad Power Bikes RadMini E-Bikes here.
RadMini Summary
Price: $1,499
Top Speed: 20 mph
Range: 45+ miles
Weight: 68.3 lbs
Total Payload Capacity: 275 lbs
Click here to check out the RadMini.
Conclusion
The RadCity 4 is an absolutely fun city bike. Although it might not have all the bells and whistles of high-end models, it is an awesome combination of functionality and good quality at an affordable price point.
Whether you are looking for an easy-to-ride e-bike for urban commuting or something great for recreational city riding, the RadCity 4 electric commuter bike fits the bill. Get the latest price here. Click here to check out the RadCity 4.