If you are in the market for an electric utility bike, I'll suggest you take the time to read this Rad Power Bikes RadRunner review before making a purchase.
I've had the opportunity to ride many e-bikes and the RadRunner happens to be one of the models that work well for me and many cyclists, too.
The Class 2 cargo e-bike may not have all the bells and whistles that come with many modern-day models. But it is a highly flexible option and an excellent choice when it comes to utility bikes.
Dive in to learn what to expect from the simple but efficient ebike.
Things to Consider Before Buying E-Bike
In this section of the Rad Power Bikes RadRunner review, I'll share with you a few things to keep in mind if you're looking to buy an electric bike any time soon.
Purpose and Terrain:It is crucial to first decide what and where you would primarily use the bike before choosing one. Do you want to carry cargo, a child, or an additional passenger? Would you be using it for urban commuting, trail riding, or mounting biking?
E-Bike Class: Electric bikes come in three main classes.
Class 1: These are pedal-assist electric bikes. You need to pedal the bike to use the motor.
Class 2: E-bikes in this class are known as throttle assist. You only need to crank the throttle to get the bike going at a top speed of 20mph. But the more you use the throttle and ignore the pedal, the quicker you run out of battery.
Class 3: These are the faster types of pedal-assist e-bikes with a maximum speed of 28mph. The rider must be at least 17 years old and must use a helmet.
Range: The distance covered on one full charge is called a range. The bike's range depends on the load, terrain, and other factors. Consider an option with a 25-mile rage if you plan to cover lots of grounds. If your typical commute is only for a short distance, a higher range would be overkill.
Batteries: Look for batteries from reputable manufacturers, such as Samsung, Panasonic, and Sony. A lithium-ion battery that can go from 0% to 100% in about four to six hours is a great choice.
Motor Mount: You can choose a bike with the motor located at the bottom of the frame (crank assist) if you want something that performs well on steep hills. But this type of bike is usually noisier.
If you want a quieter option, consider a bike with the motor located in the wheel (hub assist). Climbing hills will require extra work, though.
Accessories: Add-ons might not be necessary but having them usually means not spending extra money. Keep an eye out for at least basic accessories, such as fenders and rear racks.
Features and Benefits
Frame
The frame of this e-bike is made from 6061 aluminum. This construction material is sturdy and durable but can be heavy. The bike weighs 65 pounds when fully assembled.
I've seen heavier bikes than the RadRunner but you should be aware that lifting this bike is not particularly the easiest thing to do. This is especially true if you attempt to lift it from the rear.
Many of the electrical components, including the motor, are located in the rear wheel. This explains why the back end is considerably heavier.
The good news is that bike can take up to a 300-pound load, provided the weight is properly distributed on the frame.
Keep in mind that this bike comes in only one frame size. This may not offer the most comfortable riding experience for you if you are very tall or short.
But the e-bike offers a wide range of heights, thanks to the highly adjustable seat and handlebar customization.
Suspension
The RadRunner has a rigid front fork, so there is little suspension support. Instead, shock absorption is majorly a function of the fat tires.
There is no suspension support at the saddle and base stem, too. But that's not to say you can't upgrade the bike to add suspension support.
This makes the bike more suited to city riding. Adding suspension support or at least swapping out the saddle and seat post is your best bet if you plan to ride in more challenging terrains.
Learn how to keep your Rad Power Bikes Clean with our Cleaning Guide
Motor
Similar to many other offerings from Rad Power Bikes, the RadRunner comes with a 750W brushless gear hub motor.
The 80 Nm torque Bafang motor provides impressive power that is not common among many entry-level e-bike models. Whether you plan to throttle or pedal up a steep hill, the RadRunner's powerful motor is up to the task.
The farthest this strong motor can travel is about 45 miles or a little more on a full charge. While that is not an exceptional range, it is not too bad considering the RadRunner is an entry-level electric bike with an impressive load capacity.
Brake
The brake system is one of the most impressive features of the RadRunner 1. The electric utility bike is equipped with Tektro Aries MD-M300 mechanical disc brakes. The braking system also features 180 mm rear and front rotors.
With this combination, the e-bike can come to a smooth yet grinding halt almost instantly. The capable brake system is highly effective, whether you are on a mountain trail or traveling down a slope.
The motor and brake systems are connected, making it possible to slow down without setting both components against each other. With the motor active, the taillight lights up when you apply the brakes.
It is fair to say that the RadRunner's braking system is pretty impressive compared to many other entry-level and even more expensive e-bikes.
Keep in mind, though, that these are mechanical disc brakes. That means they require more hand effort than hydraulic systems.
More: Aventon Sinch Folding E-Bike Review: Worth Having
Wheel and Tires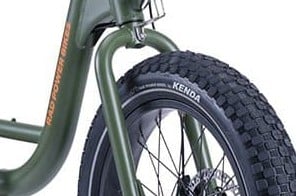 The wheels are double-wall 36-hole aluminum that comes with 12-gauge spokes made of stainless steel. These hold the brand's exclusive Kenda K-Rad tires measuring 20-inch by 3.3-inch.
These tires are not only durable but can resist puncture. With a k-shield puncture-protection feature, you are less likely to have a flat tire during rides.
The fat and short tires provide stable and fun rides on nearly all terrains, provided you stay within the correct inflation range of 5 to 30 PSI. A higher PSI is ideal for smooth city rides, while lower inflation will ensure an enjoyable riding experience in loose terrain.
Display
A simple LED display mounts on the bike's handlebar, providing riders with basic metrics about their rides. You can easily see the assist level, charge level, and lights indicator.
The LED control doesn't take up too much space on the handlebar and it is pretty straightforward to operate. The bike is ready to go with only one or two button presses.
While the simplicity of the LED can be a plus for many average cyclists, it doesn't offer some helpful details. For example, you won't be able to measure your current speed during rides, track the distance covered, or see the watt generation.
This may not be a deal-breaker for you, especially if you want to save money or prefer something simple.
More: Rad Power Bikes RadMini 4 Review: Worth Buying?
Battery
The bike comes with a 672 Wh, Lithium Samsung battery. The battery has an estimated lifespan of 800 charge cycles, meaning it can serve you for a long time before a replacement becomes necessary.
The bike comes with a standard 2-amp charger that can get the battery from zero to 100% within five to six hours.
One good thing about the battery is that it is removable. That means you can choose to take it out and charge it on your desk or leave it mounted while you juice it up.
I particularly like e-bike with removable batteries because they offer the flexibility of plugging into charging ports without worrying about providing extra space for the bike.
Drivetrain (Gear)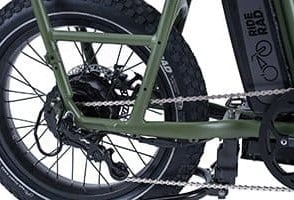 The RadRunner 1 is a single-speed e-bike, meaning it features a basic drivetrain with no gear shifting capability.
A single-speed e-bike would have removed all the overwhelming feelings I had the first time I encountered electric bikes. That's because as a beginner cyclist, your focus should be on the road and enjoying your riding experience instead of worrying about precise gear control.
But I'll like to keep things balanced in this Rad Power Bikes RadRunner review, which is why I must say that veteran cyclists may be disappointed with a lack of gear shifting, and understandably so.
If you spend a lot of time riding and prefer something more advanced, you may want to consider another electric bike from the Rad Power Bikes lineup.
More: Check our detailed review of Rad Power Bikes RadMission 1
Features Summary
Here is a glance at the major features.
| Feature Type | Specification | What This Means |
| --- | --- | --- |
| Wheel | 20" wheels | Short wheels provide impressive stability |
| Battery | 672 Wh, 48V, 14 Ah Lithium NMC Samsung 35E cells | Up to 800 charge cycles with about 5 to 6 hours of charging time and approximately 45 miles range on a full charge |
| Frame | 6061 aluminum frame | Durable and lightweight |
| Speed | 20 mph top speed | The motor automatically shuts off when you reach the top speed |
| Brakes | Tektro Aries (MD-M300) Mechanical Disc Brakes | Excellent stopping power even at top speed |
| Motor | 750W Geared Hub motor | Powerful and zippy motor for a decent range |
| Tire | Kendra K-Rad 20" x 3.3" | Fat and puncture-resistant tires for an enjoyable riding experience in all terrains |
| LED | Intuitive LED | Easy to operate display that shows basic riding info |
What Others Are Saying
This Rad Power Bikes RadRunner review will be lopsided if it contains only what I think about the electric bike. To keep things balanced, I scoured the internet for first-hand reviews from real users.
The RadRunner is widely popular, thanks to the engineering ingenuity of the manufacturer. But that doesn't mean the e-bike is perfect. Like older models from the same brand, there is still room for improvement.
Having said that, an overwhelming number of users have positive experiences riding the RadRunner 1. Apart from Bicycling Magazine rating it the "Best Value Cargo Bike," here are a few testimonials from real users.


RadRunner 1 Alternatives
As you may already know, the RadRunner 1 is just one out of the many e-bike offerings from Rad Power Bikes. Here's a quick comparison of the model under review with some other excellent alternatives.
RadWagon 4 vs RadRunner
RadWagon is a one-size heavy-duty cargo e-bike fitted with a Bafang 80 Nm motor. This combination means you get to zip past traffic even when loaded to the max.
This bike offers great value for its price, considering all the accessories that come with it. Plus, it is available in three attractive colors. Check our review of Rad Power Bikes RadWagon 4 Review.
RadWagon 4 Summary
Price: $1,899
Gear: 7-Speed drivetrain
Max Load Capacity: 350 lbs
RadRunner vs RadRunner Plus
The RadRunner Plus is a head-tuner with a wide collection of accessories and upgrades. While retaining the same 750W geared hub of the previous version, this follow-up premium e-bike takes things up a few notches in terms of speed.
It features a 7-Speed Shimano gear, a suspension fork, and a better LCD control, among other upgrades.
RadRunner Plus Summary
Price:  $1,799
Gear: 7-Speed drivetrain
Max Load Capacity: 300 lbs
RadRunner vs RadRover
At 69 pounds, the RadRover is a heavier but more robust and aesthetically appealing option compared to the RadRunner.
Regardless of its heft, it won't take as much load as the RadRunner but the RST suspension fork, wider tires, and puncture-resistant liners make it a great alternative. Check our Complete Rad Power Bikes RadRover Review here.
RadRover Summary
Price:  $1,699
Gear: 7-Speed drivetrain
Max Load Capacity: 275 lbs
RadRunner vs RadCity
RadCity is an incredibly stable and steady e-bike and puts up an impressive performance both at high and low speeds.
It is quiet and smooth even at top speeds, thanks to its girthy tires and front suspension. Check our Rad Power Bikes RadCity 4 Review.
RadCity Summary
Price: $1,599
Gear: 7-Speed drivetrain
Max Load Capacity: 275 lbs
Conclusion
E-Bikes are exhilarating and can take your riding experience to a new level but they're not created equal.
The RadRunner 1 is rated for 300 pounds maximum load capacity, meaning it can accommodate an adult rider with plenty of cargo.
If you want something that offers incredible versatility, the RadRunner 1 might be your best choice. With over 300 different accessory combinations, you can customize this e-bike to be uniquely yours. The Class 2 e-bike is a great fit for riders who want an affordable electric utility bike with fat tires and a strong motor.