Schwinn is one of the biggest and most popular bikes manufacturers out there, so it's natural to consider one of their bikes if you're looking for a new road bike. Plus, they're known a little more for their road bikes than their mountain bikes, unlike other bike name manufacturers like Trek, which means that you can trust almost all their bikes' speed and adaptations. 
Of course, a bike is more than just it's manufacturer, so let's take a look at the specifics and whether the Schwinn Phocus is a good option for you. 
Overview
Schwinn Phocus 1600
The Schwinn Phocus 1600 is a good moderately aggressive road bike in the mid-range in terms of price. A lot more affordable than some of the others, the bike still has some reasonable adaptations that help improve the bike's overall performance. 
It's also one of the lighter options in its price range thanks to an adaptive frame and high-performance carbon fork. 
This isn't necessarily a competition road bike, but it's great for cyclists looking for an affordable option and increasing their skills and top speed performance. 
Before we dig into the details, let's see what features you should keep in mind before buying a road bike. 
Things to Consider Before Buying A Road Bike
Road bikes are highly specialized, and they are one of the most popular bike styles for a reason. These bikes put performance and speed above all other considerations. They are meant to help you bike as quickly as possible and trim the effort you need to accelerate. 
However, all that precision means that they don't perform nearly as well going over rugged terrain or unpaved surfaces. That's because these bikes wheels are more streamlined and don't offer a lot of grip or slide protection.
Most road bikes also have thinner rims that make it more difficult to get a grippier tire, so these bikes tend to be best for slightly more experienced riders that already have good balance and know how to avoid a fall. 
Features & Benefits
Now that we've covered the basics about road bikes, let's look at what this specific model has to offer. 
Frame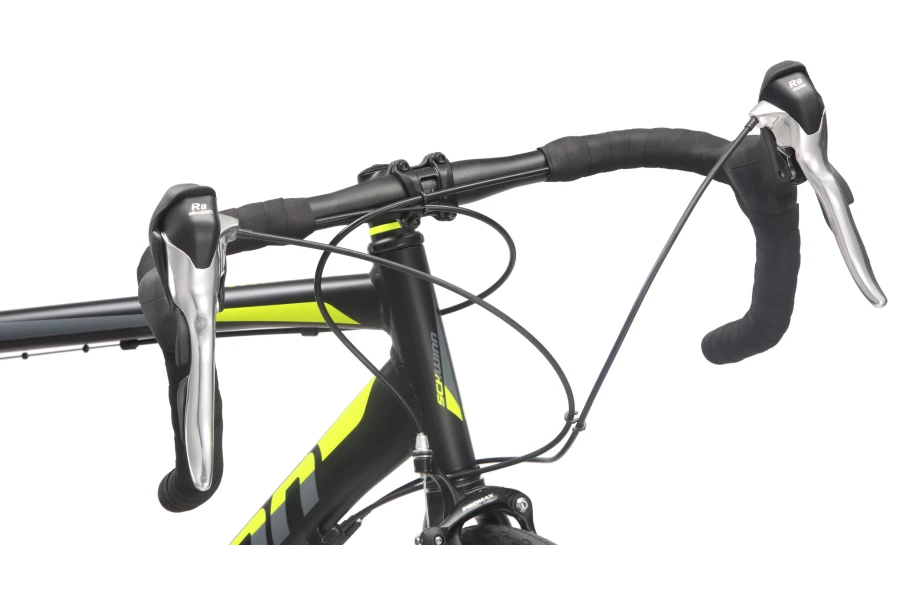 The Schwinn Phocus 1600 offers a relatively aggressive rider position and dynamic geometry that makes it easy to accelerate, turn, and even race on this bike. The frame's design is mostly meant for men, but it's a generic enough design that women can use the bike with relative ease. 
More: Trek Madone Sl 6 Review: Is It A Good Road Bike?
We'd still consider this bike a men's frame, but it edges toward unisex with a replacement saddle, especially for taller women. 
This frame's aluminum material is fairly lightweight, which is why this bike is a little lighter than average for its price range. The carbon fork helps lower the weight of the bike too, as well as offering better performance. 
Aluminum is a great option for a mid-range bike, but it does mean that it's a little heavier and less responsive than a carbon fiber frame. 
That added weight might be a disadvantage in terms of speed, but it has some advantages as discussed in the next section. 
Suspension System
The Schwinn Phocus 1600, like most mid-range and affordable road bikes, doesn't have a dedicated suspension system. Fortunately, that isn't much of an issue with the overall design. This bike might not handle bumps and potholes as well as a mountain bike, but it's still a fairly smooth-riding bike. 
Unlike a mountain bike, this model doesn't have any front suspension, and while the built-in saddle can handle some of the bumps in the road, it isn't a suspension saddle either. 
However, despite the lack of suspension, this bike won't shake you to death. It performs well even over rough terrain. That's because the aluminum frame absorbs most of the vibration from the road, keeping you more stable in your seat. 
Still, it would take some fairly serious upgrades to give this system more suspension. 
More: Trek Emonda ALR 5 Review: Is It A Good Bike To Have?
Wheel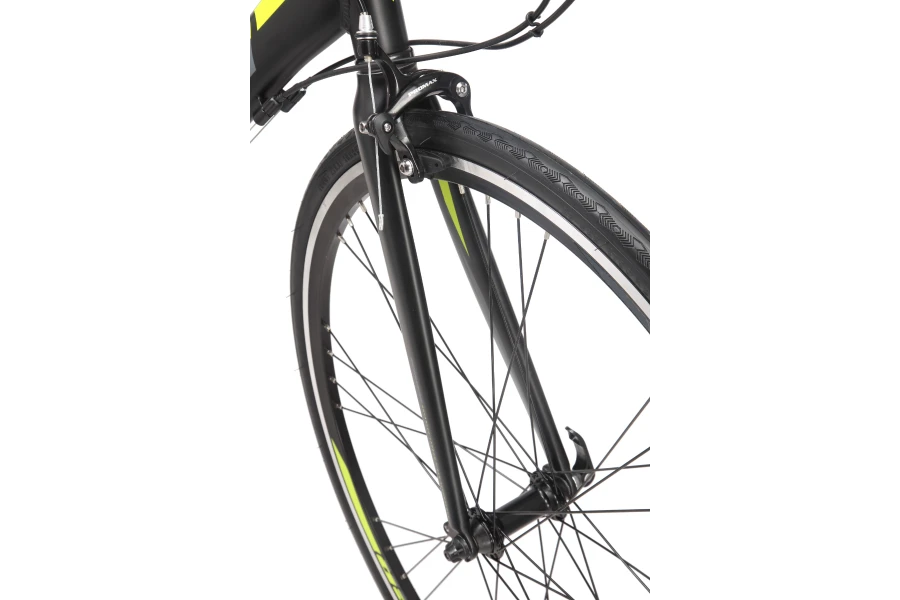 The wheels on this bike are fairly standard, but that's actually a huge advantage when it comes to your wheels. You want something standard because you won't have to pay a premium later on to purchase new tires. 
In this case, you'll get standard 700c wheels, with thin and efficient rims to reduce grip on the road and improve speed. 
The tires have minimal clearance on this bike which does mean that bumps are a little more likely to damage the tires and rims. 
We did appreciate that this bike comes with surprisingly good road tires. Not too much grip, but just enough grip to help prevent sliding and falls. 
Gear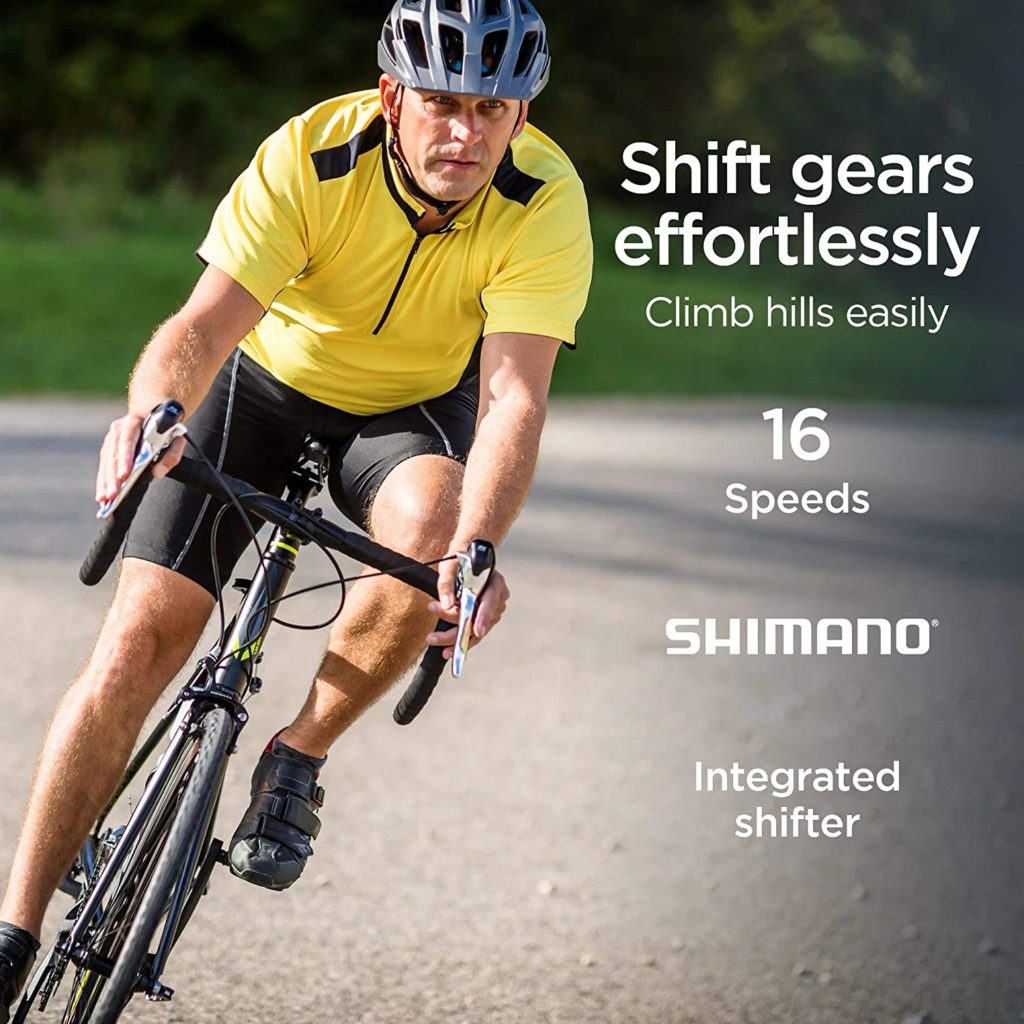 The gear system is an important aspect of any bike, but it's more important with a road bike where speed and efficiency are key. 
That's why this Shimano drivetrain is a great addition to the bike. Shimano is known for smooth shifting and making it easy to go from one gear to another. 16 gears are great for going up and down hills and handling a ton of different angles on your bike without slowing down or losing control. 
This system also has minimal maintenance, which means more time and money saved on your end, and a lot more time on the road. 
More: Best RoyalBaby Bike [Review and Buying Guide]
Brakes
The brakes on this bike might not be from a huge name in the biking world, but they are still a more efficient design than many. The caliper braking system might not be quite as efficient as disc brakes, but this set is very responsive and easy to use. 
However, caliper brakes aren't a great option for all-weather use. They lose a good amount of power in the wet, especially when it's cold. 
More: The Best Schwinn Bikes Reviews [Guide to Schwinn Bikes and History]
| Feature | Specs | What it Means to You |
| --- | --- | --- |
| Frame | Aluminum frame with a carbon fiber fork | Aluminum frames are an affordable and lightweight option, but they are a little heavier than carbon. This frame is efficient, lightweight, and great for speed. |
| Suspension System | No Specific Suspension | Lacking suspension means potholes and rough terrain are more likely to jostle the rider. Fortunately, this bike does absorb vibration well, which reduces your fatigue as a rider. |
| Wheels | 700c wheel size | 700c is one of the most popular wheel sizes, which means lots of tire options and more affordable wheel replacement when it's time for an upgrade. |
| Gear | 16 speed Shimano drivetrain | Shimano gears are easy to use, shift quickly without slowing your bike, and don't take as much maintenance as many alternatives. This is a great drivetrain, especially in a bike in this price range. |
| Brake System | Promax Alloy Caliper Brakes | These brakes are easy to use, but they need regular calibration and don't perform as well in wet weather as disc brakes. |
Social Proof
Schwinn has a real winner on their hands according to this bike's users. Most people are incredibly pleased with the quality and optimization, especially with the lower price tag vs other road bikes. 
One of the most noteworthy things about this road bike is that its users note that it performs better with rough terrain than many road bikes, which is a real standout.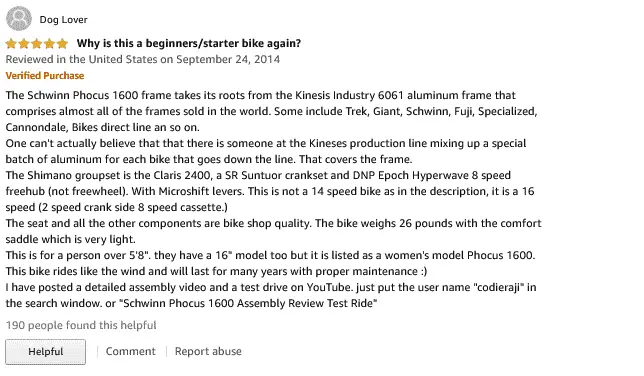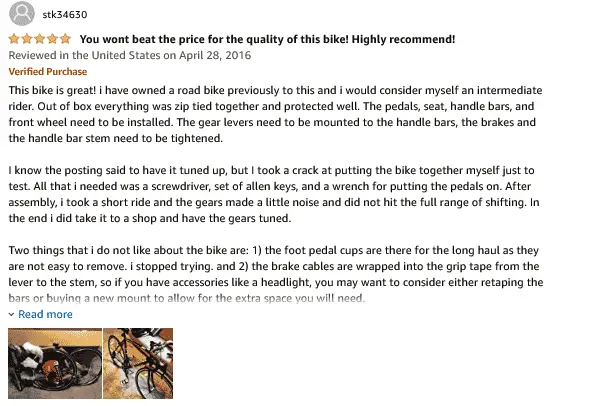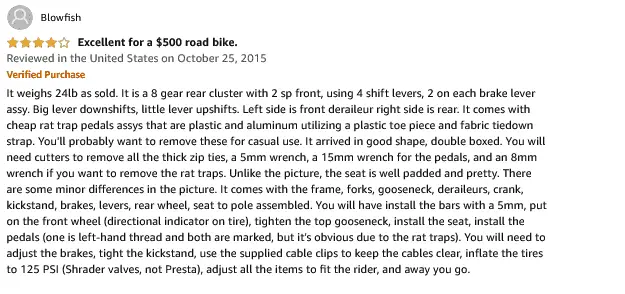 Alternatives
One of the most important considerations for every bike is how it stacks up against its closest competition. Let's look at another bike in the same line to see how this newest model performs. 
Schwinn Phocus 1400 vs 1600
One of the first differences that pops out about the 1600 vs the 1400 is that the 1600 offers a 16 gear drive train instead of a 14 gear drivetrain. The gears' difference is a little less critical than some of the other most important features between these two bikes. 
While the gearing system is great for added flexibility, a 2-gear difference won't matter to most experienced cyclists. 
More: The Best Bikes For Seniors And Adult On The Market [With Review]
What does matter is that the Schwinn 1400 has a small frame size than the 1600. Since neither bike is available in a range, that can make a huge difference. It also means that the Schwinn Phocus 1400 is a little better unisex and women's option because you don't need to be quite as tall to use it. 
The smaller size also means that the Schwinn Phocus 1400 is a slightly lighter and more efficient bike option if you're looking for speed as your primary consideration. 
That said, we wouldn't say that the Schwinn Phocus 1400 is a better bike. Instead, we'd see these two bikes as being roughly equivalent but designed for different body plans and riding styles. 
Conclusion
Overall, this bike is a great option if you're looking for a mid-level road bike that has some speed adaptations, but which is still a little heavier than a truly premium road bike would be. It's got a great drivetrain that improves performance efficiency, and a good brake system that works well in most situations. 
Schwinn might not have pulled out all the stops to get the best components and the most flexibility from this bike, but they've certainly created a high-performing option for aggressive cyclists on a budget.