Curls are beautiful, that's until a helmet comes into the mix! Many female cyclists often ask, "How do I protect my curly hair when cycling?" This quick guide serves up answers.
Curly hair and bike helmets don't seem to go well together.
Or do they?
If you're having a tough time fitting your helmet snuggly on your head without messing up your curls, this might be the best article you've read in recent times.
No, it's got nothing to do with changing your hairstyle. And no, you don't have to compromise safety.
If you're like most people, the next logical question would be, "But how do I protect my curly hair when cycling without giving up the use of helmets?"
Keep reading to find out.
How Do I Protect My Curly Hair When Cycling?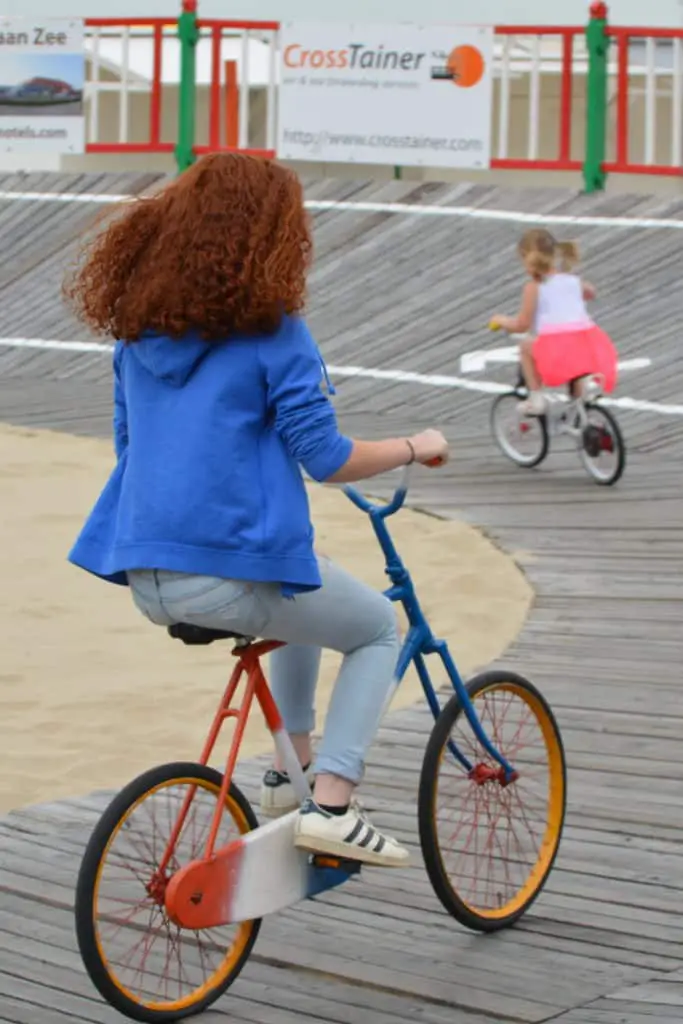 Let's get straight into it.
Here are a few different methods you can try.
Use a Satin or Silk Cap
You know how you plop using a towel or t-shirt, right?
Great!
You can use that method with a satin cap to protect your curls when cycling. Any silk or satin cap will do, provided it fits your head nicely.
Here's how to use it:
For wet curls, pile your hair on top of your head as if you're about to plop.
Cover it with the satin cap.
Wear the helmet snuggly over your head to smoosh your hair down.
For dry-style curls, make your hair into a loose bun.
Make sure the bun is at the base of your neck.
Next, tuck it into the silk cap to keep it from being pinned by the helmet.
You want the edge of the cap to stay on your hairline so you'll not walk around with a line across your forehead!
Using a satin cap will prevent or reduce the frizz from rubbing. That's in addition to holding your curls in a scrunch position.
This method doesn't damage your hair in any way. Instead, it allows for volumized, well-defined, and frizz-free curls.
More: Best Bike Helmet For Ponytails And Long Hair
Use a Helmet with a Fit Dial System
Maybe you don't like the idea of wearing a satin cap under your bike helmet.
No worries.
You can wear your curls with your helmet. Here's how:
Grab a bike helmet that has an expansion or fit dial.
Tilt your head backward so your curls fall behind you.
Place the helmet on your head but let it go a bit behind where you actually want it to sit.
Adjust the fit dial to tighten the helmet slightly.
Bright your head to an upright position and tuck in any loose hair into the helmet.
Tighten the dial again and move the helmet forward to where you want it to be.
Now, tighten the dial to have a firm and secure fit.
Prefer to see how it's done? Check out this short video.
By the way, you'll need to find a helmet that works great with curls and ponytails for the suggested methods to work.
But are they any ponytail compatible helmets?
Let's find out in the next section.
More:
Are There Any Curly Hair Compatible Helmets?
No, not really. But there is such a thing as a helmet hair protector. A Helmet hair protector might just work the trick. But nothing specific to curly hair.
Here's what that means.
You won't find any helmet specifically designed for ponytails, long hairs, or curls. But you can find helmets that accommodate your hairstyle, especially if you use the suggestions above.
And to help make your search a tad easier, here are three top helmets that work great for curls and ponytails.
Kask Protone Helmet
Kask Protone comes in a low-profile, skull-hugging design, making it feel like it's specially crafted to fit your head, even if you have curls or wear a ponytail.
The helmet is built to snuggly fit on your head no matter your riding position and regardless of whether you ride on bumpy roads.
Worried about getting hot?
Protone has plenty of large openings to keep you cool, even when cycling on hot or warm days. That means you won't have to deal with sweat dripping down your curls or long hair.
Sometimes, it might be necessary to adjust your helmet straps for some reason. Doing this is easy-peasy with the Octo Fit adjustment system on Protone.
Heck, you don't even need to stop your bike to adjust the helmet.
Another reason to choose this helmet is the lightweight design. Protone is incredibly light. You're not likely to notice the lid on your head.
Plus, it looks cool! So, it's not going to take away from your style or hairdo.
If you're like most women with long hair, you probably already know that it can be uncomfortable and even distracting to have hair rubbing against your neck and back when cycling.
More: Best Bike Helmet For Seniors
This is especially annoying on hot days!
Worse still, a single strand of hair in your face can be very discomforting while cycling.
Protone removes all this peskiness and lets you concentrate on enjoying your time on your bike. That's besides offering maximum protection against crashes.
But there's a catch.
Kask's helmet will set you back a few hundred dollars, but it is worth every single cent.
I highly recommend Protone for anyone who can afford it.
Pros
Fits snugly and comfortably
Super-lightweight and highly ventilated
Extra swing adjustment
Elegant, aerodynamic design
Cons
BELL Stratus MIPS Helmet
The Bell Stratus is a fantastic option for any female cyclist, whether or not you have a ponytail or curly hair.
With this helmet, you get a lightweight lid that's comfortable to use for extended periods.
And although it is light, the helmet is as sturdy as they come. That's all thanks to the fusion in-mold construction process that bonds the foam liner to the outer shell.
Here's what that means for you. It is light enough to be unnoticeable yet it is by no means flimsy. 
But there's more.
Even if you end up in a crash, the helmet is designed with MIPS slip-plane technology to reduce impact from all directions.
Getting a dialed-in fit is pretty easy. That's because Stratus comes with a highly adjustable Float Fit system to make the helmet fit snugly around your head.
Meaning, it won't sit awkwardly on your head.
Annoying chaffing or rubbing from straps? Not with Syntax. The straps lay flat on your face during use, even in windy conditions. Plus, it is well-ventilated and breathable, so you'll stay cool on warm days.
Speaking of cycling on warm days, you don't have to worry about sweat dripping down the helmet and possibly getting into your eyes, even if you tend to sweat a lot.
Here's why.
Bell combines an Overbrow Ventilation with a Sweat Guide feature. These built-in intake ports pull moisture away from the brow pad and your eyebrow or sunglasses.
Pros
Pulls sweat away from the forehead
Plenty of colors to choose from
Straps lay flat on the face
Provides adequate ventilation
Cons
Does not come with replacement pads
Giro Syntax MIPS Bike Helmet
Giro Syntax is proof that good-quality in-mold helmets aren't necessarily offered at a cut-throat price.
Consider this model if you want a moderately priced helmet that works well for curly hair.
Yes, it is not very expensive, but it offers many of the features of pricier models.
In other words, you can expect extra safety from the MIPS technology.
Of course, Syntax is not a featherweight helmet. But you'll hardly notice it on your head when you wear it. This allows you to focus on the road.
The design of the ratcheting dial is what makes this model a great pick for curly hair and ponytails.
The dial lets you quickly adjust the helmet in three different positions. Plus, it offers a bit more coverage at the rear. This feature allows you to pull your ponytail through and tighten it nicely.
Considering the current price, the Giro Syntax is a steal!
Pros
Comfortable, lightweight, and functional
Offers adequate ventilation
Easily adjustable ratcheting dial
MIPS redirects energy impact in case of a crash
Cons
Vents don't seem to accommodate sunglasses
Conclusion
If you've always wondered, "How do I protect my curly hair when cycling?" now you have your answer.
There's really no need to mess up your beautiful curls just because you want to wear a helmet.
Go ahead and pick any of the helmet models in this guide and rock your curly hair just as you like!