The best bike helmet for seniors offers maximum protection while providing the elderly with all the benefits of cycling. Discover some of the top bike helmets for older adults.
There's hardly any category for "senior helmet," so it can be frustrating to comb through countless options just to find what you're looking for.
But your search for the best bike helmet for older people probably ends here.
I've narrowed down the models on this list to suit the sensitive and more fragile heads of older adults.
These are the best bike helmets I'll confidently gift my older folks, so you can be sure they are high-quality options and worth buying.
One more thing!
Make sure to read the buying guide at the end. It will help you make a more informed buying decision.
IMAGE
PRODUCT
DETAILS
 rating
price

Best Overall

Giro Caden Adult Urban Cycling Helmet

Size: Small, Medium, Large
Type: Commuter/Urban Bike Helmet

Premium Pick

Bontrager Specter WaveCel Cycling Helmet

Size: Small, Medium, Large
Type: Road Bike Helmet

Best Stylish Option

Nutcase Hi Viz Street Collection

Size: Small, Medium, Large
Type: Commuter/Urban Bike Helmet

MOKFIRE Adult Bike Helmet

Size: Universal Fit
Type: Commuter/Urban Bike Helmet

BELL Stratus Adult Road Bike Helmet

Size: Small, Medium, Large
Type: Road Bike Helmet

Giro Cormick MIPS Adult Urban Cycling Helmet

Size: Universal Extra-Large, Universal Adult
Type: Commuter/Urban Bike Helmet

Thousand Adult Bike Helmet – Heritage Collection

Size: Small, Medium, Large
Type: Commuter/Urban Bike Helmet
Review of the Best Bike Helmet for Seniors
Giro Caden Adult Urban Cycling Helmet
Caden is Giro's lightweight helmet, cool-looking urban cycling helmet designed with adults in mind. While no helmet is perfect, this model comes with nearly everything you'll want in a lid for the elderly.
First, it has a tough, smooth, shell with soft, crushable EPS foam. This nestles your head comfortably in its featherweight webbing.
Combine that with the MIPS technology, and you have excellent all-round protection.
With Giro's Roc Loc City MIPS fit system, getting the right fit and feel is pretty straightforward. You can easily adjust both the tension and vertical position to get a snug fit.
Be aware, though, that Caden tends to run small. If this model appeals to you, take my advice and size up.
Thankfully, there's plenty of ventilation so you'll remain comfortable all through your ride. Plus, it has a removable visor to protect your eyes from glare.
Don't like the matte grey color pictured above? No worries.
There are half a dozen other color options to choose from, so you can be sure there's something that suits your preference.
And to top it all, Giro's Caden comes at a highly affordable price point.
Pros
Removable visor
Adequate ventilation
Easy-to-adjust fit system
Good-looking helmet
Cons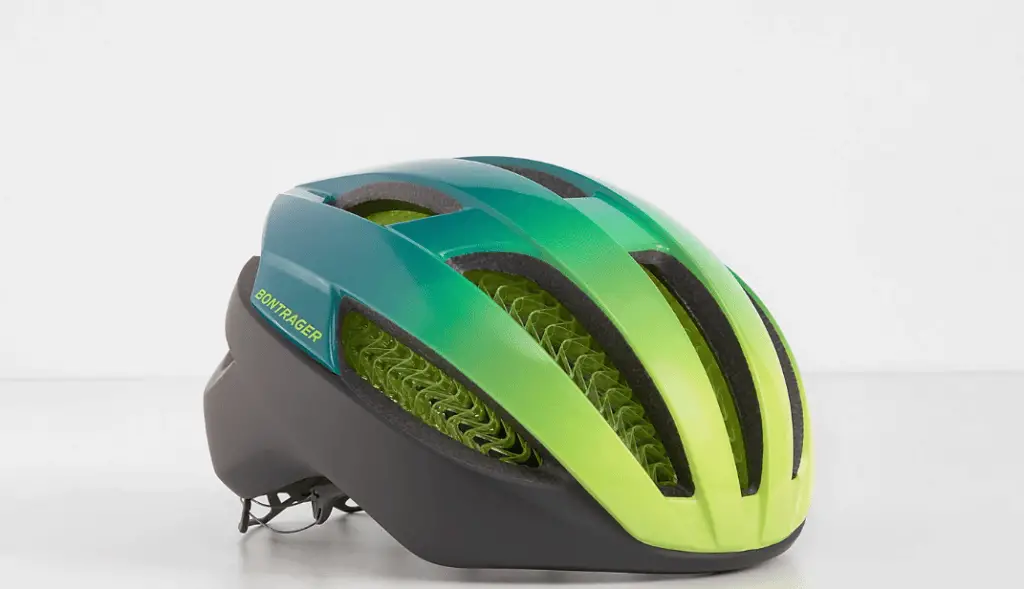 Regardless of age, some seniors still want to look classy even when commuting or taking a leisure ride.
If that's you, the Specter WaveCel Cycling Helmet from Bontrager might be an ideal pick. This model combines an eye-catching design with impressive functionality.
In addition to featuring soft, thick, and comfortable pads, you can remove and wash the pads to keep them fresh.
The lid offers high ventilation, so you don't have to worry about getting all sweaty, even when cycling on warm days.
Even if you sweat a lot, the moisture-wicking pads are more than capable to keep you comfortable all day long.
So, what's the real reason I recommend this lid for seniors?
It's all about the WaveCel technology. This offers incredible comfort and advanced protection in case of a fall on trails, city roads, gravel, and just about any surface.
Here's one more reason to choose Bontrager's helmet.
It is super easy to get a quick and secure fit. The Fidlock magnetic buckle snaps into place effortlessly and the Fit System lets you adjust the fit with just one hand.
Pros
Easy to adjust
Well ventilated
Comfortable and offers great fit
High-quality design
Cons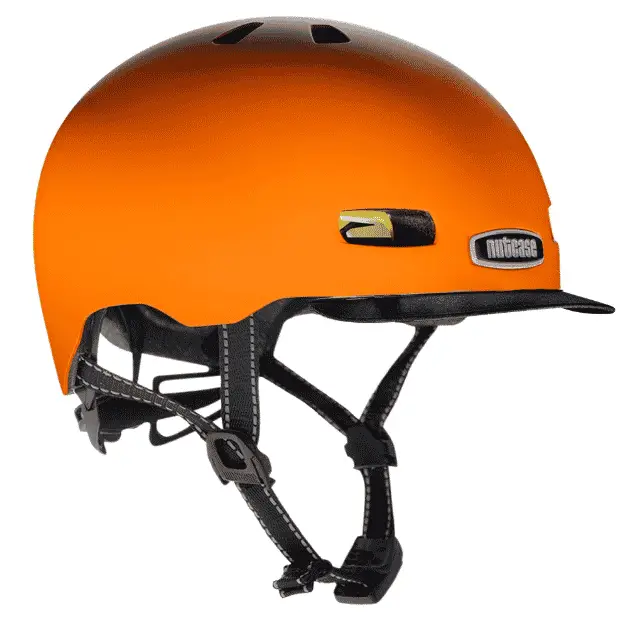 At first glance, the Nutcase Street Helmet doesn't come off as a highly sophisticated model. While that may be true, the lid combines functionality, style, and affordability.
In addition to spotting a well-rounded design, it is one of the seniors bike helmets with MIPS technology.
To offer maximum protection against impacts, the smooth, high-performing ABS shell is fitted with soft and tuned EPS foam pads.
In simple terms, the impact to your head will be significantly less if you ever fall with the helmet on.
Here's one of the major reasons I included this model on my list of the best bike helmets for seniors.
It has a highly reflective shell.
That explains the "Hi-Viz" in the name. If you ever find yourself riding your bike in low-light conditions, the helmet will make you visible to traffic from all directions.
And just in case the Hi-Viz color or pattern doesn't quite appeal to you, there are 26 different shades and designs to choose from.
Pros
Highly reflective shell for increased visibility
Removable visor
Available in a wide range of colors
Very affordable
Cons
MOKFIRE Adult Bike Helmet
On a shoestring budget? MOKFIRE's got you covered.
At its current price, this cycle helmet is a steal. Little wonder it is widely popular with riders of all ages.
But the low price is not the main reason I included MOKFIRE'S helmet on this list.
This option is packed with lots of features that work for both casual and dedicated cyclists. From a rear LED light to a visor, and portable helmet bag, this helmet has it all.
In terms of performance, the hard but smooth outer shell is fitted with a soft foam liner for low-impact protection.
Plus, it has soft moisture-wicking pads that are also washable.
With all of these impressive features, I'm yet to figure out how the manufacturer manages to keep the price very low.
My only gripe with this helmet is the chin strap.
No, it won't cause chaffing and it is not short. But after adjusting it, you'll be left with an extra strap length that flops around annoyingly and may even get into your face.
Thankfully, you can tuck the extra length in to prevent the peskiness.
Pros
Highly adjustable
Visor and 3-mode LED safety light
Soft, moisture-wicking, and washable pads
Highly reflective strap
Cons
Extra chin strap length needs to be tucked in
BELL Stratus Adult Road Bike Helmet
Okay, this model may look like something designed for professional road cyclists, but hear me out.
If you have any reason to go on extended bike rides, the Bell Stratus Road Helmet should be top of your list.
It is one of the lightest bicycle helmets you'll find on the market. So, it won't weigh you down even when you wear it for long commutes.
But don't let the lightweight helmet fool you.
Bell Stratus is as sturdy as they come. That's primarily due to the fusion in-mold construction process that bonds the soft and thick foam liner to the outer shell.
In other words, it feels very light yet it is not flimsy in any way!
This Bell's helmet might not have the rounder shape as other options on this list. But even if you end up in a crash, it is equipped with MIPS slip-plane technology.
This significantly reduces impact from all directions.
When it comes to fit and comfort, you can easily get a dialed-in fit with the highly adjustable Float Fit system. And the straps won't irritate your skin.
It's easy to see why this lid is a great pick for cycling on warm days.
Besides the large vents, Bell included intake ports in the helmet to prevent moisture from reaching your eyebrows.
Pros
Available in many colors
Straps lay flat on the face
Pulls sweat away from the forehead
Offers adequate ventilation
Cons
No replacement pads included
Giro Cormick MIPS Adult Urban Cycling Helmet
Here's another moderately-priced helmet you'll want to keep an eye on if you want a rugged helmet that can stand up to everyday use.
The Cormick MIPS helmet is durable and strong, yet it can redirect the force of impacts so your head is least affected in case of a fall or crash.
It has universal sizing, so it will likely fit most heads. Getting it to fit is a matter of turning the dial. Plus, the straps are easy to adjust.
The removable visor is a nice touch. You can take it off when you don't need it.
But keep in mind that there is no helmet padding. That means the Velcro will likely hurt your forehead if you remove the visor.
Thankfully, many generic padding can fit the helmet nicely.
Pros
Removable visor
Durable construction
Large vents for maximum airflow
Dial fit system for easy fitting
Cons
Thousand Adult Bike Helmet - Heritage Collection
Let's end this review with something apt for seniors when it comes to design.
The well-rounded Thousand Adult Bike Helmet spots a vintage look that might appeal to many older adults. And here's another reason to choose this option.
It won't put a dent in your wallet!
But just because it is budget-friendly doesn't make it any less effective. Instead, it is one of the most versatile helmet models on the market.
So, if you don't want to give up on your roller skating or skateboarding hobby, you may as well grab the Thousand Adult Bike Helmet.
I particularly like the lightness of this helmet. You almost won't notice it on your head, even on longer commutes.
And that's not all.
The good folks back at Thousand designed a clever security feature for this helmet. It is a pop-lock concealed by the brand's logo panel.
You can pop the logo and slide your bike's chain lock through the helmet to keep it secured while you carry on with your day.
And no matter what your preferred color is, you're sure to find a Thousand Heritage helmet that suits your taste.
But there's one thing to keep in mind.
There are only a few openings on this helmet.
That may be a good thing in cold weather, but if you plan to go cycling in warm or hot weather, you'll want to wear another helmet.
Pros
Old-school, well-rounded design suitable for seniors
Pop-lock security feature
Rear dial provides great fit
Wide selection of colors to choose from
Cons
Not suitable for cycling in hot weather
Buying Guide for the Best Bike Helmet for Seniors
Cycling can offer immense benefits to the elderly, but it must be done safely. And one of the ways to ensure safety is to use the correct cycling helmet.
Bike helmets for the elderly must have features designed to provide maximum noggin protection. That's because older adults are more likely to suffer severe symptoms from concussions, even from light blows to the head.
Here are the features to look for when shopping for the best bike helmets for seniors.
More: What Is The Best Bike Helmet For Bald Head?
Softer, But Thicker Foam Padding
The best bike helmets come with padding designed to reduce the effects of a bang. It is common to find options with thin, high-density liners.
While these are great, they aren't exactly suitable for seniors.
You want to look for excellent padding designed with the elderly in mind. And by this, I mean a helmet with a softer and thicker liner.
High-density liners can protect your noggin from violent shock, but they are typically too thin. And as I've already mentioned, concussions in older adults can result even from mild knocks to the head.
That's where softer and thicker padding comes into play.
The softer built-in helmet foam has greater compression. That means it will drastically reduce impacts to the head in the event of a crash.
But that's not all.
The padding is thick, too!
Here's how the helmet protects your head: the outer case takes the hard knocks. The softer, but thicker padding absorbs and gently spreads the shock so your head experiences little to no violent shock.
Think of it like having your head completely wrapped in a soft and thick pillow, while you commute or cycle leisurely.
This is why the best bike helmets with MIPS are a must-have for seniors who take cycling very seriously.
More: Best Bike Helmet For Round Head
Lightweight Construction
Whatever may be said in praise of heavy lids, they are a complete no-no for seniors!
For older adults, using a heavy bike helmet is similar to wearing a combat helmet for a bike ride. Although they are strong enough to stop bullets or shrapnel, they are not designed to protect your head and neck from injuries that can happen in case of a fall.
And that's exactly why heavy helmets are a poor choice for cycling, even for war veterans.
Always choose a lightweight lid. Look for something else if a cycle helmet is heavy, no matter its other impressive features.
The weight of a heavy helmet can tire you out very quickly and make you less comfortable. Instead of enjoying your ride, you'll spend the time on your bike enduring the weight of the lid.
Heck, you'll probably end up with neck pain or a nasty headache!
A heavy helmet can even make it a bit difficult to turn your neck when cycling. And that's not something you want.
Whatever you do, avoid buying a cycle helmet that seems like something designed to offer military-level protection.
Remember, you're only going for a ride on your bike and not heading into a war zone.
More: Best Road Bike Helmet Under $100
Comfortable Fit
Comfort features are equally as important as safety features when choosing seniors bike helmets.
In fact, an uncomfortable helmet is a safety hazard on the road.
The last thing you want to be doing while riding is fiddling with your helmet to make it more comfortable.
For this reason, you want to choose a bike or cycle helmet that fits nicely and snuggly on your head.
What you are looking for is a proper fit. Meaning, the helmet should be snug without being too tight.
You should be able to move your head freely with the lid on.
If the helmet wiggles back and forth or from side to side when you move your head, you probably have the wrong fit.
A helmet with the wrong fit can fall forward and cover your eyes during rides, and that's a huge risk. Worse still, it can leave your head exposed during a crash!
In other words, you may as well ride your bike without wearing a helmet instead of choosing one with the wrong fit.
Pay attention to the straps and buckles. Make sure they don't cause discomfort around your neck and chin.
Also, you want to choose a helmet that allows you to be aware of what's happening around you. So, even if the lid fits snuggly around your head, make sure that it doesn't cover your ear or obstruct your hearing.
More: Best Bike Helmet For Electric Bike
High-Quality Design
When it comes to helmet build quality, there are a few things to look out for.
Keep an eye out for a helmet with an overall rounder design and a smoother exterior.
While an aerodynamic helmet design is great, most elderly people aren't likely competing in a bike race or looking to ride at incredibly high speeds.
So you probably don't need it.
If you ever get in a crash or fall, a round helmet design allows the lid to better protect all parts of your head.
Here's why you should also consider a cycle helmet with a smoother outer profile.
It will significantly reduce pressure points that can make the helmet uncomfortable when you wear it.
Ventilation is another crucial factor when it comes to choosing a high-quality helmet design. Choose a helmet with enough vents to allow free airflow.
But you want to avoid models with too many vents. They can make you uncomfortable when you ride in cold weather.
FAQ
What is the most comfortable cycling helmet?
There is no one "most comfortable" cycling helmet. Instead, manufacturers design many bike helmets that provide excellent comfort for cyclists.
Keep in mind that a comfortable cycling helmet fits snugly.
Also, the inner liner should be soft, the straps should not irritate your chin, and the buckle shouldn't pinch your neck skin.
Do seniors have to wear helmets while riding a bicycle?
Seniors and all other cyclists above the age of 18 are not required to wear a helmet when riding a bicycle.
At least, this is the case in the United States.
That being said, using protective equipment while cycling significantly reduces your chances of having a concussion in case of a fall or crash.
Besides, parents and guardians need to make sure their younger ones use helmets when cycling. Adults have no better way to ensure this than by setting a good example themselves.
Of course, you can stop wearing a helmet once you're more than 18 years old.
But here's the thing.
Bike accidents and falls aren't restricted to people younger than 18! If anything, the chances of falling while cycling are higher in older adults.
That's not surprising considering the increased poor vision, reduced muscle strength, and declining cognition.
Bottom line: it is best to always wear a helmet while cycling, regardless of your age.
More: Do Bike Helmets Expire? 
Conclusion
Older adults need helmets with "softer-landing" qualities.
Unfortunately, most lids on the market are optimized to protect against the most violent and hardest impacts. This is why it can be tricky to find helmets specifically designed to reduce mild concussions.
But the best bike helmet for older people should, at least, provide good lower impact protection.
In addition to the softer and thicker inner lining, bicycle helmets that offer the level of protection required by seniors usually have a smooth exterior and well-rounded design.
Thankfully, the models on this list fit that bill perfectly.
So go ahead and take your pick!