Welcome to my Trek FX 1 review in 2021.
Let me cut to the chase and go directly to my view of the best starting bikes you can have—the FX 1 checks all the boxes as the best entry-level bike.
This versatile hybrid bike comes with rack mounts, fender mounts, individual bike racks, and specially engineered aluminium frame. If you love casual riding, this bike is the perfect one because it is well equipped with rear derailleur, mechanical disc brakes, and alpha gold aluminium frame. If you want the perfect mountain biking experience while you track fitness progress, you need not look beyond this bike.
The Trek FX 1 isn't a high-end bike. BUT! at this price, you get more features, higher-quality component than any other hybrid bike.
Trek FX1 has a Shimano shifting system, which would normally be reserved for a much more expensive bike, while the other parts, including the wheels and fork, come from a range of different manufacturers. 
While Trek FX1 doesn't have the mismatched parts problems which some bikes in this range can have, it also doesn't have the synergy of a high-end bike with all parts from the same manufacturer, which are designed to work together either. 
In this review, we'll look at the features and benefits of the Trek FX 1 in detail, including a close look at some of the most important parts of this versatile bike. As Trek FX1 is a good choice for new cyclists as well as experienced cyclists, we'll also discuss the merits of having hybrid bike more generally. 
Things to Consider Before Buying a Hybrid Bike
Hybrid bikes like Trek FX1 are designed to have a lot of the strengths of both road bikes and mountain bikes, without any of the disadvantages. Depending on who you ask, these bikes are more or less successful in that regard. Without the highly specialized designs of a road or mountain cycle, Trek FX1 or other hybrids don't tend to excel in any one area. 
However, not being specialized also means that your hybrid bike can handle more variety in terms of cycling habits and location than road bikes, with some of the grip, suspension, and maneuverability advantages of mountain bikes. 
As they don't tend to have the same slim design, many people consider hybrids to be more similar to mountain bikes than road bikes. They are a good choice for rural areas – anywhere with gravel or dirt roads – and for urban users who want to be able to take their bike out of the city from time to time. 
A hybrid isn't necessarily a good choice for purely urban riders as they're bulkier and less sleek than road bikes. They're also not a good replacement for mountain bicycles or trek bikes, which have more maneuverability, grip, and suspension, and are designed to handle difficult mountain trails. 
These bikes are best for users who are looking for a good fitness bike. They work well on a variety of different terrains and have adaptations which make them easier and more comfortable to ride, meaning that these bikes also appeal to casual riders. 
Features & Benefits
Now, it's time to take a closer look at the Trek FX 1. Trek bikes are generally well-balanced performance bikes which perform extremely well compared to similar models from other manufacturers. 
The FX 1 generally gets good ratings. The system of Trek FX1 holds together well, and you have a great deal of control in the saddle. It's a safe, effective, and affordable bike. 
But that is all about the Trek FX1 as a whole. You can really see the value and performance of a bike when you focus on the smaller details. Let's take a look at some of the most important features of this bike. 
Frame 
The frame on Trek FX1 comes in 4 sizes, ranging from 15-22.5 inches. This makes it a comfortable bike for all from 4'10" to over 6". The frame of Rek FX1 also has a comparatively high weight limit – up to 300 lbs – which compliments the design as a fitness bike as well as the high upper height limits. 
It has an aluminum alloy frame, which means it's relatively lightweight, without the extreme lightness of carbon fiber, but also relatively durable. Aluminum is a good mid-range choice and works well for balancing the different strengths and weaknesses of this system. 
Trek FX1 also comes with a steel fork, which adds considerable durability to the design. While most people probably won't need this feature, the fork also comes with lowrider mounts for a different riding experience. 
Suspension System
The suspension system on Trek FX1 is similar to that of a road bike. That is to say that it's more minimal than that of a mountain cycle. However, Trek FX1 is still a relatively smooth ride, with the tires absorbing a reasonable amount of shock (and more if you upgrade them). 
The fork of Trek FX1 also handles some of the shock and vibration from riding, but it doesn't have a telescoping option or the more advanced spring and dampening system of the best mountain bikes.  
More: Best Hybrid Bike For Women
Wheels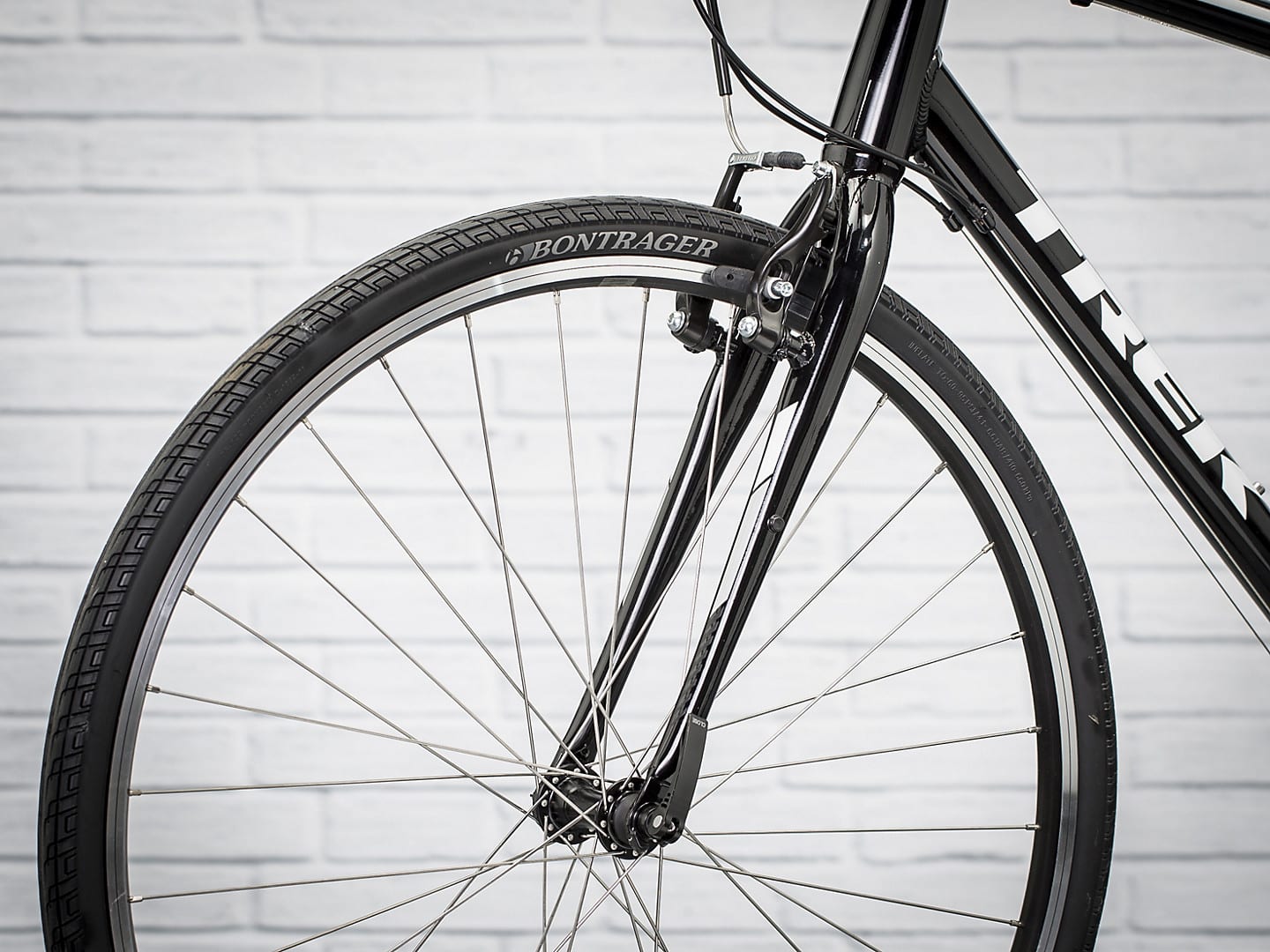 The Trek FX1 bike's wheels are another compromise between the wider wheels of a mountain cycle and the thinner, taller wheels of a road bike. They're Bontrager double-walled wheels, which have high durability and strength ratings. The wheels of Trek FX1 are highly unlikely to deform through normal use. 
They're also designed to stay smooth, even with a lot of use over time, and this will help preserve the strength of your tires and prevent flats. 
Gear System
For a hybrid bike, the Trek FX 1 has a surprisingly advanced, 21 gear Shimano shifting system. The Shimano brand is known for being particularly smooth and easy shifting, as well as being especially durable.
These high-end shifters are what you look for on a premium bike, and it's no wonder that they're included on this Trek bike. Since this is an extensive 21-gear system, it's got a ton of flexibility for different riding styles and terrain types.
Shimano shifters do need occasional tune-ups and maintenance, but they're no worse in that regard than other high-end shifters. That combination of performance without requiring a lot of specialty care is what makes these shifters so important. While Shimano is getting more common on mid-range bikes as well as premium ones, it's still nice to see these high-end parts included in a more affordable version of Trek's FX line. 
Brakes
The brake system of Trek FX1 is a Tektro alloy linear pull. This is reasonably smooth and highly effective, giving users the ability to stop on a dime if needed. As with most mid- to high-tier braking systems, it works best when well-adjusted and requires occasional maintenance. The brake pads of Trek FX1 will also eventually need replacing, but not usually for several years as long as you perform regular maintenance. 
Overall, the brakes of Trek FX1 aren't anything special, but they perform well and are a valuable addition to this model. 
| details | Type | What it Means | Who it's Best for  |
| --- | --- | --- | --- |
| Type of Bike | Hybrid | Hybrids are generally best as fitness bikes as they have no strong specialization. They are a versatile and easy-to-ride bike, requiring only minimal skill. | Trek FX 1 is best for casual cyclists who are looking for a good workout, a bike to ride with their kids, or a commuter bike for short to moderate distances. |
| Weight | 27.7 lbs | Almost 28 lbs is a good lightweight design for an adult men's bike, but it's not a super-light design that works well for racing or even some mountain cycle use. For the price, this is a good weight, but it won't help you perform like a pro athlete. | As with the type, the weight of Trek FX1 is best for casual riders and riders who are looking for a middle-of-the-road option and don't require the absolute best performance. |
| Gears | 21 | Nice and flexible with a high-end shifter, 21 gears is plenty for handling most terrain types. It's also easy to shift, which improves your overall maneuverability and control. | 21 gears is a good option for riders who like a lot of flexibility and don't mind giving their bike an occasional tune-up. |
| Gender | Men | Trek FX1 is designed for men both in terms of the seat and the proportions of the bike. However, with a unisex saddle, it could work for both men and women, although it would suit taller women better. | Trek FX1 is best for men but could be used as a unisex bike with some adjustments. |
| Frame Material | Aluminum | Aluminum is a common frame material for mid-tier bikes. It's durable and lightweight, but it isn't the best material in either category. | Best for casual riders, but a good option all round for a mid-tier bike. |
| Size | 4 options between 15-22.5 inches | The Trek FX 1 comes in a wide range of sizes, which makes it suitable for a wide range of rider heights. However, final adjustments must always be made for an individual rider, and you may need a different size depending on your proportions. | In terms of height and sizing, Trek FX 1 will work for almost all adult men and can be adjusted to work for most adult women. |
| Star Rating | | — | 9 out of 10 stars. Trek FX 1 is an excellent model for a hybrid. As a fitness bike, it's a good mid-tier option. A good combination of value and price, but not a suitable bike for competitors or advanced athletes. |
More: Best Hybrid Bike For Men
Social Proof
This is by far the most popular trek bike with more than 190 positive reviews. Take a look at these glowing reviews from real users like you:
Of course, there are plenty of other reviews, both on Trek's main website and on other sites. Reviews are a great place to look for more information before you buy, so we highly encourage you to read more, both good and bad ones, if you're leaning towards the FX 1 for your next bike.
Alternatives
We also understand that no single bike is a perfect fit for everyone. We wanted to see how Trek FX1 holds up against several other options. We've evaluated the most important differences and similarities. While we don't make a direct judgment as to which bike is the better option, we do make some recommendations as to which bike would suit which kind of rider. 
Trek FX 1 vs Trek FX 2 Disc
The FX 1 and FX 2 are very similar bikes with a few key differences. They have frames made from the same material, the same basic sizing, and even the same size wheels. However, the FX 2 is slightly lighter, which makes it the better option for riders who like to ride fast. 
Both offer very similar rim braking systems, which are smooth and highly effective. 
Both are also considered to be fitness bikes, rather than road or mountain bikes. 
The biggest difference between the FX 1 and 2, other than speed and weight, is the price. The FX 2 is significantly more expensive than the FX 1. The FX 1 is a good fit for consumers on a budget, while the FX 2 is a reasonable upgrade which still fits firmly in mid-range when it comes to both price and performance. Check our details review of Trek FX2 here.
Trek FX 1 vs Giant Escape 3 
Looking at the Trek FX 1 and the Giant Escape 3, the biggest differences are in which parts are best designed and most durable. In terms of bike type and performance, both are remarkably similar. They're also in the same price range, which is part of what makes them such natural comparisons. 
The FX 1 comes with better tires and can accommodate a wider tire set. That's not a huge difference, as at some point you will need to replace the tires, no matter the quality you start with, and it's possible to upgrade in an affordable way. 
More importantly, the FX 1 comes with a better derailleur. This means that it offers smoother shifting between gears and will last longer, assuming proper maintenance is carried out. 
The Giant Escape 3, on the other hand, has a lightweight and durable Chromoly fork, which is an improvement over the Trek FX 1's rigid fork. It's also generally considered to have a more durable and flashier frame, although both bikes have frames which are made from the same materials. 
The brakes are similar, and made by the same manufacturer, as are several other parts. 
When it comes to these two, it's a matter of personal preference and whether you value a better fork or a better derailleur more. 
Trek FX 1 vs Trek Verve 1
This is another very similar selection set. Both bikes are hybrids, both are fitness bikes, and both are designed for cyclists who are looking for a budget-friendly option. 
The biggest difference is that the Verve 1 is a comfort fitness bike, while the FX 1 is closer in fit and style to a road bike. The FX 1 will allow you to ride faster, encourages building good muscle groups for cycling in triathlon and race settings, and requires a more dynamic and somewhat difficult posture. 
The Verve 1 offers a wider saddle, wider tires, and a more upright position. This means that it is slightly easier to use and keeps the rider in a more comfortable and back-friendly position. 
Overall, the FX 1 is a better option as a fitness bike for riders who want to push their performance or work up to a premium mountain or trail bike. The Verve 1 is a fitness bike which is better designed for riders with pre-existing injuries, or who are looking for a more comfortable and relaxed workout. Check our detailed review of Trek Verve 1 here.
Conclusion
Overall, the Trek FX 1 is a reasonable fitness hybrid. Trek FX1 is a good option for riders who are looking for a more casual bike but don't necessarily want something which can handle difficult mountain trails or accelerate quickly in a race. 
It lacks the synergistic performance of high-end bikes made from all matching components, but it doesn't have the performance lag of bikes which don't have well-matched parts either. 
The Trek FX 1 is a great combination of price and performance. As a mid-tier hybrid, the FX 1 is an excellent addition to Trek's line.