Diamondback entered the world of bicycles back in 1977 from Camarillo, California when they started manufacturing BMX racing bikes. These bikes proved to be popular and led to numerous wins for Team Diamondback in the 1980s. To get a sense of Diamondback's impact in the bike world, watch the 1983 Australian film BMX Bandits, starring a young Nicole Kidman and the Diamondback Senior Pro. Check out the Diamondback road bike reviews for complete insight.
After establishing the Diamondback name among BMX riders, the Kent, Washington-based company branched out to accommodate mountain biking's growing sport. In 1982 they introduced the Diamondback Ridge Runner, one of the first bikes purpose-built for traversing rugged mountain terrains. It wasn't long before their success on the BMX circuit was repeated in MTB with a win at the US men's National XC championships, a silver medal at the 1994 World's Women's XC, and a bronze medal at the 1996 Atlanta Olympics in Women's XC.
Through the years, Diamondback has worked to improve their bikes with innovations like the Knuckle Box suspension platform (a feature on high-end mountain bikes), Level Link suspension, and countless regular updates to their frame designs that enhance a rider's comfort during long hours in the saddle.
IMAGE
PRODUCT
DETAILS
 rating
price

overall best

Century

Style: Endurance, Entry-level
Frame: Aluminum
Fork: Carbon

Hannjo

Style: Gravel, Off-road
Frame: Aluminum, Carbon
Fork: Carbon

Arden

Style: Racing
Frame: Carbon
Fork: Carbon

Andean

Style: Triathlon, Time-trial
Frame: Carbon
Fork: Carbon
Diamondback Road Bike Reviews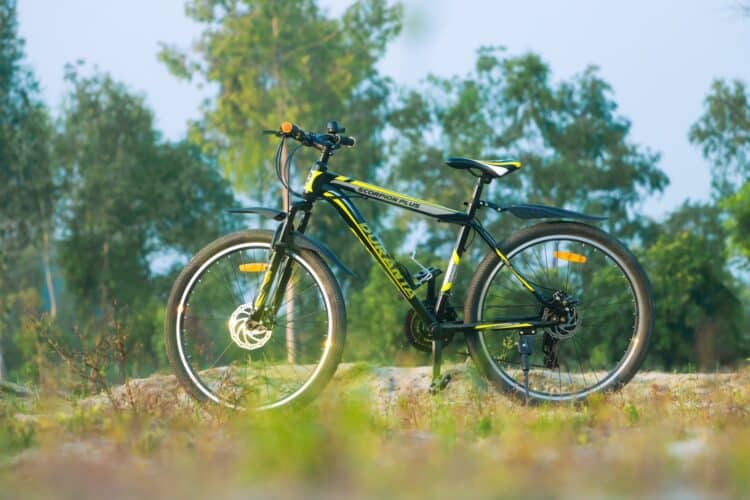 From their early successes, Diamondback branched out to making road bikes in 1990. Diamondback has primarily been known as an affordable bike brand, but it also offers a fair number of high-end road and racing bikes. They now offer a wide variety of road bikes designed for everyone, from beginning riders to world-class racers.
A Diamondback road bike is a popular choice for many people. This comes down to the company's reputation as a builder of quality bicycles that won't break the bank. Most professional riders will tell you they've owned at least one Diamondback road bike in their lives, and it's always a popular choice for an entry-level rider's first bike.
So let's take a closer look at some of Diamondback's various road bike models and see what the company has to offer at these different levels.
Diamondback Century
The Century is Diamondback's series of classic, all-purpose road bikes. It's the company's most popular class of road bikes and includes six different models, conveniently numbered 1 through 6. Whether you're a beginning rider or a professional cyclist, you'll find something in the Century line that fits your ride style.
Each model in the Century line is built with Diamondback's Endurance Road Disc frame and designed with their Enhanced Performance Geometry. This is an innovation that, thanks to a headset, allows you to sit in a more upright position while riding. This keeps the stress of a long ride of the rider's neck and back, allowing for a more comfortable ride, especially over longer distances.
Main Features
Six different models
Available in six sizes
Enhanced Performance Geometry
Quality Shimano groupsets
Mechanical disc brakes
Front and back thru-axles for enhanced handling when cornering or over rough surfaces
The Century is the perfect bike for urban commuting, weekend riding, or race training. It offers plenty of features to handle most anything you'll encounter on the road.
Models
Century 3 is a lightweight, durable endurance road bike built on a 7005 aluminum alloy frame. It's the first model in the line to include carbon fiber forks for enhanced steering precision and vibration reduction. It comes with Diamondback Century folding bead 700x28c tires on HED Flanders C2+ disc wheels. This is an excellent quality bicycle for a great price and an ideal mid-level option for riders who want a step up from an entry-level bike.
Diamondback Haanjo
The Haanjo line is Diamondback's bridge between the road bike and the mountain bike, a classification known to bike aficionados as a gravel bike. The Haanjo is the consummate explorer's bike, designed to handle smooth roads and treacherous trails with equal ease. This is a bike that can take a pounding and keep going.
If you're the type of rider who gets bored on the road and likes to branch out onto rougher terrain, then the Haanjo is the bike for you. And with eight different models to choose from, you're sure to find the one that can handle the punishment you can dish out.
Each bike in the Haanjo line presented here uses the Diamondback Alternative Road frame and features DB Gravel Performance Full Monocoque Carbon Forks, an innovation that offers the rider superior handling and high performance across nearly any terrain. And, because the going can get unpredictable as soon as you leave the road, every Haanjo comes with plenty of gears to help you power through tough climbs and across unforgiving terrain.
The Haanjo is rugged, sure, but it's comfortable, too. Diamondback designed the bike around their Endurance Geometry, which positions you in the perfect riding position for cranking out long miles no matter if you're riding across the pavement, down a dirt road, or through the mud.
More: The Best Bike for Teenagers On The Market [ Review and Buying Guide]
Main Features
Eight models
Designed for racing, off-road use, and city riding
Aluminum and carbon frames
Endurance Geometry
DB Gravel Performance Full Monocoque Carbon Forks
12mm front and back thru-axle
The Haanjo is a great double-duty bike that looks good rolling down the city street but also holds up under challenging off-road conditions. But in general, as its model numbers go up, the Haanjo becomes more suited to hitting the trails than cruising around town.
Models
Haanjo 4 is built around a 6061-T6 aluminum frame and outfitted with carbon forks, a Shimano Tiagra 2×10 shifter, mechanical disc brakes, and grippy WTB Riddler 700x37c tires. It's a great all-around bike suitable for short mountain excursions and the everyday bike commute.
Haanjo 5 is also built on the durable 6061-T6 aluminum frame and fitted with monocoque carbon forks. It features a Shimano GRX600 2×11 drivetrain, flat-mount hydraulic disc brakes, and comes with multi-purpose WTB Riddler 700x37c tires.
Haanjo 5 Carbon This bike has all the advantages of the Haanjo 5 with the added bonus of a carbon frame in addition to the carbon forks. It's more geared toward off-roading than the earlier models. Think of it as the 5's more adventurous brother.
Haanjo 6 Carbon features a carbon frame and forks but ups the ante with an SRAM Rival 1 drivetrain, designed specifically for gravel bikes, and TRP Spyre mechanical disc brakes that will help you stop quickly even after bombing down the mountain. It features a slightly smaller wheel fitted with the WTB Venture Road Plus 650×47 tires, and that, along with its limited 11 gears, makes it more suited for off-roading than riding across town.
Haanjo 7 Carbon looks good in the city, but it really excels in the wilderness. Equipped with Shimano GRX810 derailleurs, a Shimano GRX600 2×11 shifter, and hydraulic disc brakes, this bike can give as good as it gets. Plus, it comes equipped with rack mounts, so it's purpose-built for a multi-day adventure that doesn't have to end when the sun goes down. It's an ideal bike packing machine.
Haanjo 8 Carbon The newest member of the Haanjo family, this is Diamondback's first all-carbon adventure bike. It's built with a DB carbon frame with Easton EC70AX carbon wheels, plus carbon handlebars and a carbon seat post. It's also fitted with WTB Riddler 700×37c tires, a Shimano GRX800 groupset, and Shimano BR-RX810 flat-mount hydraulic disc brakes. This is a top-line performance bike that can handle anything you want to tackle. It will even give many straight racing bikes a run for their money.
Diamondback Arden
Diamondback has developed the Arden line for female riders. This series is available in a wider range of sizes and features designed specifically for women's comfort, including handlebars and saddle—important considerations when clocking long miles.
There are five different Arden models, and all have been designed with Diamondback's Enhanced Performance Geometry, the same geometry seen in the Century above. The two presented here are built using Diamondback's Women's Specific Carbon Monocoque Endurance Road Frame and use a Continuous Fiber Technology full carbon fiber fork with a tapered head tube that enhances steering precision and limits vibration.
More: Best Road Bikes Under $1500 On The Market [Review and Buying Guide]
Main Features
Enhanced Performance Geometry
Five different models
Available in five sizes, including XXS/48cm
Continuous Fiber Technology full carbon fiber fork
2×10 drivetrain
Closed-circuit cable routing
Front and rear thru-axles front and rear equal impeccable tracking and stability
Models
Arden 4 Carbon is a carbon frame road bike that's durable yet lightweight. It features a Shimano Tiagra groupset with a 2×10 drivetrain and TRP Spyre mechanical disc brakes. If you're looking to make the jump up to a full carbon frame women's road bike, this is a fantastic option.
Arden 5 Carbon Diamondback's top-line women's road bike. It is fitted with a Shimano 105 groupset offering a full 22 gears and hydraulic disc brakes. This bike is ideal for long, leisurely weekend rides, but also won't back down when challenged to a sprint.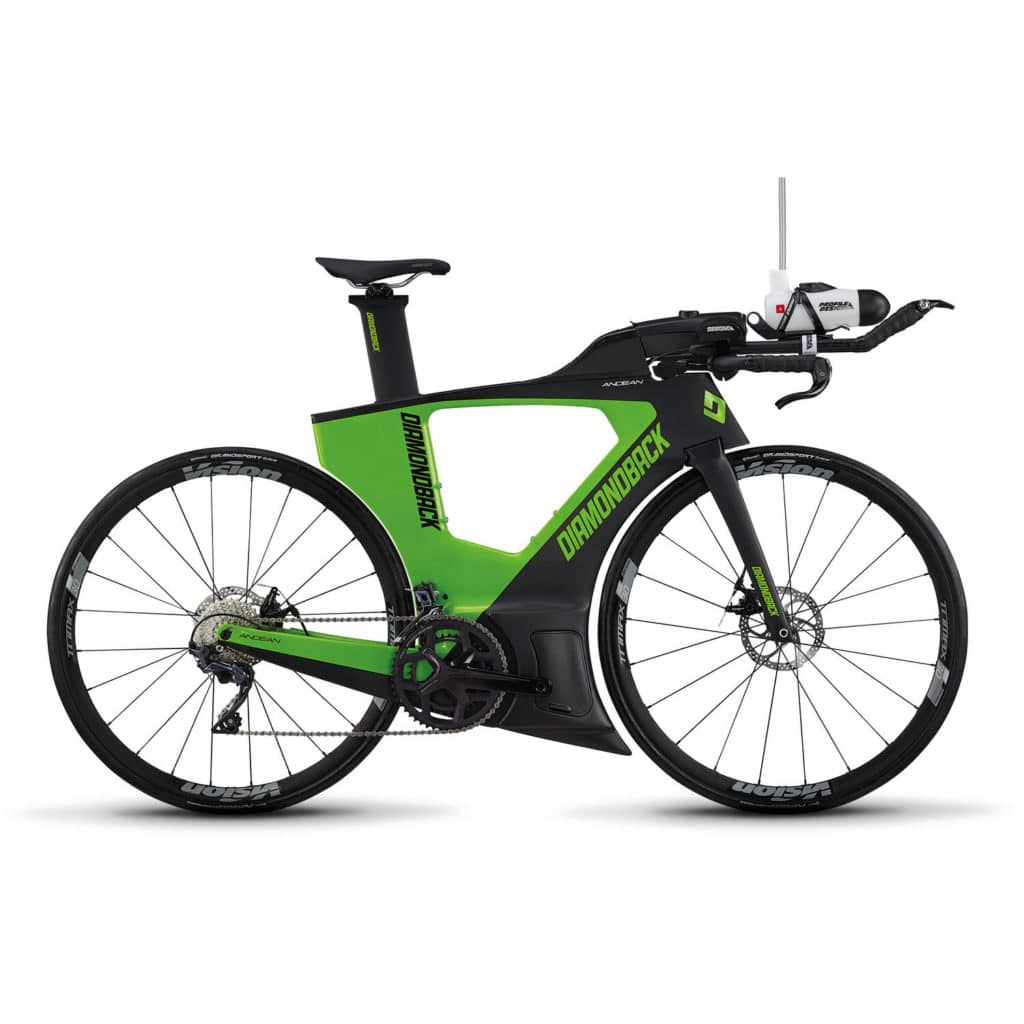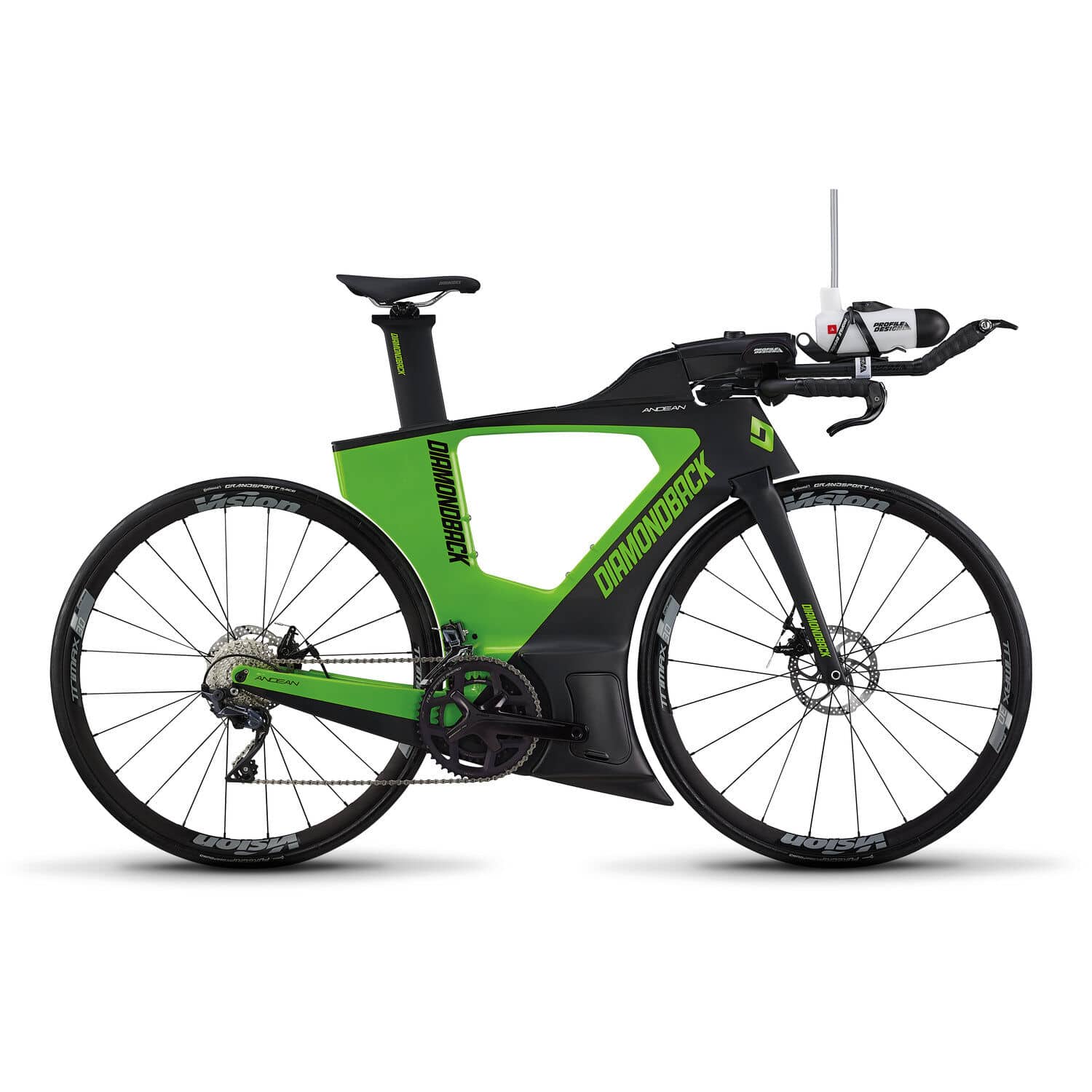 The Andean looks like something right out of a futuristic sci-fi movie. Sleek and stylish with sweeping space-age angles, this is Diamondback's innovative top-of-the-line race bike. When it was first released in 2016, people compared it to both a Ferrari and a Lamborghini. This super-bike was created primarily to compete in time trials (TT) and triathlons, but it hasn't been approved for official time trial use yet.
It comes in three different models. Each entry in the Andean line is built with a super-light carbon frame Diamondback calls the Andean Aero Core Triathlon Frameset, and it's heavily focused on drag reduction.
The bike is designed to slice through the air, with the whole bike acting like one huge airfoil that channels air around the cycle, resulting in superior aerodynamics. Even the drivetrain is shielded in an effort to cut down on the turbulence between the wheels.
Enhancing the streamlined effect, even more, the Andean features a very steep seat angle, putting the rider into a very low—and very aerodynamic—position. All Andean models include a huge amount of shielded, integrated storage options and hidden compartments, allowing racers to stash water bottles, salt tabs, CO2, food, and even tools onboard without impacting the bike's aerodynamics.
Main Features
Time-trial/triathlon geometry
Andean Aero CoreTriathlon Frameset
Three models
Superior aerodynamics
The Andean is Diamondback's most cutting-edge bike and, though it may look somewhat odd, it just may be the fastest bike around. If you're even considering this bike, you're serious about your biking. Although Diamondback offers it in several build options, ensuring you can get the perfect bike for your specialized needs.
More: Best Bicycle For 3-5 Years Old [ Review and Buying Guide]
Models
Andean 1 The first and most affordable entry in the Andean line is fitted with an Ultegra drivetrain along with FSA Gossamer Pro cranks. The TRP Spyre mechanical disc brakes allow for optimal stopping power under any conditions, and the lightweight Vision TriMax wheelset comes tubeless-ready. If you're looking to shave a little time off your triathlon finish, look no further than this bike.
Andean 2 When it comes to performance, this bike won't let you down. The Ultegra Di2 drivetrain makes for flawless shifting and the TRP HY/RD hydraulic disc brakes give you consistent stopping power under any conditions. And its Zipp 302 Carbon Clincher wheels enhance the bike's aerodynamic profile while offering stability and versatility. It's a fast bike built for people who like to go fast.
Andean 3 This bike is designed to outperform all the other bikes. In fact, there may not be a faster bike available on the market. It features a cutting-edge SRAM Force eTap AXS 2×12 drivetrain that can be personalized and optimized through the AXS app, and its SRAM S-900 Aero HRD hydraulic disc brakes will ensure that when it's time to stop, you will. Lastly, the matching Zipp Firecrest Carbon Clincher rims provide an optimal balance of aerodynamics with stability. This bike is almost other-worldly in its design and performance.
Are Diamondback Bikes Good Bikes?
Diamondback carries a reputation for making some of the most durable, high-quality bikes on the market. At the same time, they're also known as an affordable, often entry-level bike brand. Most serious bikers will tell you that a Diamondback is an excellent choice for a first bike.
Although they do offer quite a few high-end, expensive bikes, Diamondback gets this reputation because their prices are often lower than the competition. This isn't because they cut corners or use substandard materials. Their relatively low prices are a result of their marketing strategy; that is, they sell online, so they avoid the high costs of having brick-and-mortar shops and distribution chains.
The only real issue about buying a bike online is getting the size right. Obviously, if you're buying a bike online, you can't take it out for a test ride. But, as detailed above, Diamondback offers each cycle in numerous sizes. It provides readily accessible size charts and measurements for each model, so dialling in a perfect fit won't be a problem.
Overall, Diamondback works hard to balance quality with affordability and equips even their entry-level bikes with high-quality materials. As their bikes get more expensive, Diamondback ensures that they incorporate higher quality components in their manufacture.
Today, most manufacturers only make the frame of their bikes, relying on other companies to provide all the accessories like derailleurs, brakes, shifters, and wheels. Diamondback is no different in this regard. They include top-tier components from third-party companies such as Shimano, TRP Cycling, HED, and SRAM.
Diamondback also offers a fantastic warranty on all the bikes they sell. For most bikes, this means a lifetime warranty on the frame. For full-suspension mountain bikes, this is limited to a five-year warranty due to the punishment these bikes can be put through. For other issues, you're not locked into any particular service centre. If you need work done on your Diamondback, you simply take your bike down to your local shop for repairs and they will bill Diamondback directly.
But the fact is, Diamondback bikes are durably made of high-quality materials, like aluminum alloy and carbon fiber, and you'll likely never need to use your warranty.
More: The Best Bike for Short Female On The Market [Review and Buying Guide]
The Bottom Line
Diamondback has been a major force in the bicycle industry since they started making quality bikes more than 40 years ago. From a humble beginning as a BMX bike manufacturer, Diamondback is now one of the largest and most recognizable bike sellers in the United States. They now offer a bicycle for every type of need from kids to adults, from first-timers to seasoned veterans, and from city commuters to weekend warriors.
They've become the source people turn to for reliable, well-built bicycles that won't break that bank. So if you're looking for a new bike, whether it's a first purchase or an upgrade to your racing bike, Diamondback has something that will suit your needs and fit your budget.
So ultimately how good are diamondback bikes?
The Diamondback mountain bikes are trail bikes for a smooth ride. These mountain bikes have a lightweight aluminum frame. There are hybrid bikes from BMX brand for mountain biking as well. Find Diamondback bikes in a local bike shop near you. Check for the Diamondback brand. Diamondback bicycles have full suspension and are affordable bikes for an average cyclist. Diamondback bikes have also introduced women's bikes with training wheels. Get the carbon models for mountain bikes with hydraulic brakes and taller head tube for technical trails.