If you're searching for the best hybrid bikes under $1000, we've got you covered. This type of bike is ideal for traveling on off-road conditions and commuting without having the hassle of owning two bikes or adjusting components.
If you're in a rush, we declare the Tommaso La Forma Lightweight Aluminum Hybrid Bike as the winner. This hybrid bike is comfortable and fun to ride. In particular, it has a reliable and quick gear shifting system. It's also designed with flat handlebars and to keep you in an upright position for maximum performance and comfort. 
IMAGE
PRODUCT
DETAILS
 Rating
Price

Best Overall

Tommaso La Forma Lightweight Aluminum Hybrid Bike

Frame Materials: Aluminum
Gear: 27

Premium Pick

Trek Dual Sport 2

Frame Materials: Aluminum
Gear: 24

Raleigh Bikes Raleigh Alysa 3 Women's Urban Fitness Bike

Frame Materials: Aluminum
Gear: 16

Sixthreezero EVRYjourney Hybrid Cruiser Bicycle

Frame Materials: Aluminum
Gear: 3

Trek Bikes FX 3 Disc

Frame Materials: Aluminum
Gear: 18

Raleigh Bikes Cadent Hybrid Bike

Frame Materials: Aluminum
Gear: 7

Raleigh Bikes Route 24

Frame Materials: Aluminum
Gear: 24
The Best Hybrid Bikes Under $1000 in 2020 
All of the below hybrid bikes were chosen based on the frame materials, gears, and comfort. We've researched the top brands and models available right now to share a diverse list so everyone can find the best hybrid bike for them.
Tommaso La Forma Lightweight Aluminum Hybrid Bike
We rate the Tommaso La Forma bike as the best overall for many reasons. First, it uses a lightweight, yet durable, aluminum frame along with a HCT carbon fork that are both designed for dampening vibrations and reducing the overall weight. Combined, these features help you to experience a smoother, more comfortable ride along with the option of picking-up speed easily.
Amazon product
This hybrid bike is powerful, too. For example, it has a 3×9 Shimano Acera Groupset, featuring an 11/32T cassette and crankset. These features help to give the hybrid bike an unbeatable assortment of gears for improved riding conditions in a variety of road variations. 
As you ride this hybrid bike, you'll notice how quick and reliable the gear shifting is. Thanks to the heads-up display, you know exactly what gear you're in at all times. Plus, the system is simple and smooth, allowing riders to maximize their efficiency and easily conquer all types of roads and terrain. 
This Tommaso model is designed to be comfortable to ride. Specifically, it features a compact frame with an upright geometry and flat handlebars. These features provide you with excellent comfort to make riding more enjoyable and run. The La Forma is great for commuters looking for a fast and reliable hybrid bike that looks and feels luxurious.
Finally, this hybrid bike prides itself in the little details. For example, if you want the option to customize this frame with accessories, you can do so easily. In particular, the frames are drilled to accommodate a variety of racks, fenders, and other accessories. Again, this makes the La Forma hybrid bike suitable for commuters.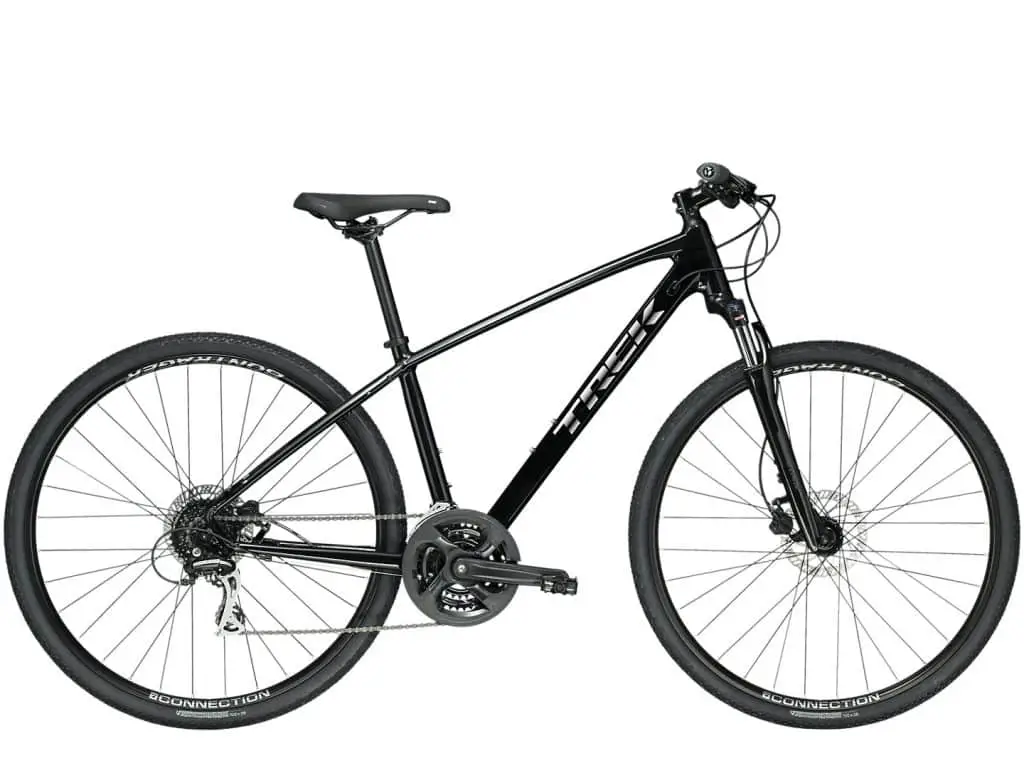 Second on the list is the Dual Sport 2. This hybrid bike is primarily designed for a variety of surfaces. In particular, it's efficient on the road and remains stable on tough terrain, such as gravel paths. In fact, the Dual Sport 2 will remain comfortable and smooth on all surfaces.
It features a suspension fork and all-terrain tyres that have extra traction, allowing you to cruise on the roughest surfaces and all weather conditions. As a result, the Dual Sport 2 is ideal for riders searching for a versatile bicycle. In this incident, you want to ride on light trails and then gravel on the next day. Also, you might be searching for features to keep you comfortable in all these terrain types.
The Dual Sport 2's frame is made from lightweight aluminum, helping to reduce any extra weight on the bike. This hybrid bike also features an SR Suntour NEX suspension fork with a lockout so that you won't feel the impact from bumps and hard surfaces. Plus, with 24 speeds to choose from, you'll never be pedaling too hard or too gently, enabling the bike to be comfortable and fun to ride.
It's also equipped with all-terrain tyres for extra traction and hydraulic disc brakes for all-weather stopping power. These features help to give you peace of mind when riding in all weather conditions. Plus, the ergonomic grips on the handlebars ensure that you're not hurting your hands when steering. 
Finally, the Dual Sport 2 is available with numerous accessories, making it great for commuters and other riders. You can mount a rack, mudguards, and much more, so mud doesn't splash on you, and you can explore more. check our detailed review of Trek DS 2 here
Raleigh Bikes Raleigh Alysa 3 Women's Urban Fitness Bike
The Raleigh Alysa 3 is a good hybrid bike under $1000 for many reasons. Perhaps its best feature is the tires. The U28 double-wall rims add stability and traction to the bike, so you won't slip in wet conditions or when riding on grass or in the snow. These tires are also long-wearing with firm centre tread rolls to pick-up a faster speed and quickly.
Plus, the diamond-shaped side knobs on the tires provide excellent grip and traction as you turn corners. They're also lined with a puncture-resistant belt to prevent flat tires and are primarily designed for urban riding.
The bike's aluminum frame is another great feature of the Alysa 3 bike. This material is known for being corrosion-resistant, stiff, and generally lightweight. It also comes with pre-drilled holes with screws so you can mount two water bottles, which is ideal for long journeys on your bike. The handlebar is flat and 680 mm wide. This width and design makes the Alysa 3 great for steering around corners and for ergonomic purposes.
Weighing only 26 pounds, the Alysa 3 is one of the lightest bikes on this list. Seeing as it's so lightweight, you won't have any difficulties lifting or stowing it away when not in use. Plus, the bike's light weight also means you can ride faster and more efficiently than some of the other models on the list.
Overall, most customers are impressed at how easy the bike is to assemble when they receive it. In fact, it only takes around two hours to assemble and ride it completely. If you've built a bike before, it could take you as little as one hour.
Sixthreezero EVRYjourney Hybrid Cruiser Bicycle
This model by Sixthreezero is another of the best hybrid bikes under $1000, especially if you're on a strict budget. This bicycle prides itself in a comfortable, ergonomic riding position. For example, it has a forward pedaling design, which means your back remains upright while you also maintain proper leg extension while pedaling.
It's also versatile in its position for riders, too. For example, it also features a forward frame for pedaling geometry. This feature allows you to place your foot flat on the ground when you're stopped. This design is highly beneficial for ensuring a safe and stable stop every time.
The bike comes with two-inch semi-thick tires that provide excellent traction on the track, though, you might want to steer clear if you're searching for a hybrid bike to use on rough terrain and off-road trails. But what it lacks in this feature, it sure makes up for in having a durable, lightweight aluminum frame. In fact, the bike's build is strong purely because of this strong frame.
You could easily use the EVRYjourney hybrid bicycle for commuting. Specifically, its black matte frame is streamlined to improve speed and help you to reach your destination quicker. Also, the matching comfy dual-spring saddle and grips provide excellent comfort during your travels. Not to mention that your purchase includes matching fenders and a rear rack for installing panniers or a basket.
Finally, this hybrid bike features front hand brakes to bring you to an easy and reliable stop each time. This is especially important as the bicycle picks up speed quickly, so you might need to come to an abrupt stop.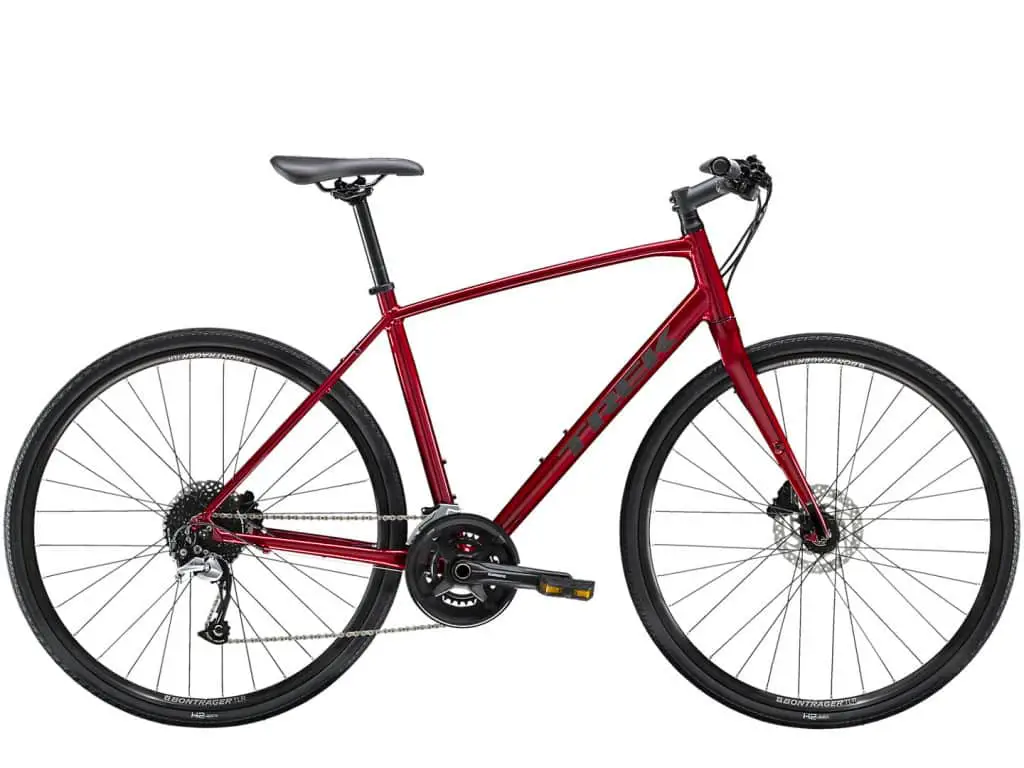 The Trek Bikes FX 3 Disc Bike is the best model on the list for commuting or if you're a fitness rider. It's versatile, comfortable, and durable while being built with high-quality parts to perform well on long rides. In fact, it won't let you down and is definitely a bike that you can rely on.
This hybrid bike is primed for performance and utility. In particular, it includes a lightweight aluminum frame, so you can travel at high speeds as well as endure a durable bike. It also comes with hydraulic disc brakes that are suitable for all weather and will bring you to a confident stop no matter the conditions. 
The Trek Bikes FX 3 Disc Bike features a wide-range 18-speed Shimano drivetrain that helps you to conquer hills. As a result, it's a great option for traveling up and downhill at a variety of speeds. All the while, the vibration-absorbing handlebar, and ergonomic grips keep you comfortable throughout all of your journeys. 
Another impressive feature of this hybrid bike is that you can pair it with your smartphone and send your ride data to your favorite fitness app when you add DuoTrap S. This high-tech feature is great for fitness riders and those searching for more from a bike than the bare essentials.
This bike looks the real deal. The cables are routed internally, which ensures they're protected from the elements and adds to the bike's sleek appearance. Also, the Trek Bikes FX 3 Disc Bike is easy to accessorized with racks, fenders, kickstand, lights, and more. By having the option to customize this hybrid bike, you can make it look and feel like your own.
Raleigh Bikes Cadent Hybrid Bike
This hybrid bike by Raleigh has all the features that a kid could need. First, its low stand-over aluminum frame makes it easy for kids to get on and off. In particular, it fits most children aged between 8 and 12 years old or between 53 and 61 inches in height.
Also, the 24-inch wheels ensure that the bike is just the right size for kids to handle. To further make this hybrid bike comfortable for kids to ride, it comes with a Shimano Reva shifter roll through seven gears that's easy to twist on your wrist.
This Cadent hybrid bike also comes with alloy v brakes for speed control and easy stopping. Also, this brake system ensures that your children remain safe while riding.
Raleigh Bikes Route 24
Finally, this Raleigh Route 24 Bike is strong and long-lasting. In particular, the aluminum alloy frame formed and butted frame allows the bike to be lightweight, which is great for picking up speed, while also being durable.
Another standout feature of the Route 24 Bike is the Tektro Aries mechanical disc brakes. These disc brakes provide excellent stopping power to bring you to a confident stop every time. You can also customize this bike frame as it comes with a water bottle mount, making it ideal for commuters and those frequently on the go.
This bike comes equipped with a 75mm travel suspension fork and disc brakes for excellent control and traction, no matter if you're exploring unpaved paths and light trails or riding on smooth pavements. It also has three gears up front and eight in the back, so you'll have plenty of options for cycling up and downhills.
A Buying Guide to Choosing the Best Hybrid Bikes Under $1000
Not sure how to narrow down the list to choose the best hybrid bikes under $1000 for your needs? Here are some of the most important features to consider during your search.
Wheel Size
Not sure what size your wheels should be? This can be a confusing feature for some, especially as some bikes are available in many sizes. The most important two factors to bear in mind when choosing the right wheel size for you is the conditions you'll ride on and your height.
Thin wheels tend to travel quicker, though, aren't designed for long travels or off-road conditions. Alternatively, thicker tires have better traction, making them more beneficial for riding across dirt and in mud, snow, and rain.
Let's take a look at some of the most popular wheel sizes and what they mean for you.
26 Inches
This size is popular amongst dirt jump riders and those who love to experience adventure when riding. This size can be a great go-to if you're a short adult rider (below 5'1″) and don't want to feel that the bike is too big to control. Alternatively, taller riders ages between 10 and 14 might prefer wheels this size.
27-27.5 Inches
These sizes were first introduced to the market to deliver the tight technical turns of a 26-inch wheel with the ultra-traction of 29-inch wheels. Instead, the 27-27.5-inch wheel is often seen on mass-produced bikes to exceed strength, stiffness, and excellent handling.
This wheel size is the middle ground for those who don't want wheels that are too small or too big. In particular, if you're riding a bike that has less than 140mm travel, 27 inches might be ideal. 
29 Inches
Another popular choice is the 29-inch wheels. These were primarily designed to roll much faster across the ground than the previous two options. Thanks to the larger wheel diameter, you'll increase your overall speed and enhance stability as well as providing more traction on the wheel when turning tight corners.
When first introduced to the bike market, 29 inches was too big because the bike's frame wasn't equipped for such size and strength. Fortunately now, 29-inch wheels are found on capable frames with improved geometry for stability and excellent traction.
Gears
Next on the list is the number of gears you'll need for your hybrid bike. It's a common misconception that the more gears you have on your bike, the better the options. This is especially true as a bike with a larger range of gears costs more, and you'll be wasting your money if you don't make use of this feature.
Instead, consider how you like to ride your bike and the environments you're often exposed to. For example, if you plan to ride your hybrid bike quickly on smooth pavements, you won't need as many gears since your cycle won't have to work as hard.
Alternatively, if you plan to endure tough trails and biking up and down hills, you'll need the extra versatility that a bike with more than 12 speeds can offer. In fact, having more gears also allows you to customize your ride to make it more challenging too, should you wish to ride your bike for working out.
Bike Suspension
Next, consider if you're looking for hardtail or full suspension. The features and price difference between the two can be quite vast, so you'll need to consider the advantages and disadvantages of both types of suspension.
Hardtail
First, a hardtail suspension bike features a front suspension fork to absorb the impact of bumps and obstacles on the road. This type of suspension doesn't have rear support, which comes with a range of benefits of flaws.
A bike with a hardtail suspension system can climb uphill much easier since the bike is lighter from not having the extra suspension system on the rear. It's also a highly beneficial choice if you plan on traveling quickly on your bicycle—particularly on smooth surfaces, because you'll be able to much easier than with a full-suspension bicycle.
Some people don't believe that a hardtail bike can handle any impact, but that's not the case. Instead, this suspension type can handle terrain, though, not incredibly technical one, but it doesn't respond much quicker than a full-suspension bike. As a result, it's a preferred suspension system for all-around riding that's not exposed to technical trails. In fact, some riders say that they're a huge fan of this quicker response time and the agility it provides.
On the other hand, hardtail bikes have some disadvantages. First, they aren't capable of absorbing the impact of logs, rocks, and extreme obstacles. As a result, this causes incredible difficult when controlling the bicycle. Although you might not plan to ride on rocky surfaces, you can't always plan what's ahead of you. If you ride over a severe bump, you'll feel this impact.
Also, if you plan on spending time on downhill riding and want to travel fast in these scenarios, a hardtail bike won't suffice. Hardtails are great for light downhill riding, but aren't designed for vigorous, impressive stunts.
Full-Suspension
This leads us onto the other type of bike suspension available: full suspension. Most riders opt for a full-suspension (also known as dual-suspension) bike because they plan on riding on difficult terrain. This is since a full suspension system offers an enhanced traction that cushioned bumps and allows you tends to keep closer to the ground.
Full suspension is ideal for beginners. You'll feel a lot more secure than with a hardtail bike, and it'll give you peace of mind and confidence as you won't feel every single bump on the ground. Most importantly, this suspension type is much more versatile as you won't have to re-route your journey due to tough terrain ahead, not to mention that you'll appreciate the more comfortable and stable ride when cycling.
On the other hand, all of these great benefits come at a price. You may need to pay nearly double that of a hardtail bike, which can be off-putting for many.
Plus, all of this extra suspension system leads to more weight on the bike. With more weight, the bike feels heavier and thicker than a hardtail mode, which can slow you down and make it more difficult to cycle far distances or uphill.
More: Best Hybrid Bike for Men
Brake Type
Whether you choose hydraulic or mechanical disc brakes, the ultimate choice depends on your riding style, amount you ride, and budget. Let's take a look at the advantages and disadvantages of both of these types of brakes for hybrid bikes.
Mechanical
This is the most popular brake type for mountain bikes for many reasons. First, mechanical disc brakes operate the same way as V-brakes by using traditional cables and cable housing to activate the brake and bring your bike to a stop.
One of the main advantages of this brake type is that the cables are easy to install and use. Plus, it's easy and cheap to find replacements around the world, since the same wires are used on every bike with mechanical disc brakes.
However, there are drawbacks to mechanical disc brakes. For example, their exposure to the environment makes them more vulnerable to break. Their case can be susceptible to rust and easy damage, especially when riding in the rain.
Finally, another consideration to make about mechanical disc brakes is that they'll wear and tear and potentially stretch with prolonged use. This means that you might need to make regular adjustments if the brake becomes loose. In particular, you don't want to be traveling downhill at a fast speed when you discover that the cable is loose.
More: Best Hybrid Bike For Women
Hydraulic 
Alternatively, you might want to consider hydraulic disc brakes. Instead of using cables and housings, this brake system uses brake fluid, hoses, and reservoirs to activate the brakes. A big benefit to hydraulic brakes is that the seal prevents any dirt, debris, and moisture entering the brake fluid, thus, improving the bike's overall durability. 
Hydraulic disc brakes also offer more power and control—especially if you're activating the brakes when traveling at high speeds. You can also customize the brake system by applying more or less pressure to the brakes when needed.
On the other hand, hydraulic disc brakes have to be professionally fitted. This is because even a small air bubble in the system can cause the level to lock and the brakes not to work well. In fact, removing any air from the tube must be done with precision and usually by a professional.
Bike Frame Materials
You'll notice that all of the above bikes come equipped with an aluminum frame. This material is the most preferred for a hybrid bike for numerous factors. First, it's one of the most lightweight materials you can use on a bike, helping to reduce any excess weight so the bike doesn't feel heavy and you travel faster.
This material is also stable and offers various levels of stiffness for riders. It is ideal for riding on rough conditions because aluminum can handle biking over rocky terrain and bumpy surfaces. 
Plus, aluminum is prone to rust, which is great if you live near the shore or enjoy biking in the rain. Aluminum is low maintenance, so you don't need to care for it like you would with a titanium or carbon-fiber bike. Finally, it's not as costly as other materials for other hybrid bikes, which helps to keep the overall price down.
More: Review Of Trek FX1 Hybrid Bike
Handlebar Shape
You might not have cautiously considered the shape of your handlebar before, but this is actually a really important factor. The handlebar's design and your riding position massively affects your performance and overall comfort.
A longer reach on a handlebar can increase your leverage and make handling more responsive. Increasing your bar reach can help you change the distance to the drops and hoodies without having to alter the position of the bar top in accordance to the saddle.
The handlebar's width is equally as important, too. Your hand placement determines your steering input. A narrow hand position is more aerodynamic but can reduce your leverage and lead to shaky steering. On the other hand, a wider grip will improve stability, but can sometimes put too much stress on your shoulders and neck. 
The Runners Up
We hope you enjoyed reading these hybrid bikes under $1000 reviews. Make sure to check out the buying guide before making your choice so that you can select the right model for your style and goals. 
We announce that the Trek Dual Sport 2 bike is the best runner-up. First, it remains stable on the toughest terrain and offers a smooth and comfortable ride throughout. Plus, the all-terrain tires allow you to venture on the roughest surfaces and in all types of weather.
Alternatively, the Raleigh Bikes Raleigh Alysa 3 Fitness Bike works best for women. It features double-wall rims that add stability and traction to the bike along with preventing any slips in wet conditions or in the snow.
Also, the bike's highly-durable aluminum frame is another great feature. In particular, it comes with pre-drilled holes that allow you to mount two water bottles onto the frame for long journeys. Furthermore, the bike's flat and wide handlebar allows you to steer around corners easily and offers excellent support and ergonomics while riding.